Shampoo Bottle Recycle – Home Decor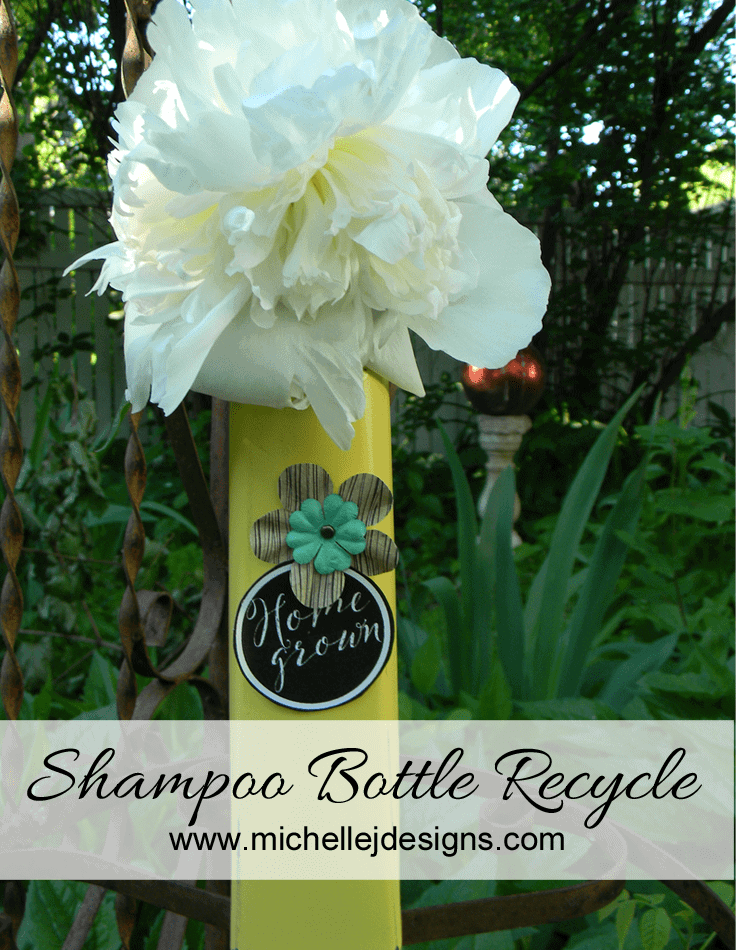 I love the shape of these bottles from Trader Joe's.  They usually house my Tea Tree Tingle Shampoo and Conditioner but today I have created something pretty from them.  What do you think of my shampoo bottle recycle into some home decor?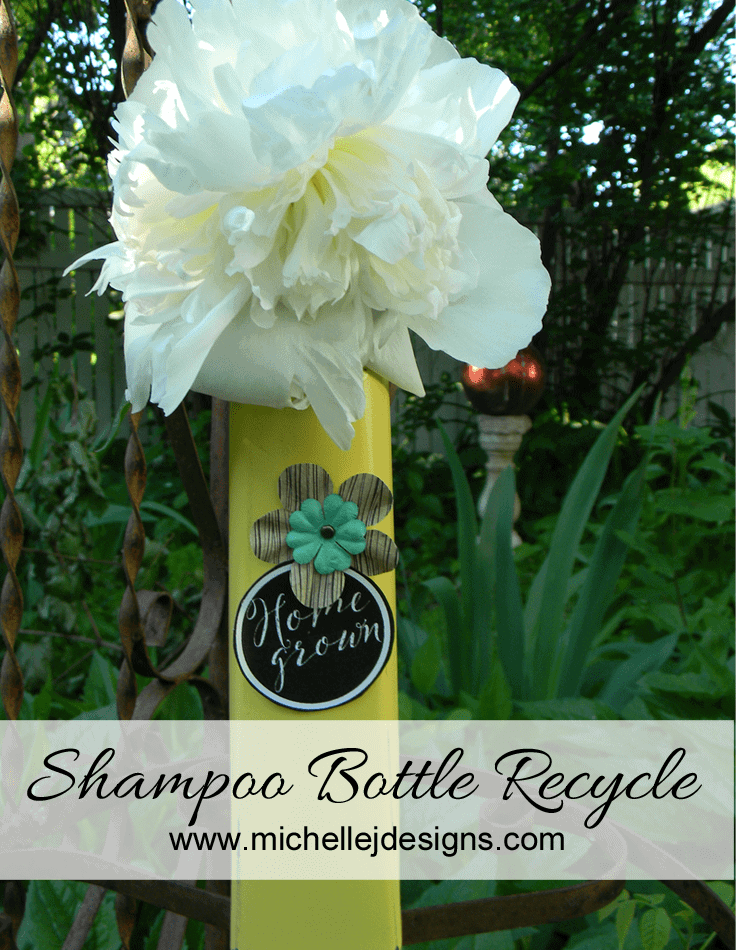 Shampoo Bottle Recycle – Home Decor
In case you haven't seen these before here is what they looked like before they were transformed.
It is hard to tell from the photo but there are some nice lines on the bottle.  You will see them after the transformation.
I wanted to be able to create a distressed look and with the white, sort of transparent bottle I knew it wouldn't show up very good unless I first used a darker color.  So the first coat of paint was a brown spray paint that adheres and bonds to plastic.  I love this paint!
Then I sprayed a couple of layers of the green and yellow paint on top of the the brown.  When I distressed the "vase" the brown shown through like a beacon.  Just as I wanted it to.
The top of the bottle really gives it away as being a shampoo bottle so I knew I had to do something with that part of it. I first tried washi tape and it looked like the top part of a bottle with washi tape on it.  So, that was a fail.  Next I tried the ribbon.  The burlap ribbon was just the right width for the top and hid the grooves for the lid.  Then I needed to add some embellishments to the vase itself.   I found these flowers to try from my scrapbook stash and I think they are perfect..
I wanted a little chalkboard tag so I made two chalkboard look-a-likes.  I also made these tags a free printable for you so go ahead and decorate your shampoo bottles or whatever else may need a little tag.
I think they turn out sweet and they even looked pretty good on my desk shelf.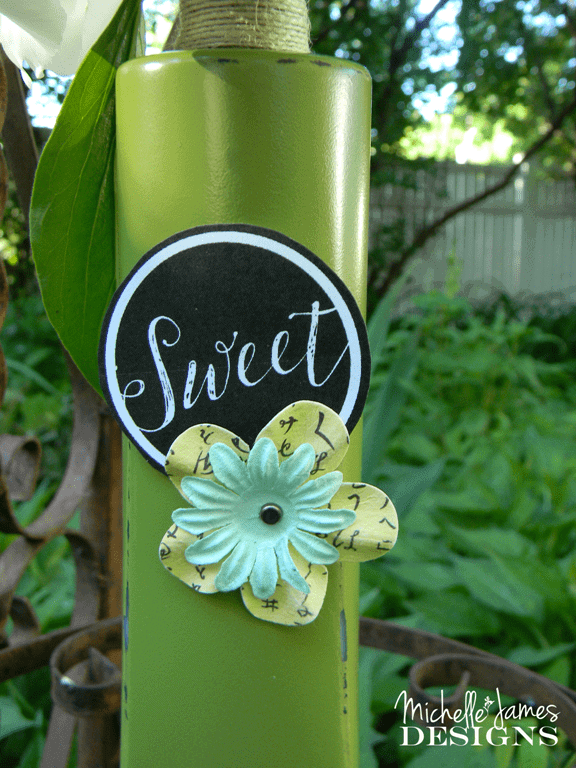 There you have it!  I hope you like it.  I thought they were pretty fun to make and look pretty good as vases.  It is a fun recycle project.  You should try a shampoo bottle recycle as well.
Thanks so much for being here.
I am sharing this post at:
Enter your name and email to receive tips and tricks, tutorials & deals!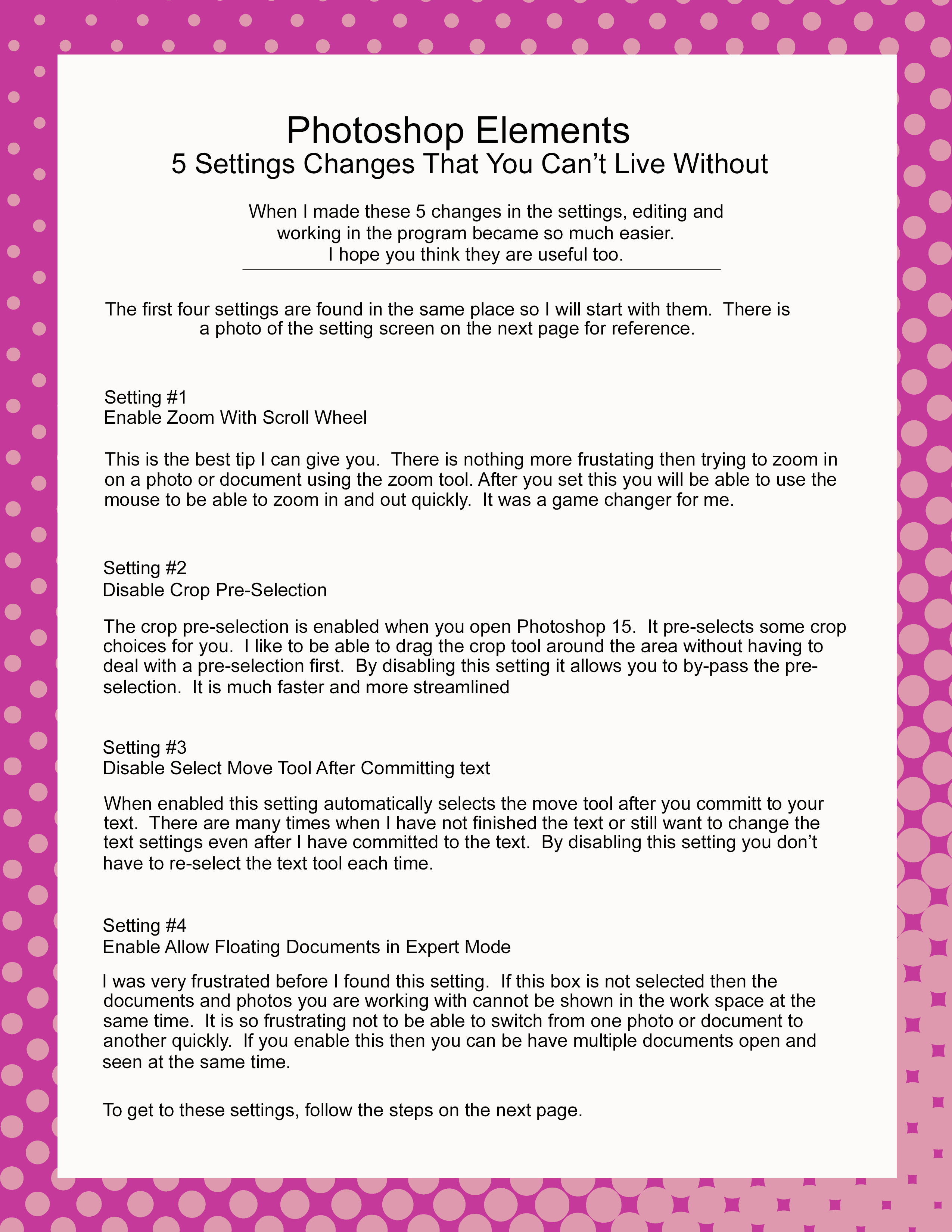 Sign up to get access to an instant download to my five favorite Photoshop Elements settings changes that will make editing and designing easier.
Your information will *never* be shared or sold to a 3rd party.