Hello there! I am excited about today's project. I love a good dollar store project. They are always inexpensive and usually look just as good as something you would purchase at a higher end department store and this post is no exception. This time I have turned Dollar Store Vases into awesome outdoor lighting.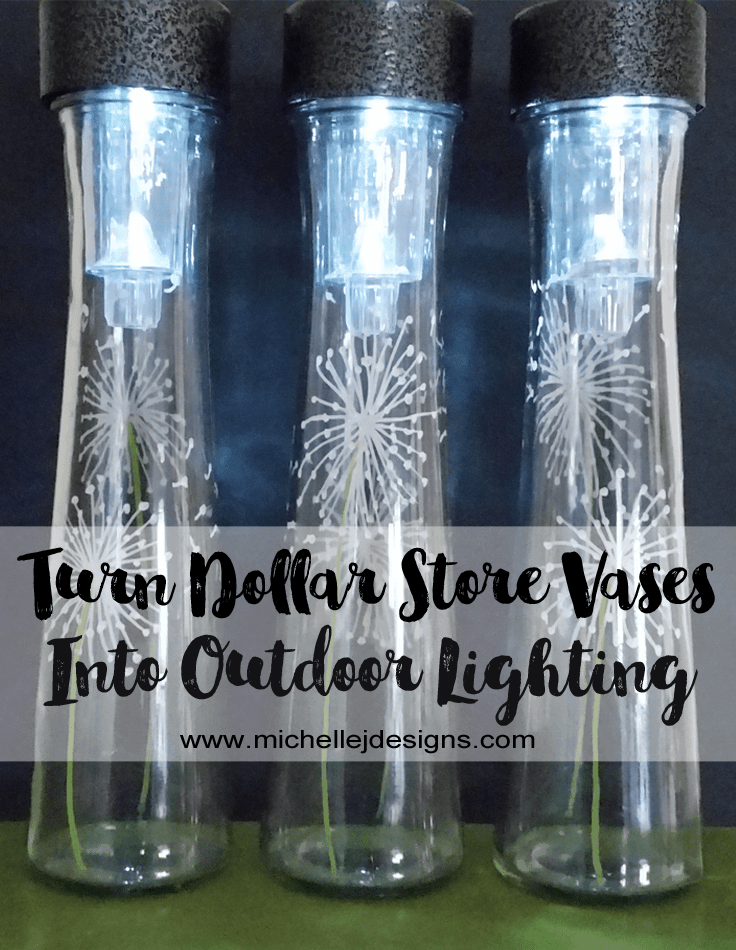 Dollar Store Vases to Outdoor Lighting
These are so easy to make and I am excited to share them with you. Last summer I created some hanging outdoor lights with Dollar Store items. You can see that post here!
This post includes affiliate links for your convenience. You can read my full disclosure here!
Materials needed:
Oil Based Sharpie Markers Just get all of the colors! These things are the best.
Dollar Store Solar Lighting Sticks
Oh…and an oven!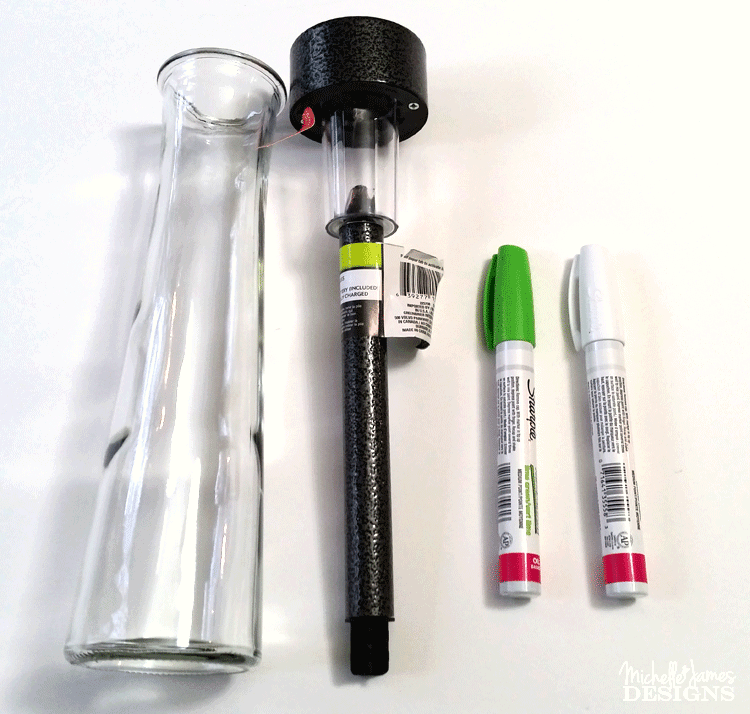 Prepare The Solar Light
Remove the stem from the light. The light fits perfectly into the vase. This entire project is so easy!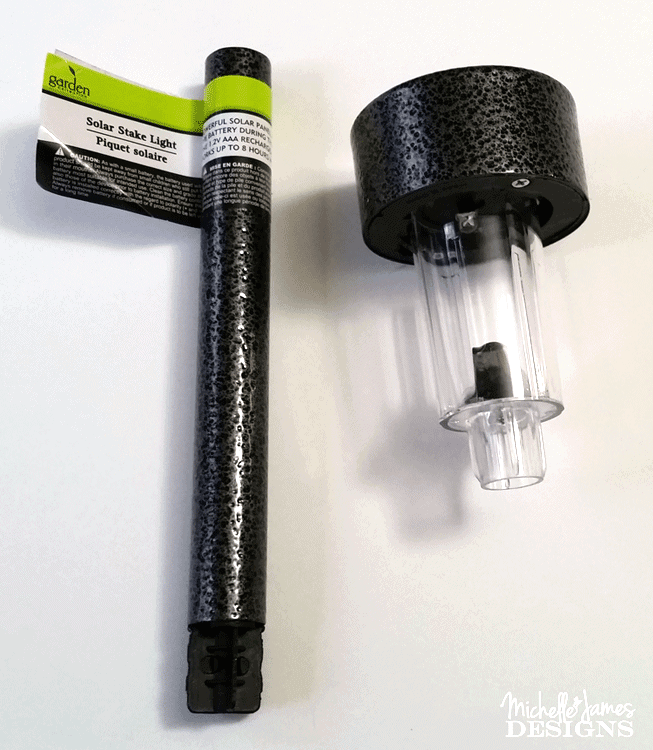 Now you get to draw on the vase.
You can draw whatever you like but I chose dandelions that are blowing in the wind! I think they are fun as home decor.
Drawing the Dandelions
The stem
Use the green sharpie pen to create a line for stem. Start at the top of the stem and just pull down with a slight curve.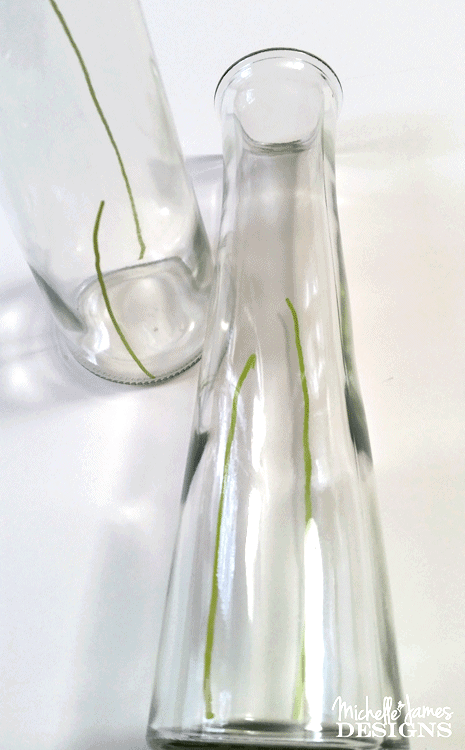 The flowers
Use the white sharpie pen to draw lines from the top of the stem out. Keep drawing lines until you make circle of white lines. See the photo below.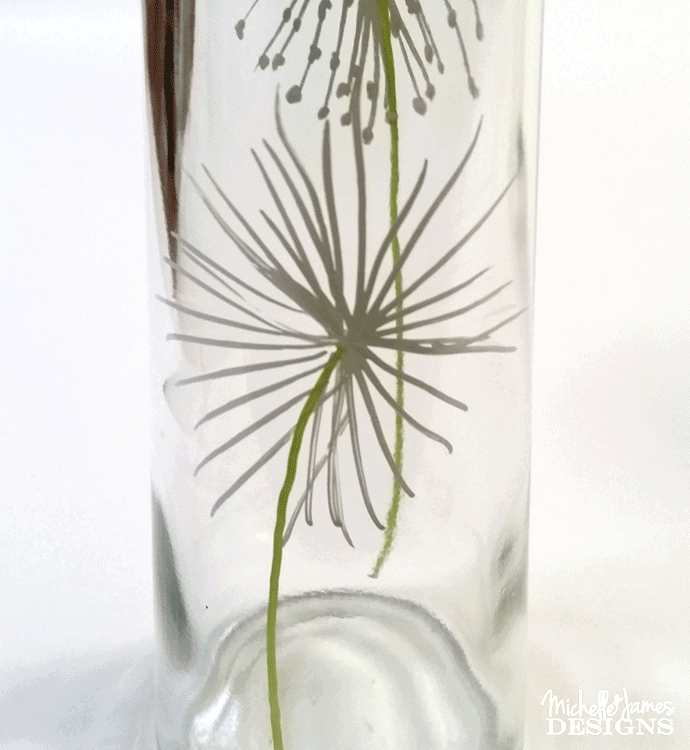 Add the dots
Draw little dots on the white lines and at the top of each one.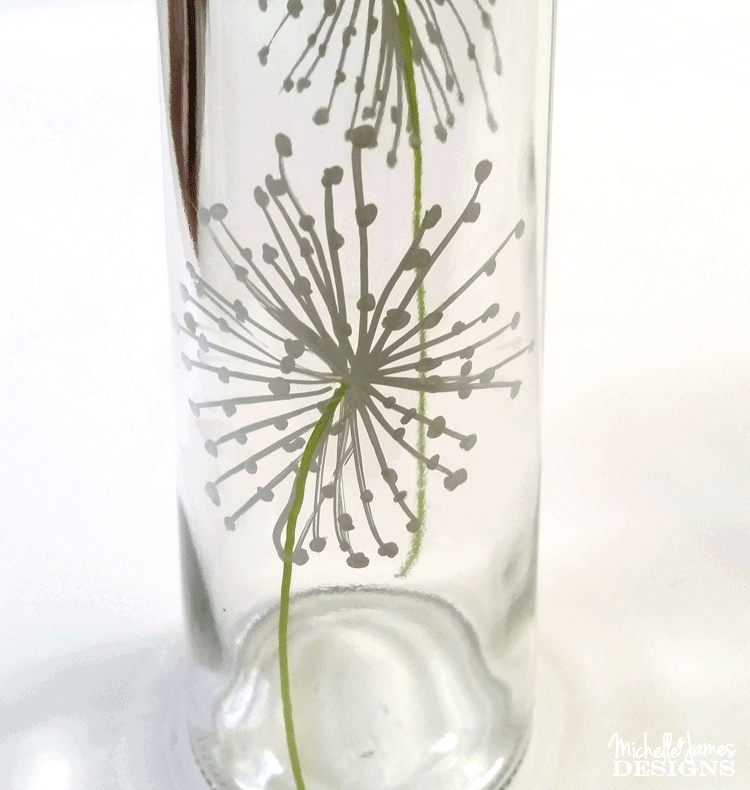 The flying dandelions
These are made by drawing a short little line with a dot at the end. Have the dots on the same side of the line and keep them going upward and around the vase like the wind is taking them away.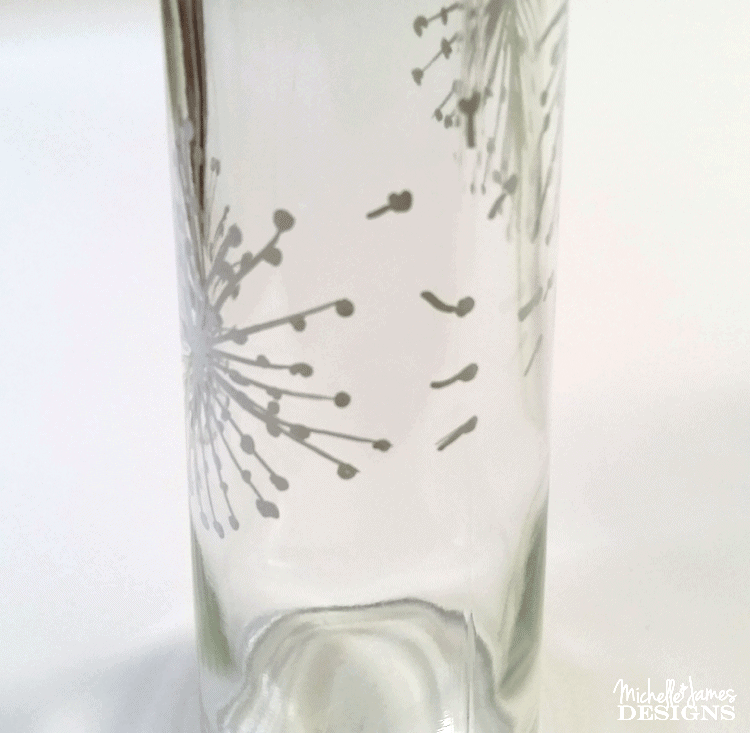 Bake The Vases
Place the vases into cool oven. Set the temp to 200 and bake for 2 hours. Then turn off the oven and remove the vases after the oven is completely cool. This heats them and cools them gradually and keeps them from breaking.
Then add the light to the top of the vase and you are done, done, done!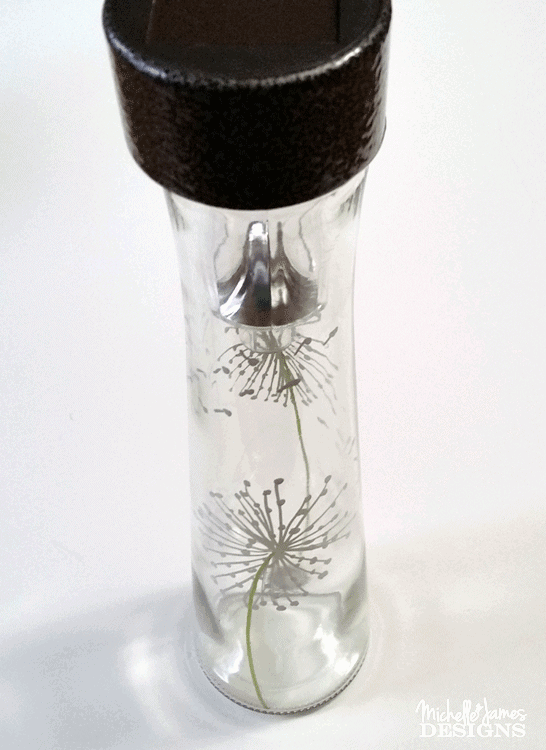 They are so fun to see all lit up. I hope you will make some of these for your outdoor parties this year!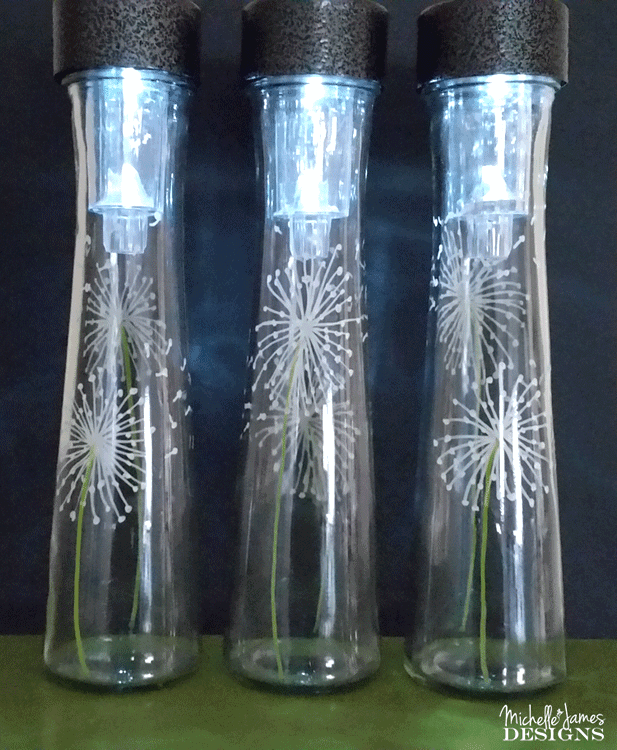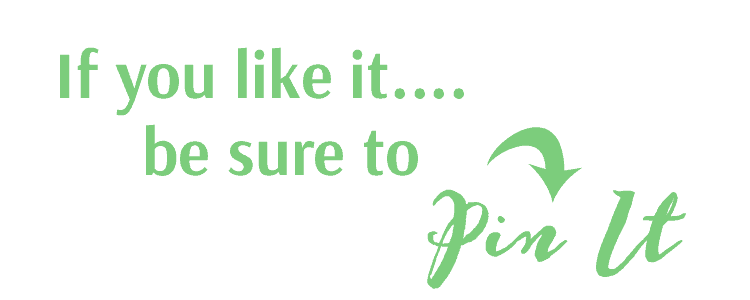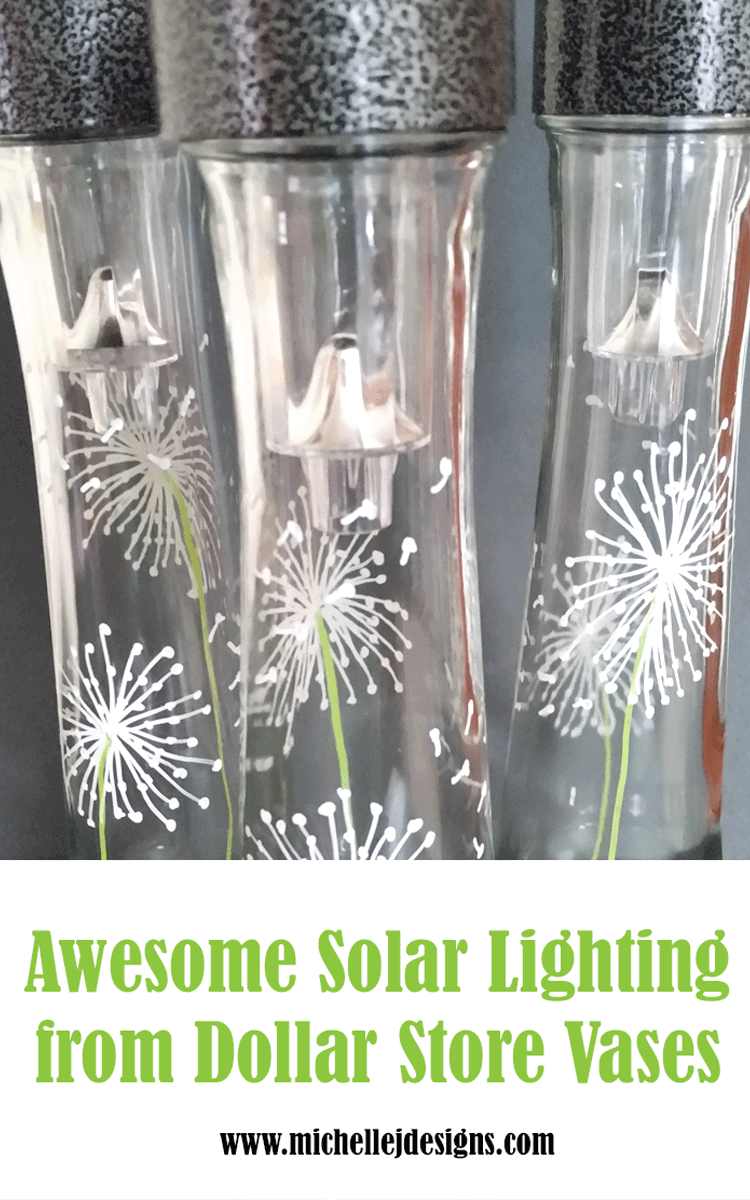 If you would like to see more of my projects here are some great categories to choose from:
Thanks so much for stopping by today!
Michelle