You can easily create your own DIY dollar store cake stands with a few dollar store products and chalk paint for glass!
For some reason I am drawn to cake and cupcake stands. I see them on Pinterest and have made a tiered tray for cookies and cupcakes but have never tried to make these individual stands until now. I am so glad I did and am loving my new DIY Dollar Store Cake Stands!
If you love Dollar Tree crafts and gifts you are in the right place!
and
If you love painting and making glass crafts and gifts you will love it here.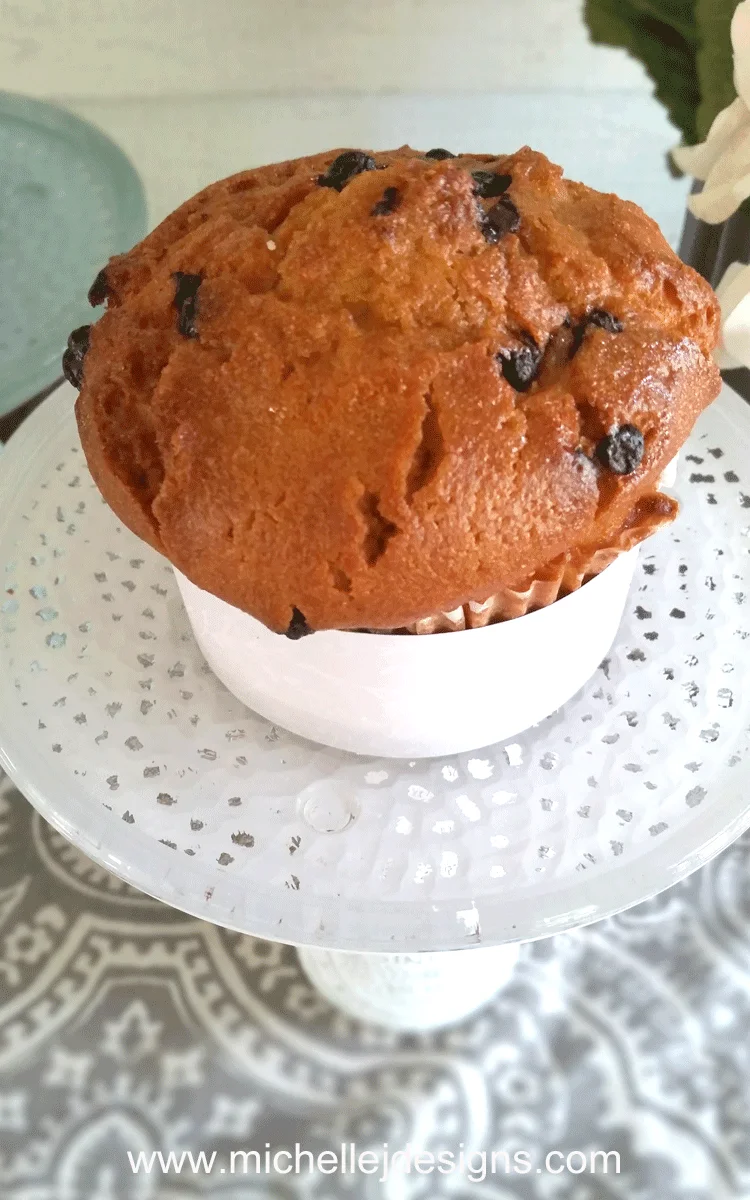 DIY Dollar Store Cake Stands
I love the farmhouse look so when I saw these cute milk bottle vases at the dollar store I knew they would be perfect for a DIY Dollar Tree cake stand. Plus this DecoArt chalky finishes for glass
is easy to use and comes in a lot of different colors. It is a chalk paint for glass. I have used it before on my chip and dip pieces.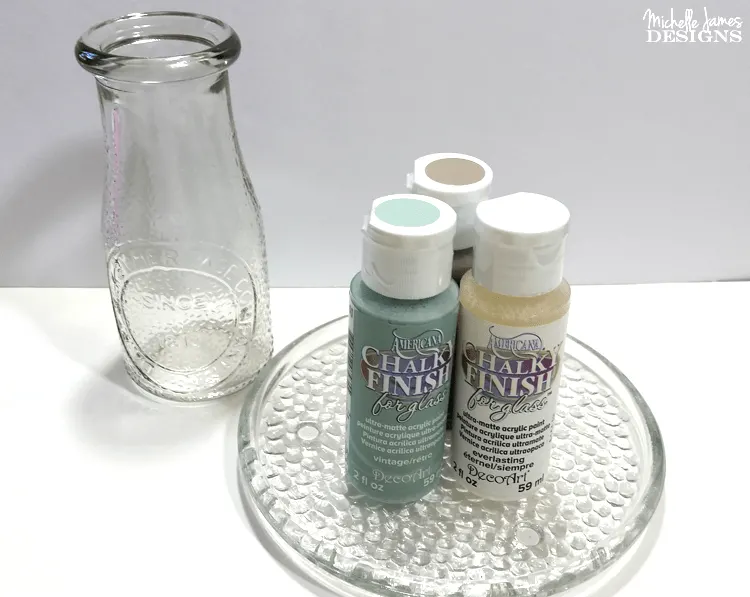 Supplies Needed To Make DIY Dollar Store Cake Stands
I have included some affiliate links for your convenience. You can read my full disclosure here.
Materials List
Milk Bottle Vase – this link is to Amazon as I could not find them on the Dollar Tree website. It is a good option if you not close to a Dollar Tree or your store doesn't have them.
Flat Candle Holder – Again, this link is to Amazon. If you can get to a Dollar Tree it would save you some money!
DecoArt Chalky Finish For Glass
– I used these colors
Foam Brush
Sanding Block
Oven
There were so many fun candle holders and vases at the dollar store that could be used as a base for this project. It was fun to look around and see them in a different way.
Step 1:
Wash and dry all of the glass pieces and then paint the outside of the bottle and the bottom of the flat candle holder with the glass chalk paint using the foam brush.
I put on a nice, thick coat of the paint so that I would only have to one coat and it worked perfectly.
Let it dry completely.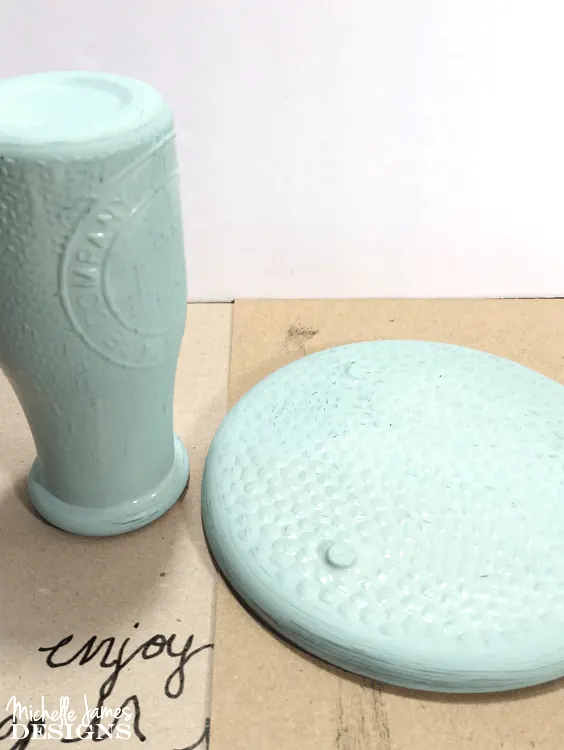 Step 2:
Using the sanding block, lightly sand the little bumps so the wording on the milk bottle stands out.
I love the look of the sanding on the flat candle holder. It looks like polka dots.
Step 3:
Bake the pieces if you want them to be dishwasher safe. Place them on a baking sheet and put them in a cool oven. Set the temp to 325 degrees and bake for 30 minutes.
Let everything cool before removing them from the oven. This makes the pieces dishwasher safe.
Step 4:
Glue the pieces together. Use the E600 and place glue on the top rim of the milk bottle. Set it upside down onto the bottom of the flat candle holder and center as best you can.
Wait at least over night but 24 hours is even better. Then you are good to go.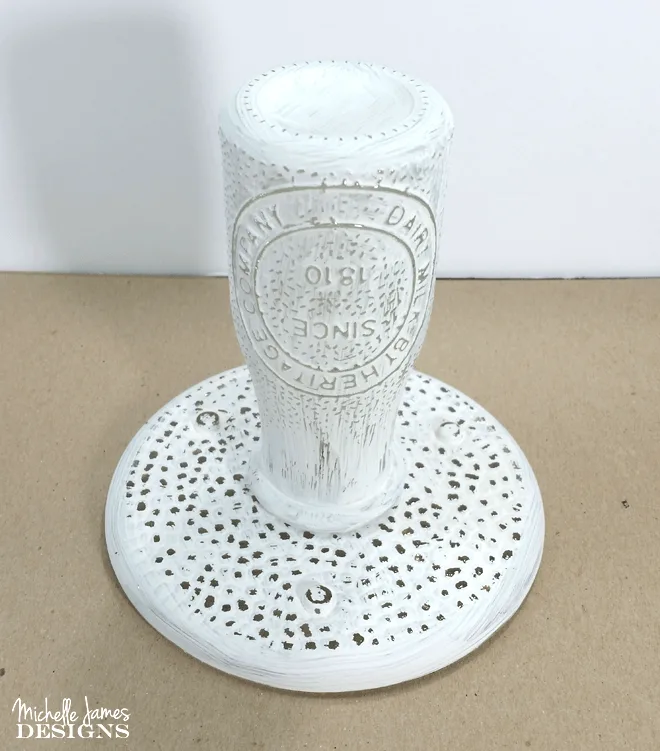 Step 5:
Note: If you have baked your pieces you may not need to seal them. I am sure it is fine but I am not sure how well the varnish would hold up to the dishwasher.
Seal the paint on your Dollar Tree cupcake stand with the Americana Decor Light Satin Varnish from DecoArt. Use a foam brush and seal the painted areas. When you do this is gives it a satin finish which I tend to like a little better than the flat finish.
I think they would also be nice as home decor to display candles or pumpkins or whatever you like. They are just so fun.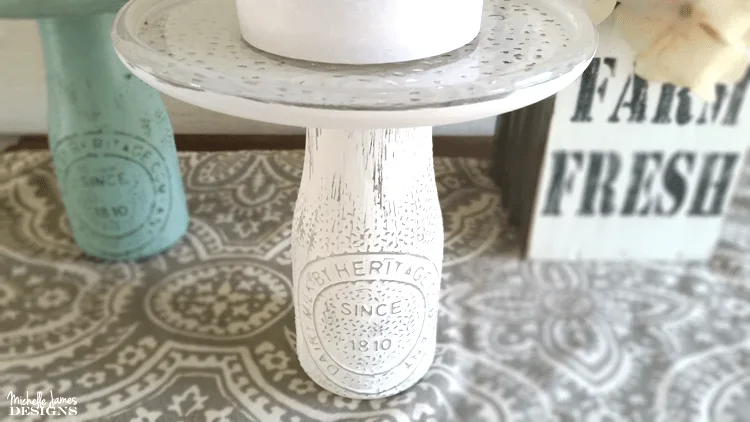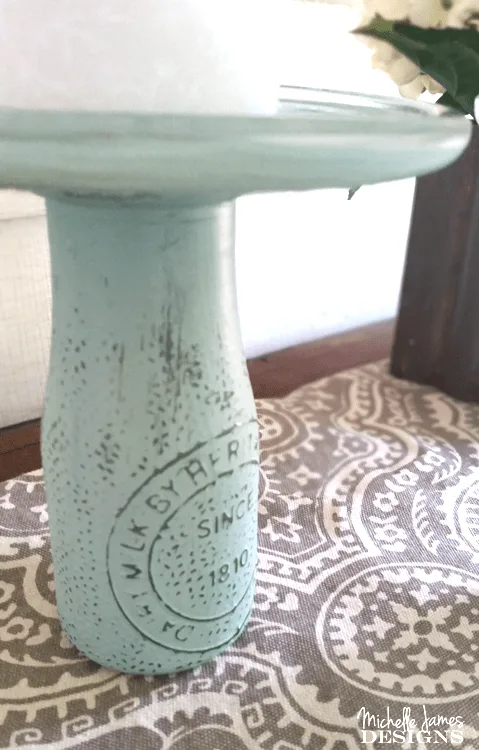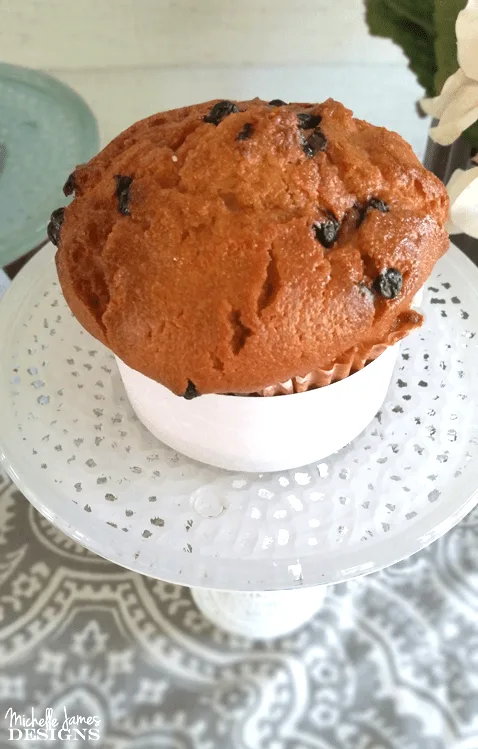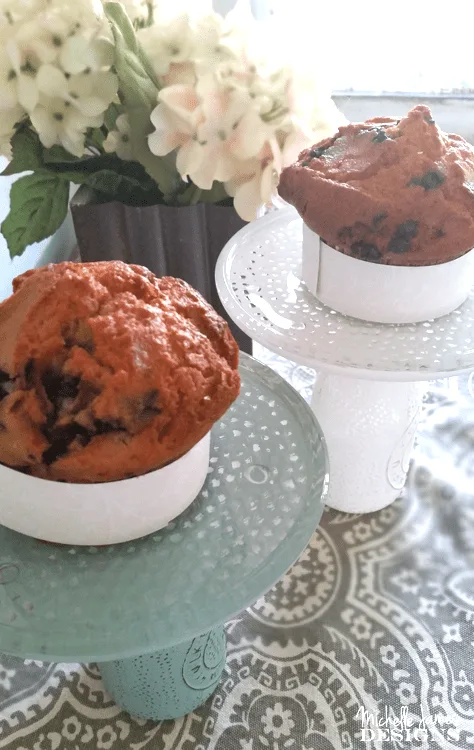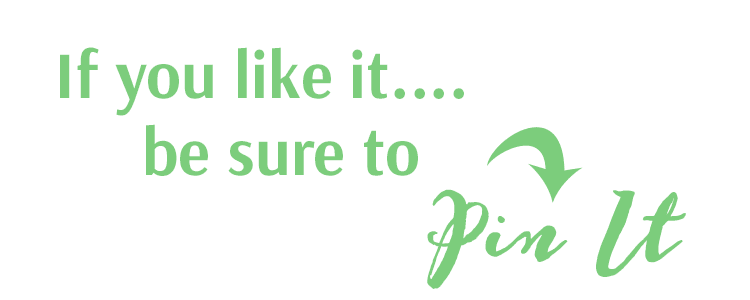 So what do you guys think? I love them! If you would like to watch the Facebook Live video about this project you can find it here!
Thanks so much for stopping by,
Michelle