This post is special to me. Jeff and I made this awesome dining table for Ian and Hailey as their Christmas present. We used oak wood on the top, pine and cedar for the base and legs and Dixie Belle Paint Co. paint for the beautiful paint color.
We are making a bench to go with it but we are slow so it's not done yet. But they needed the table so they came and got it this weekend.
It was so fun to see them and even more fun to see that they were thrilled with their gift. The paint for this project was provided by The Dixie Belle Paint Company. All opinions are 100% my own.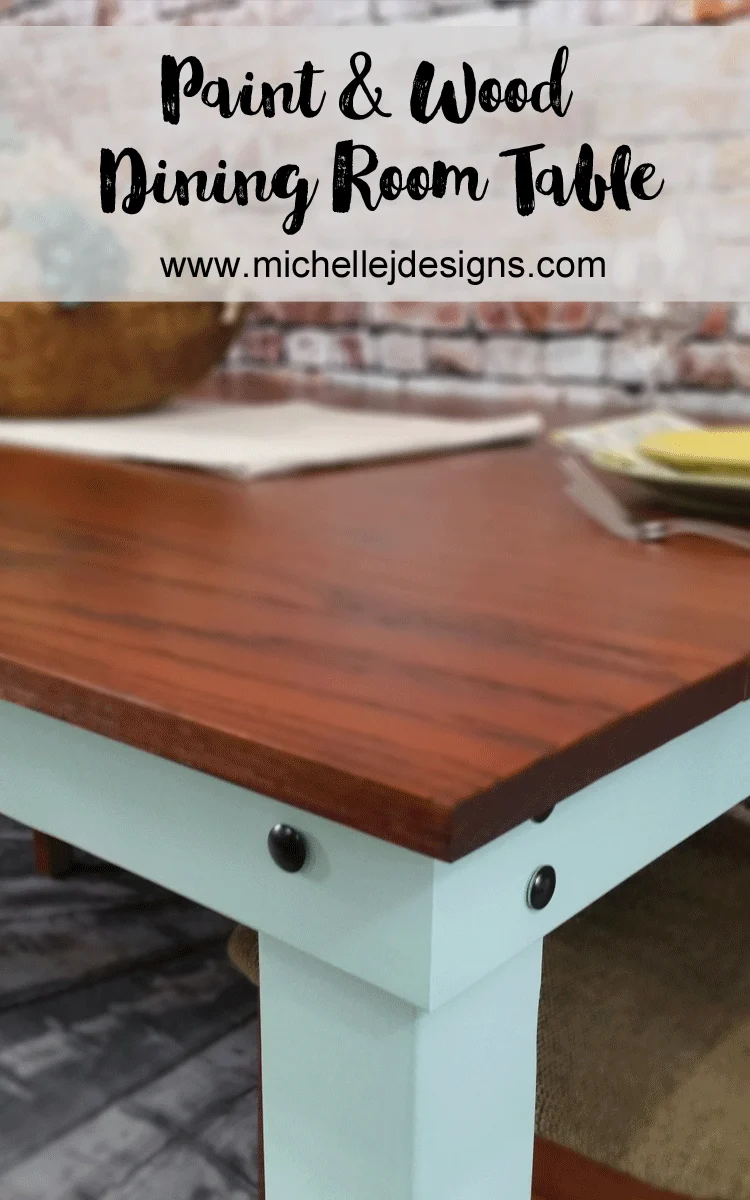 DIY Dining Table
It all started when Hailey my daughter in law showed me a picture of a dining table she liked on Pinterest. They moved into their new house recently and were looking for a different dining table. The picture she showed me was pretty basic farmhouse table. I said, Jeff could make that."
That was all it took. Next thing we knew we were picking out oak for the top and wood for the base and the legs.
I asked Hailey to pick a color for the table. This is where The Dixie Belle Paint Company comes in. A little blurb from their website…
Dixie Belle Paint is a chalk mineral paint which has superb adhesive qualities allowing you to paint over practically anything without any sanding, priming or prep work, and it will stay put! Simply clean and paint! Dixie Belle Paint enjoys a gorgeous matte finish and distresses beautifully.

Dixie Belle Paint is available in 42 stunning colors from neutral whites and grays to saturated blues and purples. We also offer a full line of glazes, waxes, stains and metallic paint along with brushes, stencils and many other accessories.
For this dining table I used Sea Glass. It is the most beautiful color and very popular these days.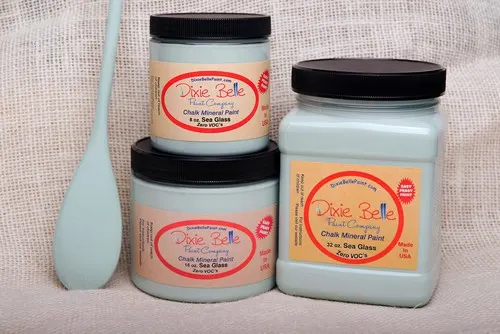 I was so happy that she chose this color. It is one of my absolute favorites. Jeff can't stand it even though I keep adding bits of a similar color throughout our house. He is weird, right? LOL! It really is a beautiful color.
It is supposed to be very durable which will be perfect for a well used dining table.
Building the Table
This was Jeff's contribution to the gift. He did the heavy building while I helped by holding wood in place and handing him tools when needed. I am really good at that.
He started by creating the base for the oak table top pieces to sit on. We used pine 1 x 4's The top, when finished was 6 ft x 43 1/2 inches and we wanted the base to sit just inside the ends of the top. I think we had about 1 – 1/2 overlap all around the edge.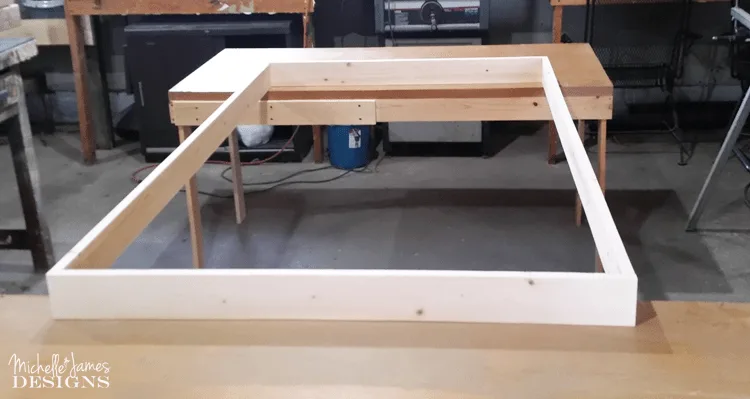 He added 1 x 4's across the center of these boards and attached another 1 x 2 at a 90 degree angle. These are what the top boards will be attached to to hold them on.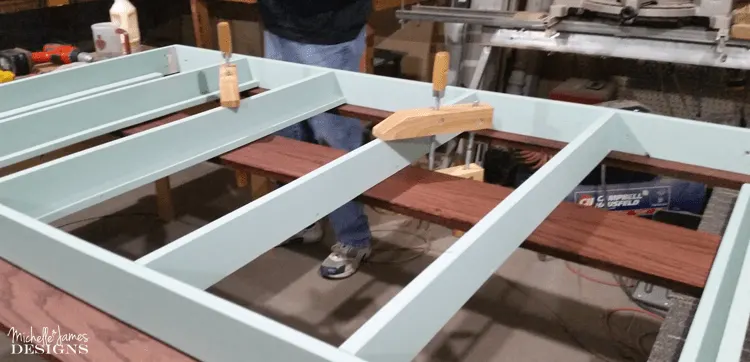 The picture above is later in the process but you can see the smaller 1 x 2's that he added to each 1 x 4 on the left side of the photo. They are on each board but they are facing toward the center of the table so they are hidden by the 1 x 2's in the right side of the picture. OMG does that even make any sense at all?
We did not want any screws to show for attaching the outer part of the base together some wherever he attached a cross board we made plugs for those holes. I actually got to do this part.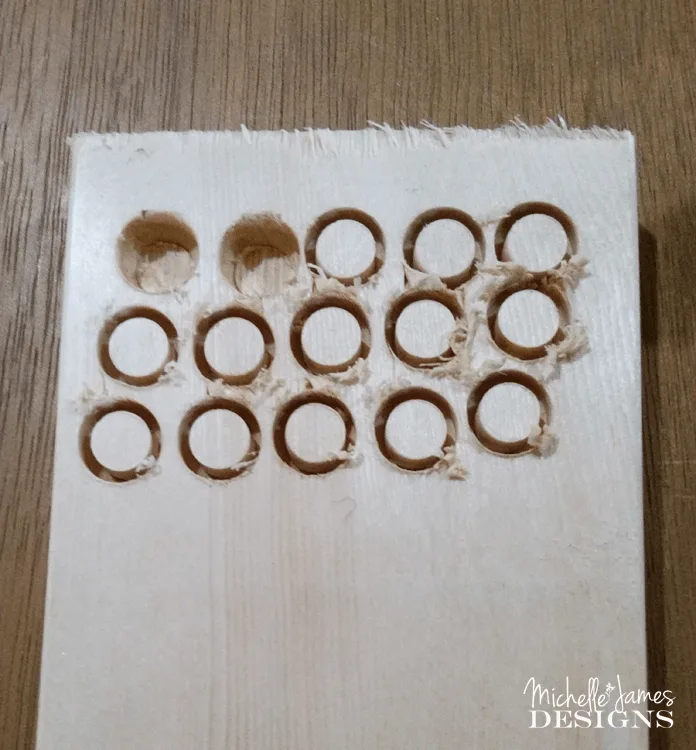 I used the drill press and a plug cutter bit (I am not sure if that is the official name) and created a lot of plugs. Then used a screw driver to pry each one out to use on the table.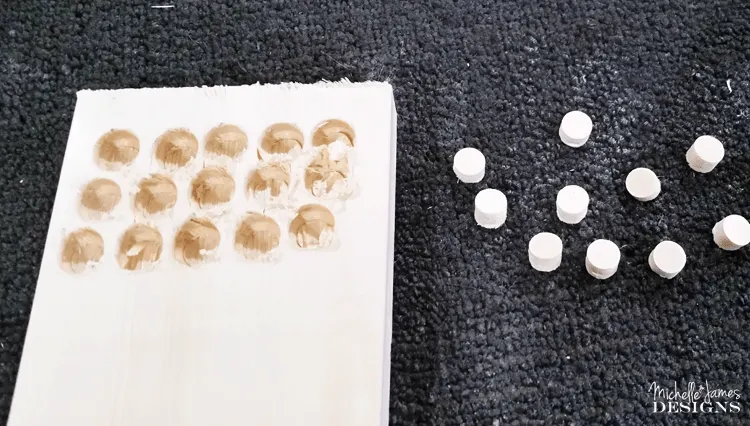 Cute right? They were plugged in the holes from the screws, puttied and sanded to create a nice finish. This picture was before the putty and sanding but they look pretty good already. Jeff is very particular about these things. You can not even tell there was ever a hole there.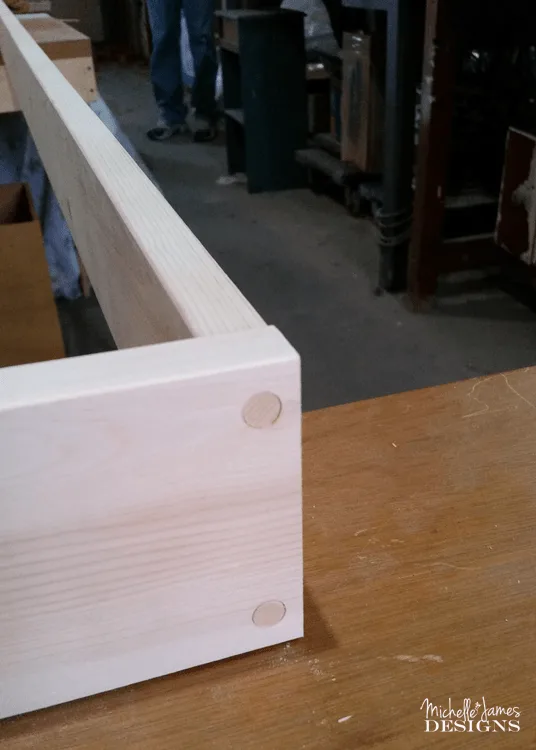 When the base was finished he created legs just but cutting down cedar 4×4's to the length needed for the table.
Ian wanted the legs to be removable for easier moving of the table. So Jeff used three carriage bolts in each leg that attached in the corners of the base.
The carriage bolts are very silver and did not match so we sprayed some Rust Oleum Oil Rubbed Bronze paint onto them and they look great. You can see the bolts in the finished pics.
After sanding the base and the legs really well I primed them then add the beautiful Dixie Bell paint. I really only needed a second coat on a few parts but I did the entire outside of the table base and the legs. The parts that could be seen.
Attaching The Top
When the base was finished we moved on to the table top oak boards. We had some trouble with cupping on a couple of them when we first brought them home. All but one of them seemed to straighten out with the heat in the garage over time but one was so bad we had to replace it. He made sure they were all the same length and sanded them really well.
Jeff is very careful about wanting things just right so it took a lot of rearranging the top boards to get the best and tightest fit. Once we found the order we numbered them and stained them. We used a Minwax Red Mahogany color that the kids had brought to us and stained the fronts and the backs of each board separately. They were so pretty.
Adding them to the top was quite the process. Jeff wanted it to be really strong so we used about 1000 screws to attach each board from the underneath, clamping them as we went along. We purchased special wood clamps so they would not scratch or dent. This was the first board.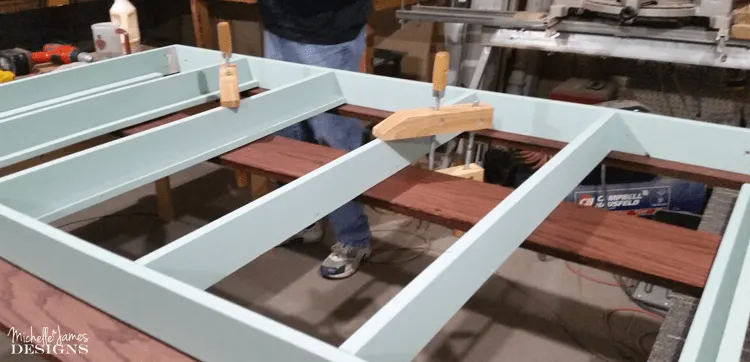 And this was the last!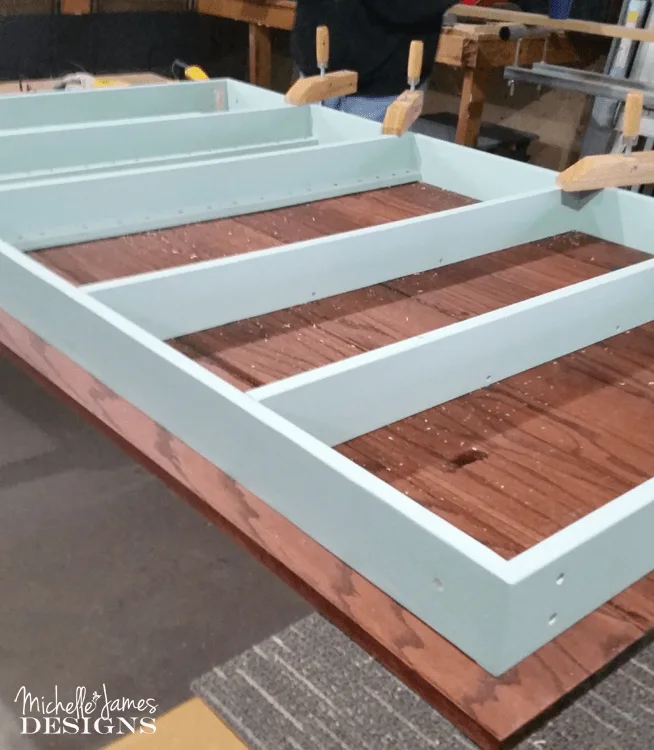 Finishing Up!
All we had to do after that was three coats of the Polyshades. If you have never used Polyshades before it is an amazing product. It stains the board but add polyurethane at the same time.
Before the last coat of the polyshades we used a very fine steel wool to buff it out. It turned out smooth and oh so pretty!!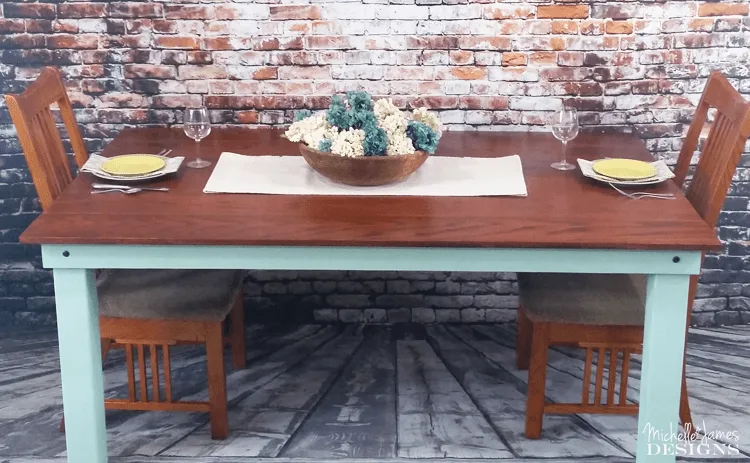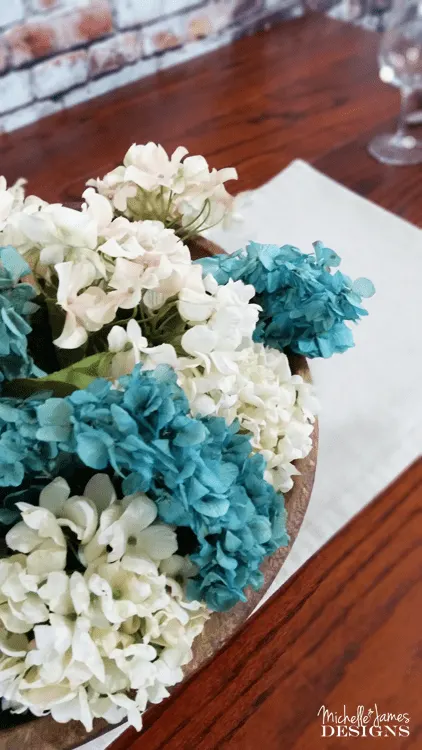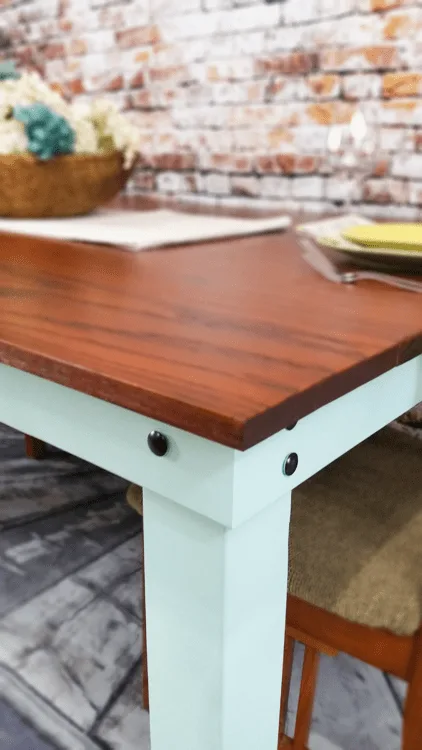 I love this color so much and as I mentioned earlier one of the things about this paint is it is supposed to be so durable. I love the thought of this on the table and I hope it lasts for years and years for them.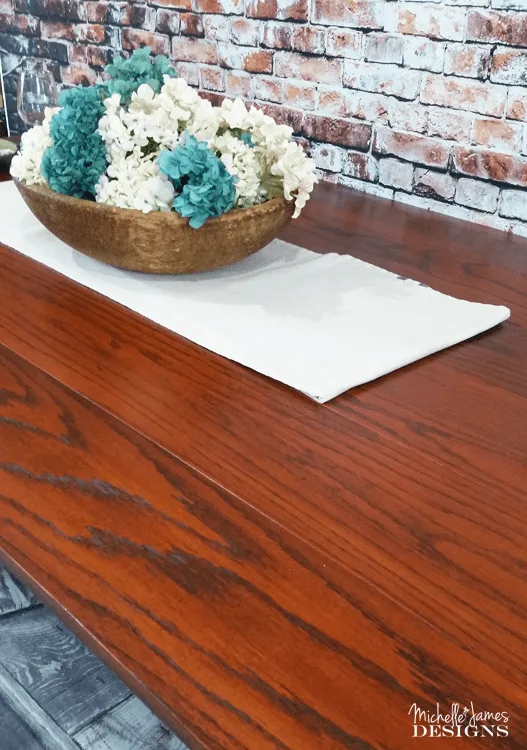 The top is so pretty and it really is hard to get beautiful photos but you should see it in person. Wow! Even if I do say so myself. LOL! I hope you enjoyed this post.
We received a call on Skype after Ian and Hailey got it set up in their dining room. It was great to see it all set up and ready for them to use.
Now to work on the bench!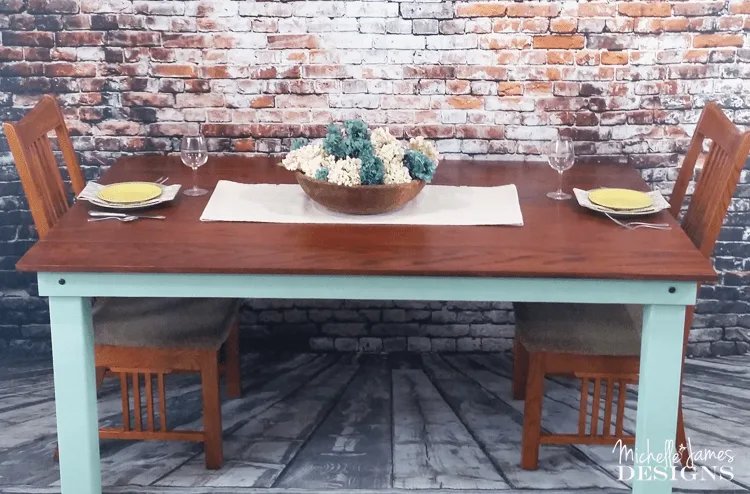 Thanks so much for stopping by!
Michelle