Hi everyone and welcome to day 4 of the 12 Days Of Christmas Blog Hop! Today is all about our favorite party food. I thought about different things I like to munch on at parties and dip is a favorite but little snacky desserts are my ultimate fave! So I found this great recipe for Mint Chocolate Almond Bark. You will love it!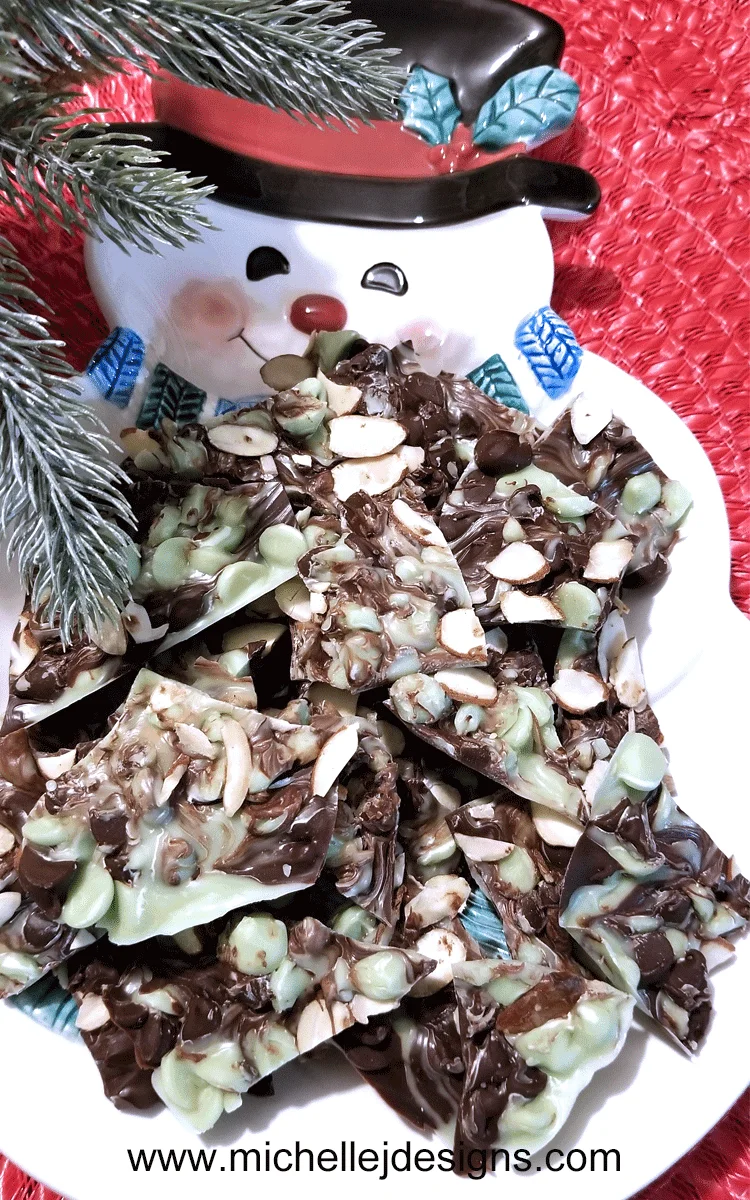 Welcome to the third annual 12 Days of Christmas Blog Hop!
Stop by every day from December first through the twelfth for new ideas you can use to make your season brighter!
Meet Your Hosts
They have all been busy as Elves creating, decorating, cooking and crafting tons of new ideas for you to try this holiday season!
Shirley~Intelligent Domestications I Alli~An Alli Event I Michelle~Our Crafty Mom I Marie~DIY Adulation
Erlene~My Pinterventures I Beverly~Across The Blvd. I Debra~Shoppe No. 5 I Victoria~Dazzle While Frazzled
Megan~C'mon Get Crafty I Michelle~Michelle James Designs I Amanda~Domestically Creative
Deborah~Salvage Sister & Mister I Jeanie~Create & Babble I Sherry~Olives & Okra
Jenny~Cookies Coffee & Crafts I Emily~Domestic Deadline I Bonbon~Farmhouse 40
Leanna~Of Faeries & Fauna I Pam Larmore~P.S. I Love You Crafts I Kelly~North Country Nest I Marie~The Inspiration Vault
Gail~Purple Hues and Me I Lynne~My Family Thyme I Karen~Dragonfly and Lily Pads I Trisha~Blowing Away Out West
Tomika~Life In Pumps I Rachee~Say it, "Rah-Shay" I Lorrin~Embrace The Perfect Mess
Jaime~Love Jaime I Serena~The Weekend Jaunts I Terri~Christmas Tree Lane I Jessica~A Southern Mother
Sam~Raggedy Bits I Cyn~Creative Cynchronicity Valeria~Val Event Gal
Yami~The Latina Next Door I Jeannee~Centsably Creative I Tania~Little Vintage Cottage
Lauren~Wonderfully Made I Vanessa~DIY 180 I Kimberly~A Wonderful Thought I Kim~Everyday Parties
Dru~Polka Dot Poplars I Erica~Erica Ever After
Mint Chocolate Almond Bark
So if you know me you know that cooking isn't my thing. (Poor Jeff) I just do it because I have to and I am not very good at it. So when it came to this post about party foods I went straight to my favorite baking ingredient…chocolate chips. I love to have dessert at a party and I love it when there is just little things to grab.
I was milling about in the baking section of the store and spotted this combo pack of mint and dark chocolate chips. What could be better? I LOVE anything mint chocolate and on the back of the package was this recipe for Mint Chocolate Almond Bark. It seemed super easy so I decided to try it. I purchased the TWO ingredients and gave it a whirl.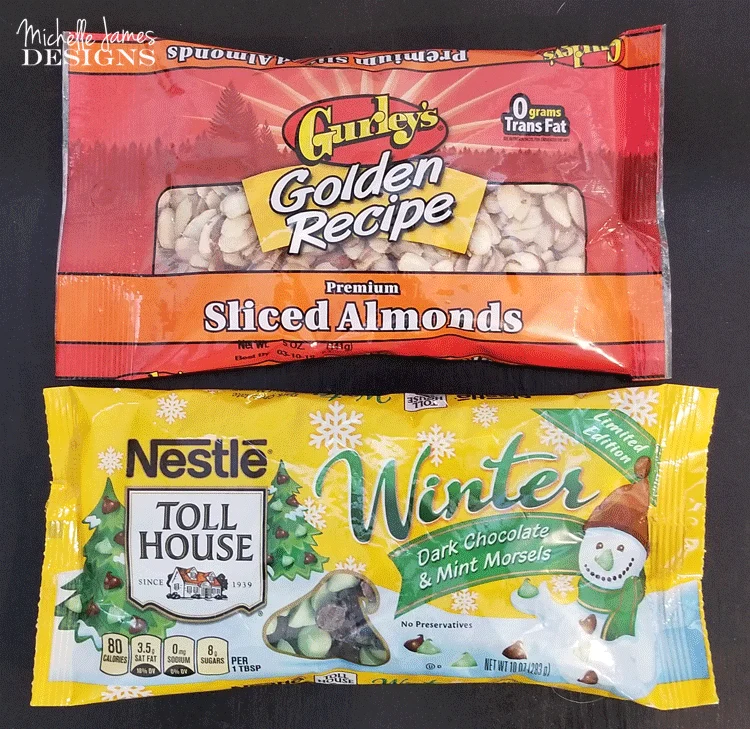 This is what I did!
Instructions For Mint Chocolate Almond Bark
Pre – heat the oven to 350 degrees
Cover a baking pan with parchment paper. Poor the chips into the pan and spread them around to a single layer but still touching.
Heat them in the oven just until they are shiny. It only takes a couple of minutes.
Take them out and use a toothpick to swirl them together.
Add the almonds and lift and drop the pan a couple of times to get them into the chocolate.
Place in the fridge for a couple of hours.
Take them out and break them apart into pieces.
SO EASY!
So I know I cheated on this recipe and used one on the back of the package but it was really, really good and great for parties or gifts.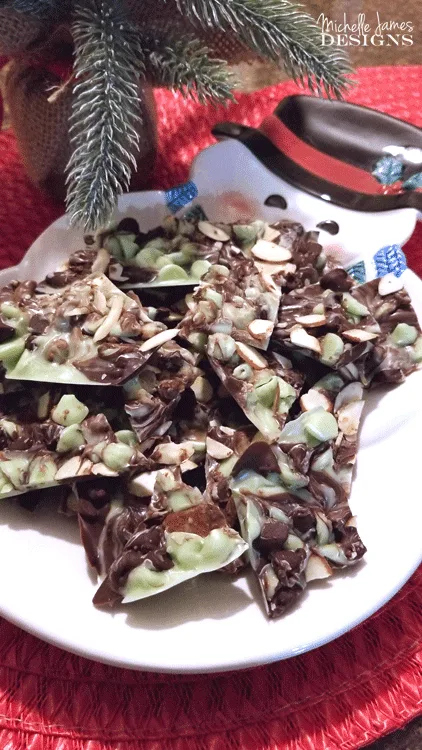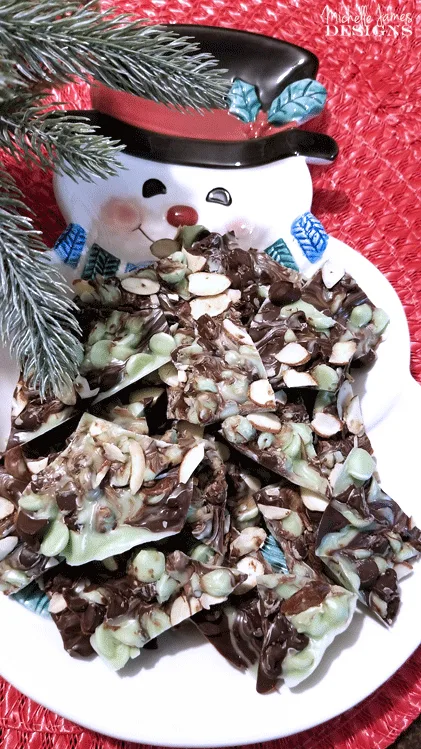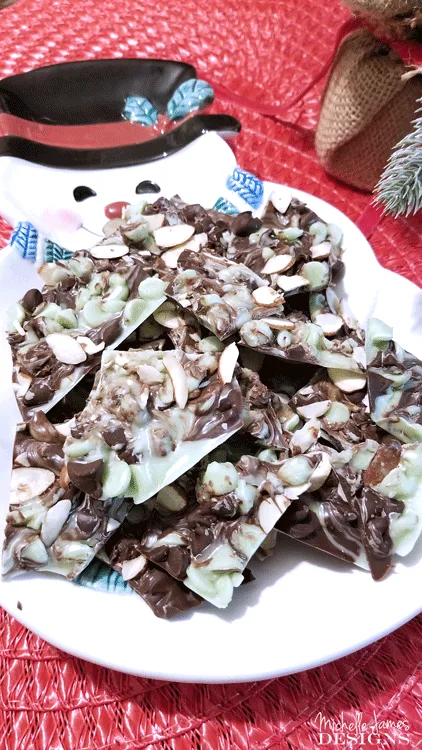 You should definitely try this. Especially if you are not a foodie. It took no time at all!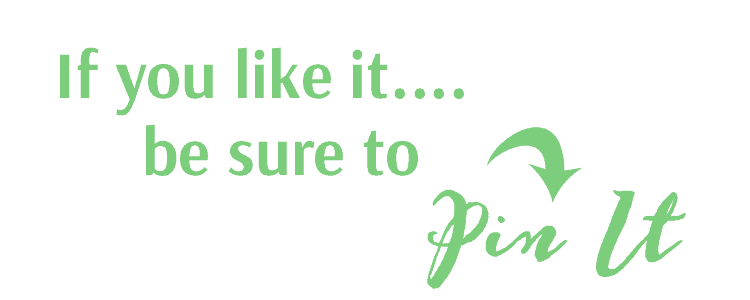 Thank you for stopping by today!
Michelle
Be sure to visit our fellow 12 Days of Christmas Bloggers below for even more creative ideas this holiday season!