Ever since we dismantled my craft room upstairs for a guest room my supplies have been every where but mostly on our un-heated front porch. I wanted to get them out of there so I buckled down last weekend and started organizing craft supplies into our dining room which is now my new craft space.
I reached out to Oriental Trading and was thrilled when they were happy to partner with me. They supplied the awesome organization clear containers that you see in this post. They are so nice and I am really loving everything that I get from them. You can read my full disclosure here.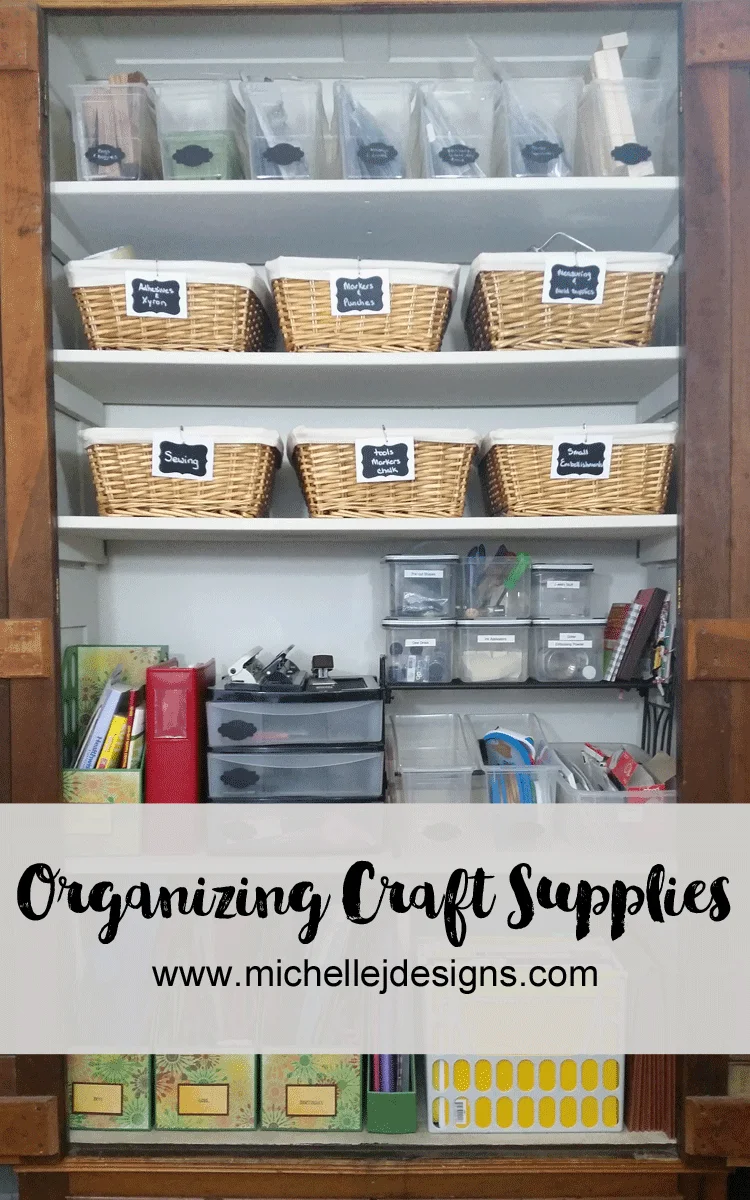 Organizing Craft Supplies
Organizing craft supplies will probably be an ongoing task from now until eternity but at least now I have a little bit more of it done and a little bit always leads to more, right?
I wanted to get all of my tools, embellishments, sewing supplies and other misc supplies into their own space. These is a separate space I have set aside for my ribbon. It is not in this cabinet but I will continue to post about my organizing and show you where it ended up.
Anyway, back to this project!
The nice folks at Oriental Trading sent me two products.
Clear Classroom Book Organizers and Clear Index Card Storage Boxes.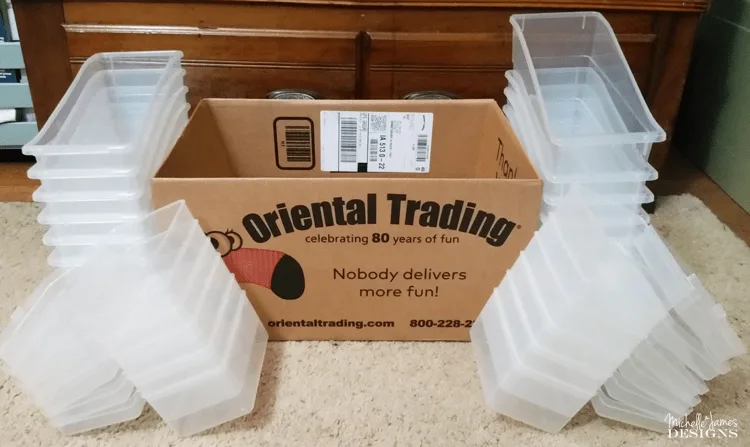 I wanted clear containers so I can see what is inside although I do still add labels. These products were also the perfect size for what I needed/wanted. When these containers arrived I was so excited. It was like Christmas all over again. They are really sturdy and a good quality for the awesome price. They come in packages of six so I got two packages of each.
The baskets I already have are awesome but I want to be able to store smaller things inside the baskets without creating a big mess inside. The recipe storage boxes were the perfect size for that. I could fit four in a basket so twelve boxes was perfect amount.
What It Looked Like To Start
This is what the armoire looked like before.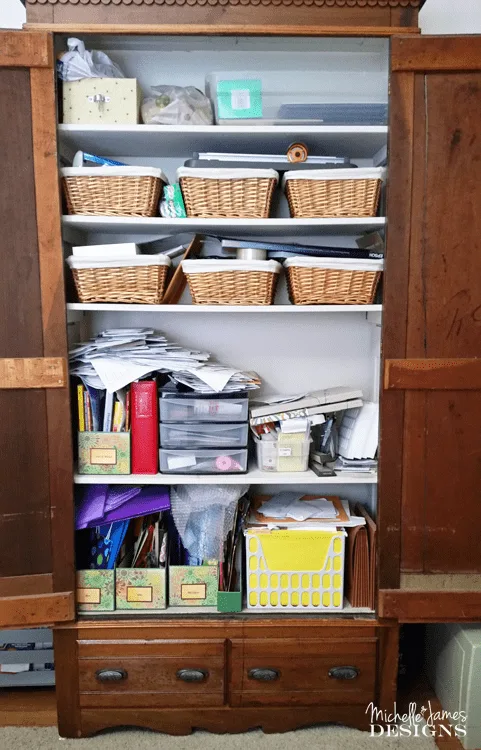 This space had been organized a couple of years ago with a new bill paying system (that is in the red binder), a gift wrap section and office supplies. They needed to stay but everything in the baskets had to go. There were cords, calculators, old electronics, manuals for things we no longer used and more.
These bins came from my craft room and everything needed a home.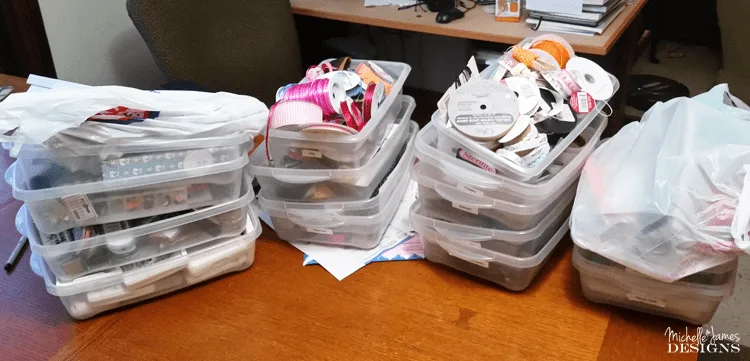 Some of these bins are holding ribbons which will go into these fabric covered boxes that I made years ago and ink pads that will all go into my craft organizer that I made from old cassette, video and dvd holders. This is quite handy.
Putting It Back Together
Once the baskets were empty I separated the smaller items that would fit into these twelve containers, labelled the top of each with a chalkboard label sticker and placed them back into the baskets.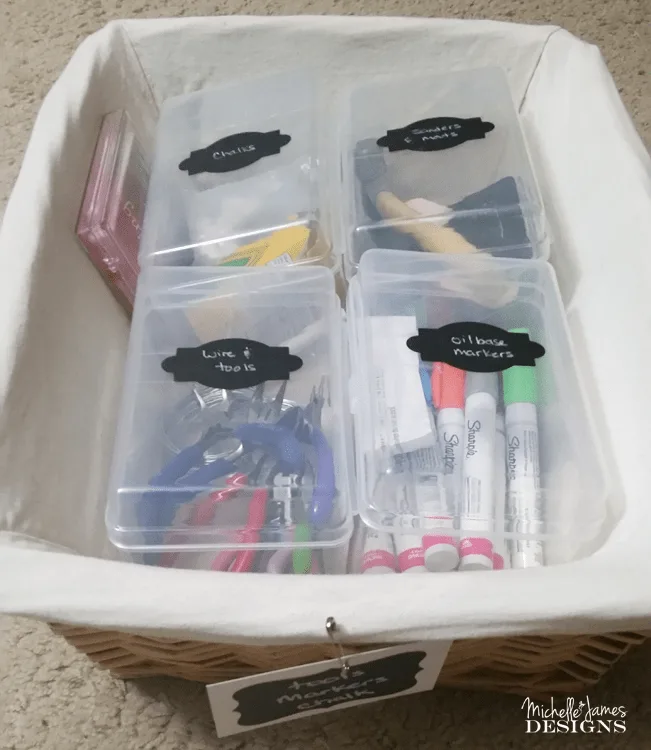 I like to add a tag with a general description of what is inside the basket . It helps me remember what items are in which baskets. I cannot remember anything these days. For me, labeling things seems to be one of the key components to organizing craft supplies.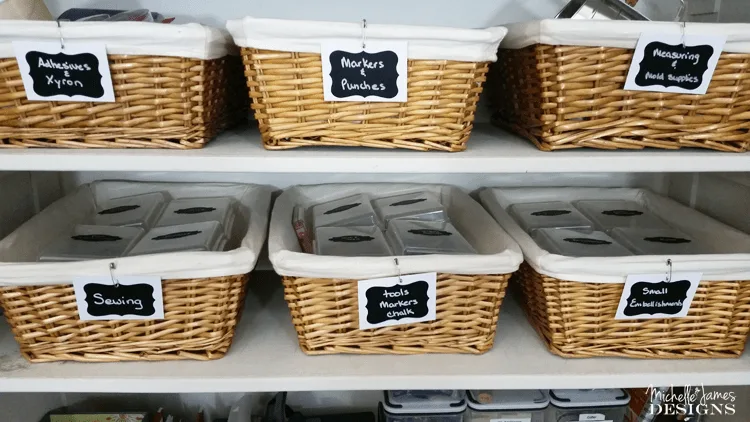 The top row of baskets are currently holding larger items that would not fit in the smaller containers such as my xyron, punches, a heat tool, and the supplies for clay projects.
The clear book containers at the top are now holding some clear stamps, paper bags and cello bags, more clay supplies and some berry baskets that I will use one day. The rest of my clear stamps will be incorporated into this area too so things will shift before it is all said and done.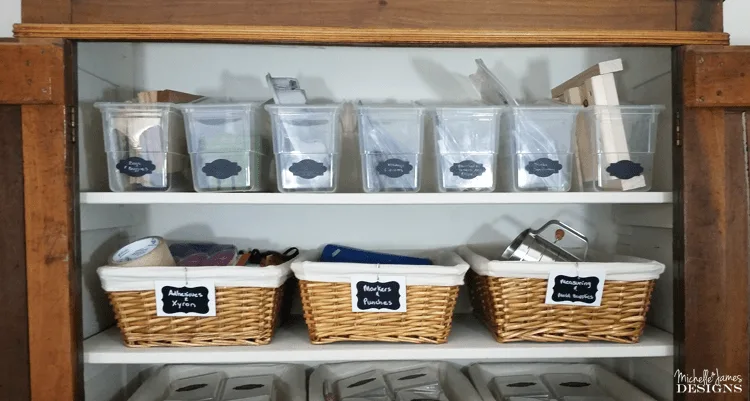 The other book containers ended up on the lower shelf with the office supplies with some of my older clear containers. They are holding some plastic lids that I love to use when I paint with acrylic paints. The smaller boxes have more scrapbooking embellishments, pre-cut tags, circles and other shapes, and magnets.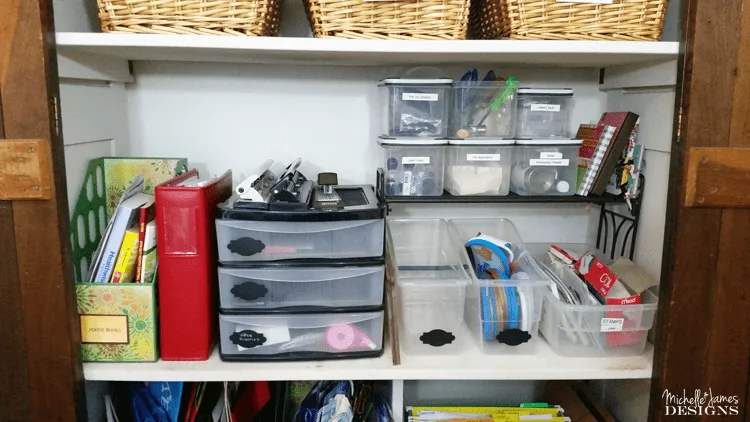 The three-drawer container holds more office supplies and I was even able to empty two of the drawers. Yay me!
Then you see my red binder for bill paying and a magazine holder that holds phone books and local menus.
The bottom shelf holds the gift bags and a file folder for paperwork. It includes our kitties vet visits, insurance paperwork and things of that nature.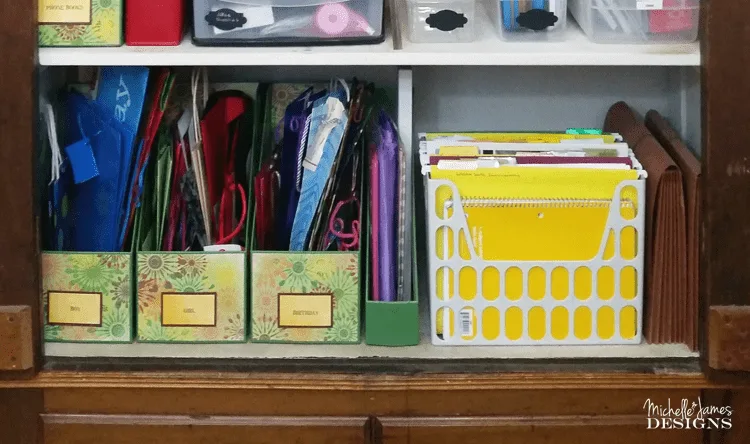 The Final Result
This is the final result. I have even been able to remember where I put most of my stuff. It seems that organizing craft supplies isn't so bad once you have it all done. LOL!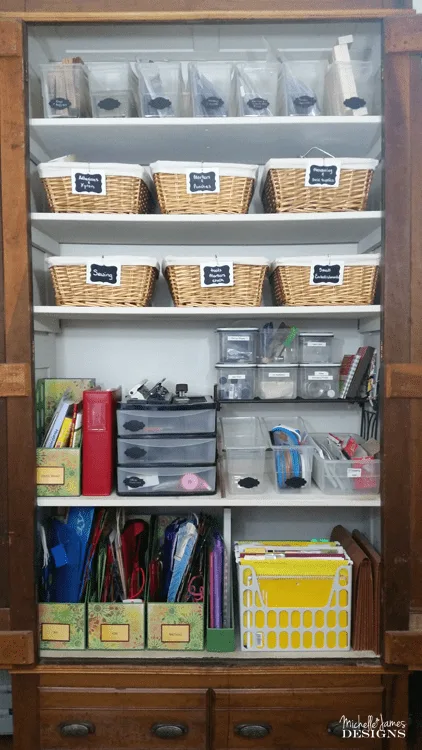 And I can close it up when it is not being used and it still looks good. I love that.
So, what have you organized this year? I would love to hear about it in the comments!
Oh and if you are looking for a deal at Oriental Trading? Visit their coupon page for the latest sales.
Thanks for stopping by,
Michelle