Hi everyone and welcome back to my blog. I am so glad you are here. Today is another one of my favorites posts of the month. It's Thrift Store Challenge day. Yaay! I have had this guy in my garage for about two years so I am happy to get it out of there and onto the back patio where it belongs. Today, I am showing my outdoor footrest makeover.
I can't even remember where I got this but I think it was a garage sale for $3.50. I knew I could give it a new life so I decided this was the perfect time of year for it. My patio is looking nice and I have been adding pops of color with rejuvenated painted planters and of course, flowers! If it would ever stop raining I would love to spend some quality time back there sitting and enjoying our short summer season. I do go out each week and weed and clean up but that is work…not relaxation. LOL! I hope you like my outdoor ottoman makeover. It was a fun project and will be nice to have. I think the outdoor kitties will like it too!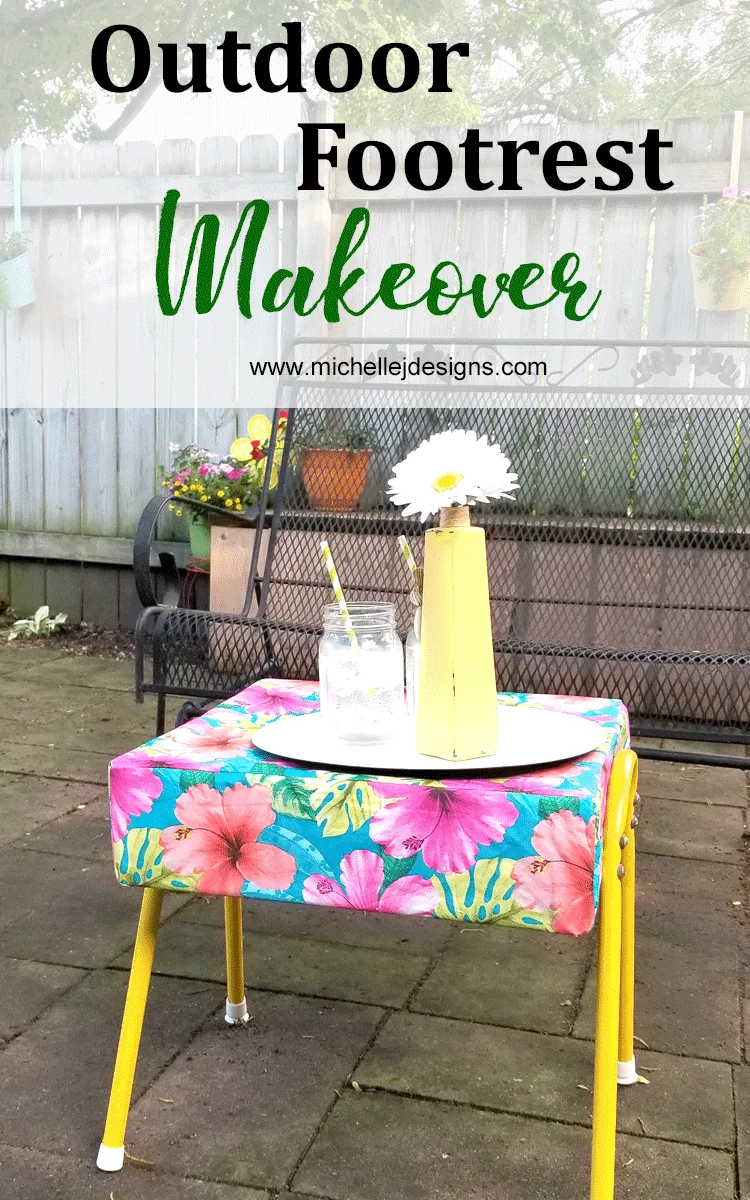 Thrift Store Challenge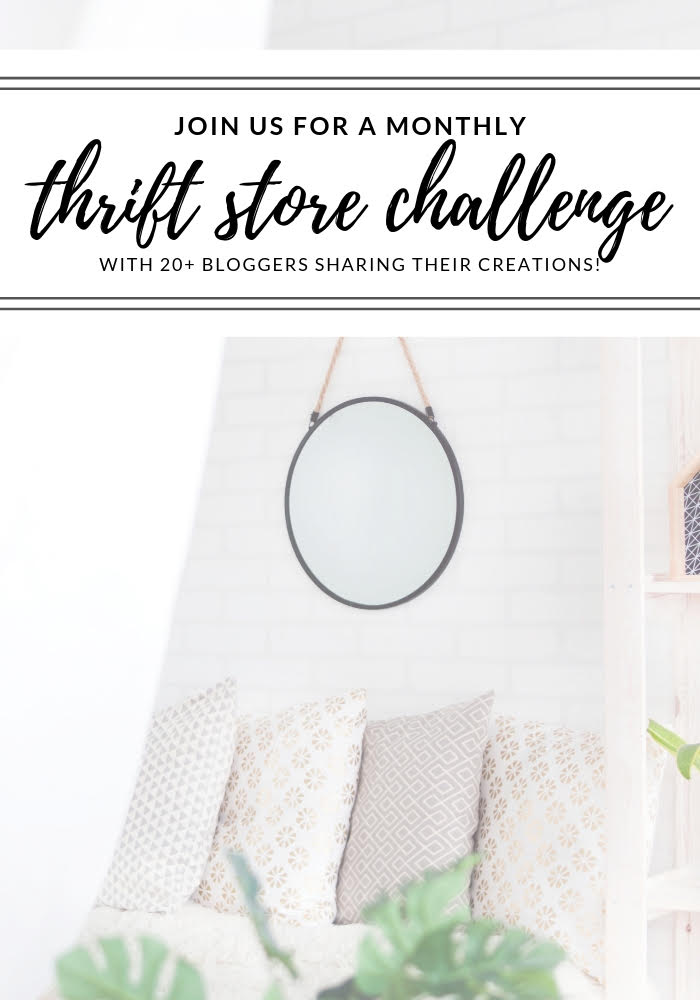 The Rules:
Upcycle an item(s) from a thrift store, resale store, or garage sale into a new piece of decor.
There's no monthly theme.
There's no budget to stick to.
Meet the Hosts
Angela | Simply Beautiful By Angela – Angie | Grandma Creates – Meredith | Southbound Blog – Amanda | Domestically Creative – Molly | Just a Little Creativity – Jenny | Cookies Coffee and Crafts – Michelle | Michelle James Designs – Marie | DIY Adulation – Pili | My Sweet Things – Gail | Purple Hues and Me – Denise| My Thrifty House – Emy | Semigloss Design – Michelle | Our Crafty Mom – Lynne | My Family Thyme – Chas | Chas' Crazy Creations – Kathleen | Our Hopeful Home
Make sure you follow our board on Pinterest for more upcycled decor inspiration!
Outdoor Footrest Makeover
As I mentioned earlier this little footrest has been in my garage for a couple of years tucked away under the indoor catio for the outdoor cats. It has been out of sight…out of mind. When I was searching my sea of thrift projects I found it and thought this is the perfect time to makeover this ottoman and have it in the backyard patio space to put my feet up while I relax.
So, I got it out and tried to clean it as best I could.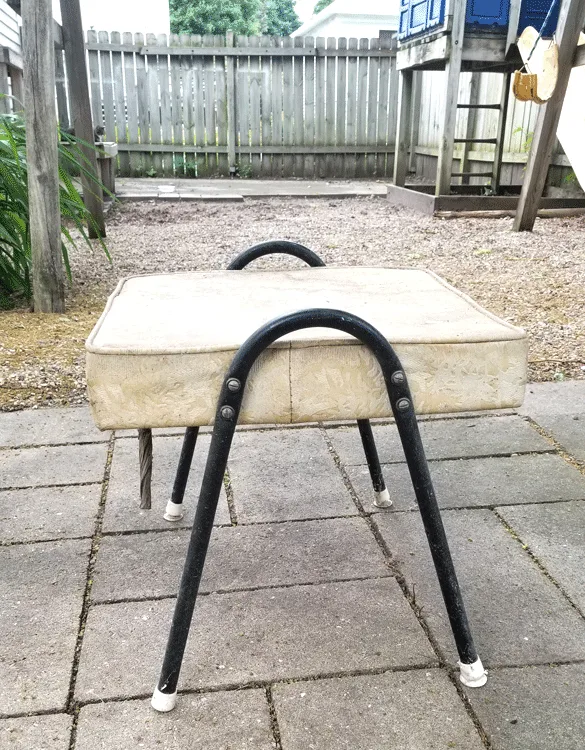 This is the poor thi thang before I started.
Before I get into the steps I took to re-cover it I want to give you the materials list and some printable instructions.
Some of the links are affiliate links for your convenience. You can read my full disclosure here.
Below the printable instructions you will find the step by step instructions with photos.
Outdoor Footrest Makeover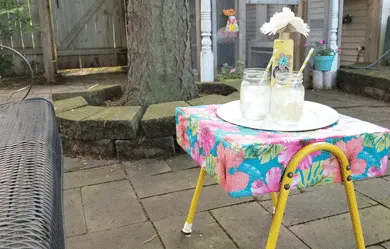 This cute outdoor ottoman or footrest is perfect for relaxing on the deck or backyard patio space. It is comfy and somewhat waterproof! There is a vinyl tablecloth cover to protect in a light rain.
Total Time
4 hours
30 minutes
Materials
Thrift Store Ottoman/Footrest
Vinyl Tablecloth
Tools
Screwdriver
Paint brush - Foam Brush
Scissors
Ruler
Sharpie
Instructions
Clean off the ottoman.
Using a screwdriver, remove the legs from the seat (save the screws and nuts)
Paint the metal legs. Mine needed 3 good coats to cover the black.
Cut the foam piece to the size of the seat. Mine was 16 x 16 inches. I cut 2 inches off of two sides. You can mark the sides with a sharpie marker
Cut the tablecloth into the pieces needed to re-cover the seat cushion. I cut 1 piece 17x17 to allow for 1/2 inch seam allowance. Then I cut 4 pieces each that measured 17x6 inches. These are for the sides.
Placing one side piece at a time right sides together, stitch along the edges to create a seam. Continue with all four sides.
Matching right sides together, stitch the small side seams to form a corner seam. Continue for all four corners. Set this cover piece aside.
Remove the old cover from the seat and what you can of any foam or debiis.
Glue the new foam piece onto the seat and use some heavy books to hold it down until the glue is set.
Add the cover to the foam gluing each side as you go.
Wrap the extra vinyl tablecloth fabric around the bottom and glue it down so it looks neat.
Re-punch the holes for the screws.
Add your freshly painted legs back on with the screwdriver.
Enjoy!
Step 1: Clean off your footrest
Your garage is probably much cleaner than mine so maybe this step isn't as important to you but for me it really needed to be done. I swept if off and dusted it to be free from cobwebs.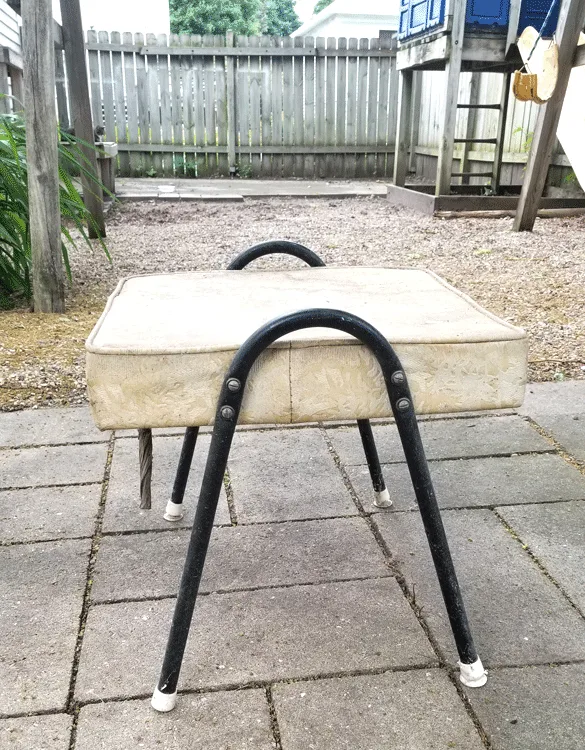 Step 2: Remove the legs for painting.
I used a screwdriver to remove the screws and take the legs off. The white rubber feet were removed and I saved all of these things to put back on later.
At first I wanted to spray paint them but I decided to use the Outdoor Living paint to match my painted planters.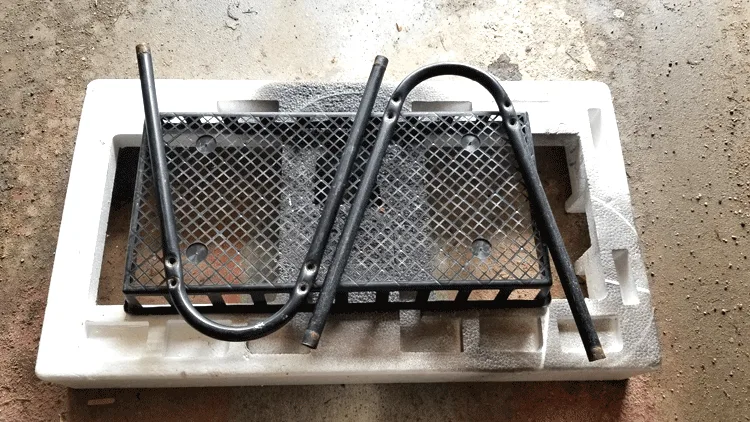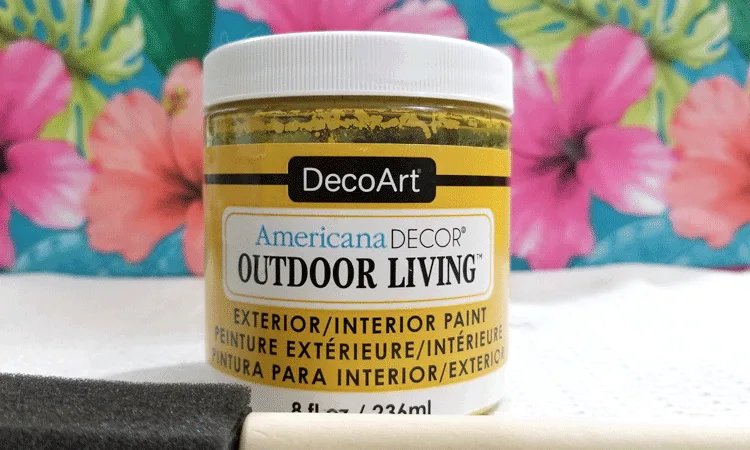 After the legs were painted and back onto the ottoman I added the white rubber feet back on.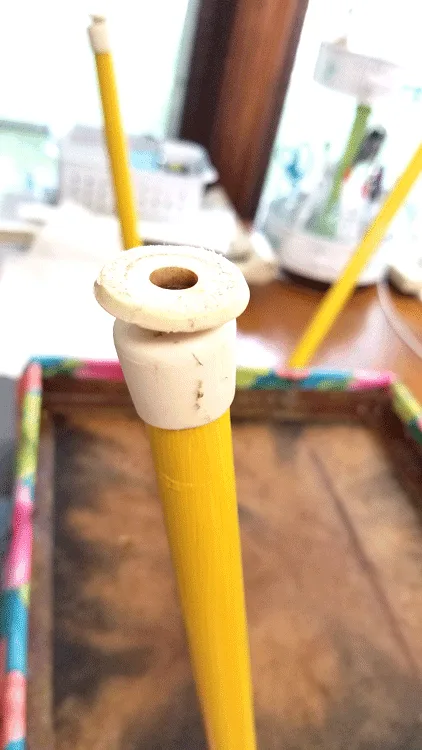 Step 3: Make the new cushion
First I removed the old cover and got rid of it. Then I started by measuring the size of the cushion and cutting the foam piece. It needed to be 16×16. I had purchased an 18×18 foam piece so I marked 2 inches off of 2 sides and cut it with my scissors.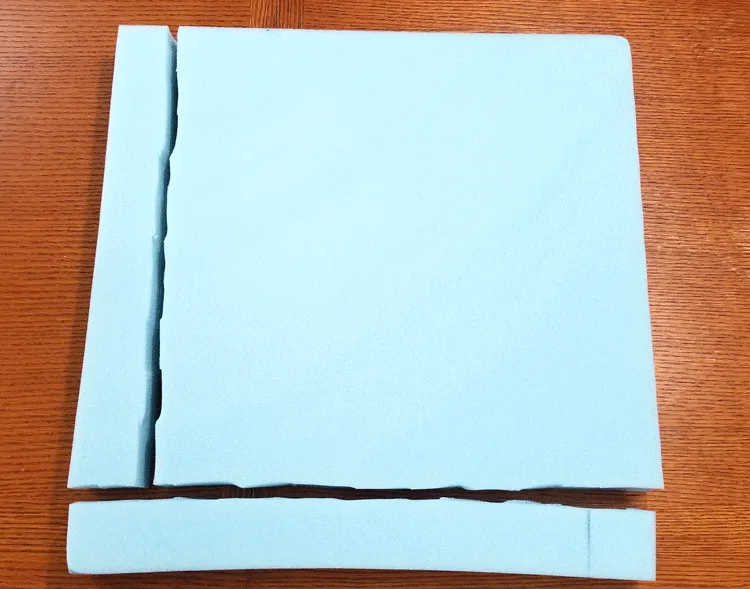 My cutting could have been a little neater but it didn't matter!
Next I moved onto the tablecloth or my fabric. I needed a top cover piece and 4 sides so I cut a 17 x 17 piece for the top. This allowed for a 1/2 inch seam allowance all the way around. The four side pieces were 17 x 6 inches each.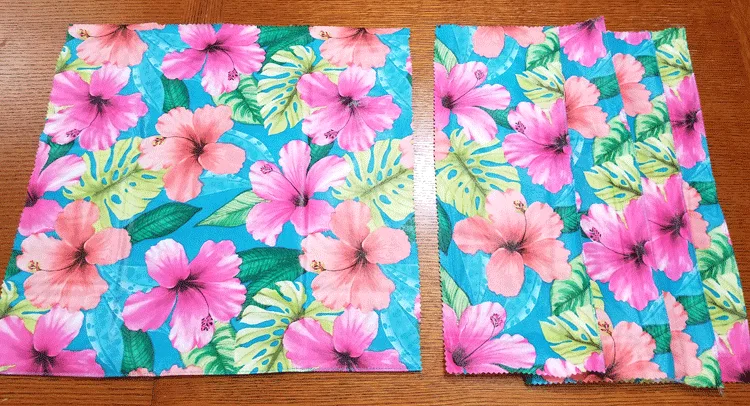 I laid each side right sides together and stitched them one by one. The picture below is just showing the side pieces with right sides together.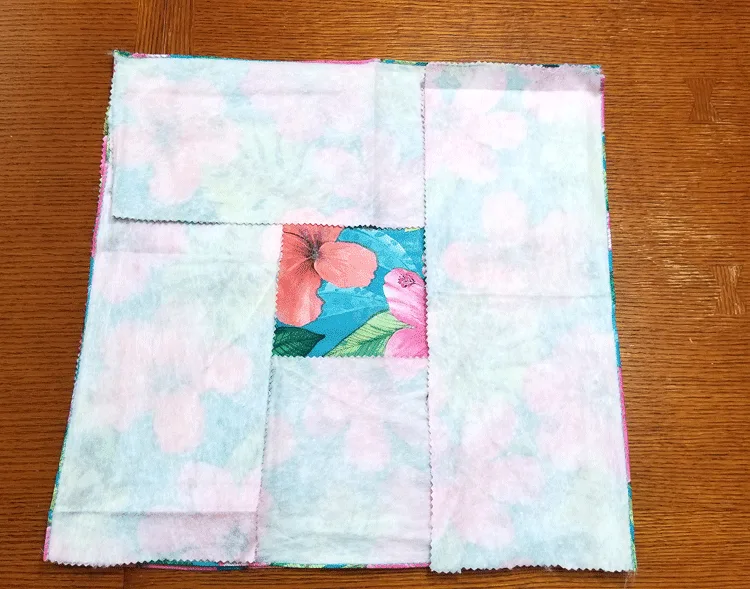 This is how it looked when I was done sewing it up.
The foam was glued onto the seat before adding the new cover.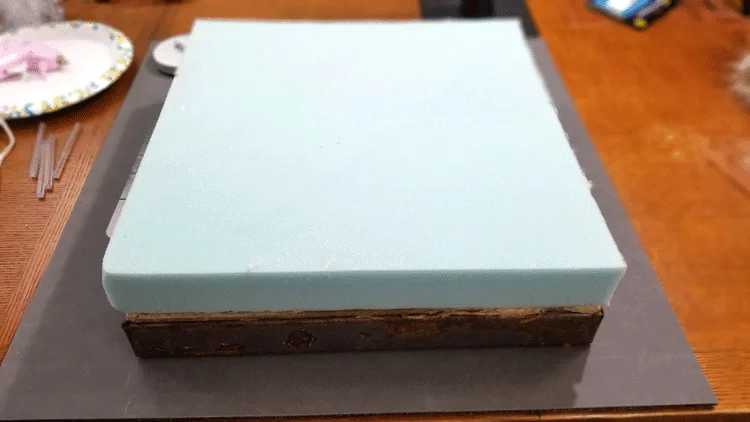 Once the cover was added, I glued the sides the pulled the cover over each side.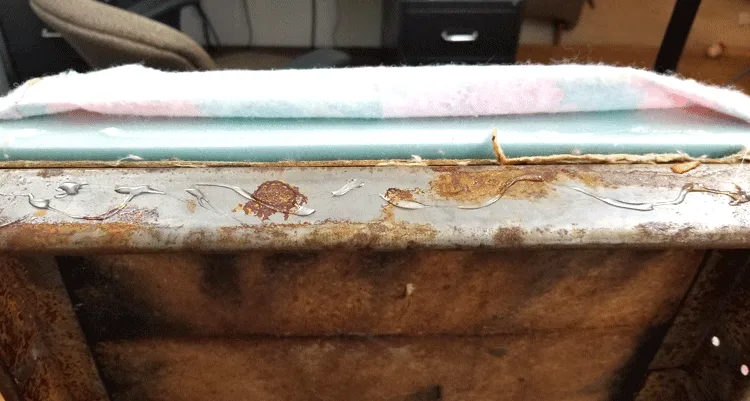 Then I wrapped it around and glued it on the underside of the seat.
Tucking in the corners and gluing them down helped to create a clean look.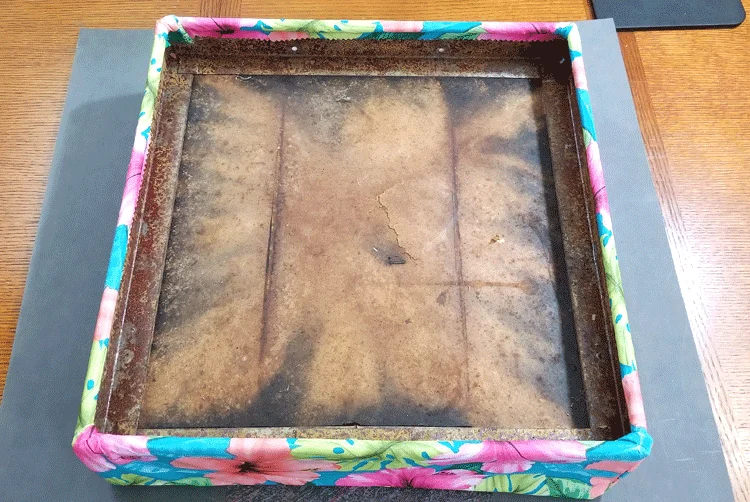 Step 4: Putting it back together
All I had to do now was poke new holes in the fabric where the screws fit back in and reattach the legs.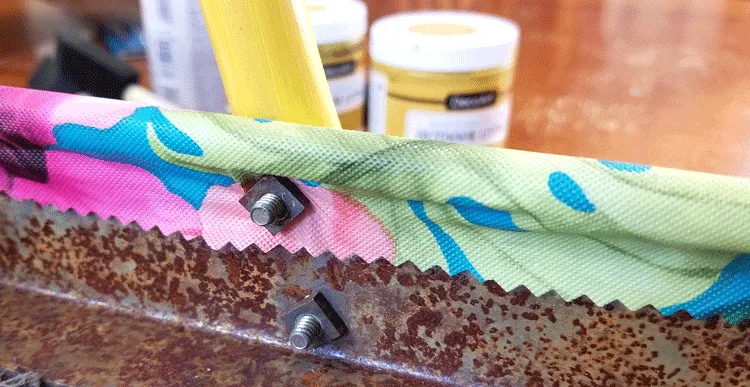 Easy peasy!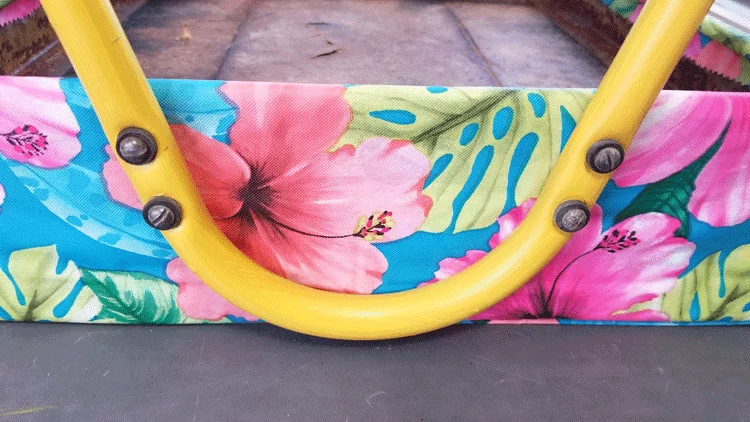 I think it looks pretty cute in my back yard but now all of my black furniture seems boring and dull. The footrest really stands out next to it.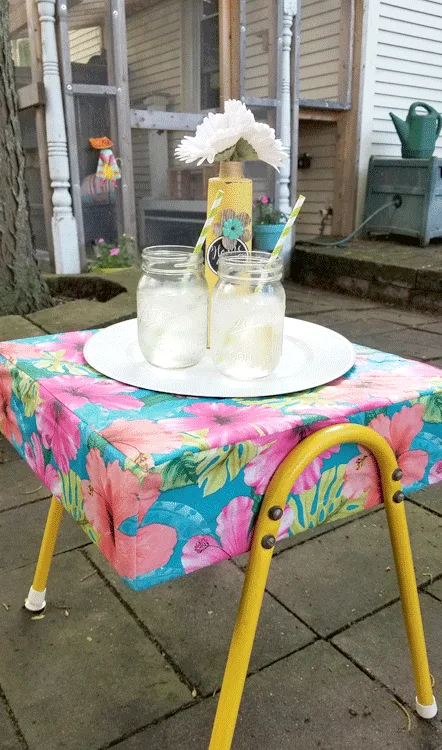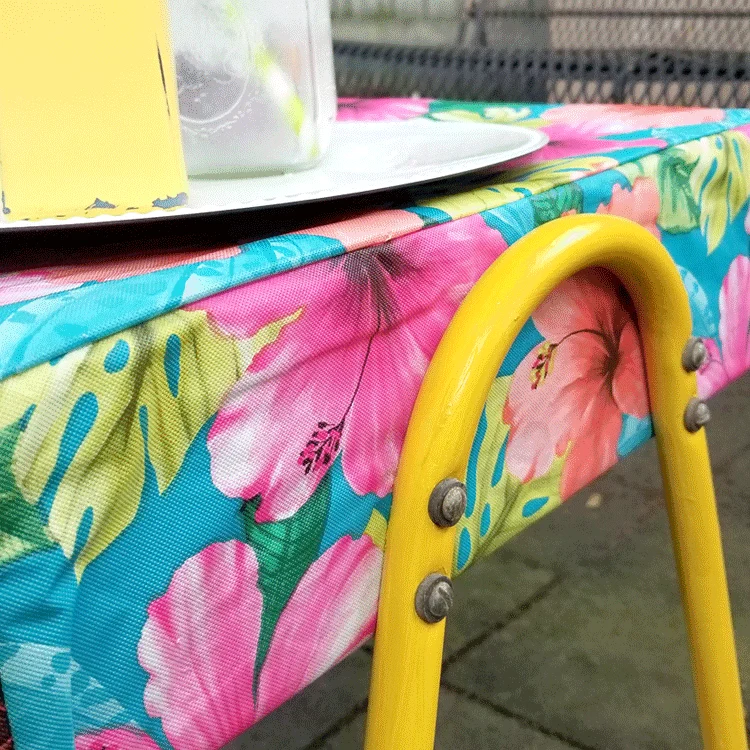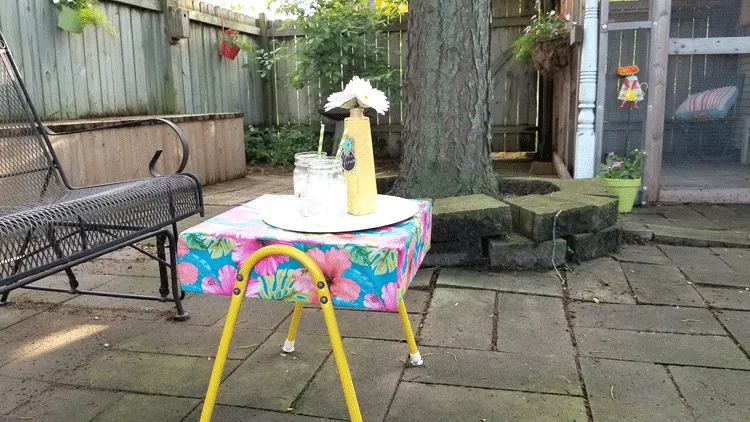 I just love it and it adds another pop of color into this outdoor space. What do you think?
It may not last a couple of seasons but it was budget friendly and I can easily remove the legs to recover it again if I want to. I am excited to have it finished and can't wait to get outside to use it.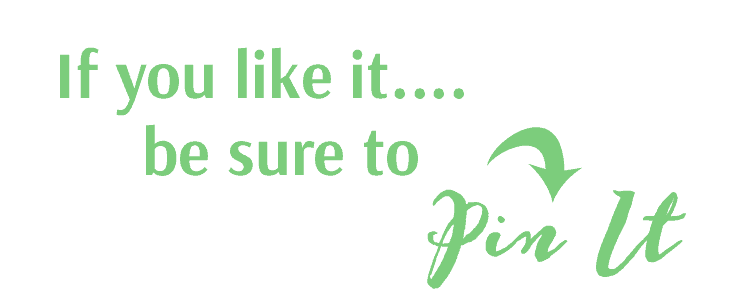 And now for more thrifty goodness!
Check out what my fellow upcyclers created below!
Prompted journals/log books that are perfect for summer and designed by me! Take a look at these fun journal books available on Amazon.