Hi and welcome back to Michelle James Squared Craft Corner. This week I am making a super cute holiday planner to keep me organized this season and the other Michelle James is creating some beautiful ornaments with her new Cricut machine. I may be a jealous of her Cricut!
I used to create a Holiday Planner each year and I have slacked off for the the past few years. This year I was bound and determined to get one done again. So, Peggy and I got together and she brought over all of her Christmas paper from the years (she has a lot) and we got busy on our 2016 holiday planners.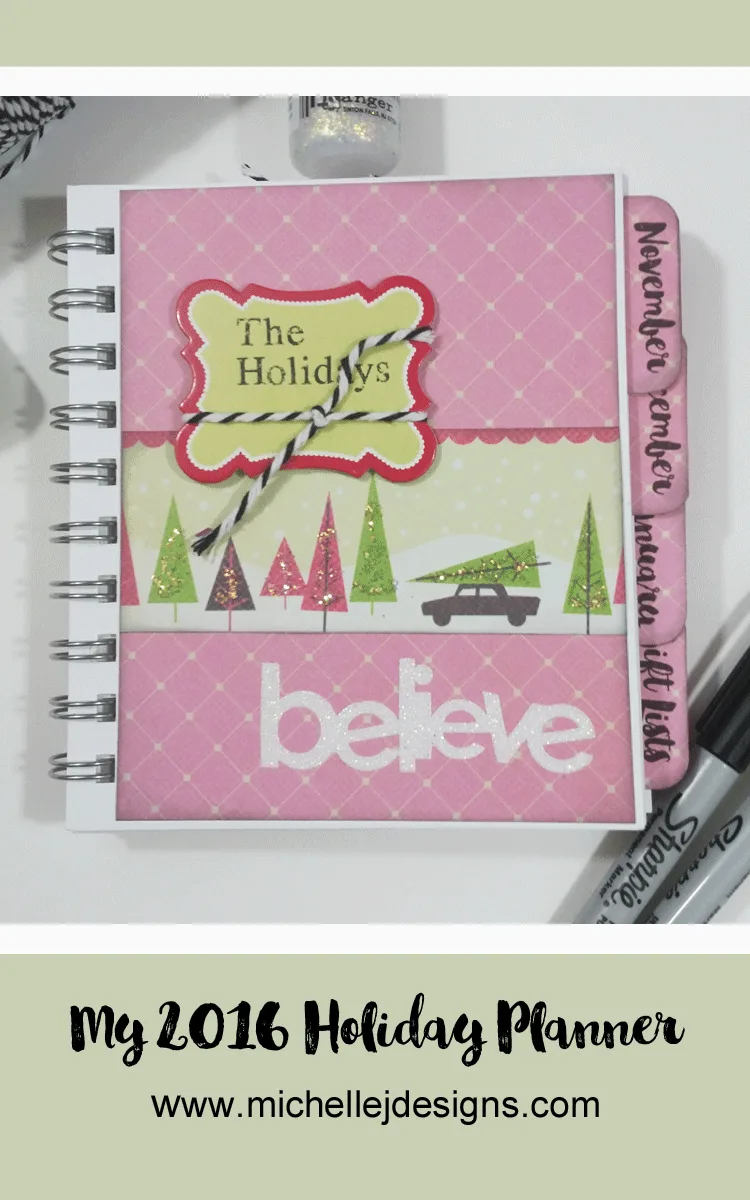 My 2016 Holiday Planner
These are easy and fun to create. We sat down around 2:30 one afternoon and were done by about 5:00. You just have to gather your supplies and get ready to work. I am including a list of supplies and some affiliate links for your convenience. You can read my full disclosure here.
Supplies needed:
Notebook or Spiral Index Card Notebook (ours were from Hobby Lobby)
Ribbon – I used a little baker's twine
Scissors
Paper Trimmer/Cutter
Embellishments
I also used a computer and a printer to print the tabs I wanted
Putting It All Together
I like to create tabs for the different sections of my planner. This year I have November, December, January calendars, gift lists, receipts, cards, events and posts (for my holiday blog planning). I don't do a lot so I could probably do away with the events tab…but I am hopeful each year that I will get invited to things. LOL!
Our notebooks already had a spiral binding so we just cut the papers up to the spiral and called it good. We measured the width and the length of the pages to cut the sheets.
I started with the front cover.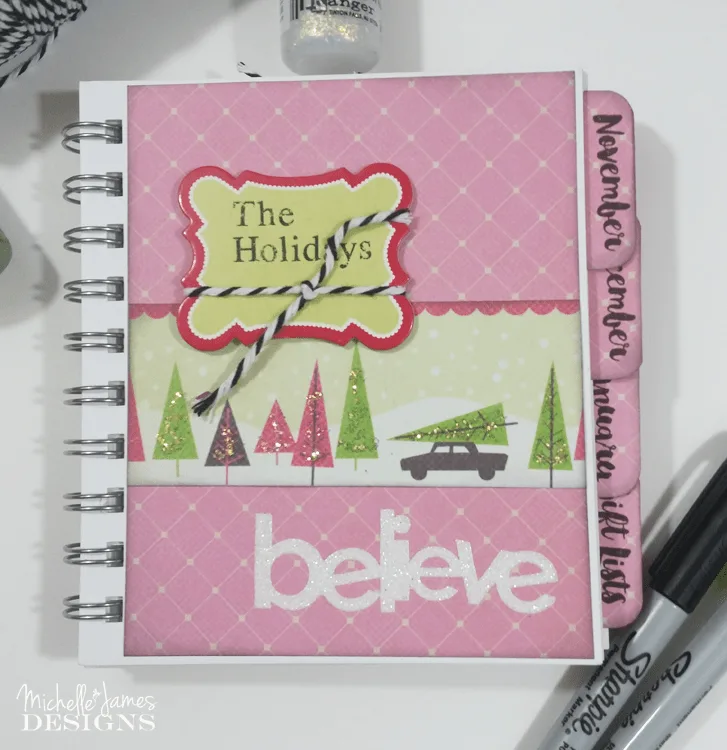 One of the sheets of paper I was using was a series of borders so I cut out the trees and added some stickles to them. I also inked all of my edges with Midnight Confession powder puff ink. This is by far my favorite ink for grunging up the edges.
The title piece is a chipboard cut-out and I added alphabet rub-ons to the front to create the title. I tied the baker's twine around it and used mounting tape to stick it down. Cute right?
Peggy had the believe sticker and it was already pretty with glitter. It just added a little more sparkle. Who doesn't love a little sparkle?
Then I created my calendar pages. I have these already created on Photoshop Elements so I just had to add in the month name and the numbers. I like to add November, December and January in my planner.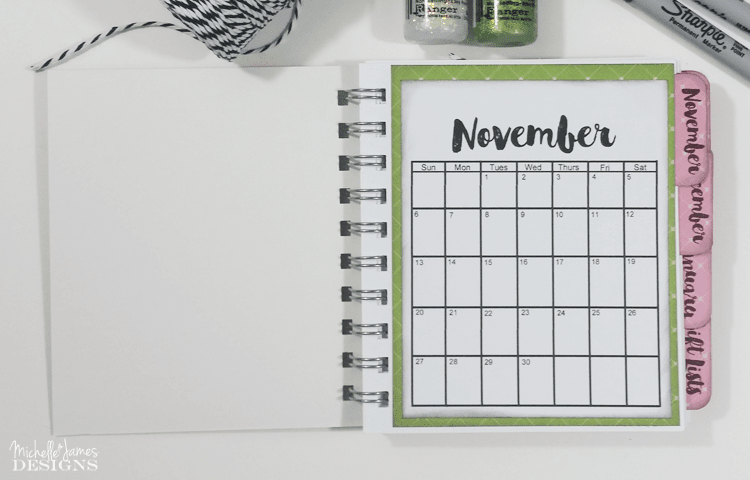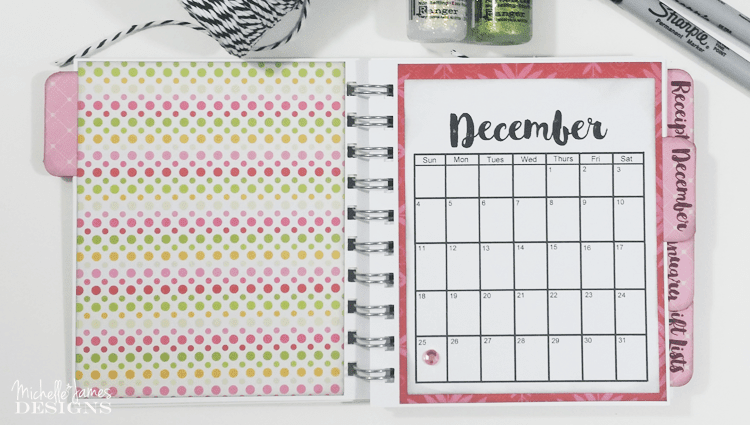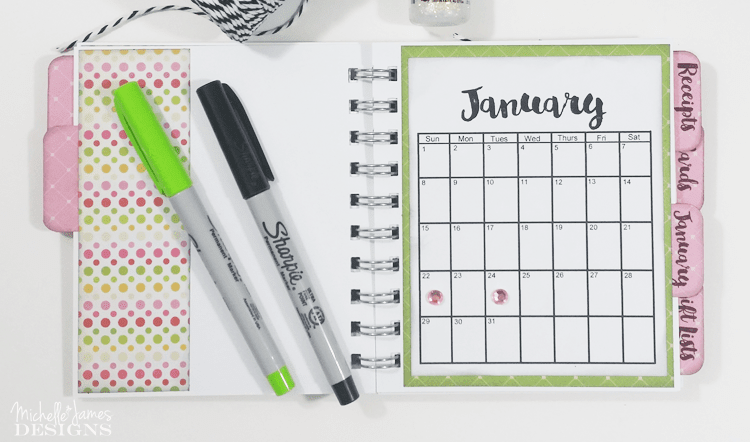 For the tabs I used one sheet of paper that I cut down to an 8.5×11. I printed them onto the paper then cut them into a 1.25″ x 1.50″ size making sure the name of the tab was in the middle so when I folded it down it was at the top. After it was folded I rounded the corners to create the tab.
To get it onto the page I opened the fold to add some adhesive, folded it over the page in the notebook so it stuck out enough to read the name of the tab then placed some scotch tape on the edges to help hold it in place. I just eyeball the placement but you can measure and mark where you want them to be. Just be sure you can erase or cover your markings.
Cover the edges with the pretty papers to hide the tape too. It is pretty strong and I have never had one come loose. (knocking on wood now)
Next were the gift list pages. I add a tab for this then have some blank pages to write the names of people and their list or "co-workers" and a list of supplies or whatever you want.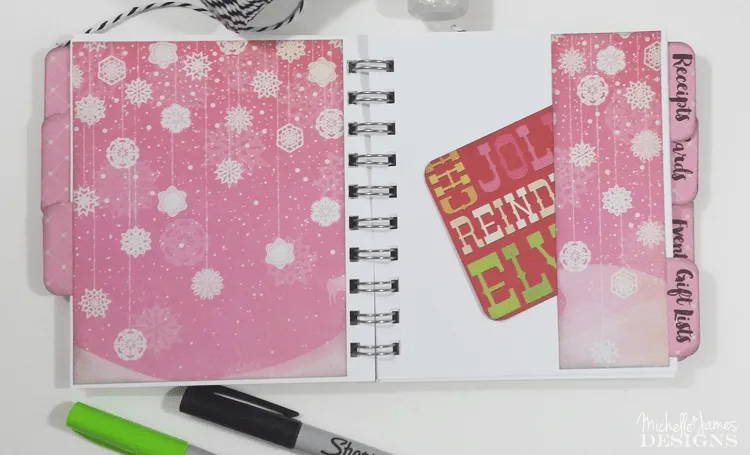 The receipts tab comes next followed by pages with pockets to slip them into right at the store. I keep them until after Christmas just in case something needs to be returned.
Here are some of the pocket pages. I just cut some scraps and glue the edges down. They turn out pretty too.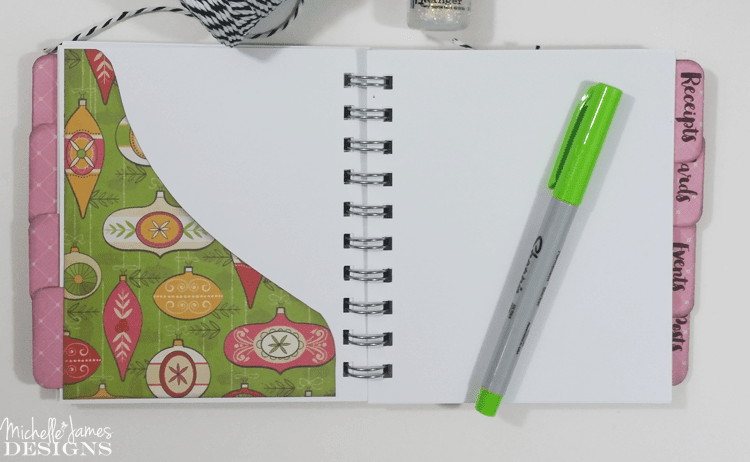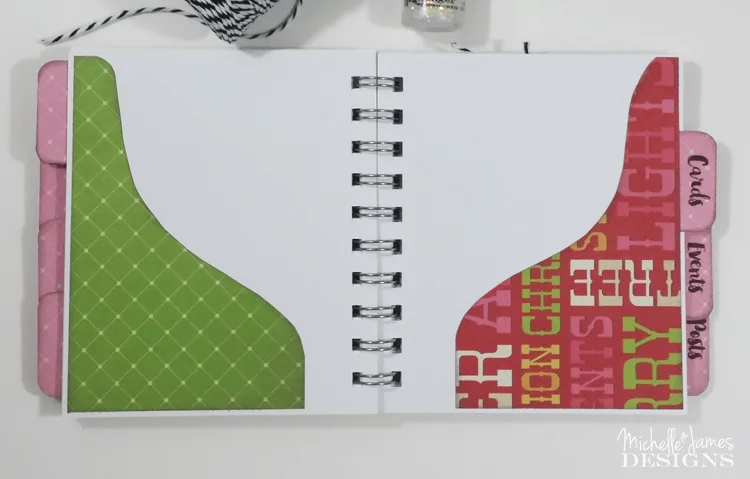 Then just to create some interest I like to add some fun tags and stuff.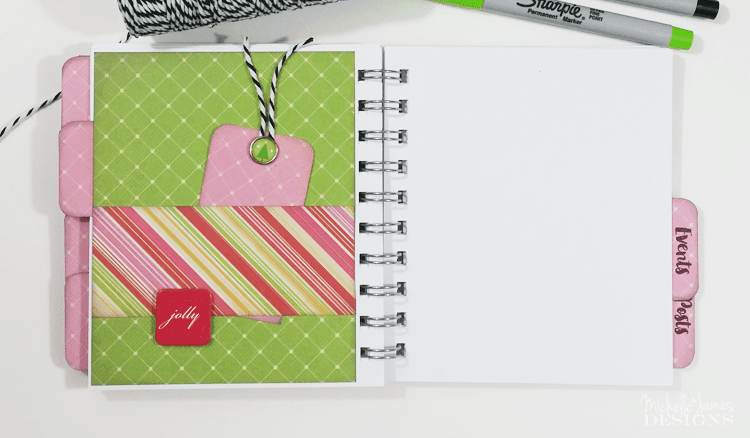 Then when I get all of the pages done. I decorate the back cover as well.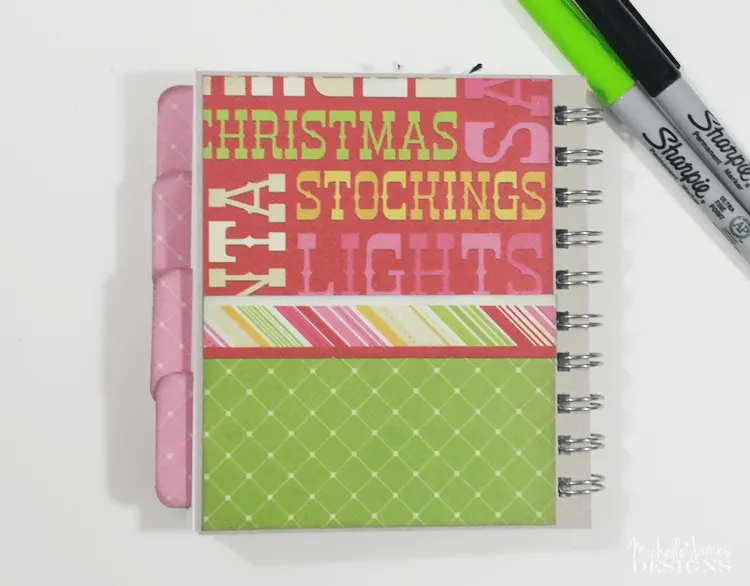 I just love it and now I can start making lists and planning out my projects, etc. I love to use the fine tip sharpies to write with or a fancy pen.
What do you think?
Here are some of the pages Peggy made. She used the more traditional Christmas colors and it turned out so nice. I am in love with her cover page and the poofy trees.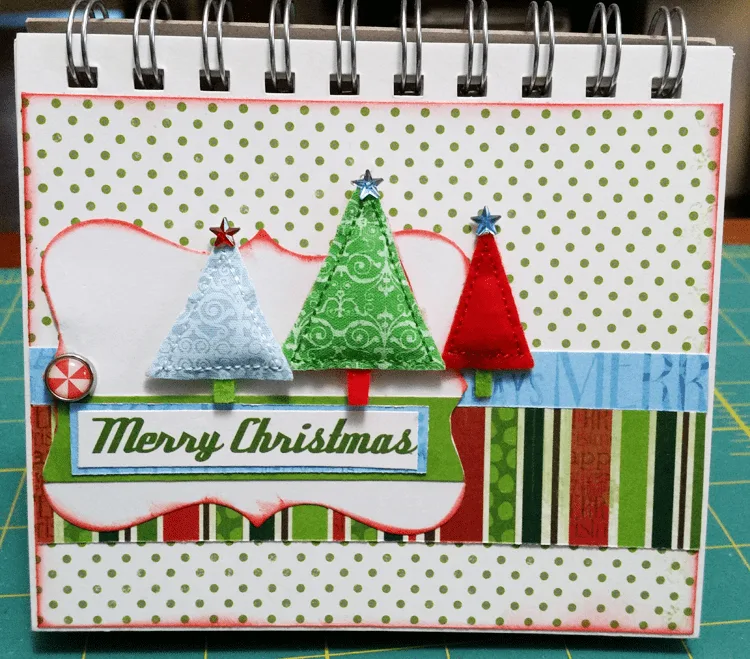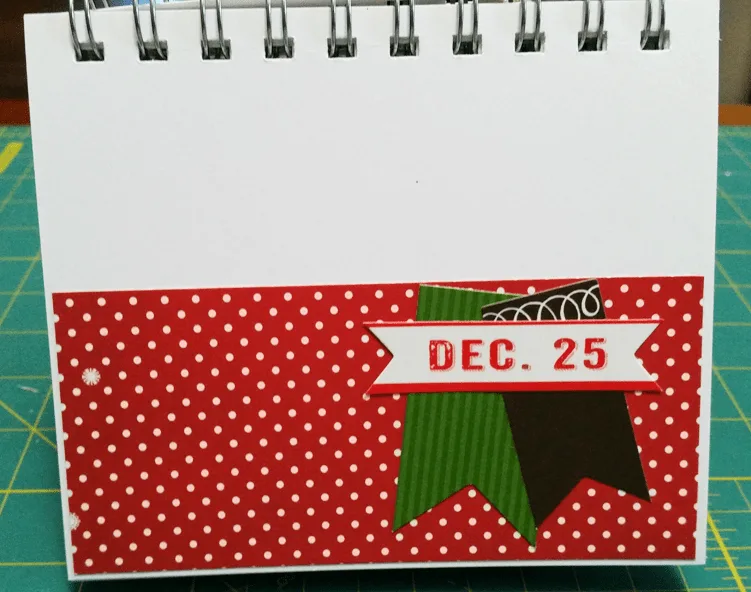 And we really should have her on a short video showing this last page. It opens up to a folder to hold the receipts. She is so clever. But with these you can design your pages to be just the way you want them.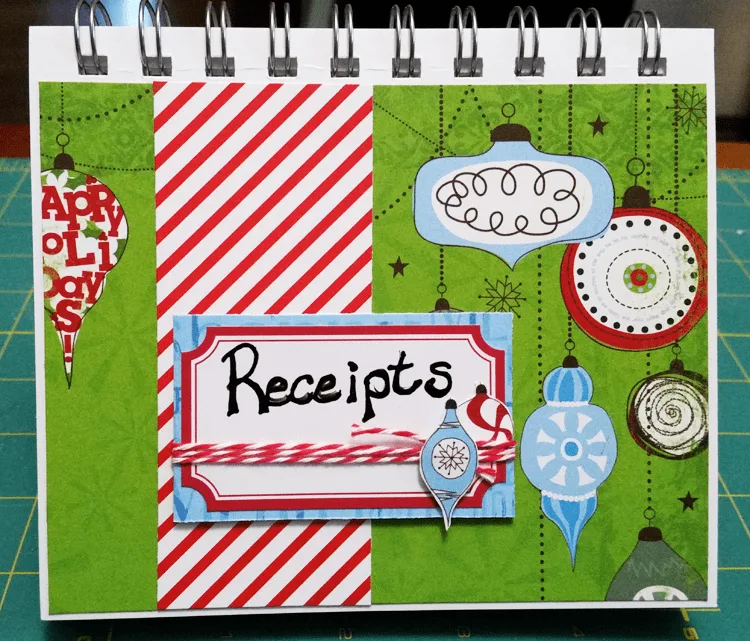 We both had a great time and can't wait to do some more crafting together.
Don't forget to head over to Our Crafty Mom and see Michelle's ornaments. Amazing!!!
Thanks for visiting our crafty corner of the world.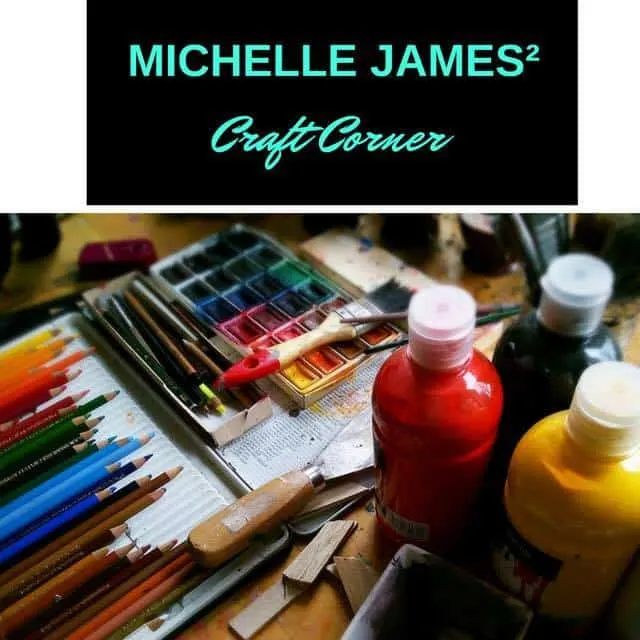 Michelle