I have decided on a couple of goals for the new year and they are based mainly on Ian and Hailey's wedding coming up in February 2016. So I am working toward tightening the belt in more ways than one!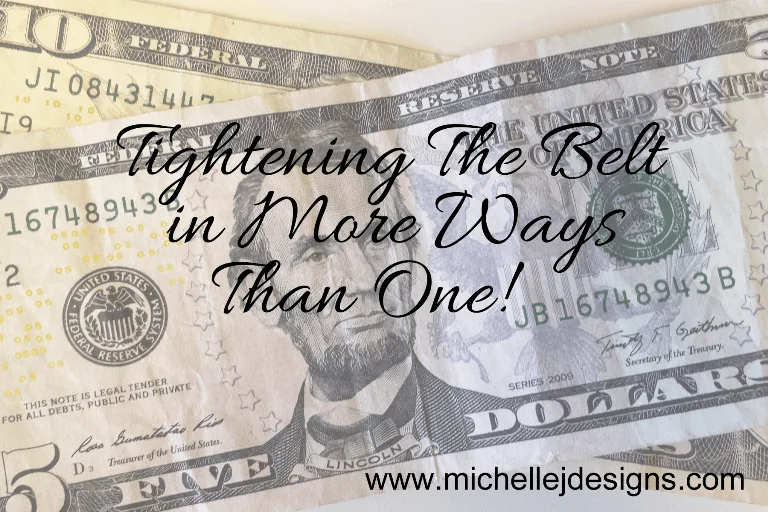 This is a destination wedding in Ocho Rios, Jamaica. I love the beach and the ocean and I so want to spend a little time outside…most likely in shorts and hopefully some sort of cute short sleeved top. Would I even dare to wear a tank top?
But before I can think about what I am going to wear on this beach I have to figure out how I am going to save for the trip. Jeff and I have a really tight budget and saving this much per month is really going to take some discipline, hard work and maybe even a little magic.
So as you have probably figured out by now. I want to drop a few pounds and save some money. Don't we all? I know these are the biggest cliche goals of all time.
These are the steps I am taking toward these goals. I am writing a post about this for two reasons.
1. I think putting it out there makes me accountable to you and to myself and,
2. I want to share my excitement when I reach my goals because it is fun! I am working toward one pound per week and a total of 40 45 pounds. So, if I stay on track I won't even need the entire year. But, I can't slack off either. It will be a lifestyle change the should stick forever.
You are probably saying, "How are you going to get there Michelle?" Here is my plan for now. It could change and morph over the year but so far this is it.
Make meals ahead of time for the week or longer
I started this last weekend and I loved that in 3 hours I had meals for the week. They were mostly done and all I really had to do is put them in the oven when I got home. It was so great and really efficient. I loved it so much that I decided that two weeks would be even better.
Well, that may be the case after some practice. For example: I wanted to make some frozen pizzas to cook this week. I did not know that they had to go into the freezer for about 3 hours before they could be wrapped and stacked. I should have started with these and while they were getting frozen I could have started the other meals. But no…. I waited and then could hardly fit them into the freezer. We don't have an extra freezer so I had to make space count. I actually used my Pampered Chef cooling rack in the freezer for a while so things could be stacked without touching.
These are the things I am learning and will hopefully be able to streamline process so it doesn't take me all day. I literally stood in the kitchen for about 8 hours because when I was just about finished with the make ahead meals I had to start our supper for that night. It was planned but not made ahead. I needed wine when I finally got done.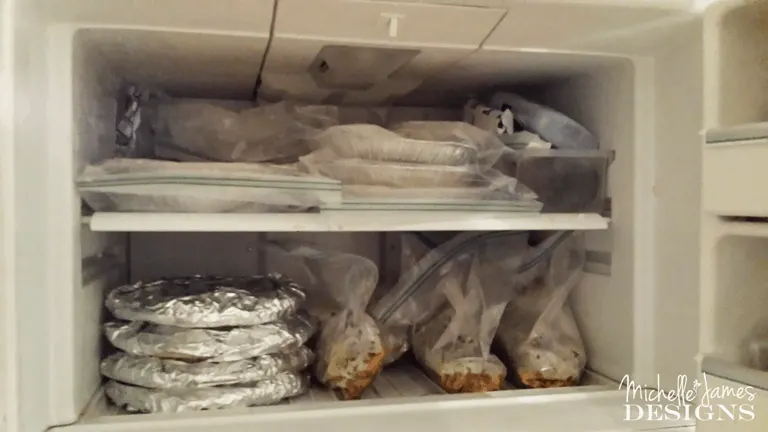 Here is my freezer today. I do not claim to be a weight loss expert but I do know what works for me and that is lower carbs and virtually no sugar. I usually have a salad at lunch and the only carbs I eat during the day are the ones I get from veggies or nuts. When I snack I usually eat a piece of cheese, nuts or olives (I really love olives). I am weird. Everyone tells me this.
So, These are the meals I got done:
4 pizzas – I did not use a special carb free crust or anything I am just trying to reduce my carbs. I will use portion control when I eat these. They are pretty small to begin with so I am thinking 2 meals plus some leftovers for lunches
5 baggies of taco meat – We love mexican so we usually eat taco salad, tacos or enchiladas once per week. There are at least two meals worth in each bag.
2 baggies of shredded pork. We made a pretty good Chili verde the other day so I am thinking this again. I like it just as is but Jeff will put it into a burrito shell.
3 quiche lorraine with the crust. I like the crust and again, if I use portion control and these are the only carbs besides the veggies during the day I am fine. And we will have leftovers. One of these was actually made the week before.
3 pkgs of 3 hamburgers each. I just formed the patty and will cook it that night. I like to eat mine with a lettuce wrap instead of a bun.
2 pkgs of meatballs. I figured on a night that I am gone Jeff could have a meatball sandwich or some pasta and meatballs.
3 baggies of pre-cooked chicken. We either shred or dice this for mexican or we make chicken alfredo with broccoli. I don't eat pasta in mine but Jeff does.
Then there are 2 meals of chicken breast stuffed with pepper jack cheese and green chilies. We made this last week with spinach instead of the green chilies but it wasn't Jeff's favorite so we decided to try the chilies and see if we like it better. I will let you know.
So we are pretty stocked up on suppers. I figured that If this lasts us for three weeks I will have spent $53 per week. That is pretty good for me. We would only need to go back for fresh veggies, milk etc.
So right there I am working toward my goal of saving some money. That is the plan. Spend less…save more. We also won't be tempted to go out to eat so much because we have a supper pretty much ready to go into the oven. So we will save money in that area too.
Save a little from each paycheck
Since I am saving so much on the food each week I figured we could probably save a little extra from each paycheck for the wedding. We get 4 paychecks per month between us so I am thinking $100 from each one should do the trick. Also whatever I make from this blog will go in as well.
We have also paid off one credit card so I am hoping to add a portion of that in. I want to take some of that and put it toward another bill too. These are the things I always have trouble sticking to because there is ALWAYS a problem with the house, or an appliance or something. So, I will do my best.
I have been pinning and reading a lot about saving money and how to do it but for us it never seems feasible. This is where the magic I spoke about earlier needs to come in.
Does anyone have any spectacular savings tips for me? I need all of the help I can get.
So that is my plan of attack for tightening the belt in more ways than one and I hope it works. Wish me luck! (and some magic)
I am sharing at the following link parties: