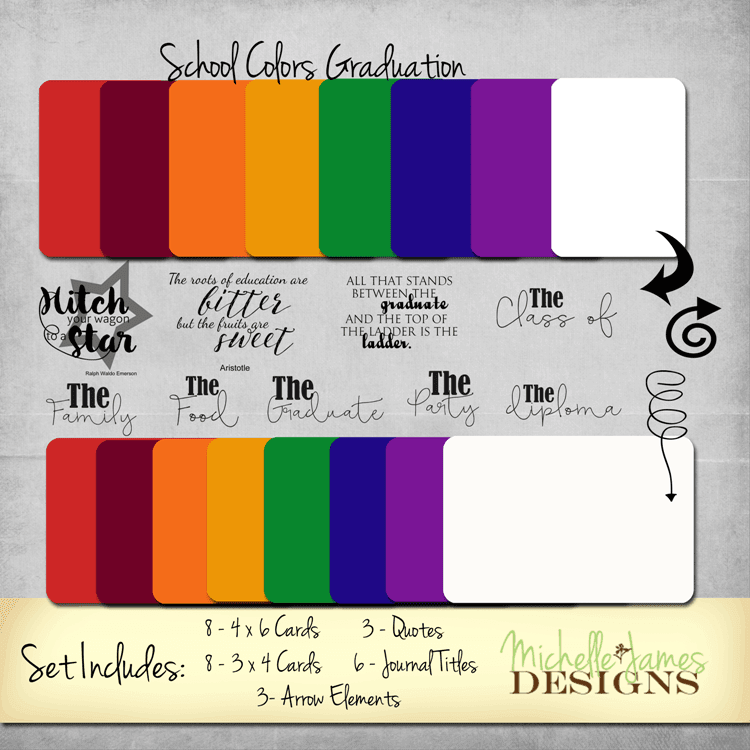 School Colors Graduation Kit
This kit includes all of the school colors to use as journal cards and to place the appropriate wording. They are simple but make a bold statement on the pages.
I know that digi scrappers can change the colors of a card with the click of the mouse but for the hybrid/traditional scrappers I wanted to make sure all of the colors were available.
The kit includes eight 3×4 cards, eight 4×6 cards, ten pages for print, three graduation quotes, six journaling titles and three arrow elements.
The print pages include two 4×6 and two 3×4 cards of one color per sheet There is one page for each school color and one page for all of the quotes and arrows and still one more page for the journal titles. I tried to make it super easy for printing the right color and not having to print the colors you don't need. Please remember that all computers and printers are different and the colors are going to vary from computer to computer and from printer to printer.
This is what each of the eight print cards look like. Each being a different color of course.