I love working with metal. It can be used for an industrial look or a farmhouse look and each project is more fun than the next. Take a look at all of these DIY metal projects and click around until you have explored them all!
This compilation of DIY metal projects have been created over a number of years and each project is a fun as the next. This is why I love DIY and crafting. I can share these with you and hope that you find something you love as well.
I hope you find some great inspiration.
For The Home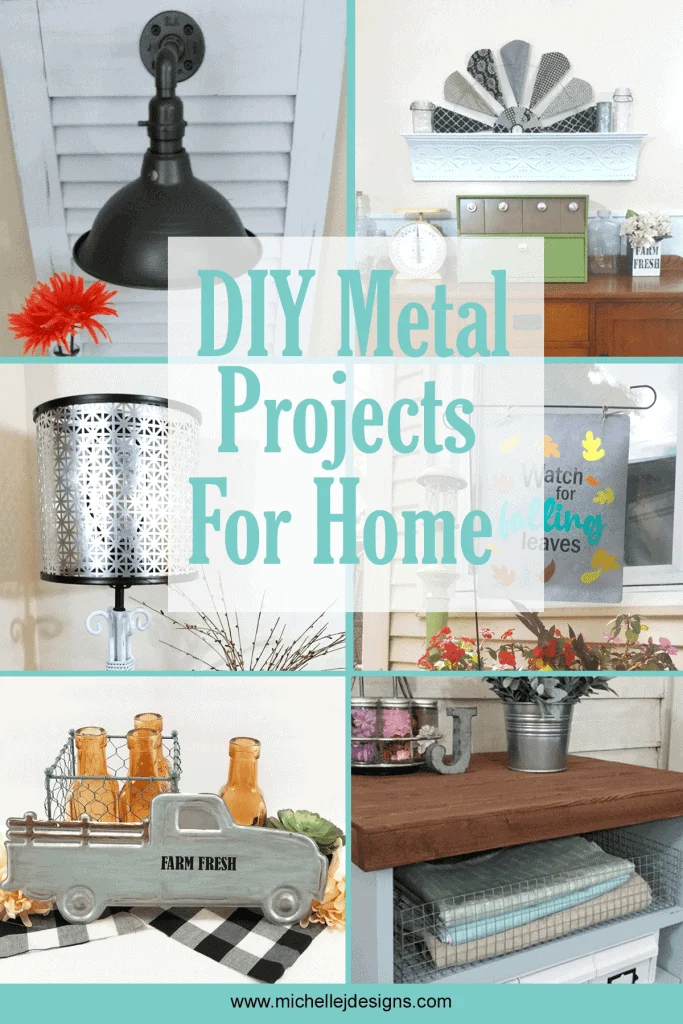 Paint for Metal Crafts – Outdoor Planters – These cat planters were so cute but very drab. Spray paint to the rescue.
DIY Metal Crafts – Etching Metal Tutorial – I love how these Dollar Tree metal projects came out with a fun etched design.
How to Give Metal A Distressed Look – This shelf was dark and dingy until it got a very rustic, modern makeover.
DIY Metal Lampshade – This old lamp needed a new shade. I love the industrial look I created using a piece of metal.
DIY Metal Sconces – These shutters created the best headboard. But what really took it over the top was the sconces that I made to going two extra shutters.
Metal File Cabinet Makeovers – These file cabinets were left over from an office that we got for next to nothing. We added some board across the top of two for the perfect desk.
Metal Bread Box Makeover – This metal bread box just needed some paint and some vinyl to make it great again.
Tiered Craft Organizer – These metal springform pans and and old lamp worked perfectly together to make a tiered craft organizer for my tools.
Outdoor Solar Lamp Posts – Some old brass lamps paired quite nicely with solar lights to make these fun outdoor lamp posts.
Vintage Metal Fan – I love these old fans and had wanted one for a long time. My friend gave me this one and it worked so I had to re-paint it.
Vintage Metal Scale Decor – This bathroom scale is the perfect decor in the bathroom. It was a great garage sale find at .50!
Fast & Easy DIY Patina – These lamps got the best patina makeover from Modern Masters.
Metal Paint Storage Shelf – This shelf turned out so cute and is perfect for my paints and craft items.
DIY Custom Wire Basket – This was the perfect solution for getting the size metal basket I needed. Just DIY!
Pretty Metal Scale Update – I love these metal scales. This one got a fun update using spray paint.
Retro Napkin Holder – How fun is this napkin holder? It is just like the ones in restaurants in the good old days.
Farmhouse Look Lamp – The lamp base and the top "cage" are from different things but when added together they make the cutest farmhouse light.
Seasonal Metal Crafts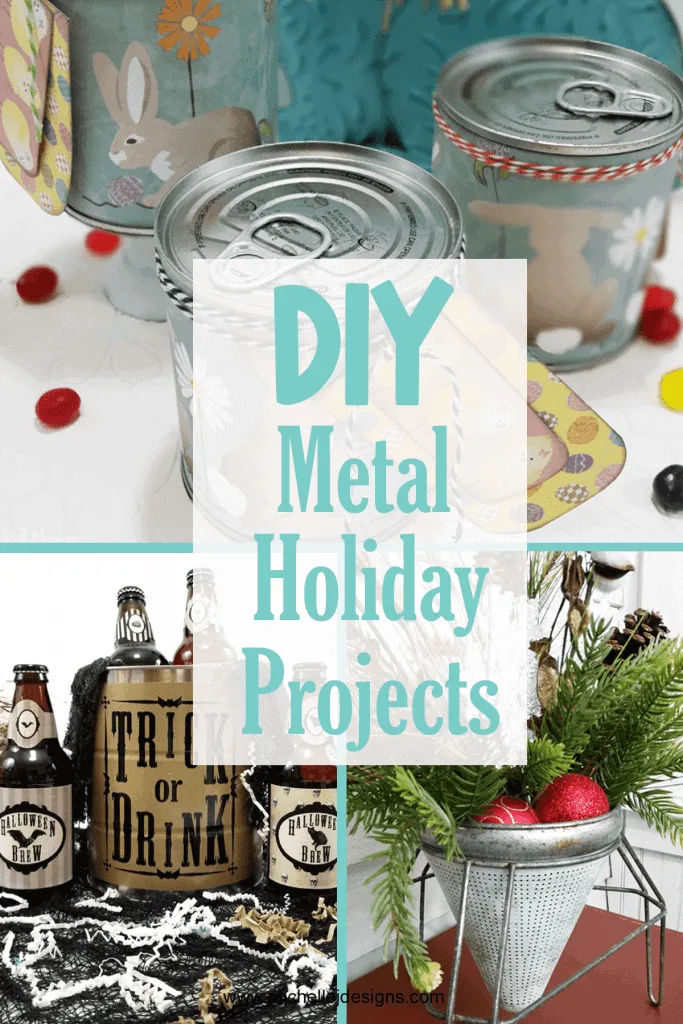 Galvanized Metal Winter Gnome Sign – I love these metal signs from Hobby Lobby. I added some vinyl to create a fun winter "snomies" sign.
Metal Colander – I use this every Easter to hold my wooden eggs but I could have it out all year long.
Metal-Look Garden Sign for Fall – This is not actually metal but I painted it to give the look of metal. Check it out.
White Wash Metal Farmhouse Truck – This galvanized metal wall hanging got a fun white wash paint finish.
Painted Metal Tags – These are so great for the holidays or just for fun!
Halloween Drink Bucket – Paint buckets are so fun to use for making gifts. This one got a paint and vinyl makeover for Halloween.
Gifts in a Can – These are Easter gifts but they can be made for any occasion or Holiday!
Farmhouse Holiday Decor – This thrift store find is the perfect decor for a Farmhouse Christmas.
Christmas Cheer Metal Tray – This is a fun, easy project and makes such a great holiday tradition. Make this fun hot cocoa bar each year!