Hi everyone! I am back with my favorite challenge, the Thrift Store Challenge! Today I have updated this Vintage Bathroom Scale to go in my bathroom. It turned out so cute and it was so easy.
Don't be afraid of vintage! I love all of the chips and dings that are still visable on this bathroom scale. Don't you? It is definitely part of its vintage charm.
This Thrift Store Challenge happens once per month and I get excited about it each and every time.
If you love DIY metal projects you can click here to find more metal crafts inspiration!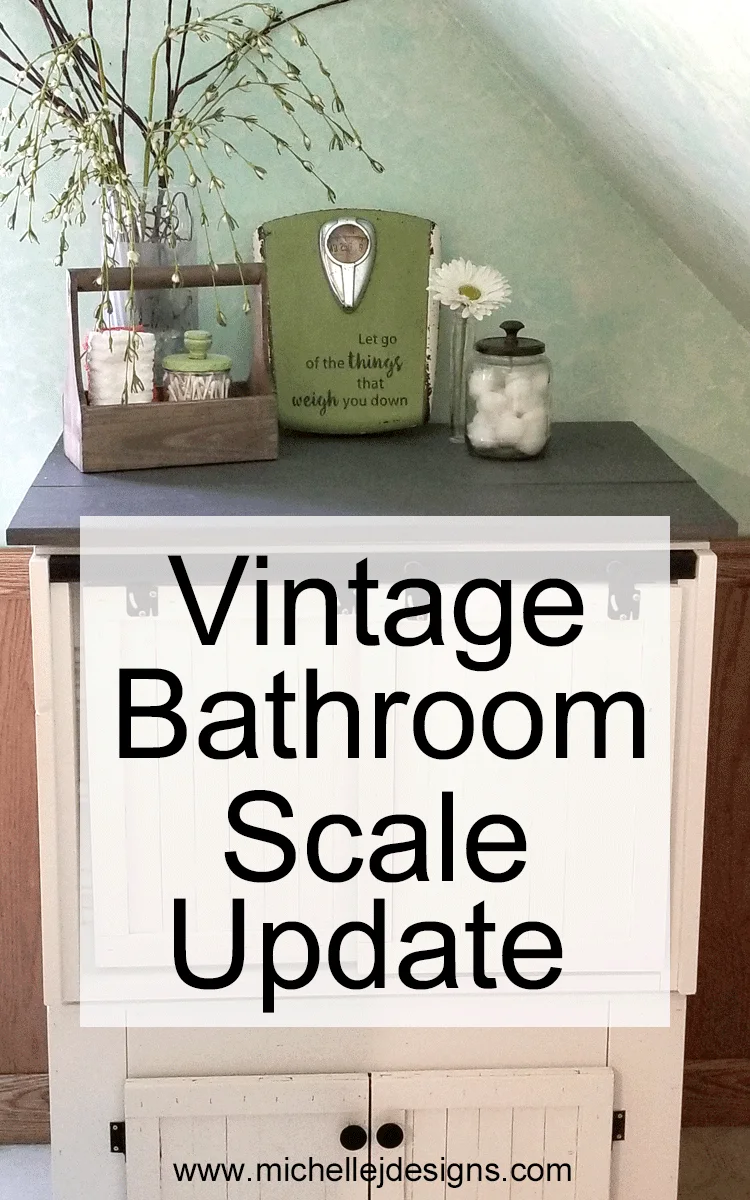 Thrift Store Upcycle Challenge

The Rules:
Upcycle an item(s) from a thrift store, resale store, or garage sale into a new piece of decor.
There's no monthly theme.
There's no budget to stick to.
Meet the Hosts
Make sure you follow our board on Pinterest for more upcycled decor inspiration!
Vintage Bathroom Scale Update
So long ago I pinned the cutest vintage bathroom scale that had been updated into wall hanging with a hook. It is from Denise on a Whim. You can go see her beautiful scale too.
I really didn't think I would ever find the right kind of scale. It had to be old and vintage. Last year my friend Mary and I were at a garage sale and there it was….it was like a light shown down from above and the angels started singing!
I picked it up but there was no price tag on it. I asked how much they wanted for it and they told me .50! Ah….yes please!
Mary looked at me like I was going to use it to actually weigh myself of something. When we got in the car I showed her the pin. Then she got it.
Well, like I said that was last summer. It has been in the garage ever since. Until now!
I decided it was time to get it out and fix it up.
If you like this post you will probably love this vintage fan that I fixed up too!
Getting Started
The scale is really heavy so I wanted to lighten it up a bit by opening it up and taking out the insides. Since it was not going to be used as a scale I didn't care if it really worked.
When I opened it up it was quite full of dust and needed a good cleaning. This was after the cleaning.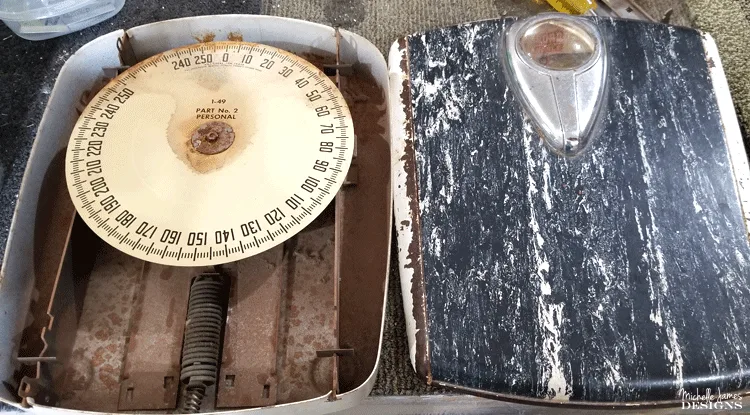 I was really only able to remove a heavy chunk of metal from the reverse side of the top piece. It made it lighter but not enough to be able to hang it up. (in my opinion) Plus since I had removed that piece I could no longer attach it back on the way it used to be. But I would figure that out later. Right now I had some painting to do.
Adding The Paint
I wanted to cover the black part of the scale because it was just plain ugly. I used some green chalk paint to cover it.
Coat one: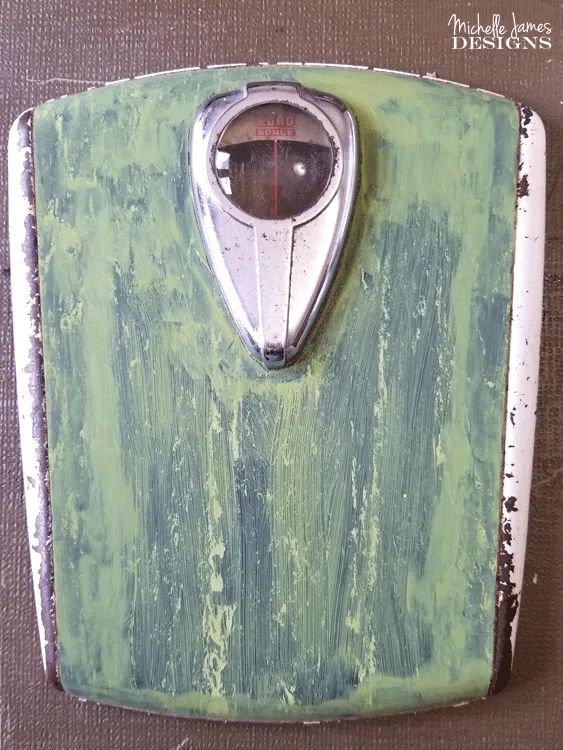 two: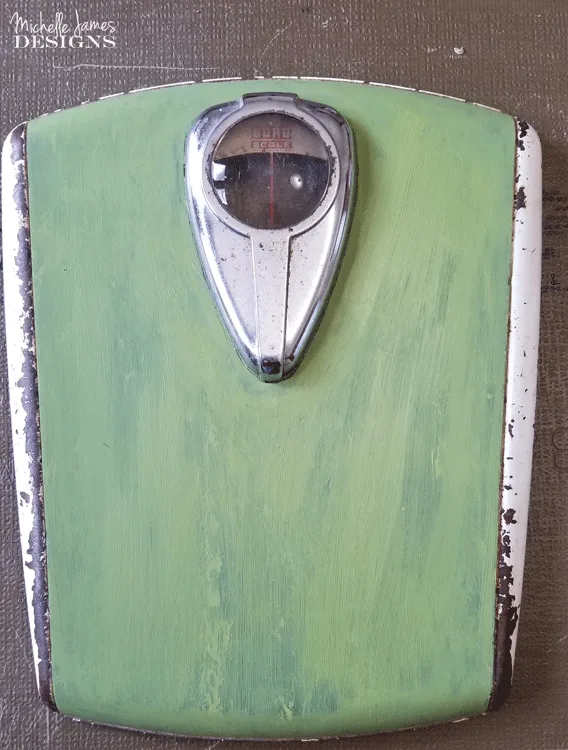 Coat three: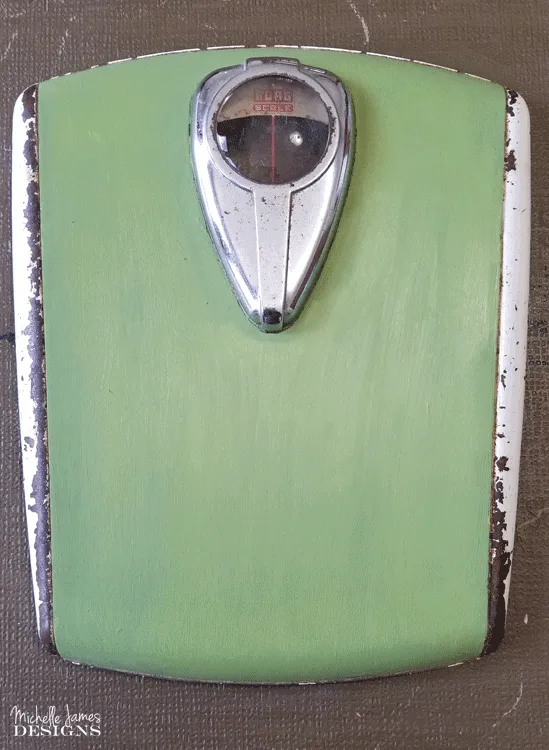 Adding The Stencil
I loved the quote that the original pin had on it but I didn't want to copy exactly so I changed it up a bit. The first thing I did was create a stencil using my Silhouette machine and some vinyl. Making your own stencils ensures you have just the right size.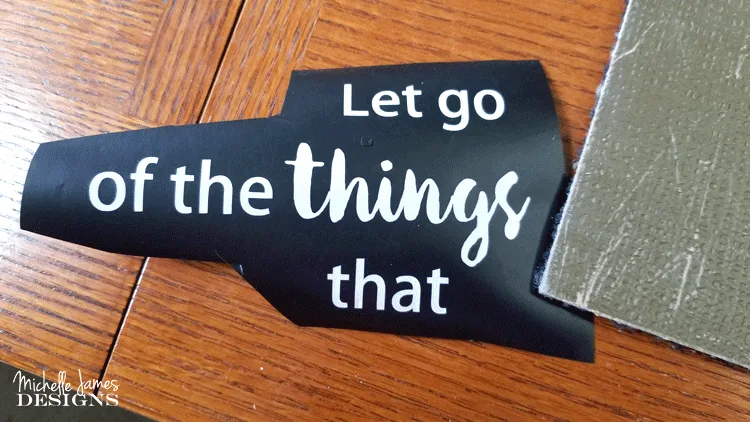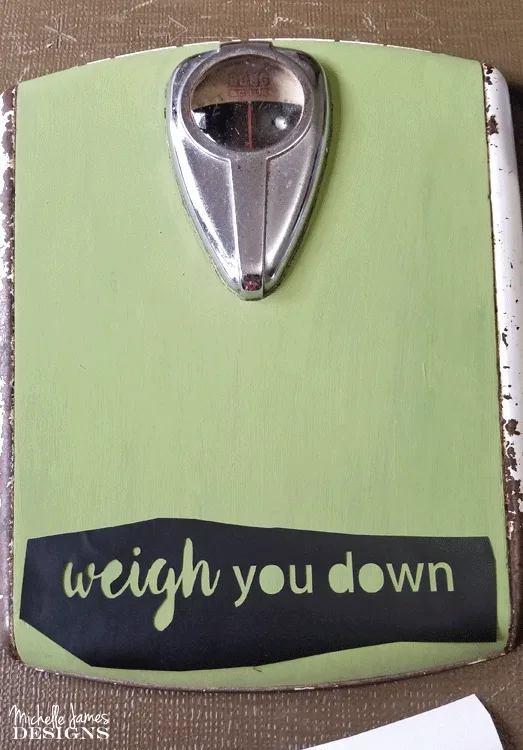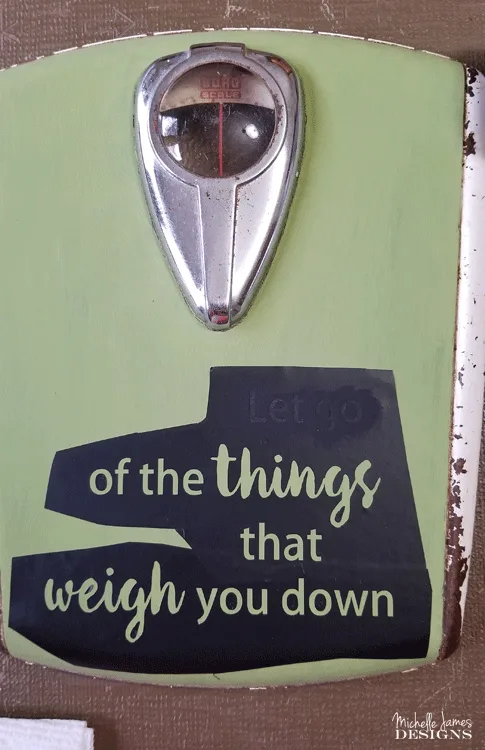 I used the black paint and the stencil brush to add the paint.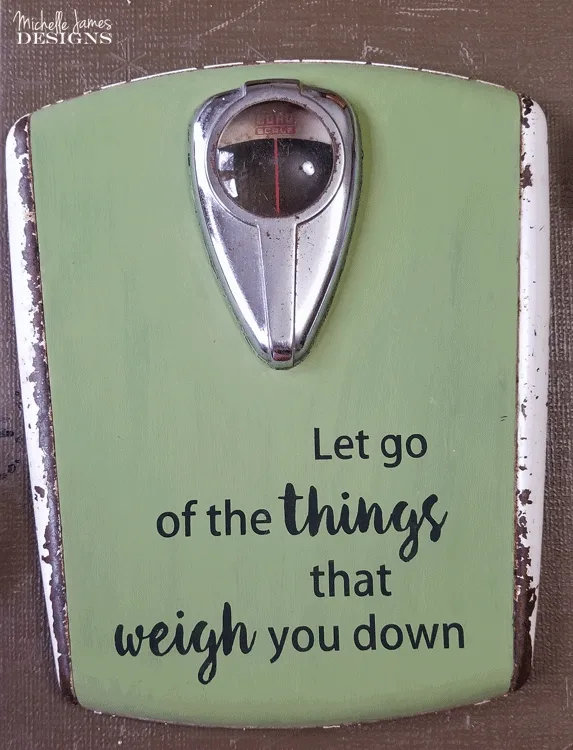 I l. A little bit of sanding distresses it just enough but also smoothed out the paint.
In researching the best way to adhere metal to metal, I found that 2 part epoxy works nicely. I have not tried this part yet but I will update the post when I do. Right now it is just being placed together and it seems to work okay for now.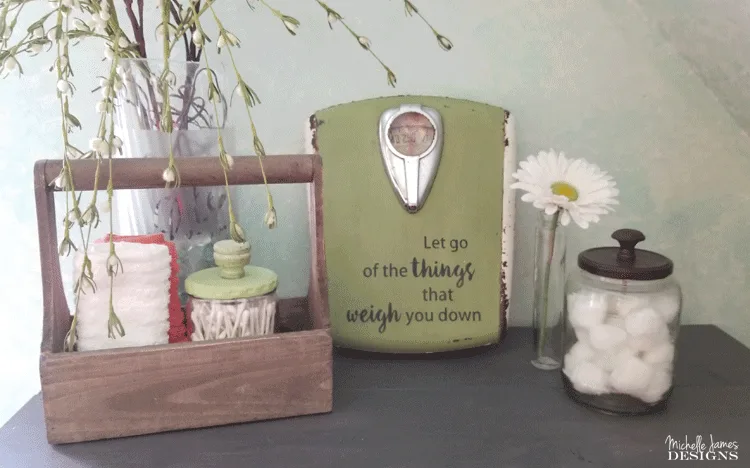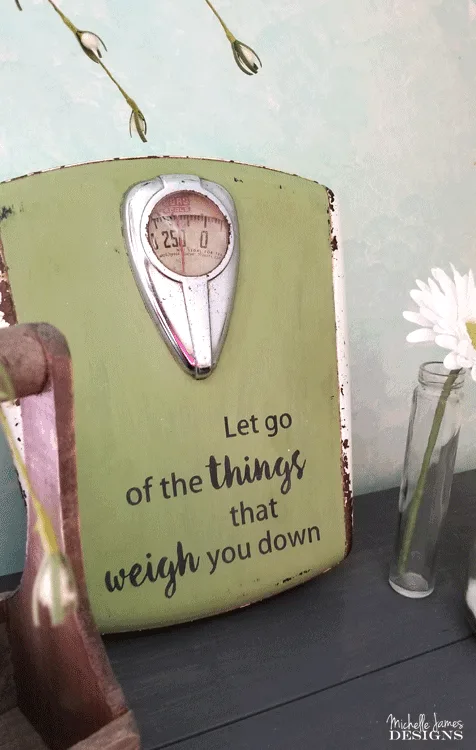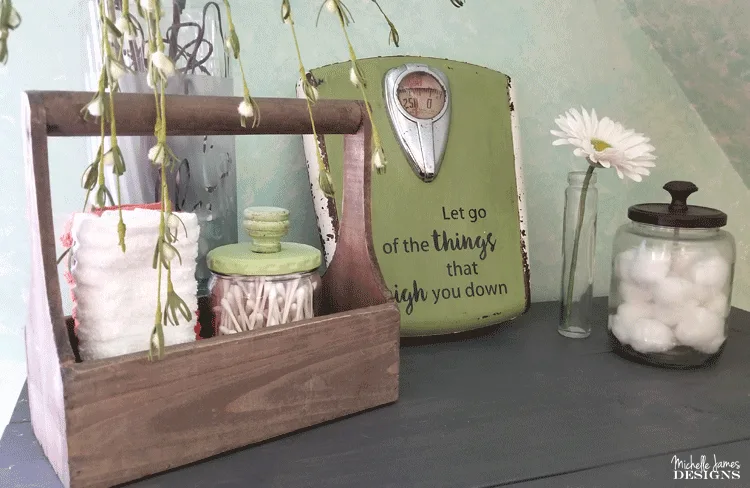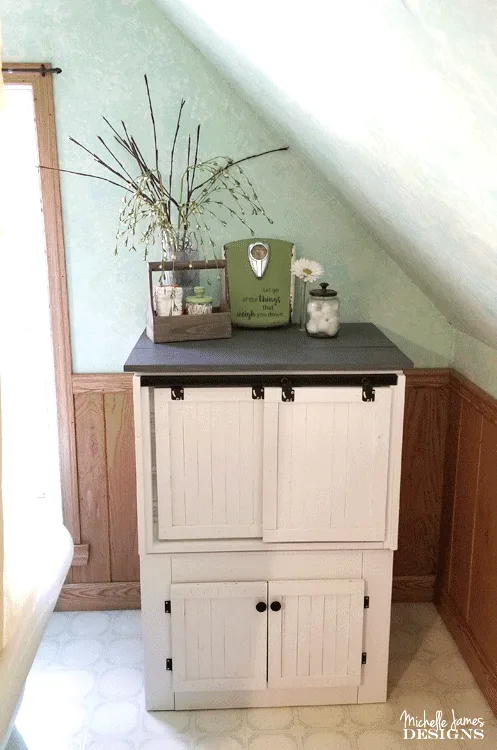 What do you think? I am so happy with it.
If you would like to see more of my thrifty projects check out my Recycled/Upcycle gallery.
Thanks so much for stopping by,
Michelle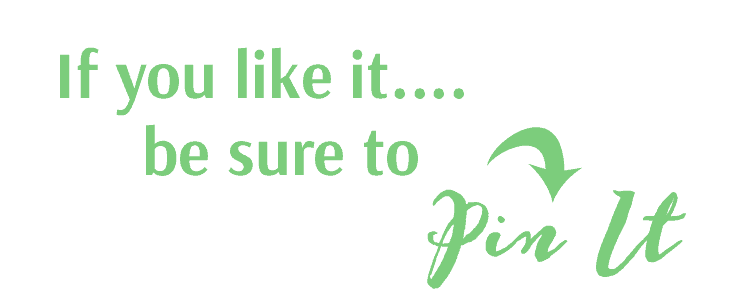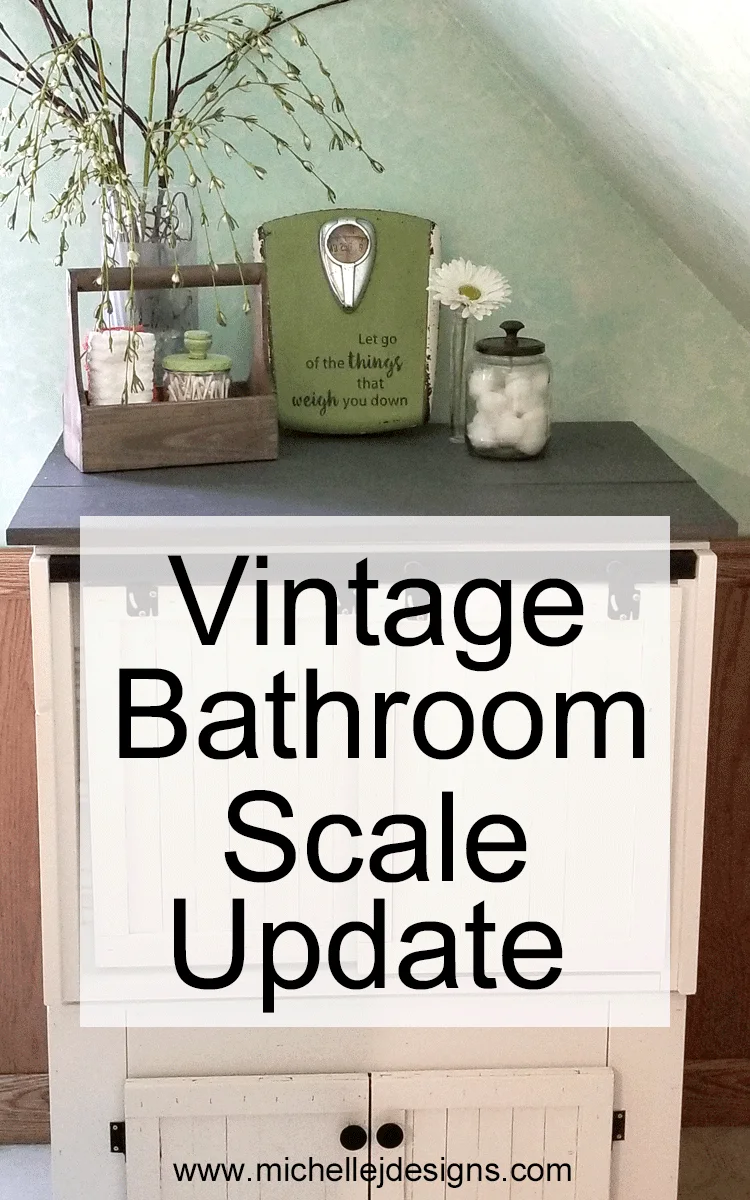 And now for more thrifty goodness!
Check out what my fellow upcyclers created below!