Learn how to give painted metal a distressed look. Distressed metal is popular for the farmhouse and shabby chic look and is so easy to DIY!
Welcome! My last post featured my DIY farmhouse half windmill but today I am showing you how I created the shelf it is sitting on. I am going to give you a super quick lesson on how to give painted metal a distressed look!
I love all things farmhouse, vintage, etc. and this is the perfect way to create a vintage or rustic metal look when you are making over furniture or a shelf.
It is also a good way to learn how to make metal look shabby chic.
This easy DIY technique is one that you will use all of the time from now on.
Keep reading to find out how to make metal look shabby chic and/or farmhouse.
If you love DIY metal projects you can click here to find more metal crafts inspiration!

June Thrift Store Decor Upcycle Challenge
This metal shelf that I got at a garage sale is one of my new favorites and I created its new look for the June Thrift Store Decor Upcycle Challenge.
I love this challenge every month. Do you know why? Because I have a million and one things in my garage to choose from. It is fun to grab an old purchase and make it into a new something!
This challenge involves many of my blogger friends and we all have the best time. So be sure to check out all of the projects but clicking on the links below.

The Rules:
Upcycle an item(s) from a thrift store, resale store, or garage sale into a new piece of decor.
There's no monthly theme.
There's no budget to stick to.
Meet the Hosts
Amanda | The Kolb Corner Kim | Made in a Day
Maureen | Red Cottage Chronicles Pili | Sweet Things
Debra | Shoppe No. 5 Jeanie | Create & Babble
Kimm | Reinvented Kathleen | Our Hopeful Home
Shirley | Intelligent Domestications Angela | Simply Beautiful by Angela
Michelle | Our Crafty Mom
Michelle | Michelle James Designs Kimberly | Farmhouse Made
Molly | Just a Little Creativity Lora | Craftivity Designs
Colleen | Life on Kaydeross Creek Toni | Small Home Soul
Make sure you follow our board on Pinterest for more upcycled decor inspiration!
How To Give Painted Metal A Distressed Look
I have added some affiliate links for your convenience. You can read my full disclosure here.
Materials List
How To Give Painted Metal A Distressed Look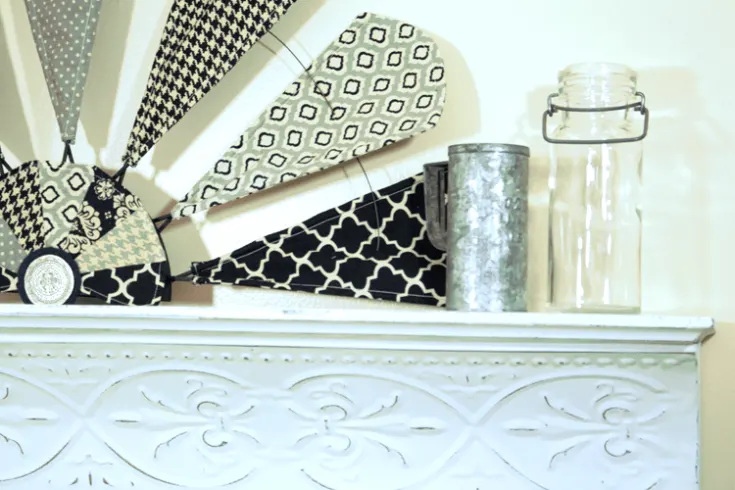 A super easy technique to give painted metal a distressed, rustic or vintage look.

Active Time 1 hour

Additional Time 3 hours

Total Time 4 hours

Difficulty Easy

Estimated Cost $10
Tools
Instructions
Use a white spray primer or a primer you can put through the paint sprayer and give the shelf a couple of coats.
Use the HomeRight paint sprayer to add the Chalked Paint. Give it as many coats as it needs. I only needed one coat after the primer.
Use the sanding block to sand the raised areas. If you don't have a raised design, sand the areas that would naturally distress with age like corners and random parts of the piece.
Add a clear coat to seal the piece if you think it needs it.
Enjoy!
For this project, giving spray painted metal a distressed look was easy as can be.
That is because of the raised pattern on the shelf. This is what the shelf looked like when i purchased it at a garage sale about a month ago.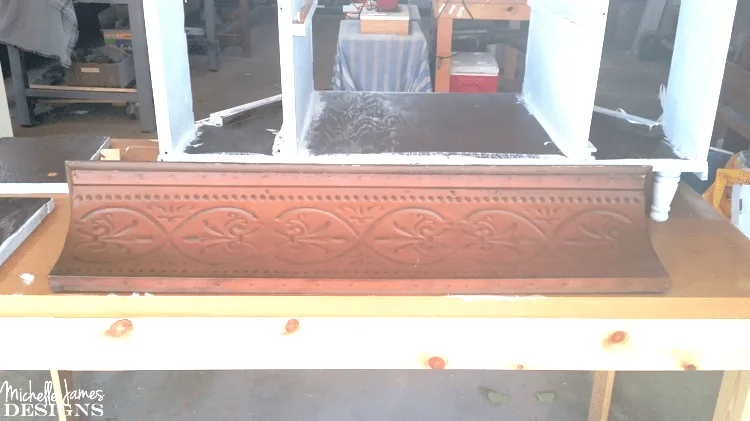 Up close!

Step 1: Start with the primer
I am in love with the design and I could see immediately that it would look amazing painted white with a distressed metal look. So that is what I did. It really needed a primer so I started by spraying a white primer on it.
I had some white primer in a can so I used my HomeRight paint sprayer to add it. You could also use a white spray primer in a can if you have it.
I sprayed on two coats to give it a good base.
Step 2: Add the white chalk paint
Then I moved on to a white chalk paint.
This paint is by Rustoleum and it is their line of chalked paints. The color is Linen White.
It needed just one coat of the paint and I used my sprayer for that too. The HomeRight paint sprayer is my favorite.
The paint does need to be thinned down when using the sprayer but there are instructions included. Basically I thin it to the consistency of water. Maybe a tad thicker but not by much.
This makes it a breeze to spray.
Look how nice it turns out with a sprayer. My favorite part is no brush strokes.

Step 3: Distressing the metal
All you need to distress chalk paint on metal is a sanding block. I bet you didn't think it would be so easy to learn how to distress painted metal!
For my shelf with a raised design I just had to sand over the raised areas to remove the paint from those spots. This creates that nice antique metal look.
The paint and primer sanded nicely on the raised areas and made quick work of the distressing.
If your project doesn't have a raised pattern sand the parts that would chip naturally over time such as the corners and just random areas on the surface. Focus on those spots until you get the antique look you are searching for.
Non sanding method
If you don't want to sand you can add a dark wax or to dry brush a darker paint over the top in the places you want it to look distressed. This is harder for me than sanding. I prefer the sanding method.
And another method is to add a little vaseline to the areas where you want the paint to resist before painting.
After painting, wipe off the areas where you added vaseline. The paint comes right off and reveals what color came before it.



What do you think? I love it so much. Here is one more shot of the wall!

If you like it…don't forget to Pin It!

Thanks for stopping by!
You can see more of what I do and blog about by clicking on the following links:
Happy Crafting!
Michelle
And now for more thrifty goodness!
Don't forget to check out what my fellow upcyclers created below!