Welcome to the 2019 Holiday Planner page.
When I had my store open, I started a class for people to come and make a holiday planner. It was so much fun and always a big hit.
Since I closed my store 10 years ago I continue to make myself a planner just for the holidays.
This year I decided (at the last minute) to create a holiday planner and share it with all of my readers. I appreciate your support of my blog and I want to show it by giving you something that I LOVE to use every year.
The link for the download is toward the bottom of this post if you want to skip the instructions.
It can also be found in the resource library under the printables section.
2019 Holiday Planner

Included in the planner:
Title Page
Calendars – Nov and Dec 2019, Jan 2020 – with blocks to write in events, etc.
Family Gifts Title Page – A divider sheet and title for the family gift lists section
Family Gift Lists pages – Pages to write lists for family members
Friends and Co-workers Gifts Title Page – A divider sheet and title for the friends, co-workers, neighbors, etc checklists
Checklists for Friends and co-worker gifts Pages
Receipt Pages – Add pockets to these pages using the included patterned paper to hold receipts for purchases
Cards To Send Title Page – A divider sheet and title for the cards checklist pages
Checklist for Cards pages
Event Checklist Pages – Make sure your events are ready to go with checklist pages
Meal Prep Pages – Add the menu and the grocery list so you don't forget a single item
Notes Pages – Journal pages to write notes and stay organized
Patterned Paper Page – to make pockets for receipt pages
Tab Sheet – Tabs with titles and some without so you can create your own.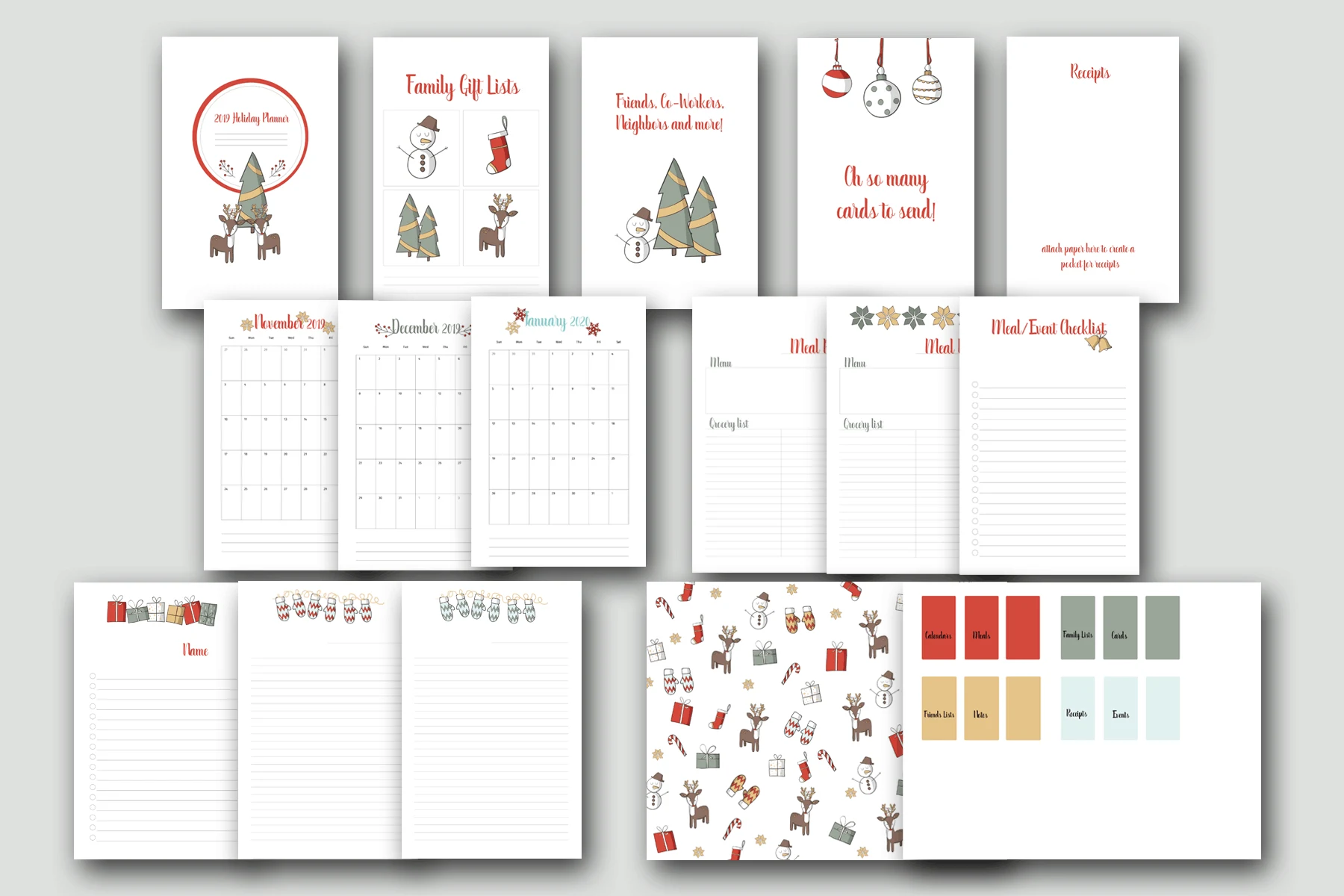 Instructions
The planner is 5.5 x 8.5 when cut and done.
I have designed the pages so you can print them then cut them right in half down the center at 5.5 inches.
Print as many of the pages as you need for your holidays. For example: If you send a hundred cards out then you will need to print a bunch of the card checklist pages. If you only send 40 then just print the number you need.
You can print two sided but I did not.
Making pocket receipt pages
When you get it all printed, make some pockets for the receipt pages.
Use a paper trimmer or paper cutter and cut the patterned paper in half down the center at 5.5 inches.
Cut the half sheet down to pocket sizes. I cut mine at 3.5 x 5.5.
Adhere the sides and the bottom of the cut patterned paper piece to the receipt page at the bottom to create a pocket for your receipts.
Making tabs for sections
The tabs make it easier for you to find different sections of the planner.
Print the tabs page and cut out the rectangles.
Fold the tabs in half.
Use the pre printed tabs for the sections and/or create your own by writing on the blank tabs.
Adhere them to the title pages or pages that start a new section.
Making it into a book
There are a couple of ways to do this.
Take it to a print shop and have it bound. This is what I am going to do with mine. Staples, Office Max or a local printer should be able to do this. I have no idea of the cost. When I get mine done I will update this post. UPDATE: I had mine bound at my local print shop. It costed me $1.34 with tax!!
Punch three or more holes and add metal rings.
Purchase a binding system and bind it yourself. – This would be the most expensive but worth it if you are planning to bind more books in the future.
If you have questions either add a comment below or you can email me at [email protected] – this is the email I use most often.
I hope you enjoy your free gift and thank you again for stopping by and reading the blog.
I appreciate it very much!
Happy holidays!
Michelle