A Splash of Color – My New Orange Chair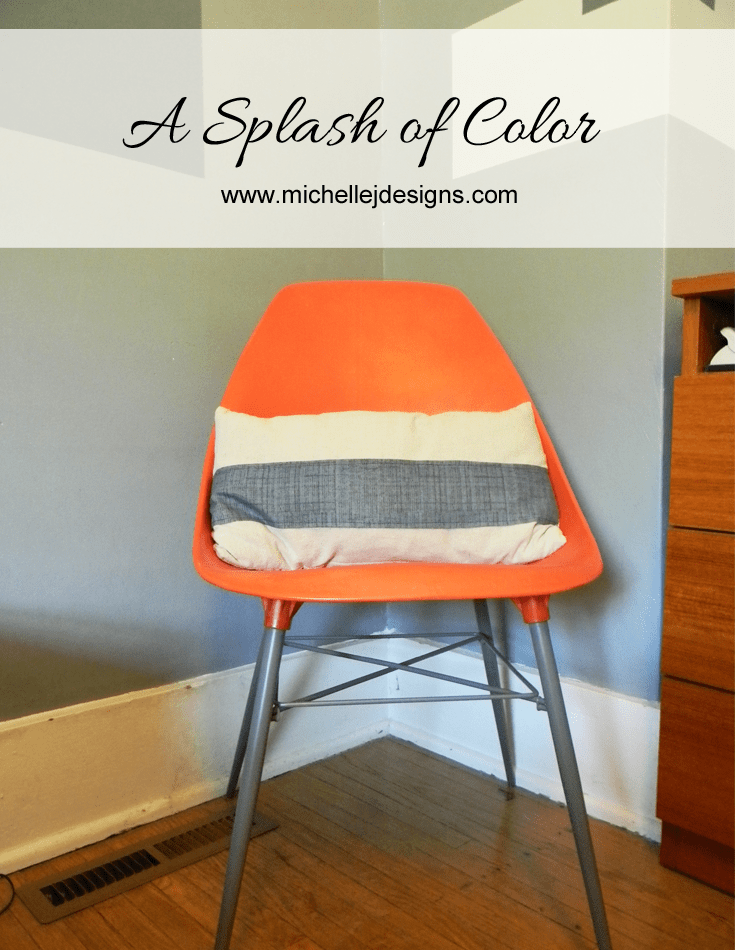 Peggy and I had fun on Saturday visiting a garage sale.  I had just finished my Cityscape Dresser Flip and was ready to look for some other things I need to complete the room.  I was so excited when Peggy spotted the orange chair.  I knew it would be the perfect splash of color.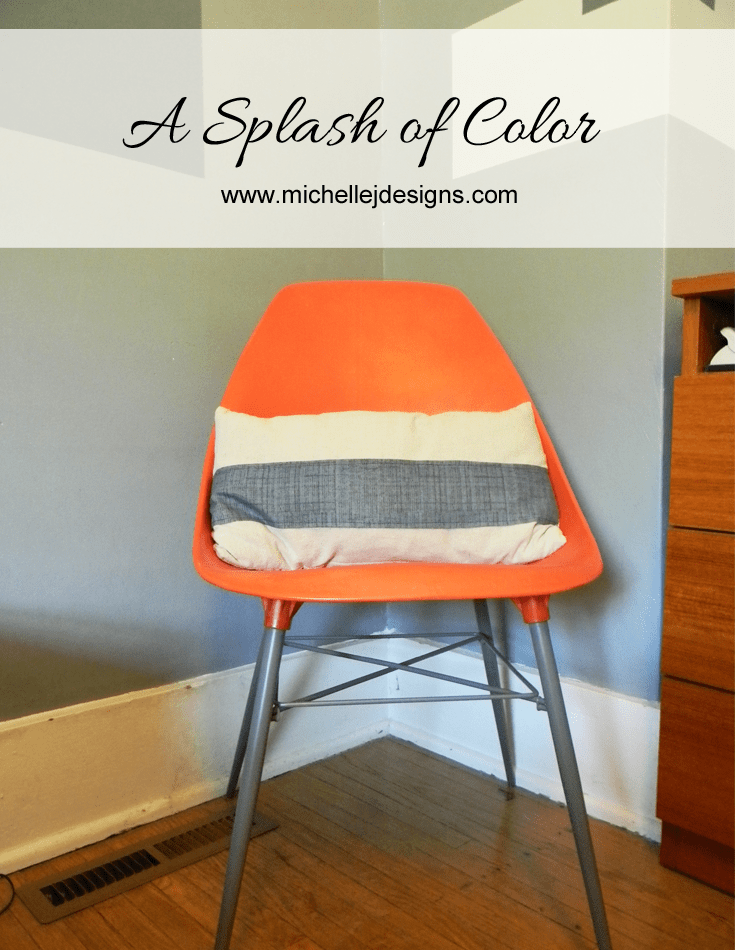 A Splash of Color – My New Orange Chair
We were looking around at all sorts of fun things when we spotted the orange chair.  Peggy said it would be perfect in the guest room and I agreed.
Here is all that I brought home.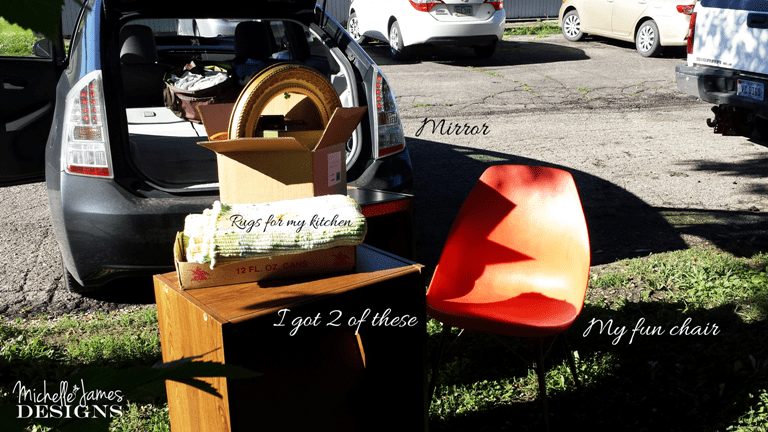 I got a mirror, two kitchen rugs, four wooden hangers, two tables (like bedside table size), and my orange chair all for $10.  I was beyond thrilled.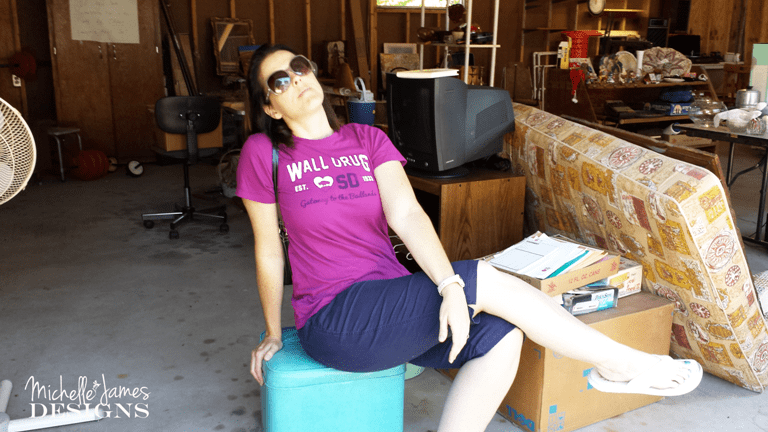 This is Peggy!  She was posing on the adorable teal ottoman which neither of us purchased.  I am not sure why because I just loved the little thing.
I went to work on the orange chair right away because, as I mentioned above, I knew it would add that extra splash of color that I am wanting in the guest room.
Here are some photos of it before I started.  I was happy that it didn't need too much work.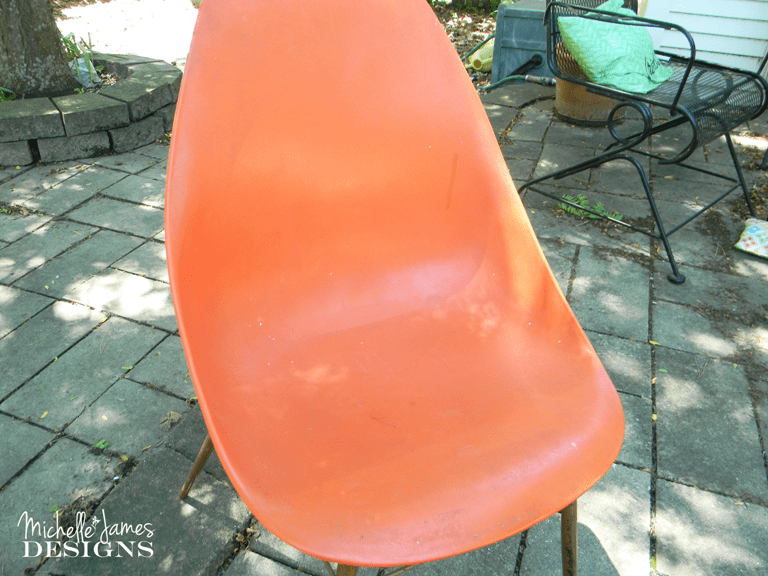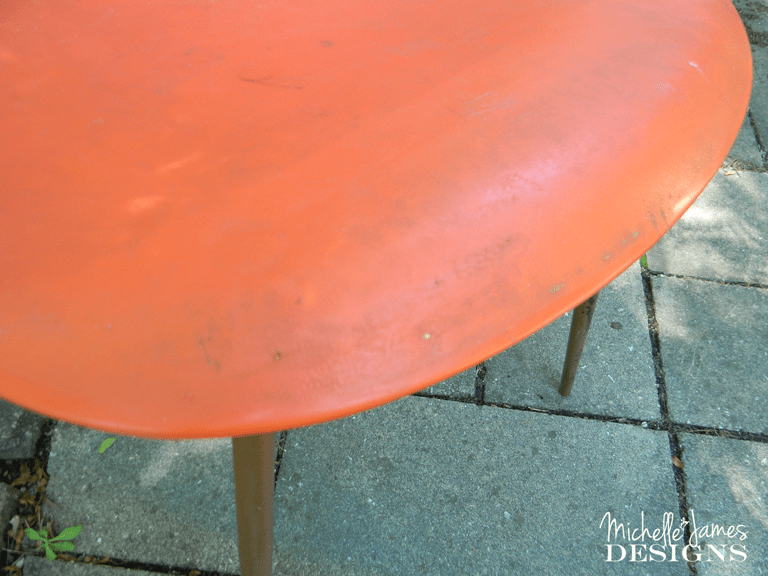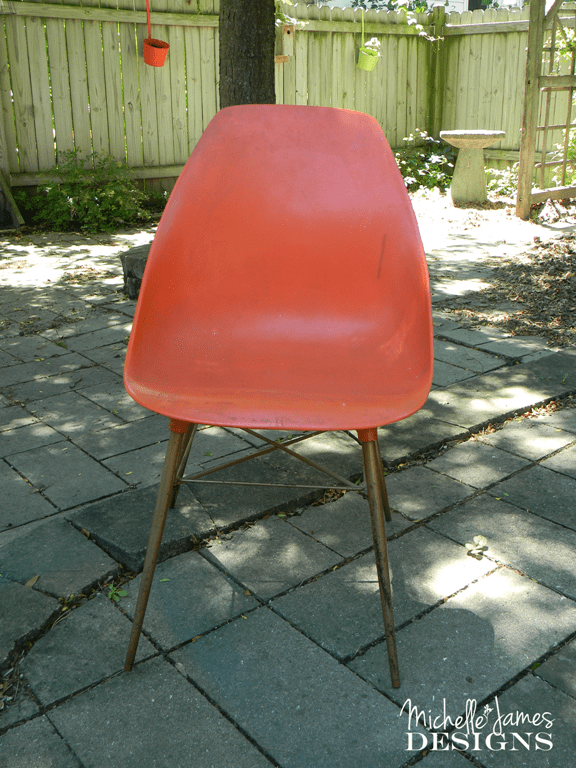 It is hard to tell in the photos but the legs needed the most work.  I used a magic eraser to clean to the top and I used my gray spray paint to work on the legs.  But first it needed some masking.  I didn't want to spray the bottom of the chair so I created a large mask using printer paper.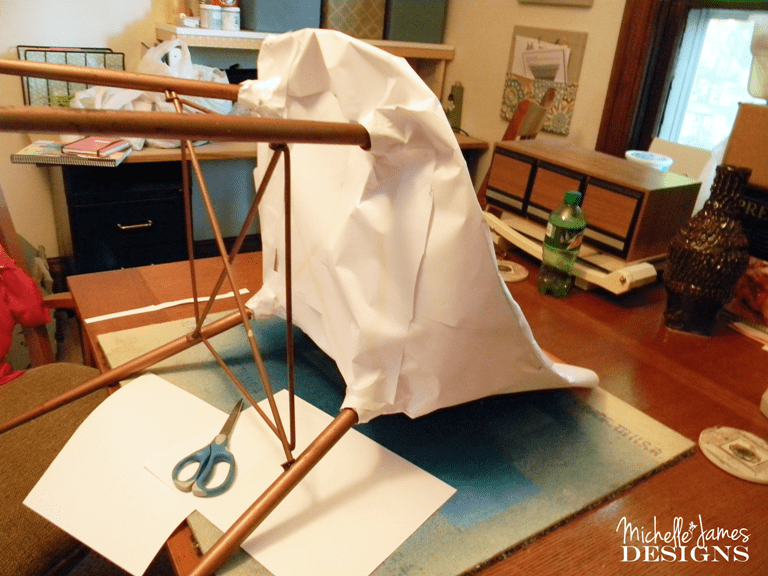 Once I had it covered I took it out to the garage for some painting.
When I took the mask off I noticed that it didn't go all the way to the orange at the top of each leg.  I guess I didn't have the paper securely positioned in the right spot.
But, have no fear I was able to find a gray acrylic craft paint in the same color so I used a small amount and a small brush to paint right up to the orange.  The problem with that is that the spray paint, even though it is a flat paint still left a bit of a shine compared to the brushed on paint.
I used just the smallest amount of polyurethane semi gloss sealer and it worked like a charm.  If I pointed it out people MAY see it but I really doubt it.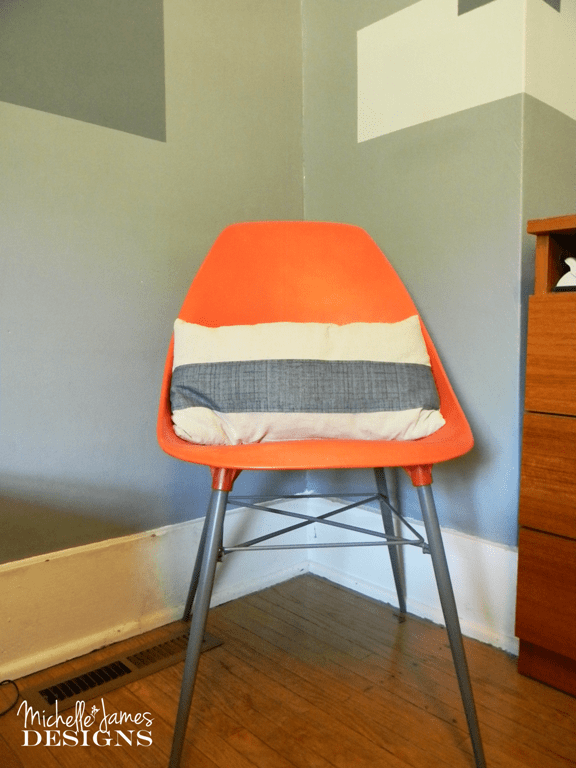 I made the pillow from drop cloth and part of the dust ruffle from the bedding that I did not use on the bed.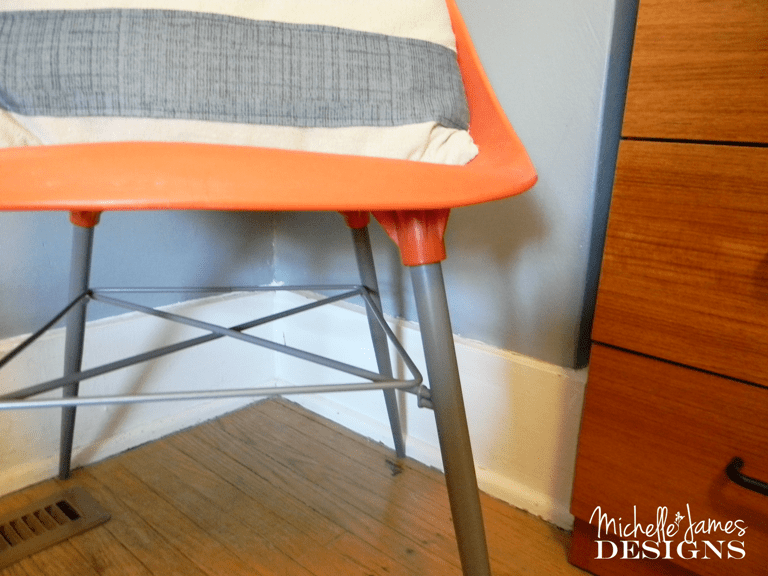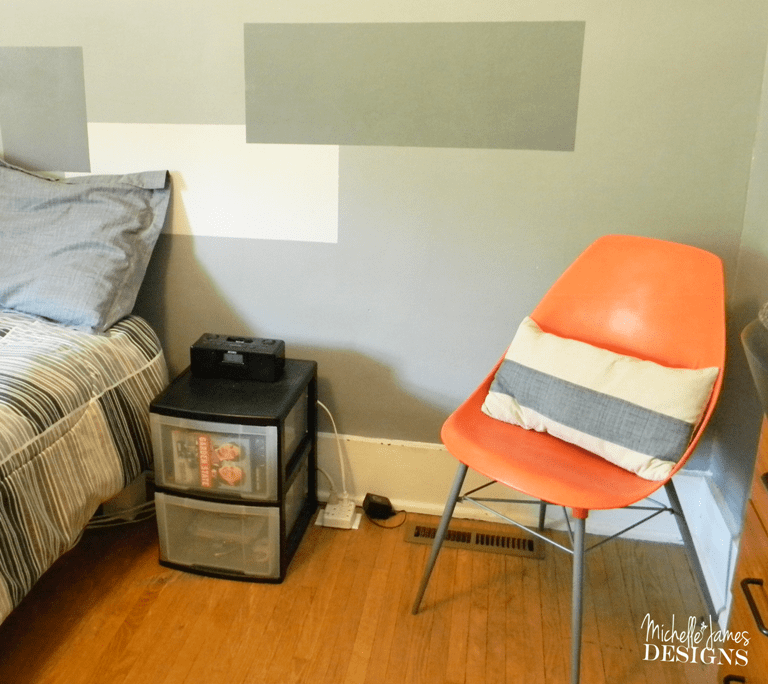 Remember the dresser?  I matches pretty good.  The chair is a little brighter orange but I like it.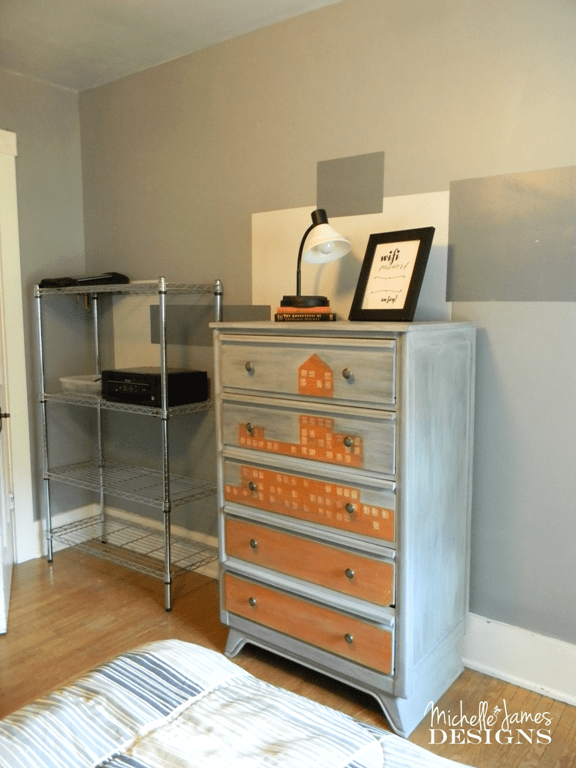 So the orange is now in two places and I plan on adding some decorative pillows on the bed and making a really fun mirror.  You will have to watch for those project coming up.
I hope you enjoyed my fun, little orange chair.  I know I love it.
I am sharing this post at:
Enter your name and email to receive tips and tricks, tutorials & deals!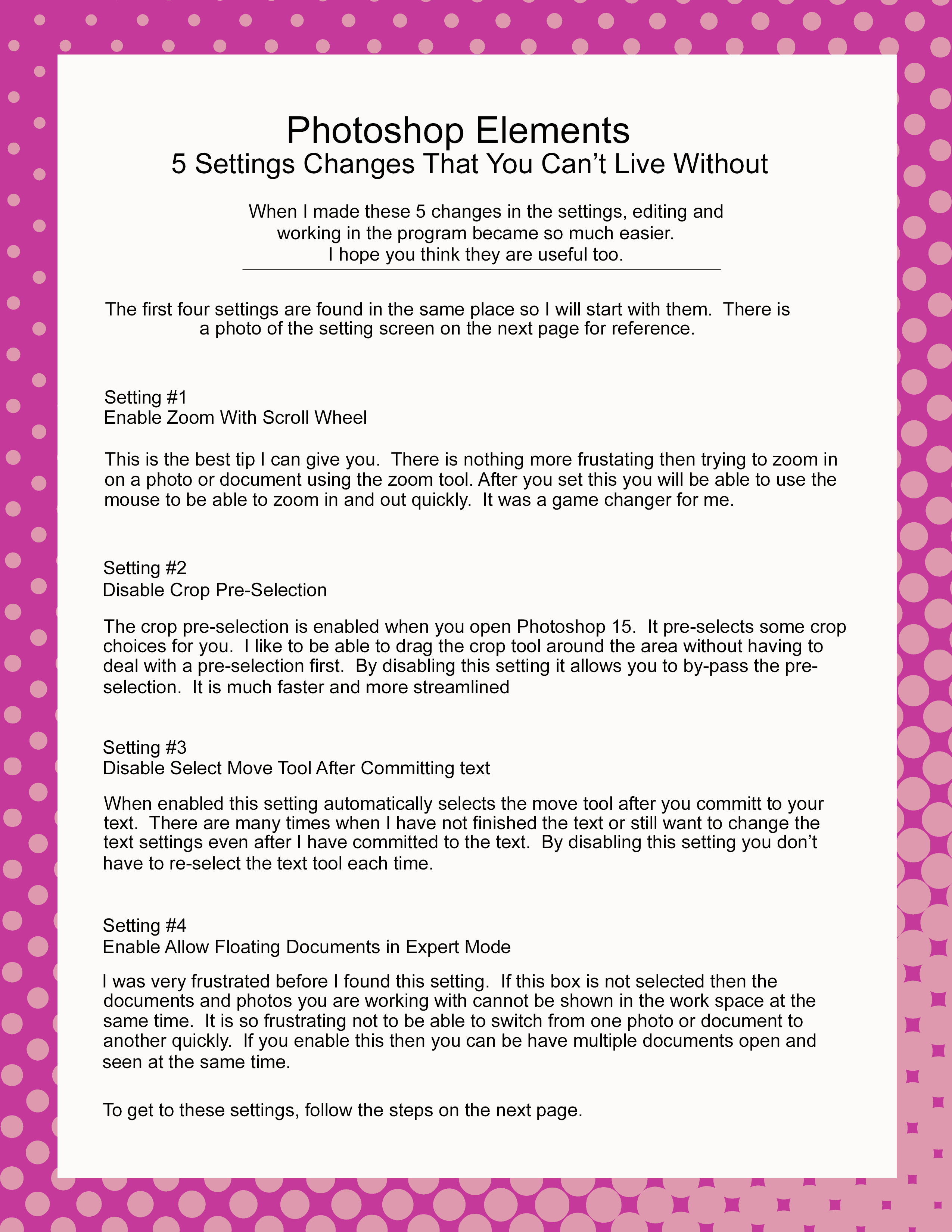 Sign up to get access to an instant download to my five favorite Photoshop Elements settings changes that will make editing and designing easier.
Your information will *never* be shared or sold to a 3rd party.