This campground rating log printable is here to make your camping experiences even more memorable and enjoyable whether you are a seasoned camper or a new camper.
Welcome to the May edition of our monthly printables blog hop, where we bring you exciting camping-themed goodies! This month, I am thrilled to present the Campground Rating Log, a delightful printable designed to help you keep track of your camping adventures.
If you love all the printables be sure to check out my list of printables on my blog and round up posts from other bloggers.
Why You'll Love the Campground Rating Log
Remember All the Campground Details:
Keep track of essential information such as campground names, locations, and dates of your stay.
Rate amenities, including restrooms, showers, laundry facilities, and Wi-Fi availability.
Note the size and quality of campsites, as well as the presence of picnic tables and fire pits.
Evaluate the campground's cleanliness, noise level, and overall ambiance.
Nearby Attractions and Activities:
Jot down exciting activities available nearby, such as hiking trails, swimming spots, fishing areas, or bike rentals.
Discover hidden gems and must-visit locations around the campground.
Remember where you spotted that breathtaking sunrise or the perfect spot for stargazing.
Savor the Local Cuisine:
Rate nearby restaurants, cafes, and food trucks.
Highlight your favorite dishes and delicacies you tried during your camping trip.
Share recommendations with fellow campers and create a foodie's guide to the area.
Best and Worst Moments:
Capture the highlights of your camping experience, from memorable encounters with wildlife to hilarious mishaps around the campfire.
Record your favorite aspects of the campground and what made it stand out.
Don't shy away from noting the less-than-pleasant experiences, adding a touch of humor to your reviews.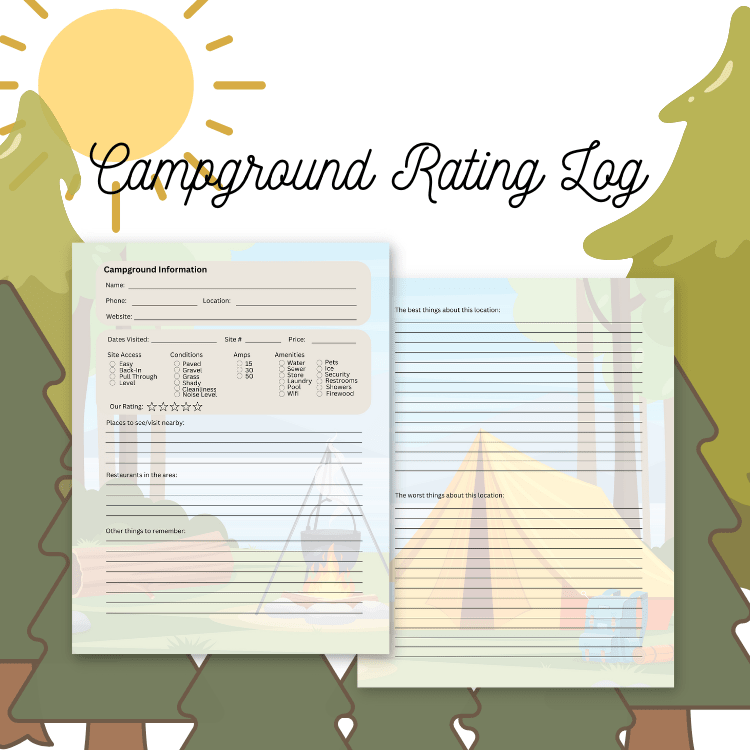 Benefits of the Campground Rating Log
Enhance Future Camping Adventures:
Use past ratings to make informed decisions about future campgrounds.
Avoid booking a site with subpar facilities or a location that didn't meet your expectations.
Remember the campgrounds that truly stood out, ensuring you revisit your favorite spots.
Share Your Adventures:
Share your log with fellow campers, friends, and family to inspire them with your camping tales.
Create a sense of community by exchanging campground recommendations.
Encourage others to embark on their own outdoor adventures with the help of your expert insights.
Relive Memories:
Flipping through your log will transport you back to the serene landscapes, crackling campfires, and moments of pure bliss.
Reminisce about the delicious meals you enjoyed, the laughter shared with loved ones, and the unforgettable experiences that make camping so special.
Download Your Campground Rating Log
Complete the short form below to get the download sent right to your email inbox!
The Campground Rating Log is the perfect companion for avid campers and camper van enthusiasts alike. With its whimsical design and practical layout, this printable will turn your camping experiences into cherished memories. So, grab your pen and get ready to embark on a journey of adventure, laughter, and the great outdoors. Happy camping, and may the campground rating odds be ever in your favor!
Remember, you can download the Campground Rating Log for free from our website. Happy printing and camping!
Visit The Other Blogs for Their Camping Printables
I have added the list below of the other campers participating in this camping printables blog hop. Click on any or all of the links to download more camping freebies!
Camping Bingo Printables – Homemade Heather
Printable Sign for Camping – The Girl Creative
Camping Scavenger Hunt – Creatively Beth
Camping Word Search – Smiling Colors
Camping Charades – Kara Creates
Smores Word Search – My And My Inklings
Poisonous Flower Chart – Try It Like It Create It
Camping Coloring Page – Team Creative Crafts
Camping Activity Page – Arsty Fartsy Mama
Camping Rules – Tried & True Creative
Camping Planner – Lemon Thistle
Camping Invitations – Handlettered Printables
Camping Word Scramble – Shower and Party Printables
Camping Bucket List – Crafty Blog Stalker
Camping Photo Challenge – A Hundred Affections
Camping Log – Michelle James Designs
Camping Journal – Leap of Faith Crafting
Camping SVG Bundle – Our Crafty Mom
Camping Joke Printables – Campfire Foodie
Happy camping!
Michelle