Do you use a day planner? I don't right now but really think I need one to keep myself on task each day. I see shiny things and get distracted very easily. Then, I don't get much done.
Day Planner
I have been looking for a day planner and I really needed it to be specific to me. So, I have come up with this day planner for myself. It is a 5.5 x 8.5.
I really had to think about all of the things I need or want to get done each day and come up with a day planner with those events. I am hoping this does it for me. I will probably use if for a while and then tweak it to fit a little better.
It combines all of the blog duties and to do lists for blog posts and other household/daily chores and I can keep count of my carbs and sugars (which I really need to do right now). I usually do a pretty good job keeping track of my water intake so I did not add that nor did I include a space for exercising. Maybe, if needed, I can add these in the future.
I don't clean in my house each day now but I would like to start some sort of at 15 min or 1/2 hour timed session each day to de-clutter or clean something so that it is not such a huge deal on the weekends. I think that would me help a lot. I really jam-pack a lot of crafting and blogging duties in on the weekends and if I had some cleaning done ahead I think I would actually get more done.
If you think you can use this day planner then by all means download and print as many times as you like for your personal use. Bloggers have different ways of sharing their content and this is my way, at least for now. I am a new blogger and still learning a lot as I go. If this one doesn't work for you I am in love with this day planner from Thyme is Honey.
I have made mine 2 per page for easy printing and I would definitely print on both sides of a heavy card stock.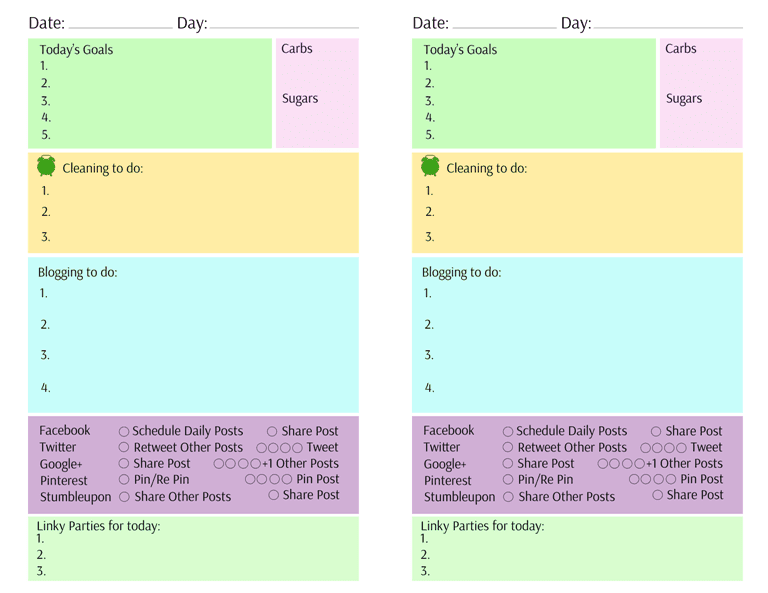 I have included the sheet with 2 per page and the single page just in case. Click on the link below to download.
I hope you enjoy it and can get some use from it. Thanks so much for stopping by.
I am sharing this post at: