This Easter treat bag topper is the perfect gift for coworkers and friends. Add candy or anything else to a baggie and attach this fun topper.
Easter candy is a main staple of gift giving for Easter. Don't just give some candy in a basket. Print out some cute tags and toppers and make the candy extra special.
This free printable treat bag topper turns any candy in a baggie into the perfect, festive gift!
If you love printables you are in the right place. Check out the many printables round ups and freebies for you to download!
Plus this is a printable blog hop so at the bottom of this post are a bunch of bloggers who are also sharing Easter printables. Be sure to check them out.
Free Easter Treat Bag Topper
Have you ever used a treat bag topper? I am telling you this is the easiest way to transform a baggie full of candy or popcorn or whatever you have into a cute gift. Just add a topper!
The baggies I have are 6.5 inches wide so that is the size I made it. If you are using smaller baggies or cello bags I think you can just adjust the size a little bit in your printer settings.
Always remember that what you see on the screen isn't always what you see when you print. My printables were not as bright when printed on matte cardstock but were still super cute. They were also darker than the original photo.
Each printer is different though.
Can you see the difference? Now I have edited these photos to make them a little brighter overall so that also changes the colors a little bit.
I drew these guys in Procreate then made them into a printable just for this blog hop. I hope you enjoy them.
Print, Cut, Staple and Enjoy
All you have to do to use these is to download the printable. You can do that by signing up in the box below.
It will be sent to you in your email and you can download it and save it to a file on your computer.
Add cardstock to your printer. I get this kind at Walmart.
Open the file and choose print. Some printers have you change your settings to get a better print. If you have the option to choose Matte Photo Paper that is the setting I like the best.
It will use more ink but you will get a nice print. My current printer is not very good and I don't always get that option.
Print as many as you want.
Trim them with scissors or a paper cutter. Fold them in half (like a hot dog) then use a stapler to attach them to the top of the baggie!
Easy peasy right?
I hope you enjoy this. They can be given as is or added to an Easter basket.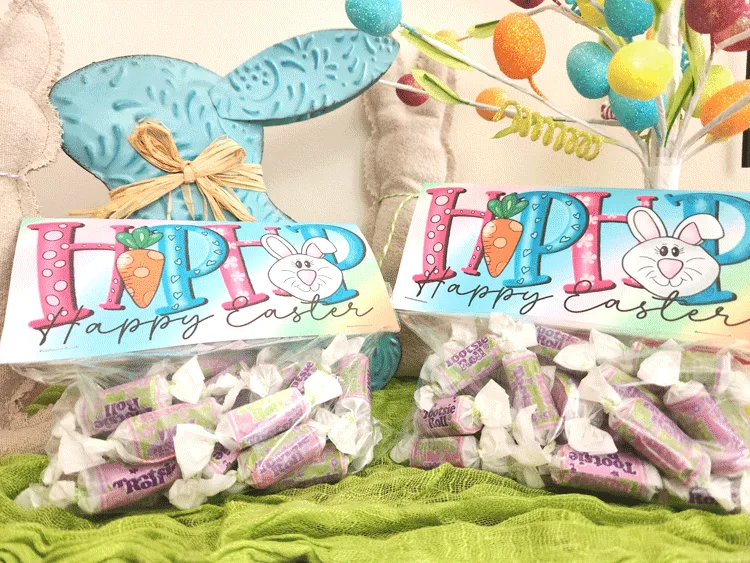 I think they turned out really cute.
Be sure to check out all of the other blogger's Easter printables. I bet you will find something you love!
Easter Bunny Footprints – Homemade Heather
He Is Risen Sign – The Girl Creative
Doodle the Easter Bunny – Creatively Beth
Easter Card Printable – Try It, Like it
Easter Bunny Tickets – Me and My Inklings
Printables for Easter – Team Creative Crafts
Easter Egg Suncatcher – Artsy Fartsy Mama
Easter Basket Tags – 100 Affections
Spring Bunny Wall Art – Pretty DIY Home
Free Easter Print – Makeable Crafts
Peeps Printable – Our Crafty Mom
Easter Maze – Shower and Party Printables
Treat Bag Topper – Michelle J Designs
Closed for Easter Sign – The Crafty Blog Stalker
Printable Easter Card – Liz On Call
Easter Activities Coloring Book – Ink Happi
Treats for Easter Bunny Placemats – Kara Creates
Thanks so much for stopping by!
Michelle