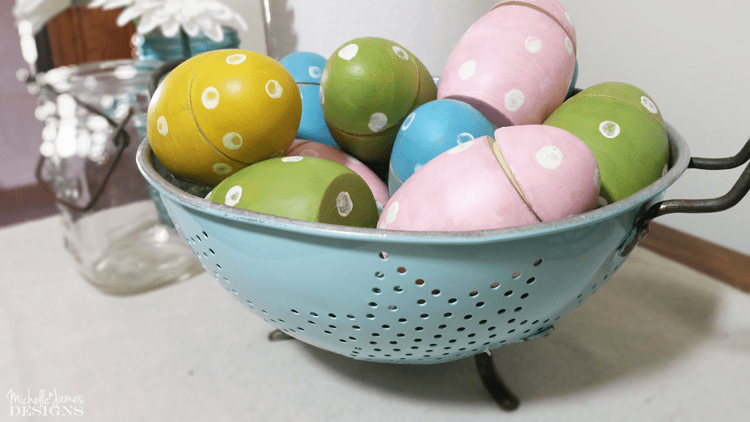 I am excited to show off some of my new Oriental Trading products this week. Today I will be showing you how I used their wooden eggs to create the perfect farmhouse Easter egg decor.
Oriental Trading sent me some fun Easter products to play with in exchange for this post but all opinions are 100% my own.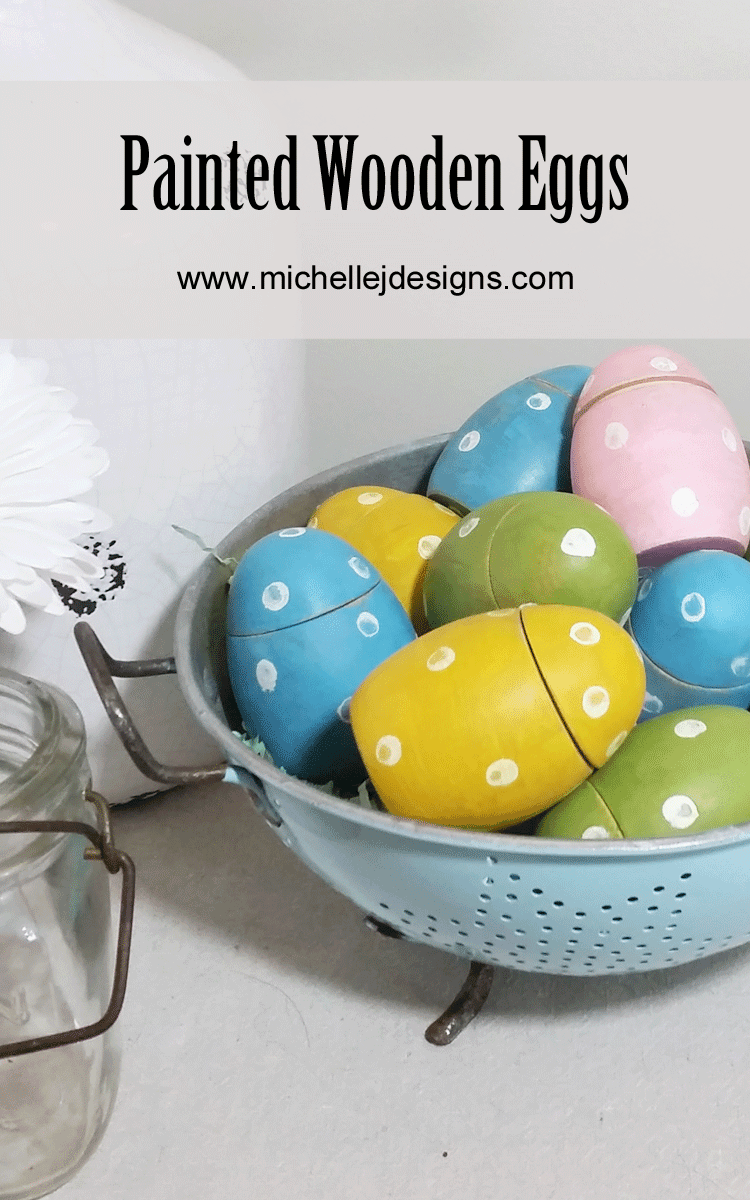 Painted Wooden Eggs
As I was browsing the Oriental Trading website it hit me that I was going about my search for Easter fun all wrong. I wanted something I could craft into Easter decor, not already made and ready-to-go Easter decor. After all, that is one of the reasons you come to my blog right? You like to be inspired to create! So I changed the way I was searching and found some great things. One of the first products I found for this were these wooden eggs.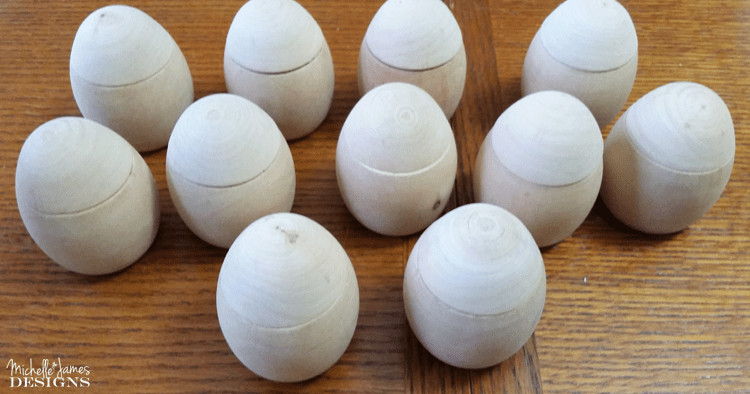 These guys actually made their debut in my vintage colander post last week but I did not write about painting of the eggs.
I love these guys but wish they weren't flat on the bottom. Although this made them easy to paint it doesn't look quite right in the bowl. I still love them and have thought of some more great ideas for these eggs. Such as:
Small Easter Gifts – the top comes off and you could fit something small inside
Egg cups for your Easter table scape. With a cute, short candle stick adhered to the bottom and the lid off, these would probably hold a real, hard boiled egg and be the perfect egg cup.
Candle holder – Instead of the egg, use candlesticks to create a fun candle holder
I wanted a "basket" full of eggs so that is what I did!
Supplies Needed
I have included affiliate links for your convenience. You can read my full disclosure here.
Chalk Paint in different colors
Pencil with eraser
Paint brush
Getting Started
I removed the tops for painting.
Chalk paint is one of my favorites so I chose four different colors. I had a dozen eggs so I painted three eggs one color and moved on to the next color.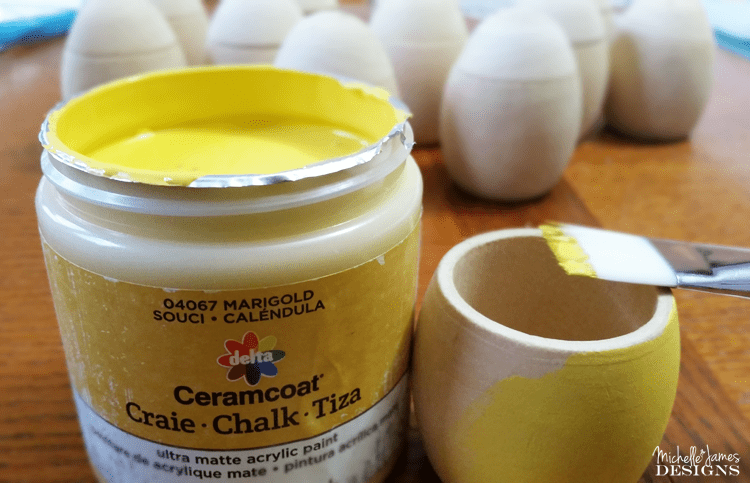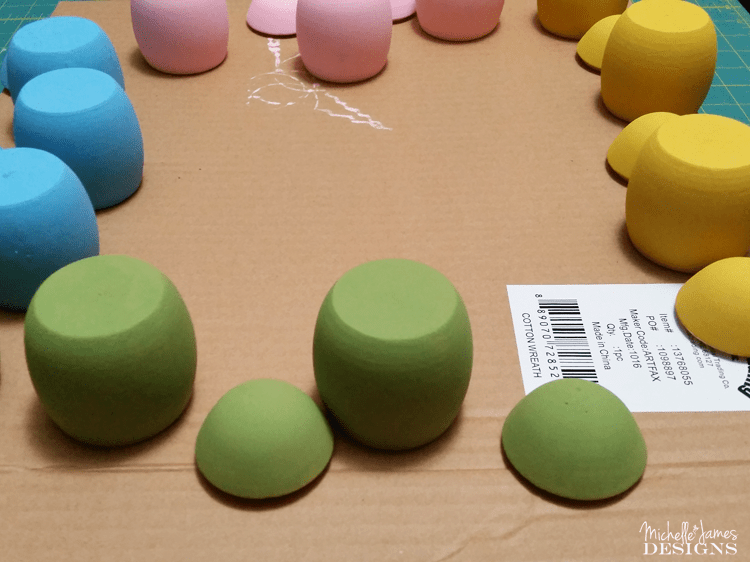 When they were completely dry I used the pencil eraser along with some white chalk paint to create polka dots. After sanding and distressing just a bit I used my Grunge Glaze to complete the farmhouse look.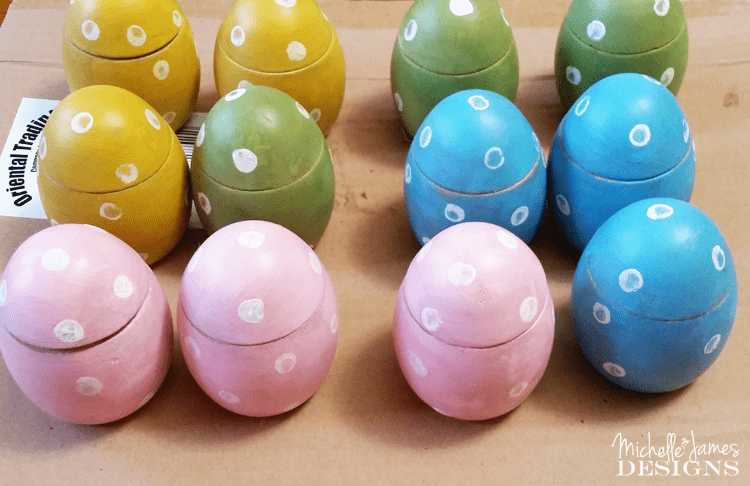 I added some green shredded Easter grass then got these guys into their vintage colander. Don't they look pretty?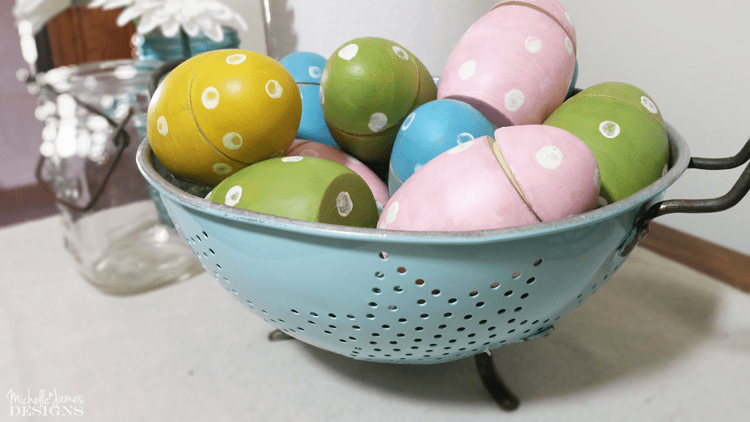 I love them and am so glad I took the time to make something for Easter this year.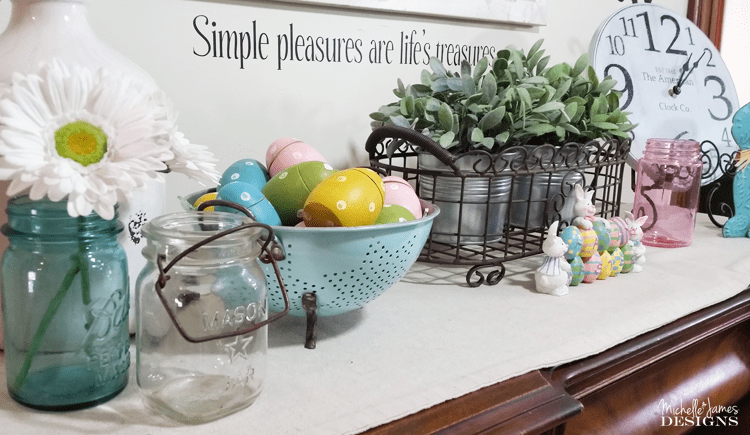 This wasn't all I made from my Oriental Trading goods. Be sure to stop back to see the Easter wreath I created using the cotton plant wreath and some bandanas! You won't want to miss it.
Thanks so much for stopping by and don't forget to pin this wooden egg idea for later!
Michelle