Hi there! Have you ever used vinyl stencils? Around here there was a home party company that made them very popular. I think they are so nice and if you want to add some instant whimsy or class to your walls then the vinyl stencils are the way to go.
The Simple Stencil is a company that allows you to customize your order. If you like a saying for a particular space in your home you can go to their online design center and create the color, size and font that you love. It was really easy to get the perfect size. The hard part was choosing a design.
If you want a certain set of words like a tagline for your business or something you also create and design your own and they will make it to your specifications. It really is genius.
They let me choose a couple of different designs and I will be showing one of them today. They sent the wall stencil in exchange for this post but all of the opinions are 100% my own. You can read my full disclosure here.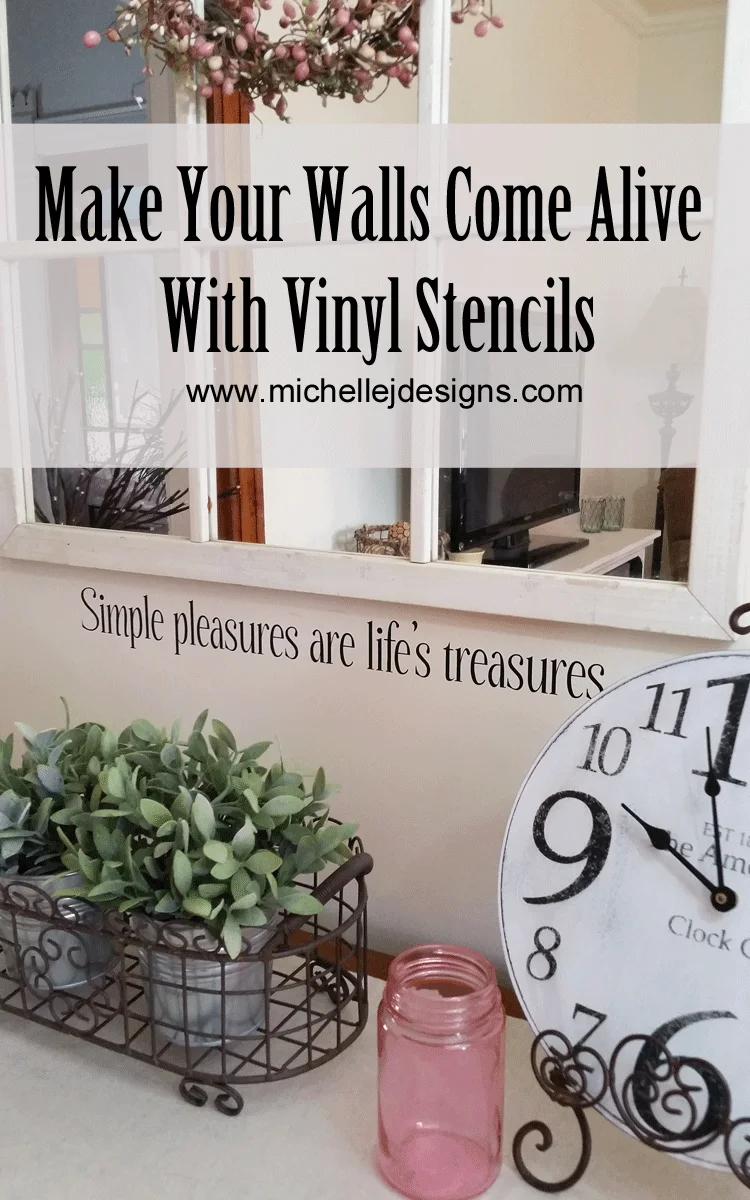 Vinyl Stencils
When you visit The Simple Stencil website you will see a gazillion designs to choose from. I wanted a couple of different things. I wanted something very simple for my living room. This is where I do a lot of my photos for the blog for the home decor projects that I make and for the holiday decorating. It is my "mantel" since I do not have a fireplace.
Since it holds my treasures I thought this was the perfect saying for this space. It is smaller than the width of the mirror but large enough that it holds it's own with my other "things". The black is perfect because it is classic and goes with everything. Black is usually my go-to color for most everything font related.
The Process
The vinyl stencils come with a backing and a piece of wax paper like material on the top. This makes them easy to apply.
First, carefully remove the backing and lay the stencil on the wall where you want it to be. My design was rather long so I had to be careful not to let it stick to itself as I was removing the backing. Some letters were more stubborn than others. If the letter started to stick to the backing instead of the wax paper top I just laid it back down and used my thumbnail to press it down a little better.
You can see my design on the wall with the wax paper top still attached. This helps to place it on the wall just where you want it. You can remove and reattach a couple of times to get it perfect.
The next step is to use the plastic tool they include rub the design onto the wall. Then start to slowly and gently pull the top paper away.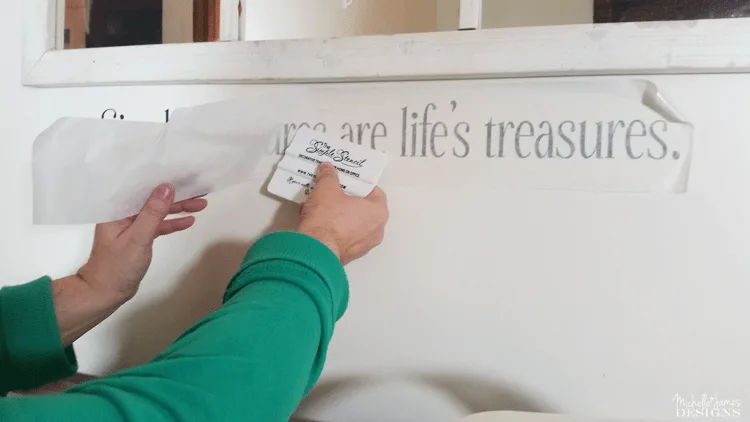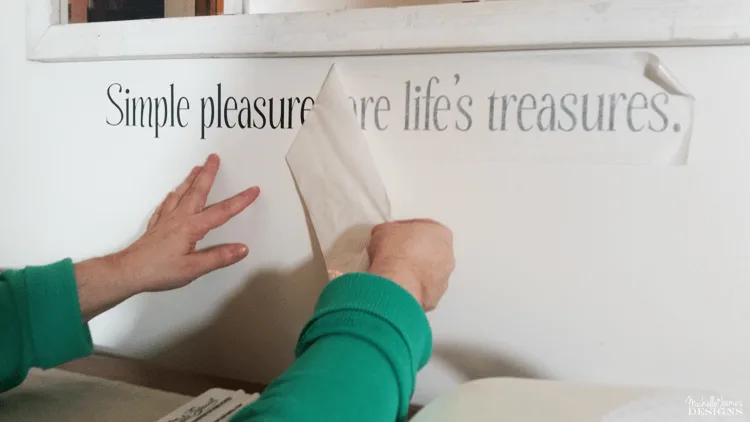 When you are done you are left with your wonderful design.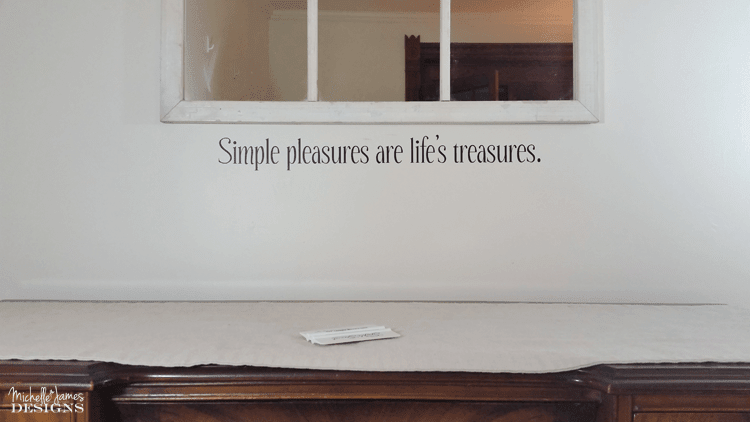 I decided to spring it up a little bit but this will be coming down right away to make room for all of the Easter project I am working on! I can't wait to show you those too.
Anyway, here is the final decorated wall!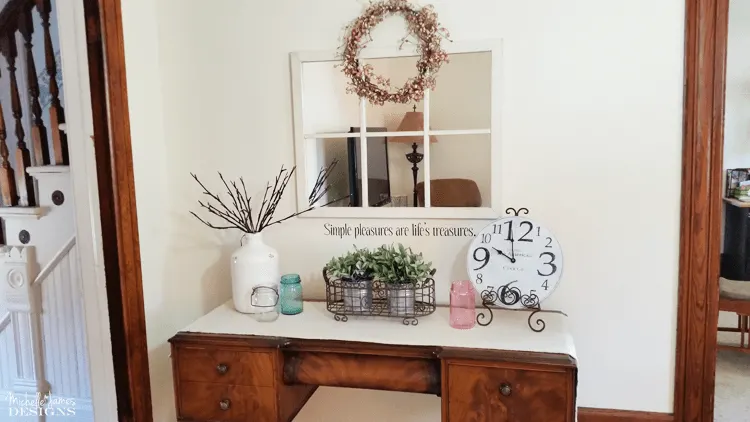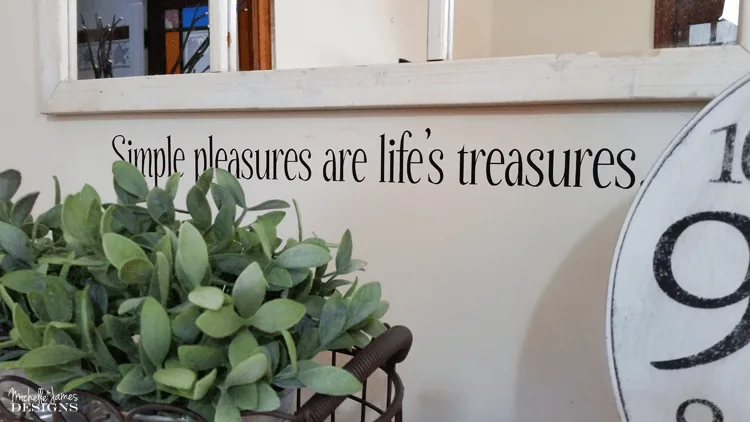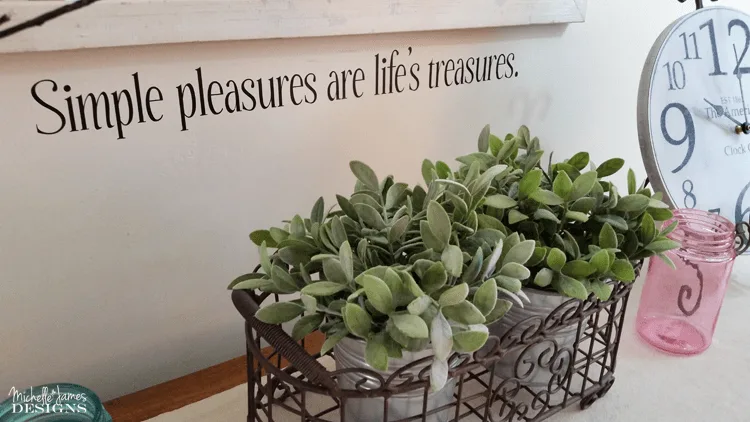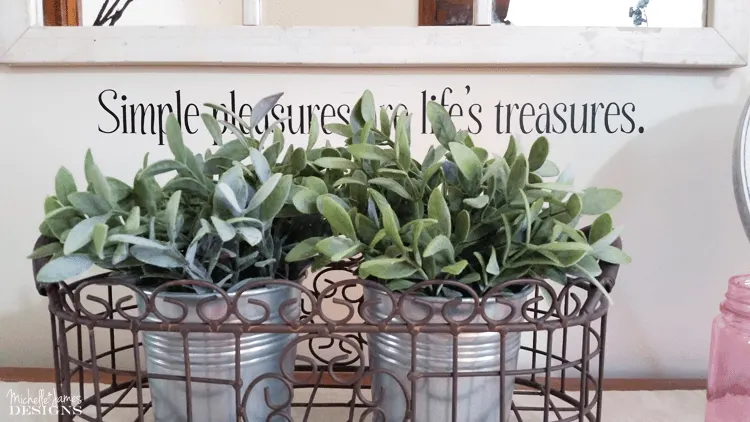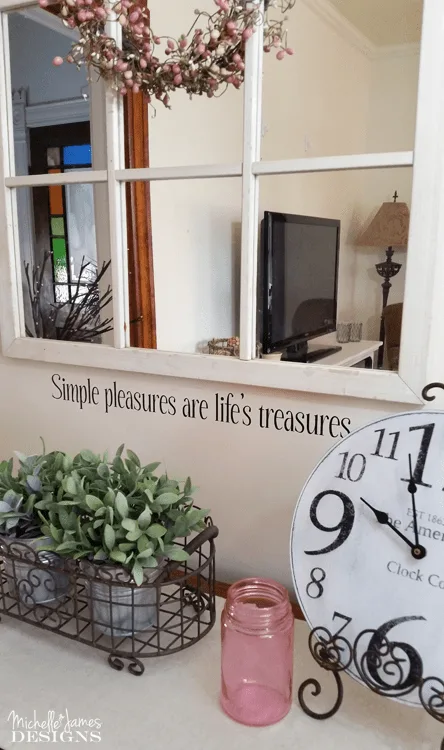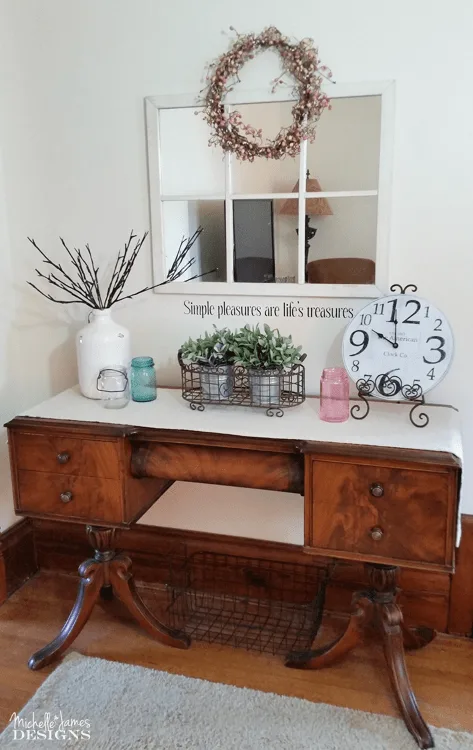 You can see the clock I did in my Time For A Cool Change post. I still love it! And I love this new wall decor. I think I will leave it up for a long time.
Thanks so much for stopping by and have a great day!
Michelle