This post is going to be a little weird. I am posting the July Card Class without pictures of the cards. What?…you say! I know, I know you are probably thinking I am losing it but really I am not. Here is why! I found out that the kit I wanted to use for my July cards sell out really fast so I need a little more time between when you register and pay and the class just in case there aren't enough kits in stock and we have to wait for the re-order to come in.
So, this is what I am going to do. I am going to show you the kit so you can get a feel for the colors, etc. I just got it yesterday and wanted to get the post out right away. When I have the cards done (probably Monday) I will update this post so you will have full access to the beautiful cards.
I have had some requests for more boy/man cards so I thought this Echo Park Kit by Lori Whitlock – Jack and Jill Boy would be perfect.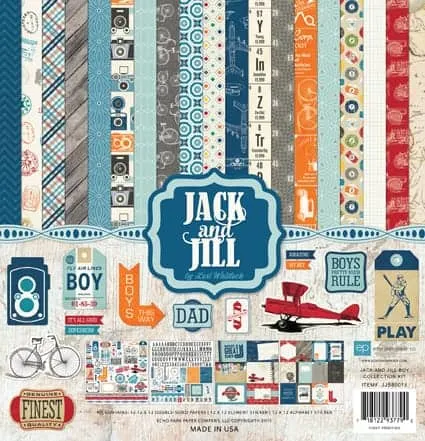 It is amazing and contains:
12 – 12×12 double sided papers
12×12 Element Sticker sheet, and
12×12 Alphabet Sticker sheet
Since I am only using the contents to create five cards there will be a lot left over for you to take home with you.
July Card Class –
To sign up for this class please register and pay by July 5, 2015
As with the last two months the July Card class will be offered two ways.
I will be teaching a local class which will be held on Thursday, July 30 2015 @ 6:00 pm in Emmetsburg and will be offering the kit with the instructions and all of the extra pieces to make the cards for those who cannot attend class and need the kit to be shipped. If you are requesting to have a kit shipped to you it will go out the same week as local card class.
There will be instructions for each card with a color picture and all of the necessary pieces will be cut and ready to create your beautiful cards. Plus you will have a lot left over to use for other projects, cards or scrapping. Please choose the local class or the option to have your kit shipped using the "add to cart" buttons below.
(For some reason the quantity is not showing in the boxes below. At least not on my computer or my phone. It always defaults to a quantity of one. If you would like to purchase more than one you can change it in your cart before checkout. Thanks for being patient while I look into this.)
Local Class
Have Kit Shipped