Okay….I started the digital version of Project Life at the beginning of 2013. I am telling you I was on a roll. I faithfully completed each week until I fell my down my stairs at the end of April and broke my leg/ankle in three places. That put a huuuuggge damper in my Project Life momentum. I basically stopped. I had to have surgery and it was a long time before I got back into the game. I think I managed to catch up to end of July or August. Then I am not sure what happened. I think the fact that I was so far behind made be get more behind.
I really want to get caught up and I am not sure how to do it. I think I really need to set a goal to start now with the week I am currently living and going back and catching up at the same time. That would mean working on more than one week at a time. I may not be able to do it every week but anything is better than nothing right?
If you are not familiar with Project Life, it was started by Becky Higgins. She even has a digital version which is what I started with. I love it and I love the digital version even more. It is basically a "pocket" page. The traditional version used clear pocket pages with 4 x 6 and 3 x 4 pockets for photos and journaling cards. You can do a week at a time, a month at a time. Whatever works best for you and your schedule. The pages have holes and fit in a three ring album. If you click on some of the links below you can see the traditional products.
Becky Higgins – Project Life – Rain Collection – Core Kit – this is one of many kits she offers
Becky Higgins – Project Life – Photo Pocket Pages – 12 x 12 Design A – 60 Pack
Becky Higgins – Project Life – Kraft Collection – Album – 12 x 12 D-Ring
You can also find her products at Amazon.com. You can get their easily by clicking on the amazon box in my sidebar. For some reason I am having trouble with the Amazon links. Sorry about that.
The digi version uses templates and digital downloads to create the same effect. I even use a stitching element on mine. I love it.
Here is one of my pages that I just finished.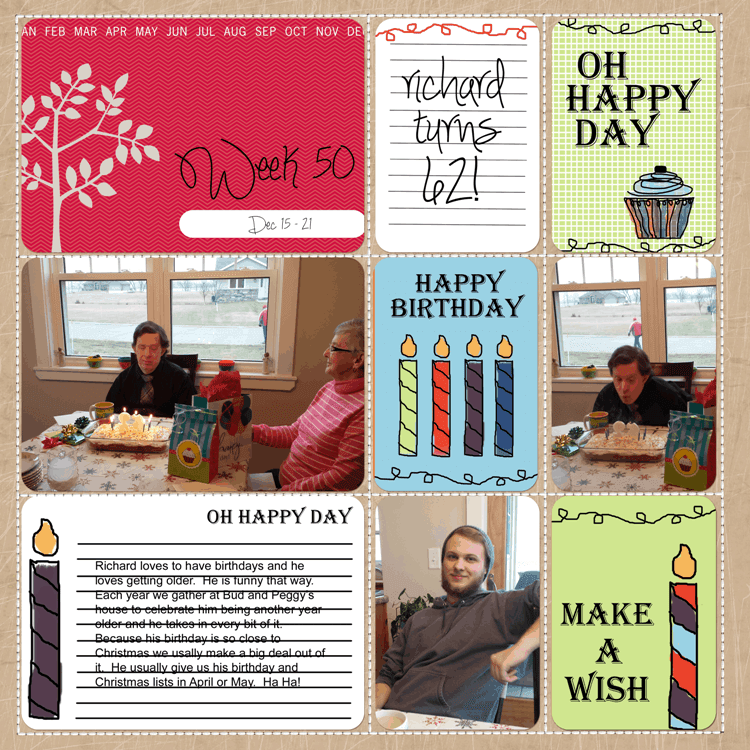 I used the Happy Birthday Kit from my shop. I think it looks goooood!
I love the way they turn out and it is so easy. You just drop your digital pics and cards in the template then "clip" them to that space. If you are confused of the lingo there are classes you can take.
If you want traditional classes the people at Big Picture Classes do it right.
This class will help you get started with the supplies you need and the basics of Project Life. It is taught by former design team members so they have been using the system and understand it. It would be well worth the $30.
For digital classes I would check out Jessicasprague.com. She is wonderful and so are her classes. I have taken several and have learned a lot about photoshop elements. This is the program I use for all of my digital scrapbooking a photo editing.
If you are a scrapbooker or you would like to start scrapbooking I highly recommend the Project Life style. It is fun and I really enjoy it.