This shop has been compensated by Collective Bias, Inc. and its advertiser. All opinions are mine alone. #CelebrateAllSummer #CollectiveBias
July is a big birthday month in our family. I get excited about making gifts for everyone. My favorite July birthday is my sister's. She is two years younger than me and loves all things.
This year I am making an easy DIY necklace and earrings and I can't wait to show you how. Not only am I creating this great gift but I am packaging it in a DIY container and adding the best birthday card from American Greetings. This really pulls the entire gift together.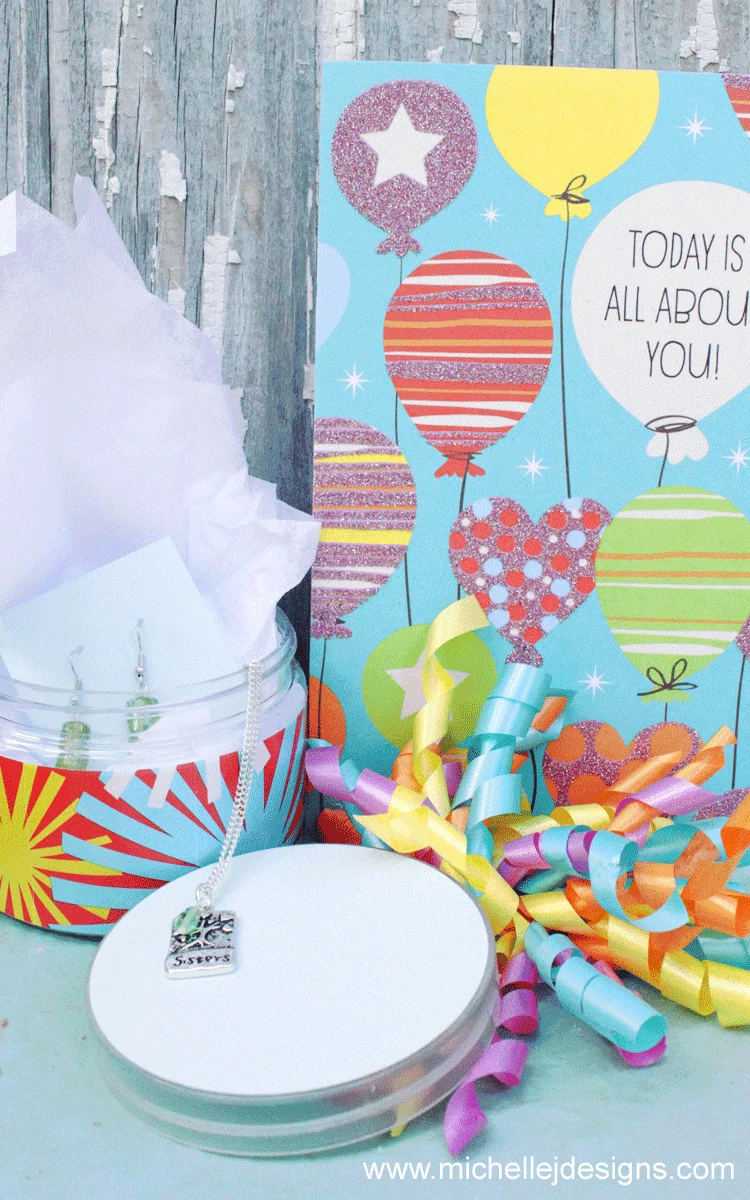 Easy DIY Necklace and Earrings
Supplies needed for necklace:
Bead – color and size of your choice
18″ chain
Charm
Head pin
Jump ring
Wire cutters
Like Chain Nose Pliers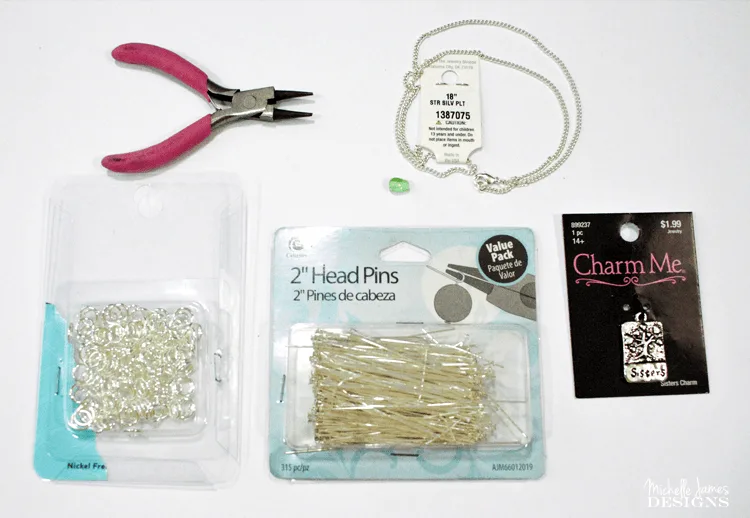 I love making necklaces like this. I am creating something unique but it is super easy at the same time. Easy really is my thing. The charm and the chain are already done. All I have to do is add the bead.
This is where the head pin and the tools come in.
First thread the head pin through the hole of the bead.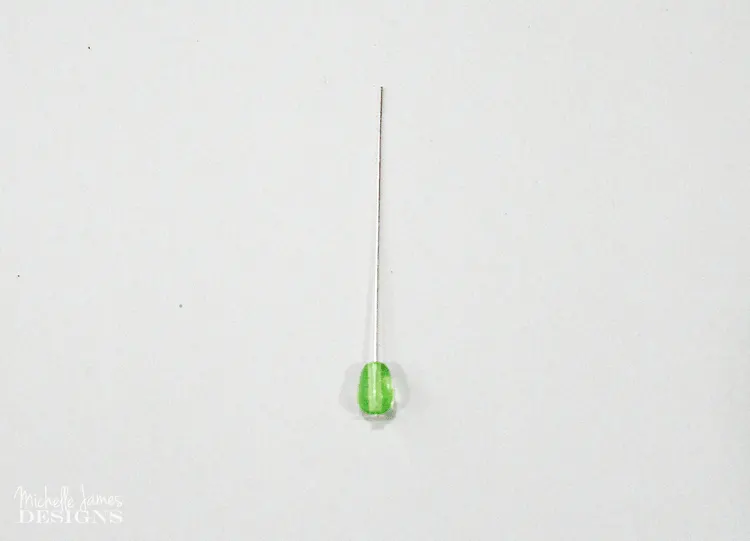 These head pins are too long so I used the wire cutters to trim the excess wire and leave just enough to create a loop. Loop it over using the Like Chain Nose Pliers.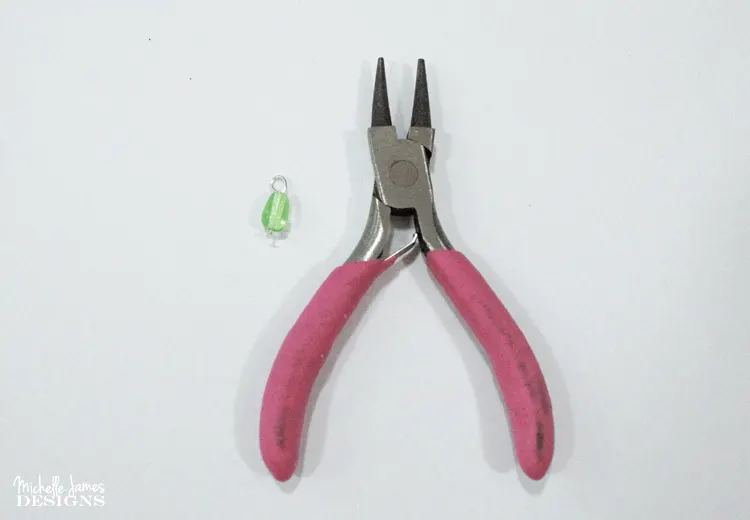 Open up a jump ring and add the charm and the bead then close the jump ring. I love the sisters charm I found. It is perfect.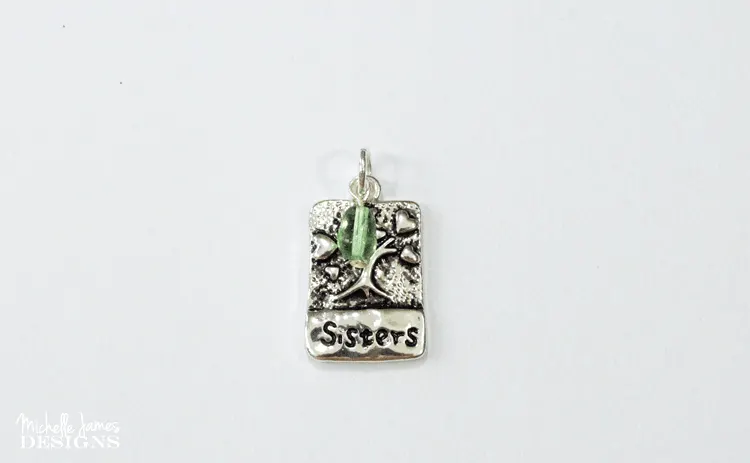 All you have to do now is add the chain! The necklace is done…just like that!
Supplies needed for earrings:
A lot of these are the same as for the necklace.
Two beads – I used some that are a little bigger this time
Two head pins
Fish Hook earrings
Wire cutters
Like Chain Nose Pliers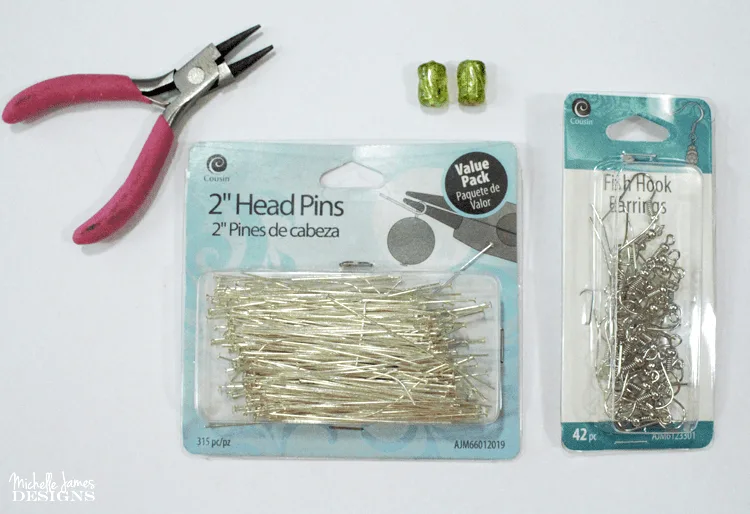 Using the head pins, thread them through the two beads, cut off the excess wire and loop the remaining wire to create a ring right above the bead. Just like the bead for the necklace. Leave them open enough to thread the fish hook earrings through then close the loop with the pliers.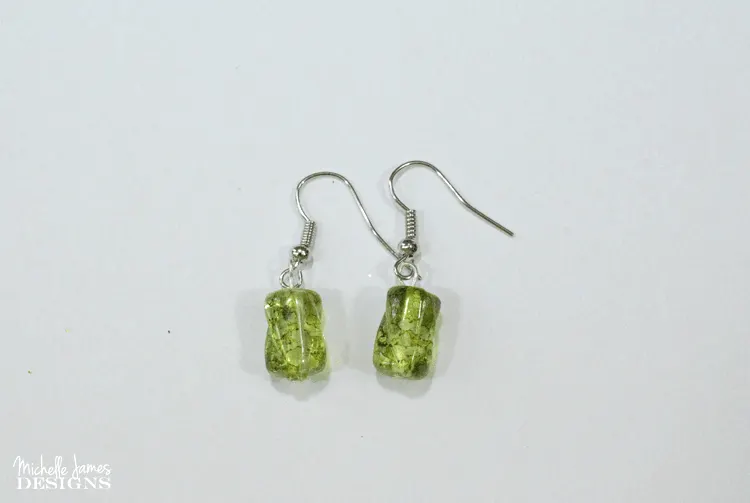 Done! Easy peasy!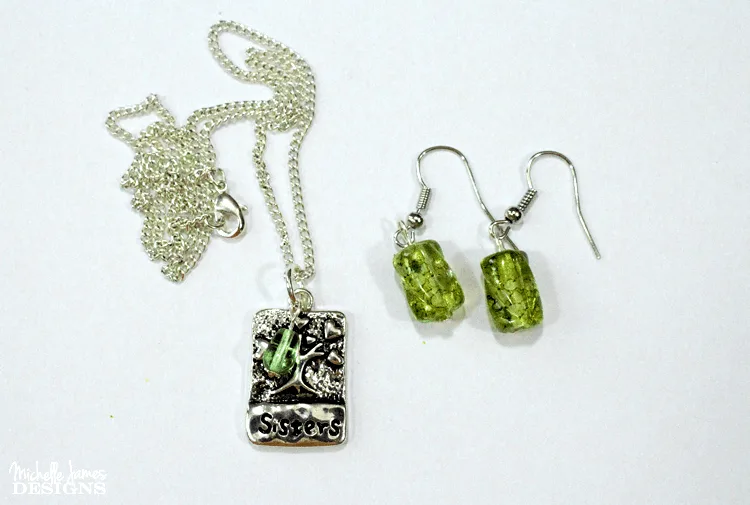 Creating DIY Packaging
Now that we have created these beautiful DIY necklace and earrings we need the perfect summer packaging. I love to re-purpose.
I had this little clear tub that was empty. It is a hair product that I use.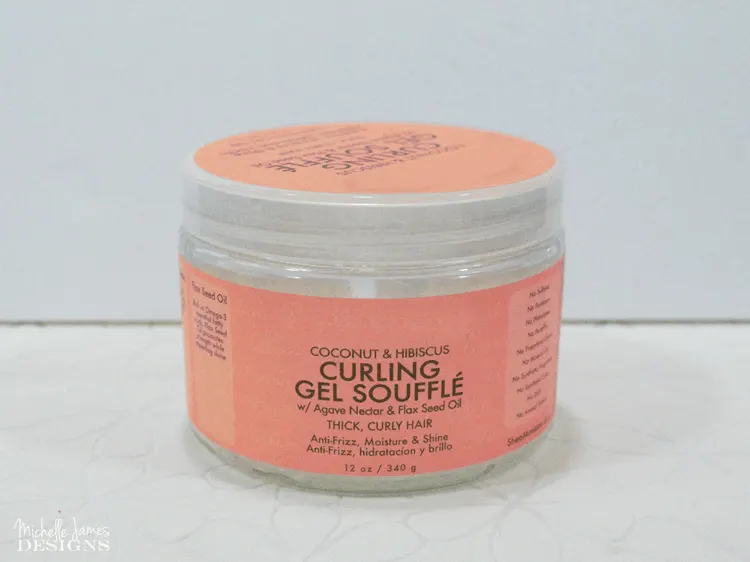 The stickers were very stubborn on this one so I just left them on.
I was looking for the perfect card and gift bag and I realized that some of these are perfect for decorating other things…like my gift container. I chose this small gift bag because it was so festive and fun. And the bow…I love it!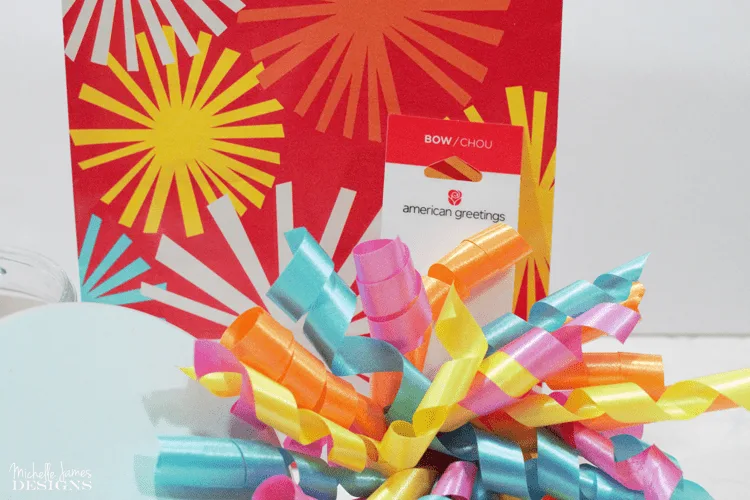 I used just the very top 1-1/4 inch of this bag to wrap around my little plastic tub and glued it down. It is perfect and I can still use the bag as a gift bag later! I used my Silhouette machine to cut a round piece of cardstock for the top of the lid. I did not decorate it because that is where the bow will be.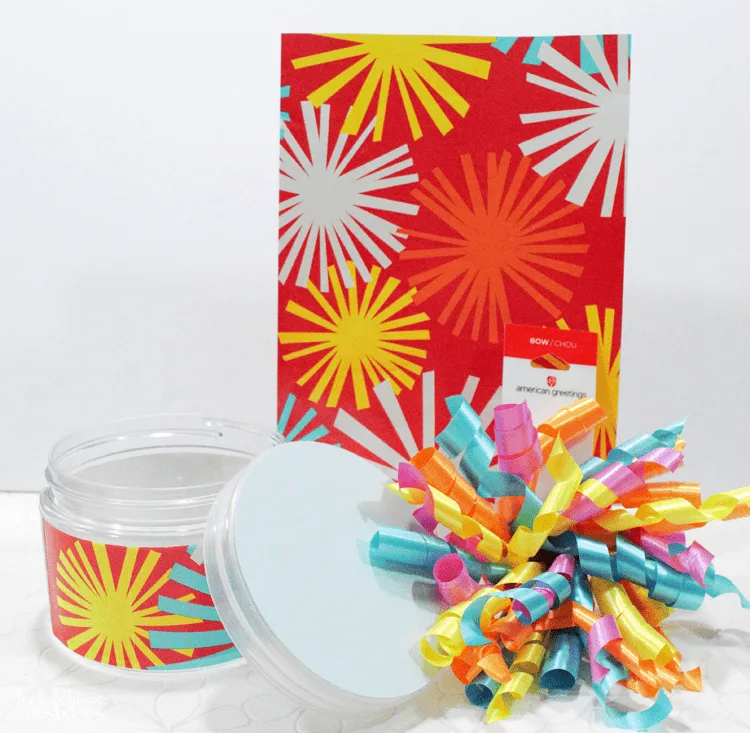 After I added some tissue I was ready for the card and the the gift!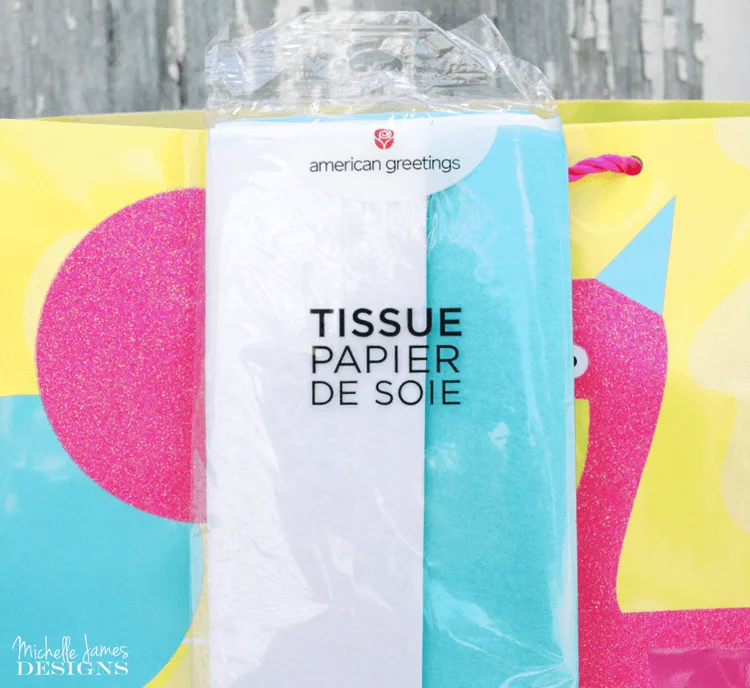 The Final Gift and Card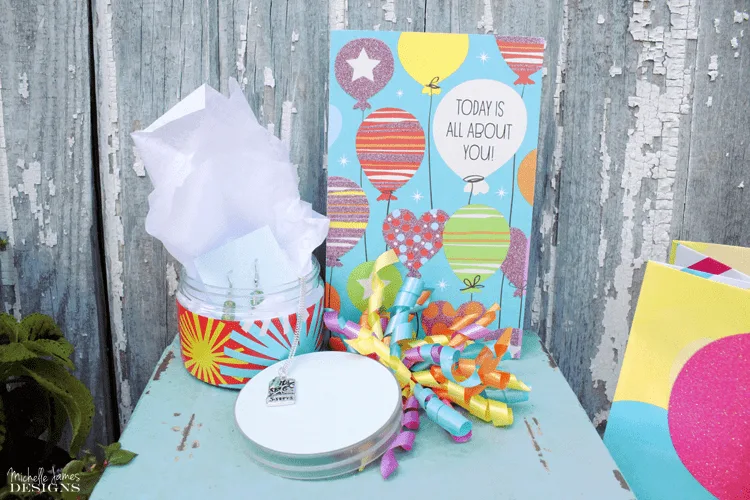 It is perfect! All of this plus a few extra goodies like candies will all go into this larger gift bag. It matches perfectly and looks great. It is hard to see but there is glitter on the bag. Nothing says happy summer birthday like a pink glitter flamingo! This was my favorite gift bag.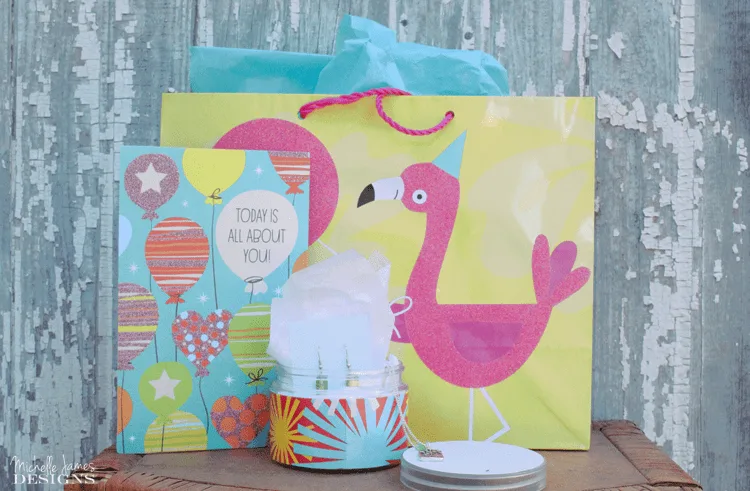 You can find all of these gift bags, bows and cards in Walmart. Just look for the American Greetings section. I had a lot of fun in these rows of cards and a hard time choosing because there were so many.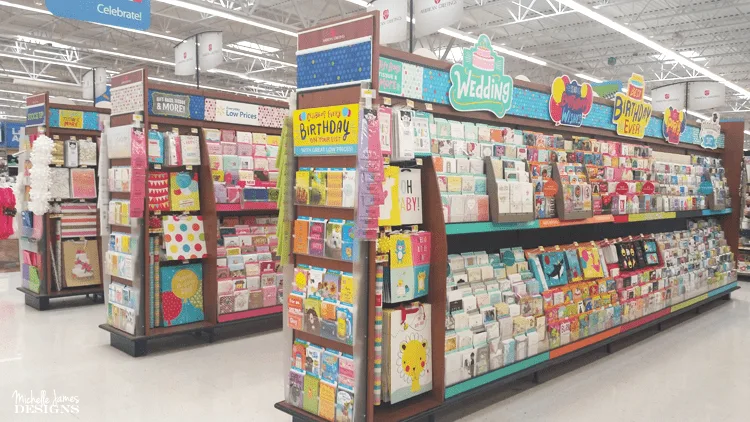 Not only did I get the birthday card for my sister. I picked up a couple more cards for some upcoming events.
Cards For Every Event and Occasion
Yesterday was actually Beauticians Day. Did you know that? I got this card for my awesome stylist. Inside it says: You- Amazing. Thank you.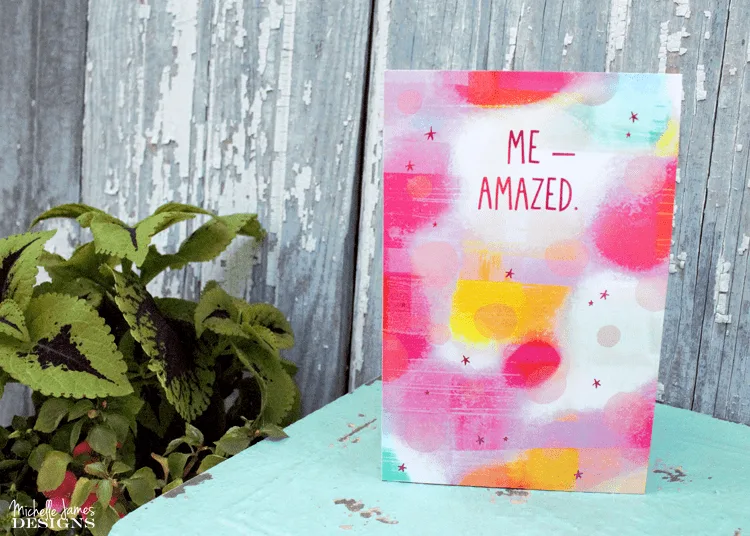 One of my friends loves random acts of kindness. I am really wanting to do this more but she is so great! And she helps a lot of people at the same time and she should be thanked for it. I got this card for her. On the inside it says: What you did was really nice! This will be a "random act of cardness" for her!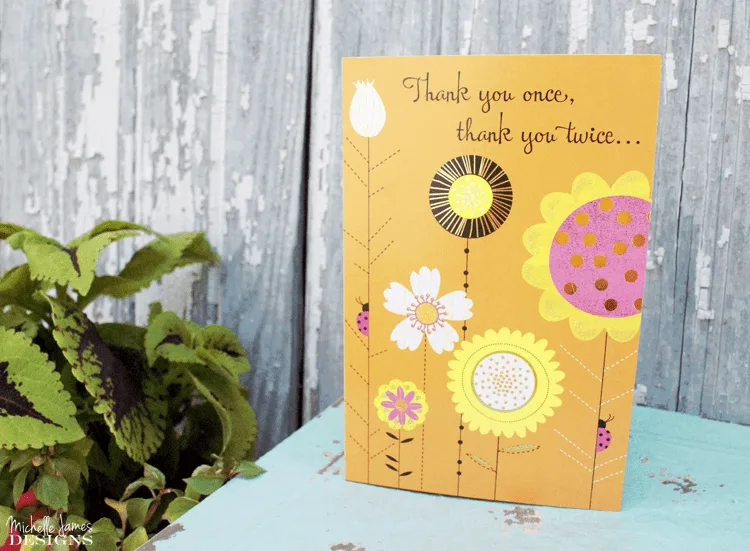 And I couldn't resist this one for my friend who recently lost her mom. These cards are great for picking someone up just at the right time. You can't under estimate the power of a card. This one is blank inside so I can write my own words and just in case it is hard to see in the photo it says: Happy thoughts can make any day a sunny one.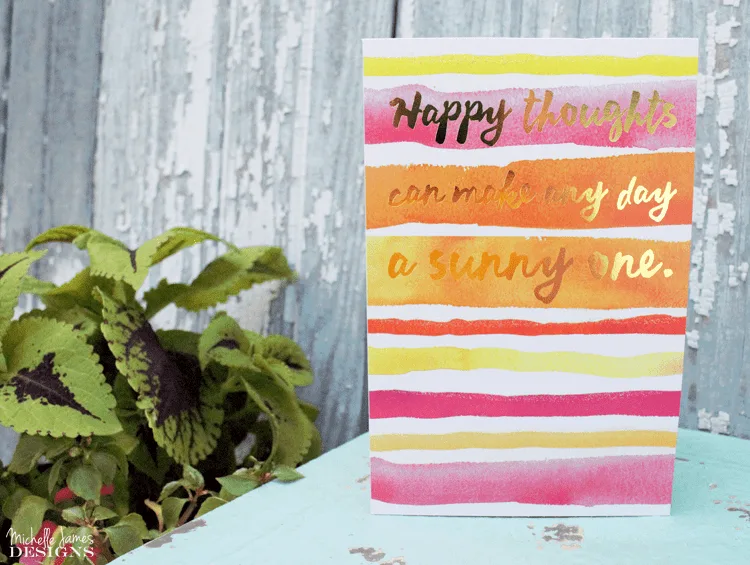 An now from June 21st – Aug 31st buy any card and earn $1 from Ibotta.
I hope this has inspired you to create some fun jewelry for your summer birthday celebrations and to brighten someone's day with a "random act of cardness". It really is easy and it feels good!
If you like it…don't forget to pin it!

Thanks for stopping by!
Michelle