This shop has been compensated by Collective Bias, Inc. and its advertiser. All opinions are mine alone. #OrganizeWithZiplocSpaceBags #CollectiveBias
How many of you don't have enough storage/closet space in your home? It has been a struggle for us since we moved into our home. It was built in the late 1890's and apparently they didn't have anything to store back then.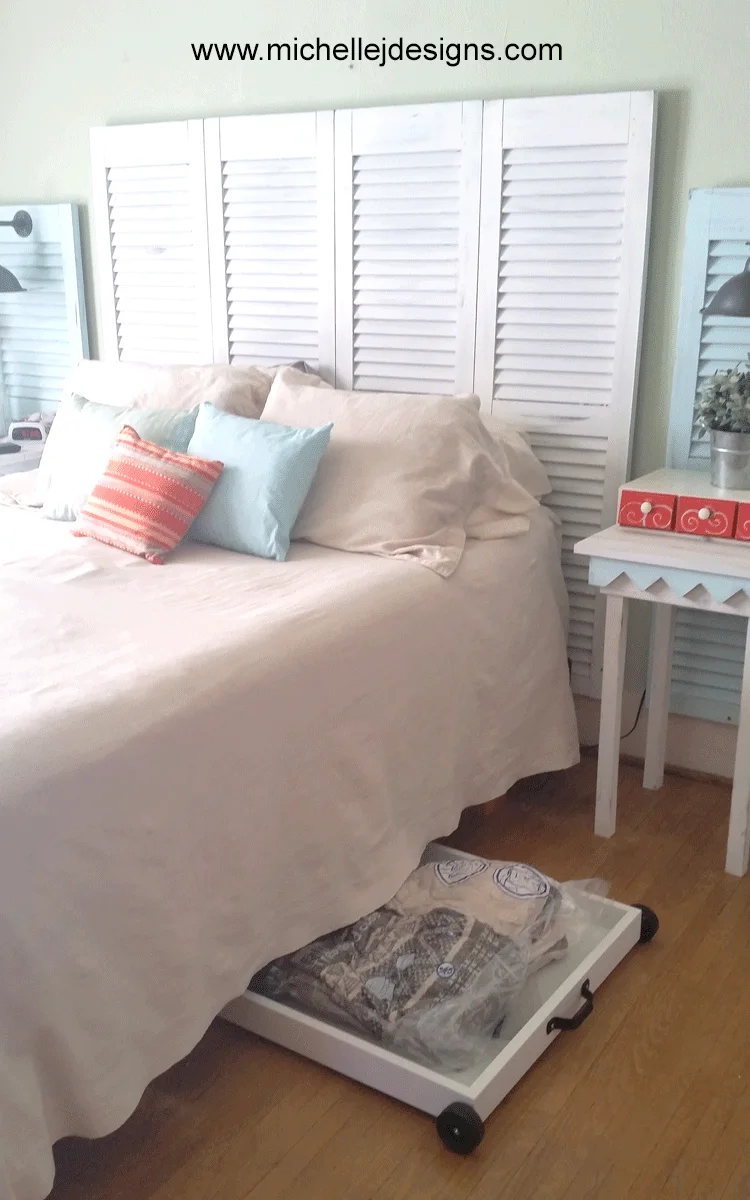 Our Storage Dilemma
We have three closets. One in each bedroom. They were added by the previous owner, and we are grateful for them but they are tiny and fill up quickly.
When the boys moved out…somehow a lot of their "stuff" stayed behind. The boys' stuff takes up one closet, and my craft supplies "overflow" takes up the other unoccupied closet. The poor guests have nothing.
The third closet is a clothes closet in the master bedroom for Jeff and me. We share, but I get most of it. And we use every square inch.
So where does that leave me for linens, and out of season clothing? Basically I use the same closet and never remove the seasonal clothing, and, for linens, we have a dresser in one of the guest rooms. It still isn't enough space, and we don't have a huge overflow of linens.
A Storage Solution
I was so happy to see these Ziploc® Space Bags® at Lowes. They are the perfect solution for our situation.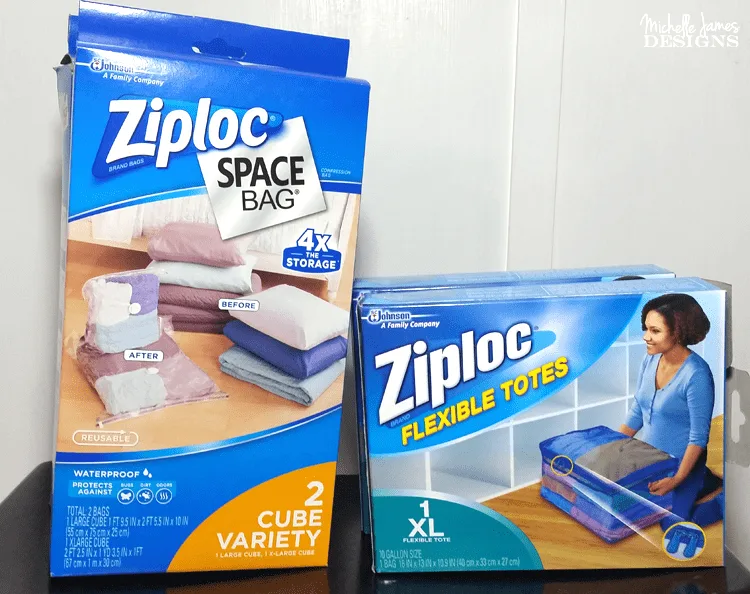 I decided to try the Ziploc® Space Bags® and the Ziploc® Flexible Totes XL. They are in the home organization section at Lowes.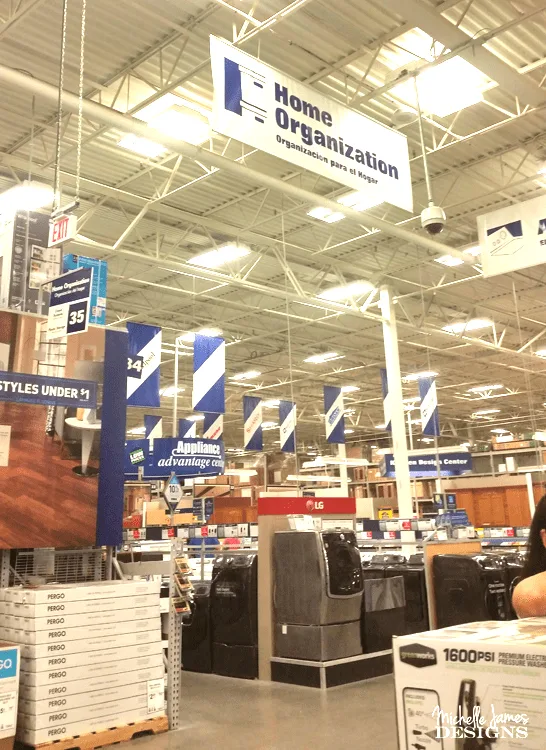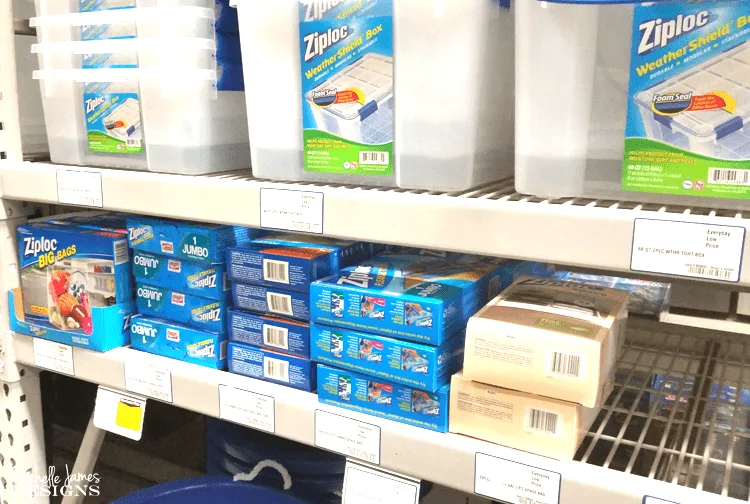 The Ziploc® Space Bags® have a Ziploc® Double Zipper and an easy to seal slider and are vacuum sealed so they shrink down to provide 3x the storage compared to uncompressed storage volume.
We decided to use the Ziploc® Big Bags XL, which is 2ft by 3ft, for Jeff's sweaters that take up a lot of room in his dresser. Ziploc® Space Bags® products protect against bugs, moths, dirt, mildew, and other odors that might occur within common storage areas, and with sweaters this is a good thing.
These Ziploc® Space Bags® are also reusable so when winter arrives, I will be able to get out the sweaters and replace them with shorts/capris that I don't need that season. I love that.
We stacked them up and they all fit in the one bag. In fact we threw in one of mine too.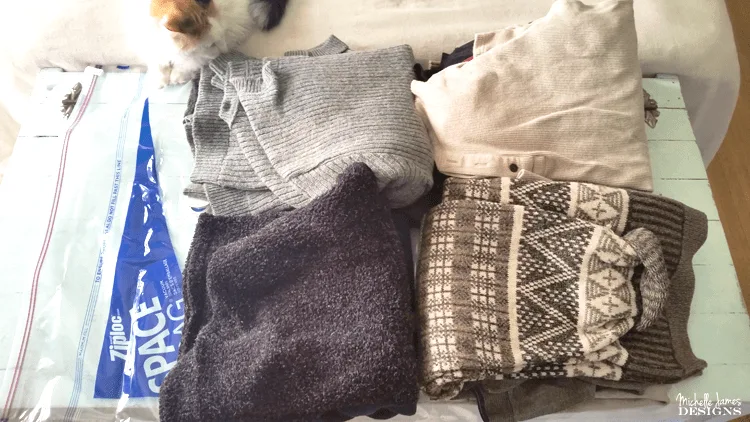 I think there are 10 sweaters here. We carefully packed in the sweaters and used our vacuum to seal the bag.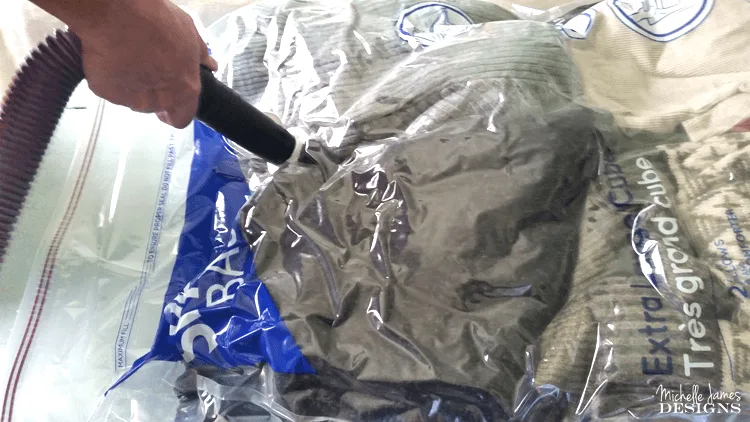 It didn't take very long at all and the air was all gone.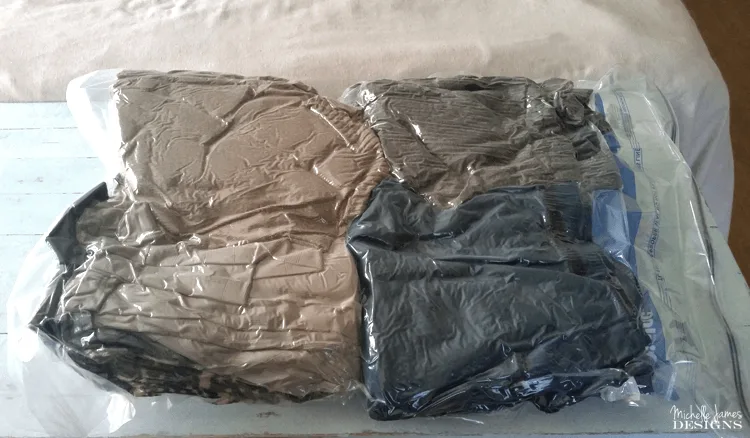 And to store it, Jeff built a rolling "cart" that fits and rolls under the bed. It was the perfect solution.
Creating A Rolling Cart To Create Storage Space
My husband is great at coming up with brilliant ideas and for building what we need to put a plan into action. This time was no different.
We used the measurements of the bag since it was the largest, and he went to work.
Using a piece of plywood and four pieces of 1×3, he built a low riding rolling cart that will be housed under our bed.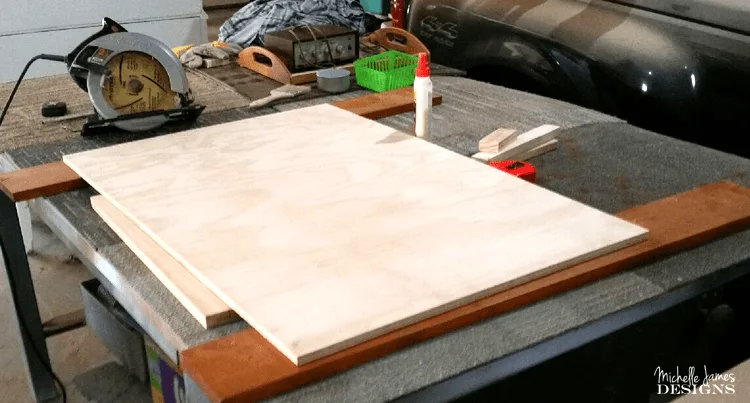 He started by cutting the plywood piece for the bottom. It needed to be strong and not bend in the middle with the weight of sweaters and/or blankets, etc.
Then he added the sides.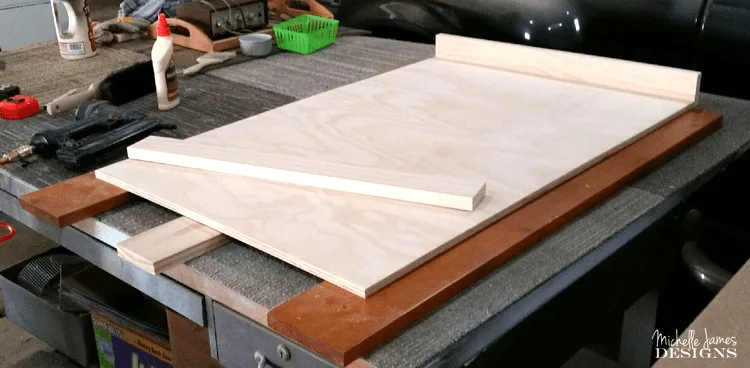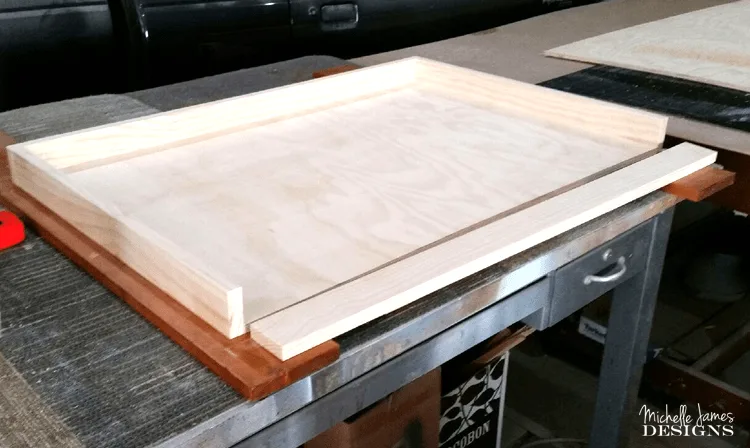 When it was built and sanded, I took over with the primer and paint. I used white for both.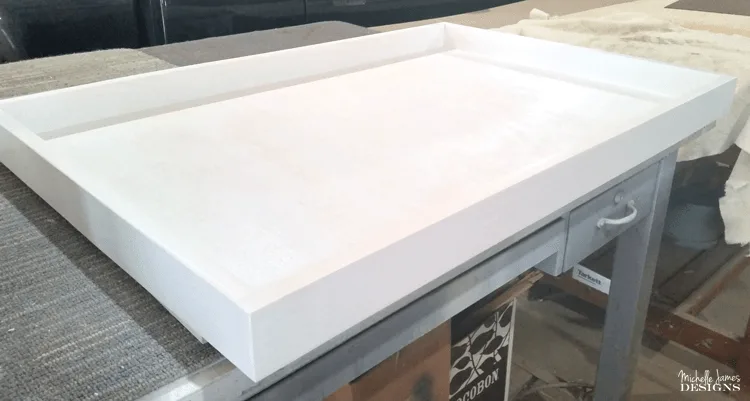 I used several coats of each. This photo was after the 2nd coat of primer. When the paint was dry it just needed some wheels and a handle.
Jeff likes to find inexpensive ways to add these elements to our projects. So he went on a mission to find the right toy for the wheels.
We found it! For .88 at the Goodwill we found the perfect toy. He used the wheels from the Army truck and added them to the sides of our cart. So now the poor truck is wheelless! But they were perfect and work really well. With some washers and 4 screws he had the wheels mounted.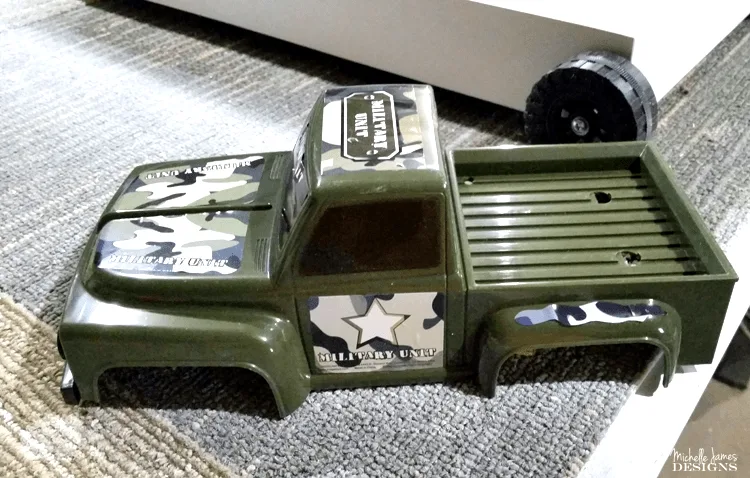 We also had an old door with a handle so we removed it, painted it black and added it to the front of the cart.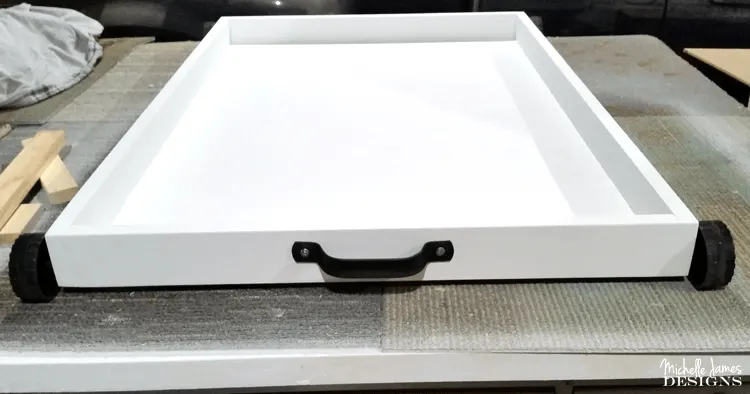 Next I added the Ziploc® Space Bag® on top and rolled it under the bed until winter. The box comes with two vacuum seal bags and the other one is a little smaller. I think it will be able to hold it as well. I am going to try it with more seasonal clothing such as scarves and hats.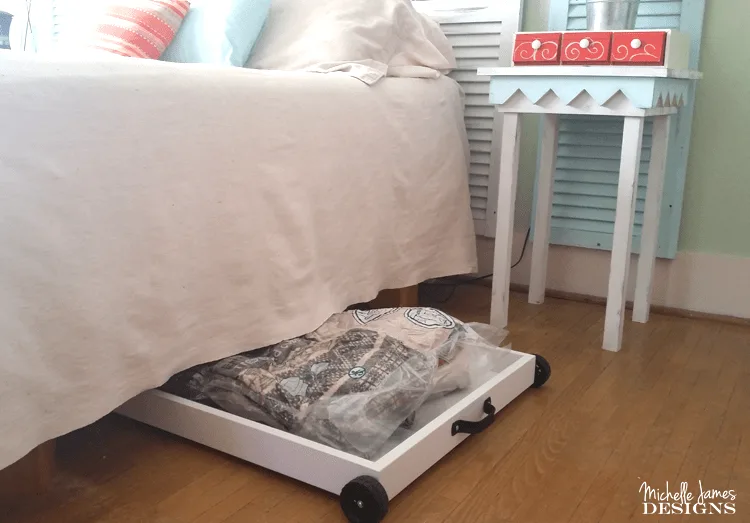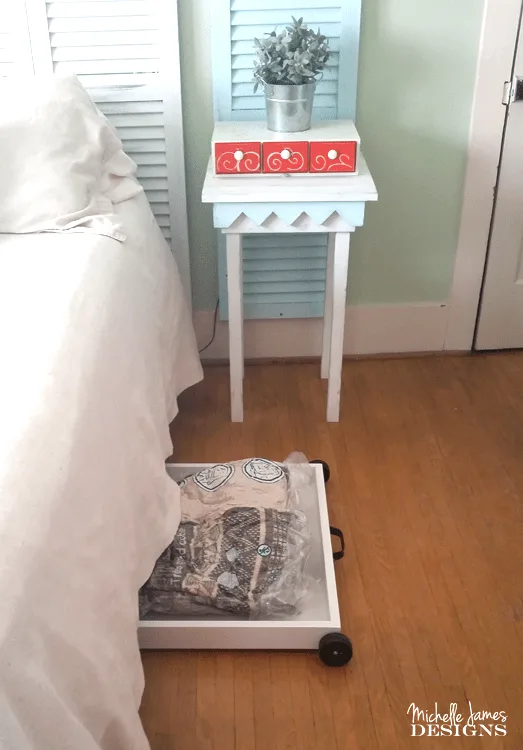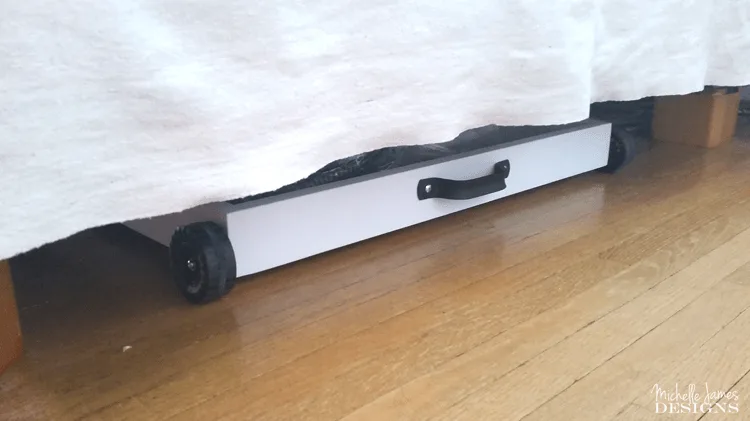 I also purchased the Ziploc® Flexible Totes XL. I thought these would be nice for blankets, table cloths and place mats that don't get used very often or even my extra craft fabric. I decided to store the blankets for now.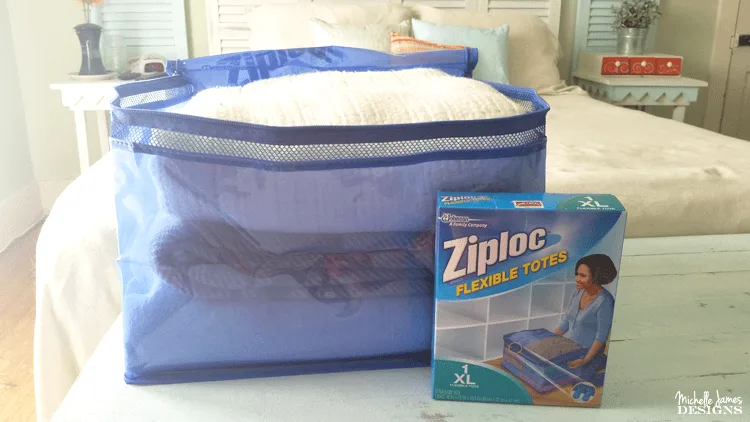 This has two large blankets and one throw blanket inside. These are not vacuum seal bags but they have a zipper all the way around three sides. I love that the dust bunnies and the cat hair won't be all over my blankets when I need them this winter.
I just had to push the top down a little bit but it did fit under the bed with the cart.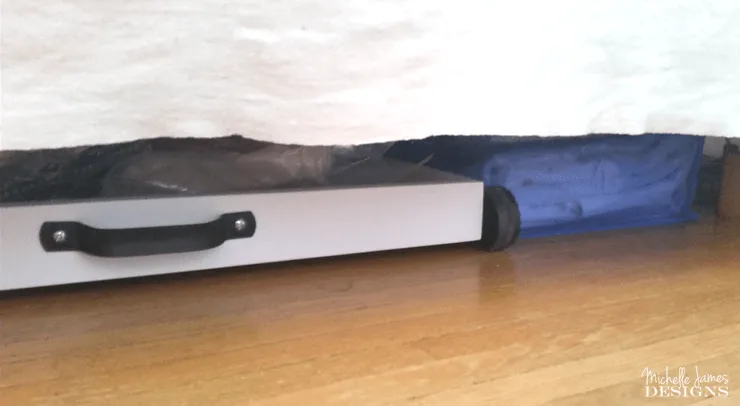 I love the new storage space and how we created a usable area with easy access under the bed. I am excited for our new found closet and drawer space too.
Be sure to check out Lowes for your Ziploc® Space Bag® and Ziploc® Flexible Totes XL You can also follow them on Facebook!
What do you think? If you like it be sure to pin it for later!

Thanks for stopping by!
Michelle