Have you guys heard of Amazon Prime Day? I was never able to take advantage because I wasn't a prime member. But we recently joined and now I can. Yay us!!!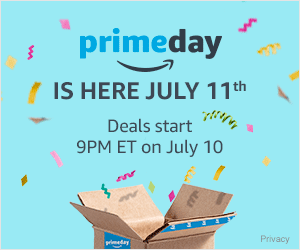 Crafty Deals Today Only
All of these links are affiliate links for your convenience. If you are not a prime member you can sign up! Just click on any link below and search for prime membership
Silhouette Portrait Craft Bundle – $115.50 – Such a great deal!!!!! But this is the smaller machine.
Cricut Cutting Machine – Sale is $199 from $249 – Such a great price on the Cricut Machine!
American Crafts We R Memory Keepers Heatwave Pen Starter Kit and 20 Sheets of Foil, 4 x 6″ – $13.81 from $19.96 – I have one of these. So fun for cards. I do have to say they take a little bit of practice but I love foil on cards. It is gorgeous!
ArtBin Super Satchel Double Deep with Removable Dividers, Aqua Mist Art Craft Storage Container Box – $19.76 from $25.51 – These are so nice for craft storage.
Prismacolor Premier Pencils Adult Coloring Kit with Blender, Art Marker, Eraser, Sharpener & Booklet, 29 Piece – $17.25 from $34.99 – I love these pencils. They are great if you like the adult coloring books.
At the time I wrote this these were not on sale yet but they will be. Click the link to get the sale hours and to get pricing!!!
CONDA and Kiddy Color A30205-11 Artist Stretched Canvas 11X14″ Pack of 5 –
Chalk Color Markers 3mm Rounded Tip Liquid Ink Pens 8 Pack With 16 Free Reusable Chalkboard Labels –
Sharpie Color Burst Permanent Markers, Fine Point, Assorted Colors, 24-Count
IRIS Extra Large 4 x 6 Inch Photo and Embellishment Craft Keeper, 2 Pack, Clear
There are sooo many things. You really need to go over there and check out all of the deals. Here is a link to the main page of deals!
You can check out some of my books I sell on Amazon here!
Enjoy the deals today,
Michelle