Hi everyone and welcome to another fun-filled furniture refresh challenge. This one always forces me to get in there and get a larger piece of furniture done. I missed the June challenge but remember the Drink Station I created in May? This month our paint of choice was latex and I totally transformed a vintage turntable cabinet! I can't wait to show you!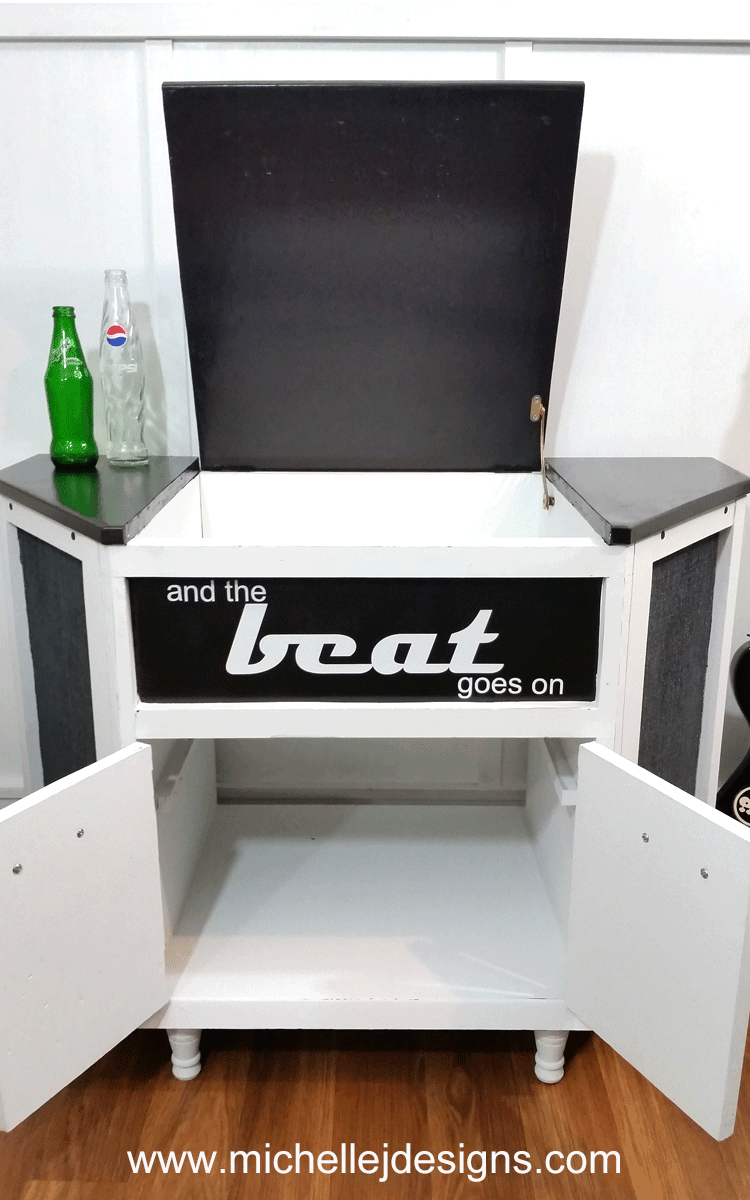 You guys wait until you see the before of this vintage turntable cabinet. It was not pretty. I am not sure who built it but it was in dire need of a good make over. I know it had been sitting for a long time so cleaning was definitely in order as well. Let me show you how I cleaned, lightened, brightened and re-made this guy into something fun.
I have included affiliate links for your convenience. You can read my full disclosure here.
Supplies Needed To Transform A Vintage Turntable Cabinet
Turntable Cabinet
Zinnser Bulls Eye 1-2-3 Primer
White Latex Paint
HomeRight Finish Max Paint Sprayer
Rustoleum Oil Rubbed Bronze Metallic Spray Paint
Frog Tape
Brushes
Newspaper
Plywood
Fabric
Hot Glue Gun
Getting Started
This is how this project started out.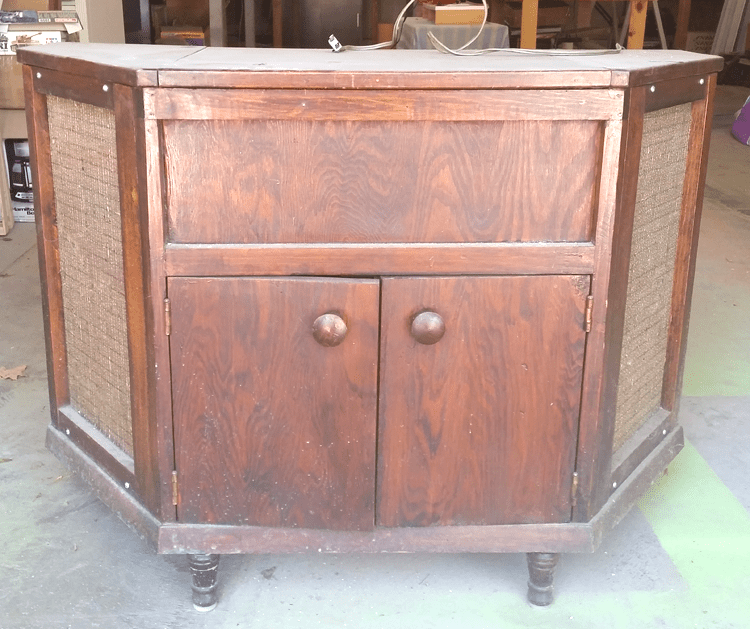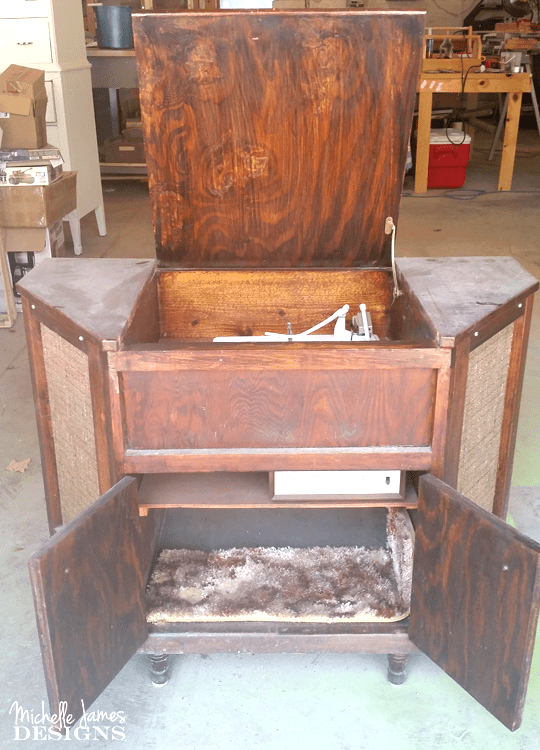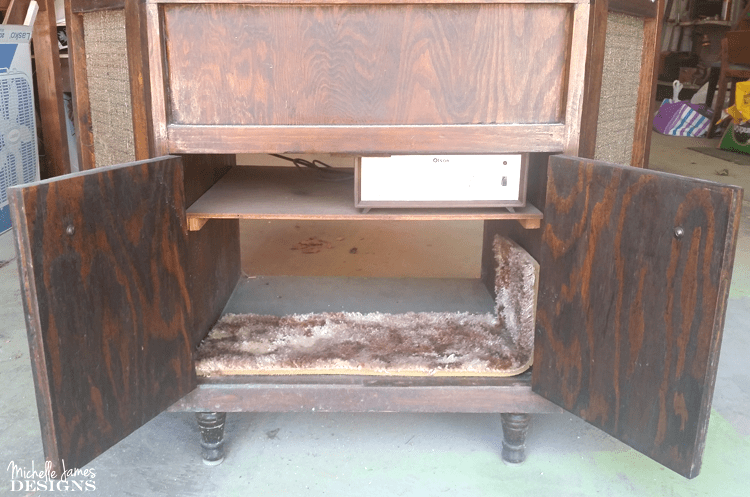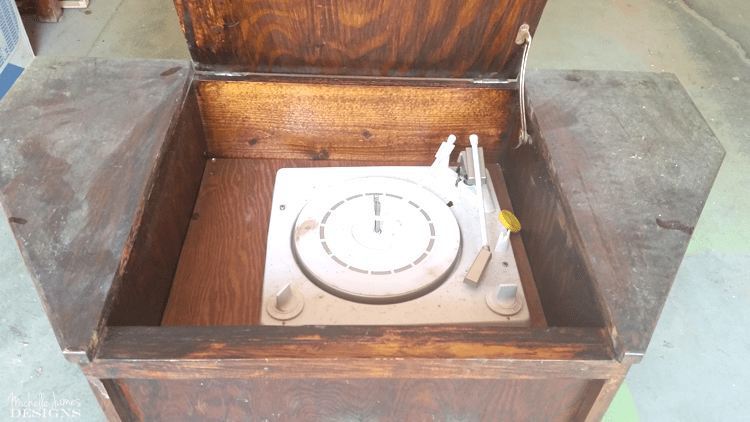 Step One:
Where do you start right? I started by taking it all apart and cleaning it up. The turntable and radio did not work so I set them aside. I also took apart the speakers.
Step Two:
Primer!
I used Zinnser White Primer from Rustoleum. There was A LOT of bleed through and I ended up putting about three coats of primer on all of the parts.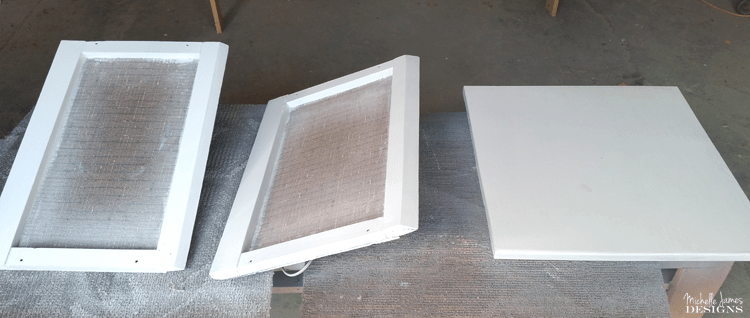 I wanted the accent color to be gray so I decided to paint the top of the entire piece gray and I purchased some really nice fabric upholstery fabric from Joann's to cover the hideous speakers.
Step Three:
Painting the body white. I have found that my HomeRight sprayer likes latex paint the best. There is no clogging which I get from time to time with other types of paint. The latex just seems to flow through the sprayer nicely.
I used two coats of the white paint over the primer.
Step Four:
Painting the top. The middle section of the top was removable. This part was easy to spray, but the other two sections of the top were not removable. They would be harder to spray but I did it. This is where I needed the frog tape and the newspaper. I covered the entire piece except for the two top pieces and the middle section on the front to mask the parts that needed to remain white.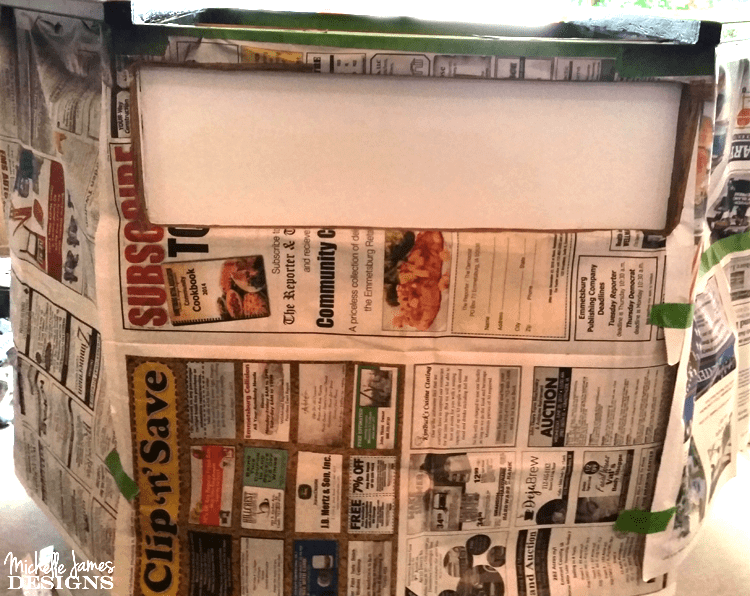 When the paint was dry I removed all of the newspaper. It was looking so much better.
Step Five:
Cover the speakers. The speakers were pretty bad. I did not worry about painting them too much since I knew they would be covered with the gray fabric.
I cut a piece of fabric to fit inside the space of the speaker, iron it then hot glued it in place focusing on the edges and corners so the fabric wouldn't roll up or fray.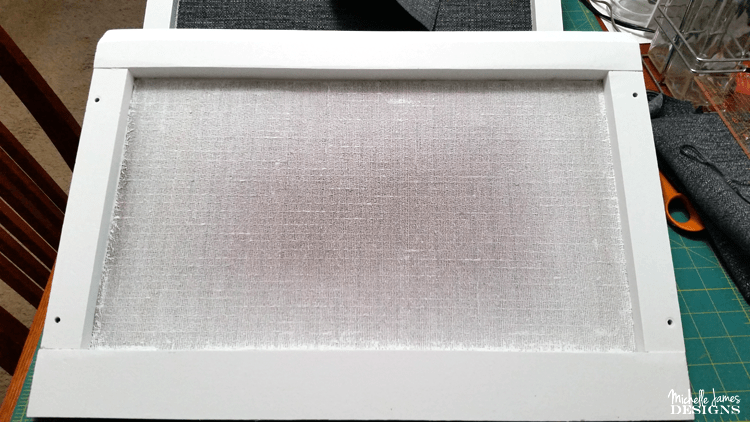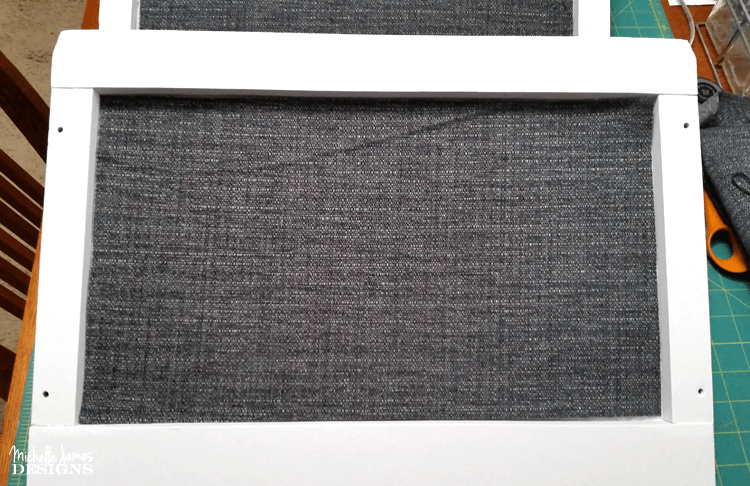 Step 6:
The middle section on the front of this vintage turntable cabinet was the perfect spot for a fun bit vinyl. I wanted something that pertained to music and Jeff suggested "and the beat goes on". I loved it because I remember listening to Sonny and Cher sing it when I was young. In fact I would lay down in front of the speakers or our turntable cabinet and listen to the entire album.
White vinyl was my choice on top of the dark middle section of the front.
I used my Silhouette Cutting Machine…of course and cut out the words. I used a funky retro font for the word "beat" and placed the words into middle section of the cabinet.
Step 7:
All I needed now was some new hardware for the doors. I have these drawer pulls so I gave them a coat of the Oil Rubbed Bronze paint to match the top and we mounted them on. I am not sure if they really go with the 70's retro look but I don't think I hate them either. They are easy to change if I want to later.
One last thing we did was to replace the shelf inside for the turntable. Jeff cut a piece of plywood to size and I painted it the same white latex to match.
Then we just put everything back together again.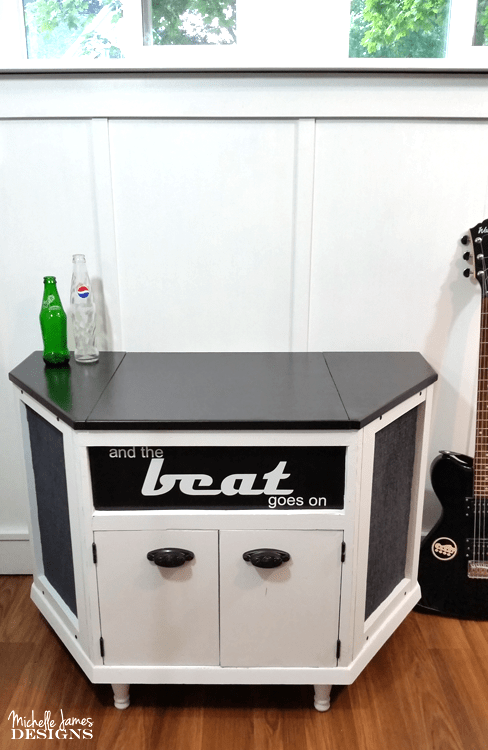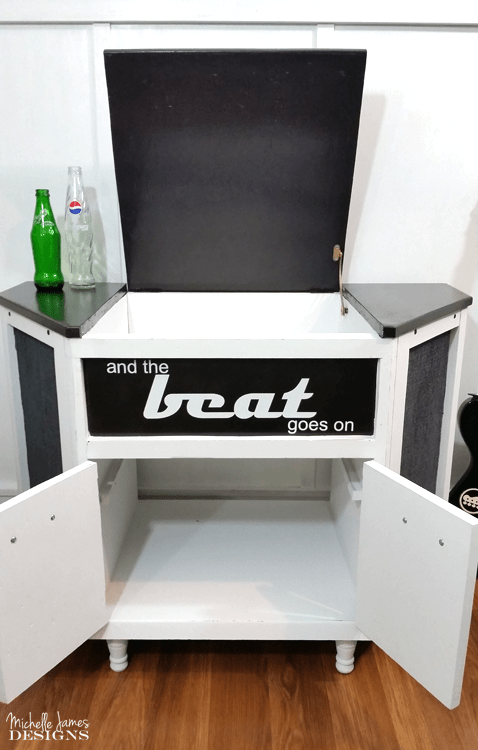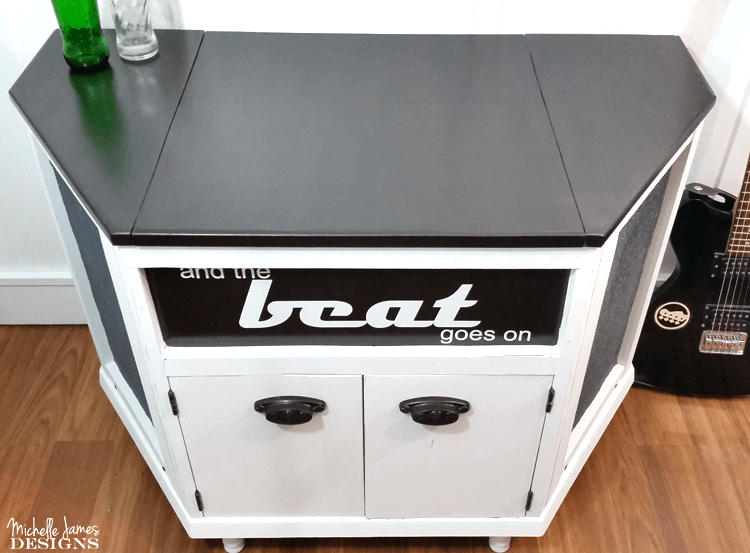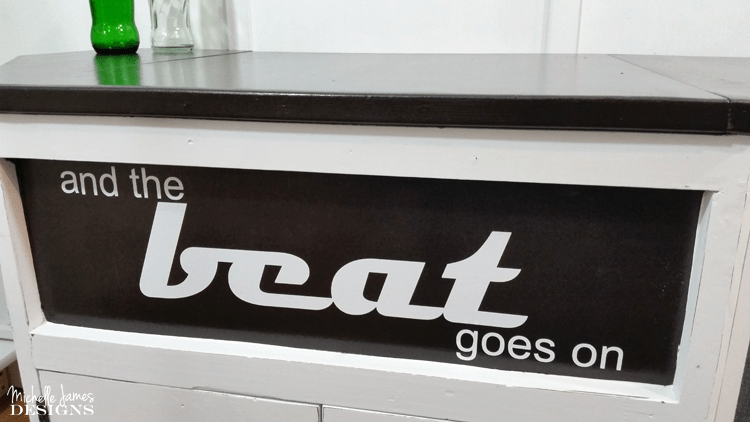 You know, this vintage turntable cabinet is not my style but I like it. LOL!
I have a question for you guys. Since we had to remove the original turntable and radio what do we do? Jeff thinks we should scrap the idea of turntable and either add in a cd player or something but I really want to purchase a new turntable to place inside. Which do you think is the better idea? Let me know in the comments below.
If you like it…don't forget to pin it!

Okay now don't forget to visit the projects of the other bloggers in this challenge. It is so fun to hop around and see everyone's ideas.
Michelle @ The Shelstring Blog
Anj @ Makin' My Apt A Home
Thanks so much for stopping by!
Michelle