This is the first month I have participated in this challenge. It is the crafty de-stash challenge. I think I could go on forever with this one and never have to purchase a thing. Although we are allowed $10 to add to our stash items I did not have to use a dime. I created this awesome kitchen organization board. It went together super easy and only took me an evening to complete. The perfect craft right?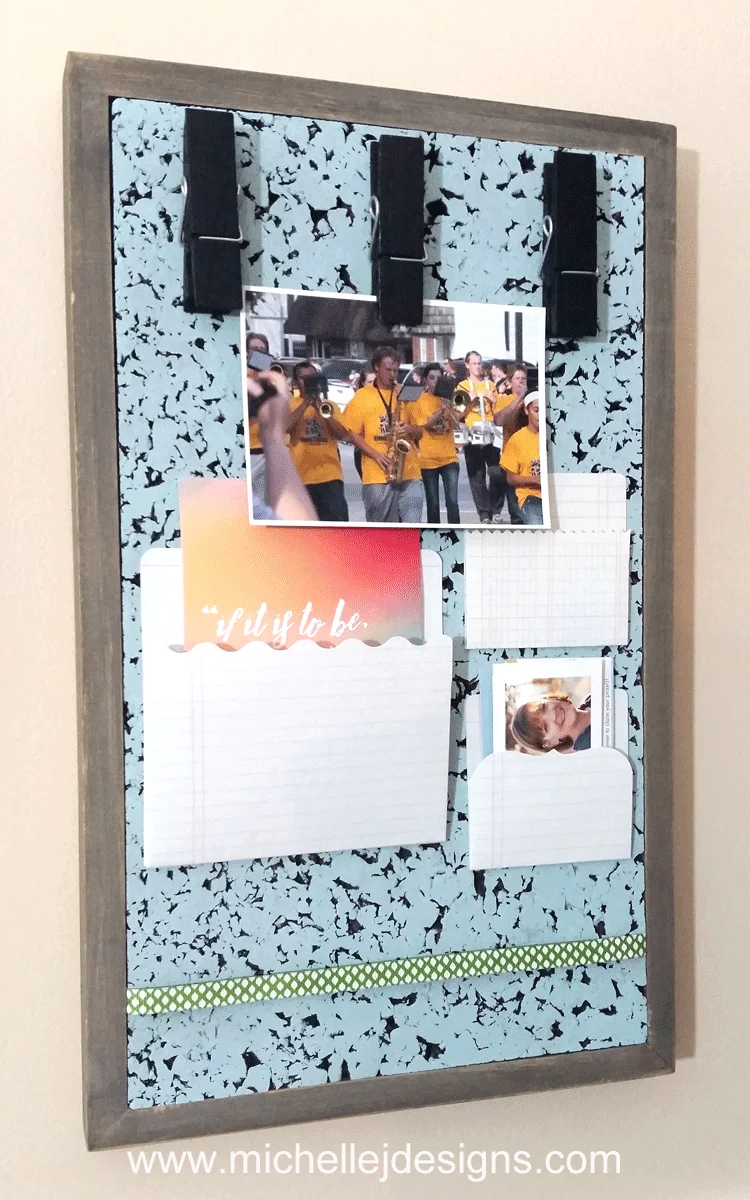 Kitchen Organization Board
I love organizing and have recently been trying to get my craft supplies organized. This time I needed a little kitchen organization board.
Materials Needed To Create A Kitchen Organization Board
I have added affiliate links for your convenience. You can read my full disclosure here.
Wooden sign with frame – this was a set of two that I got from a garage sale
Small Paint Roller
Pocket Folders – or make your own pockets with your stash of scrapbook paper
Ribbon
Getting Started
Step 1
Jeff and I have been working hard to finally get our kitchen finished. Since we added the board and batten the original kitchen organizer was too big. I wanted something different on the wall anyway. It was time for a change.
I got really lucky with this project. I got this cork at the Goodwill for $1.50 a while back but it is really old and I knew it would need a frame around it to keep it from crumbling around the edges. It just so happened that I found the perfect solution.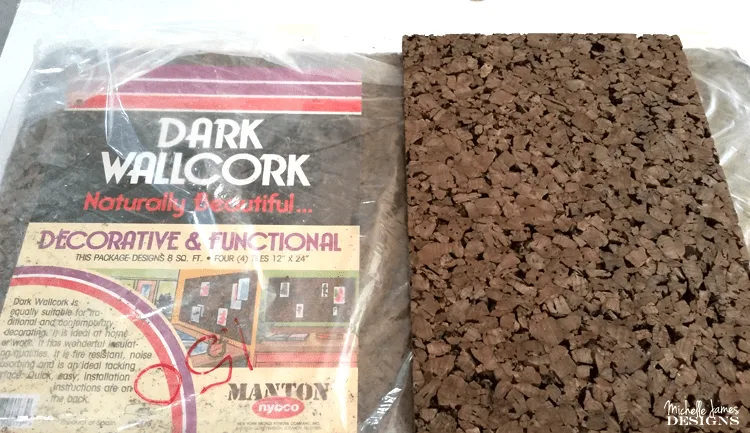 I had purchased a set of two of signs for a kid's bathroom at a garage sale. I loved the wood frames and knew I could cover or paint the inside. The cork is 3/8″ thick and it fit perfectly into the frame.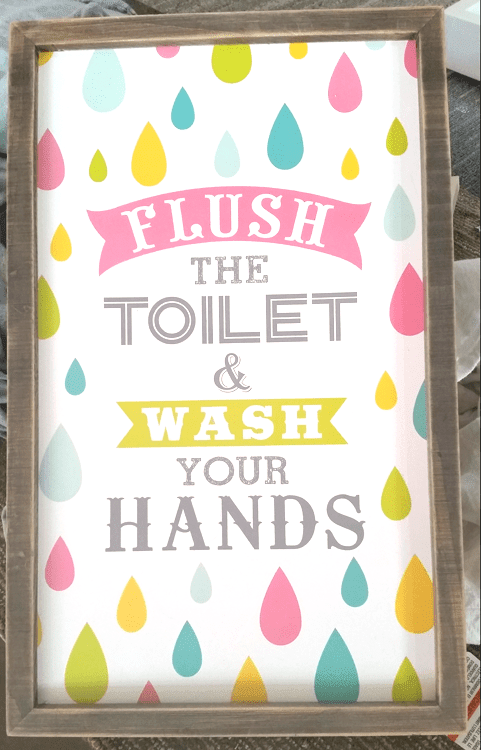 I cut a piece to fit inside the frame and rolled on the chalked paint with the small paint roller. It needed just one coat of the paint.
Step 2
Using the stash. Peggy gave me some pocket folders and the black clothes pins a long time ago and they were still here…unopened. I did not use very many of them on this project so I still have some for later. Heaven forbid I use all of something.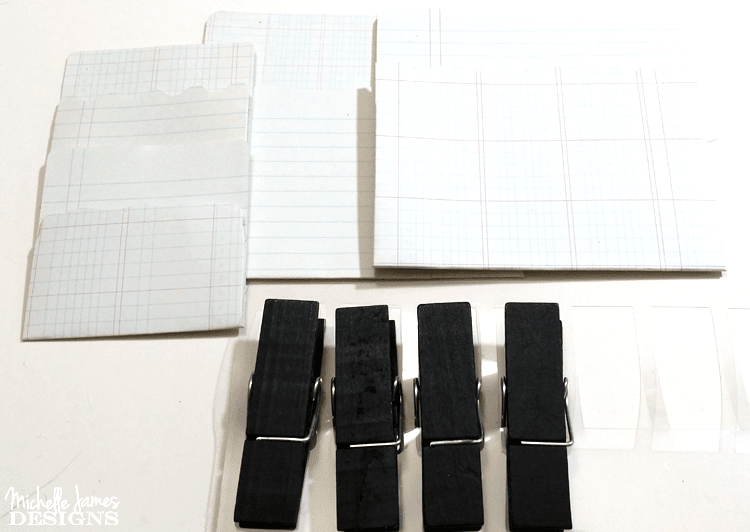 These pocket folders are from KI Memories and are also so old. I am sure they are no longer available but would be simple enough to make with scrapbook card stock.
I arranged them onto the board after the paint was dry. The hardest part was making a decision as to where everything should be but I think I did okay in the end.
I even added some ribbon for tucking photos but I will need to use some push pins which is totally fine.
The ribbon wraps around the back of the cork board. Then, using the hot glue gun I glued the cork to the frame.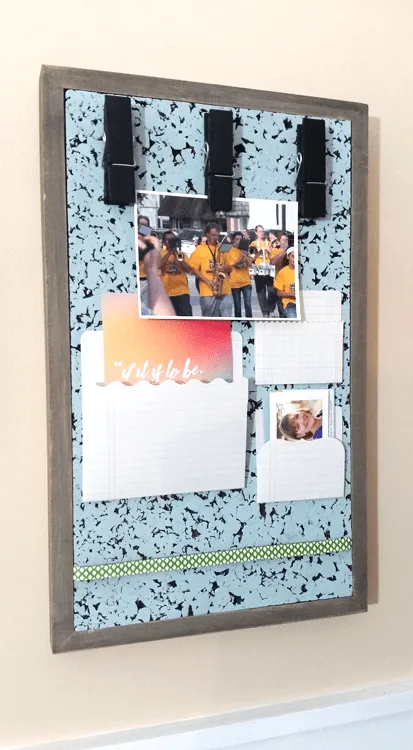 Step 3
Adding the stuff. Business cards fit perfectly into the smaller pockets and I found a fun card for the larger pocket. A photo of Brian in the marching band was just right to add in the clothes pin. The entire thing is fun and it looks good in my kitchen.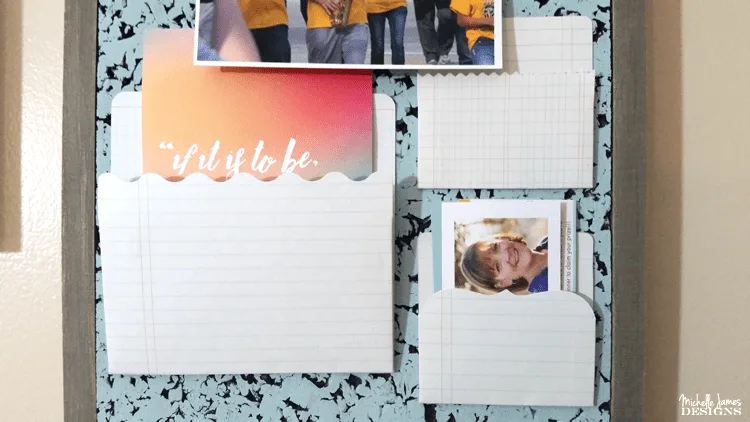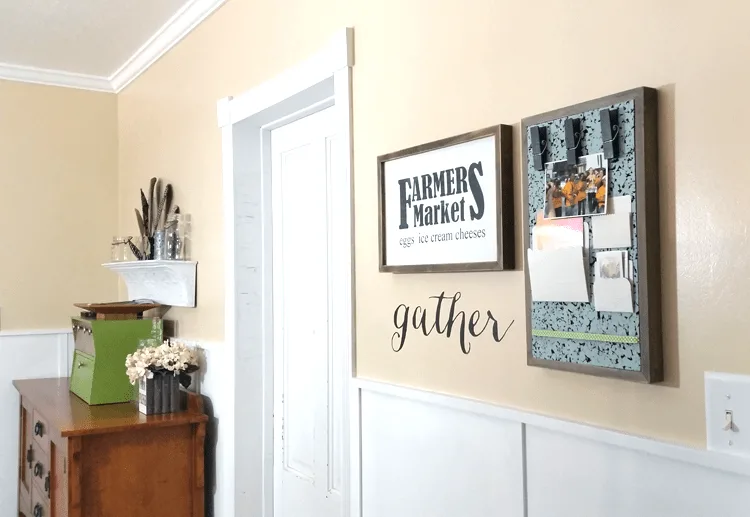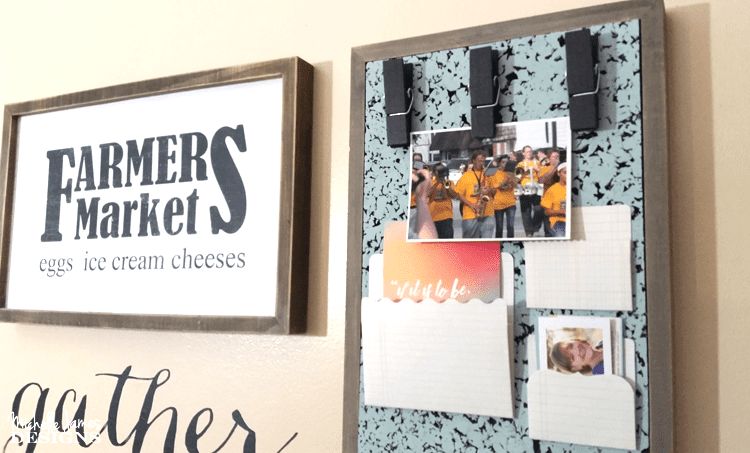 If you like it be sure to pin it!

Every month, a group of bloggers challenge each other to create a new craft or project from their own stash of goodies! Check out some awesome creations you might be able to make from your own stash! #CraftRoomDestashChallenge
[Tweet "What crafty creations could you make today from YOUR craft stash?! #CraftRoomDestashChallenge"] What crafty creations could you make today from YOUR craft stash?! #CraftRoomDestashChallenge"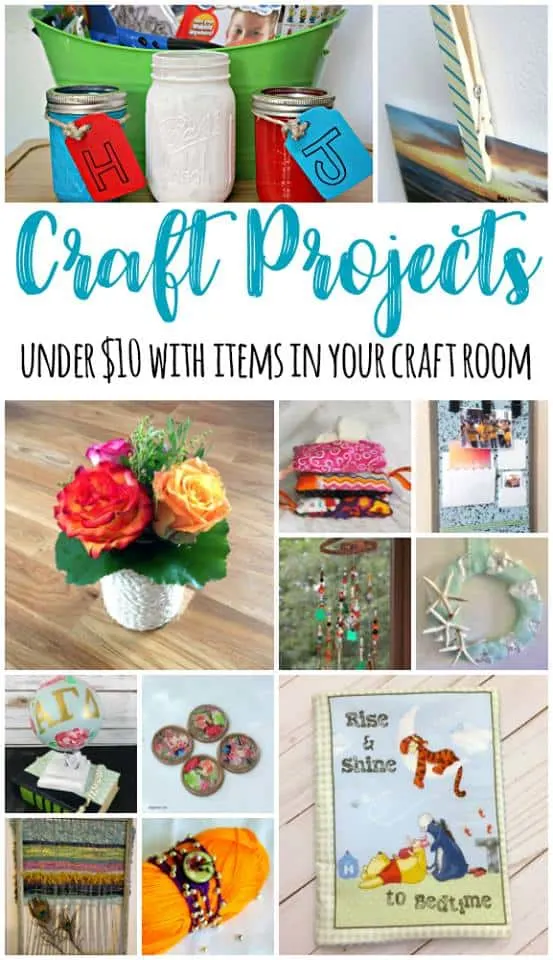 As always, thanks for stopping by and be sure to visit all of us with craft hoarding problems. We are working on our problem by completing this challenge every month!
Michelle