I have been excited about organizing my desk at work and pondering over different containers and such that I could use. I finally decided on Mason Jar Desk Accessories!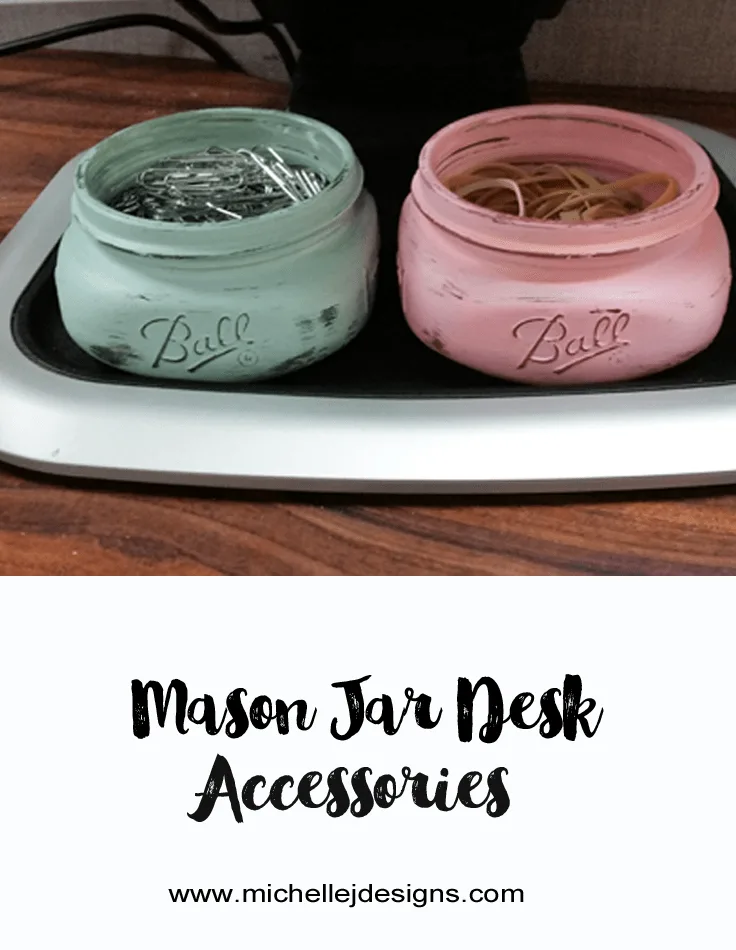 Mason Jar Desk Accessories
If you have been reading my blog for a while then you know how much I love mason jars. You also probably know that I love chalk paint. Well, I have combined the two once again but this time to create some fun desk accessories.
I have to say I am in LOVE with these.
I started with my jars and my paint.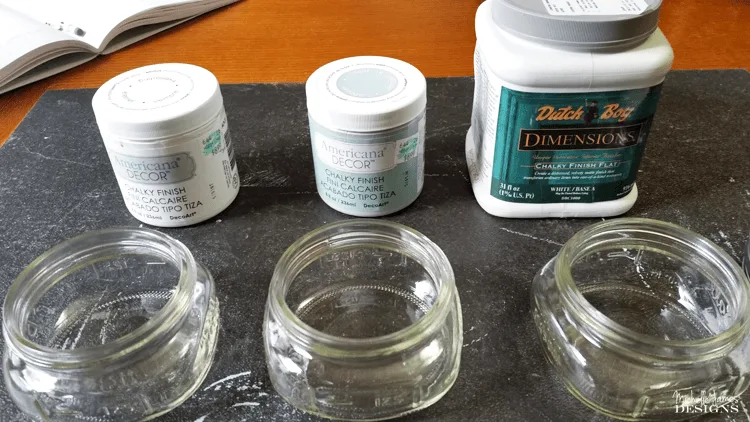 All of the colors are not shown in the photo above but I used white, pink, vintage (greyish-blue) and light yellow. They all work so well together.
First you need to give your jars about 2 – 3 coats of paint. I start at the rim, set it down and complete the rest of the jar including the bottom.
Then using some sandpaper or a sanding block distress the paint so the words and designs stand out on the jars.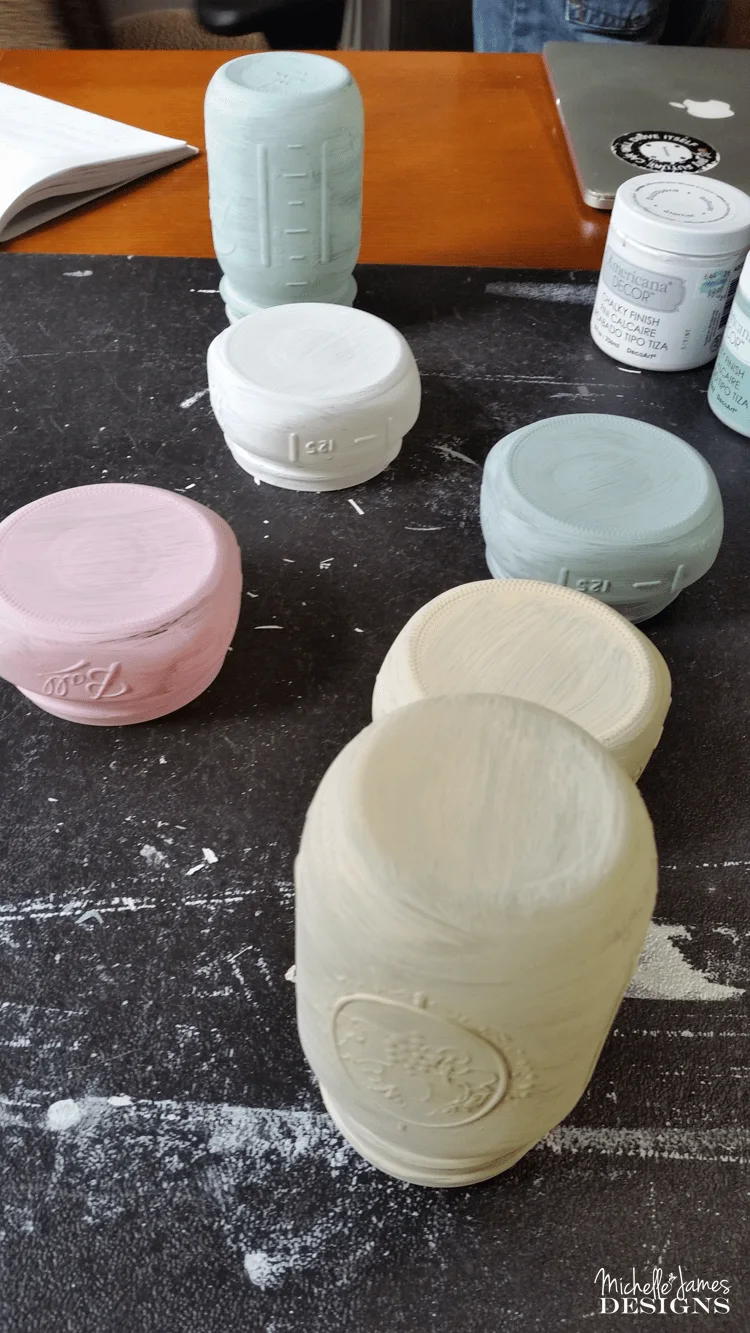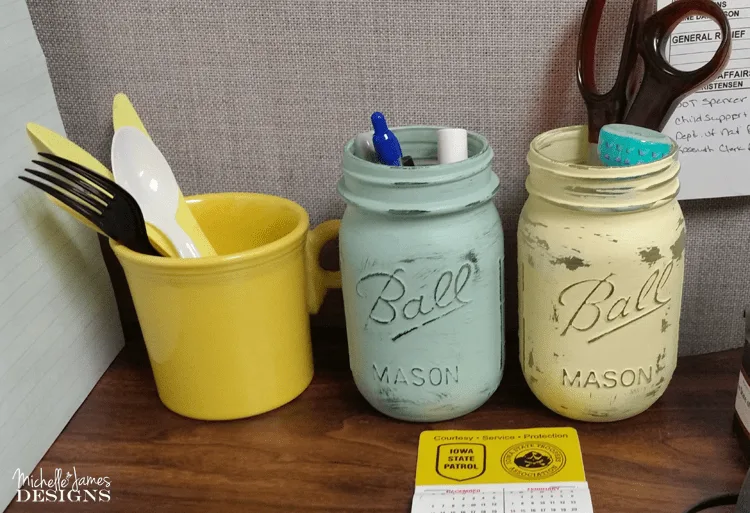 I also needed a place to hold the stamps we use everyday and I was looking at wire trays and wire baskets at Hobby Lobby. It hit me when I was cleaning the strawberries that the basket they came in would be perfect.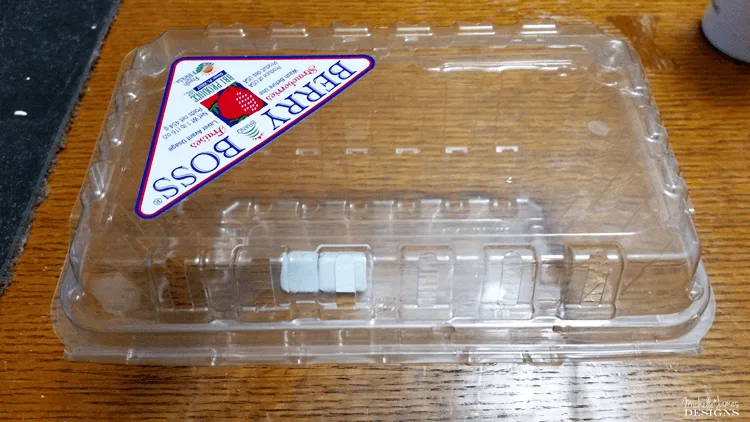 I cut off the lid with a razor blade and gave it a coat of brown spray paint. This is so that when I distress the chalk paint later, the brown paint will show through.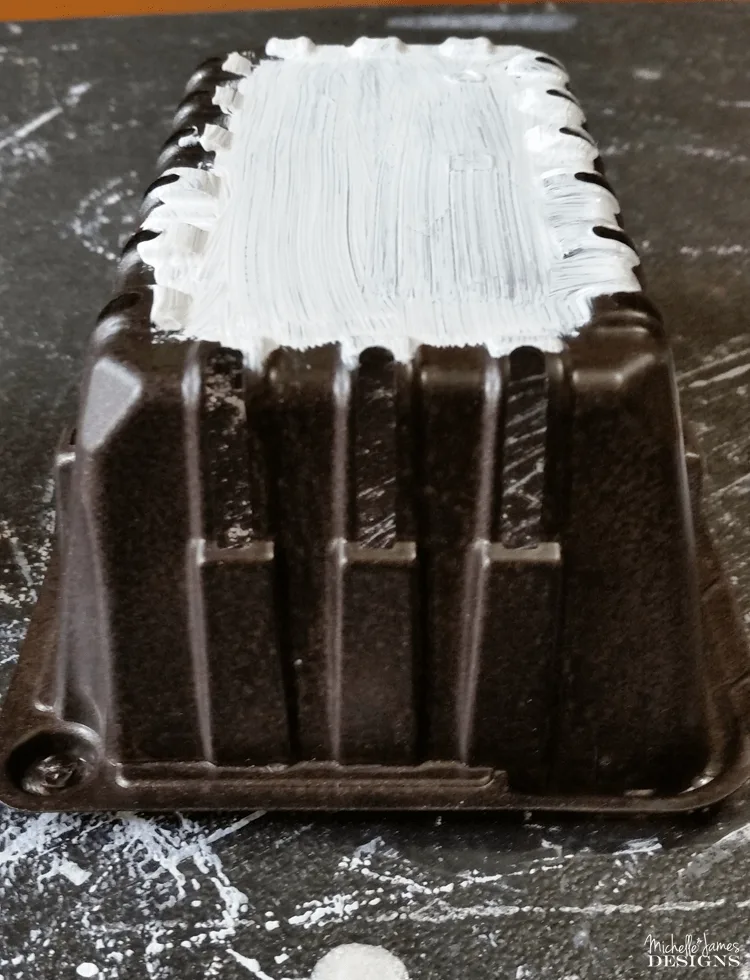 In this photo I had already started painting the white chalk paint when I realized I hadn't gotten a photo of the brown. I always do that! I hate to miss a step.
Anyway, after the brown paint was dry I painted a couple of coats of the white chalk paint and used the same distressing method with the sandpaper or sanding block.
Then I gave all of the jars and the basket a coat of the creme wax. When they were dry they were buffed to a nice sheen. I love that part!
On the basket I used my Crop o Dile and some brads and a bookplate to create a fun label holder.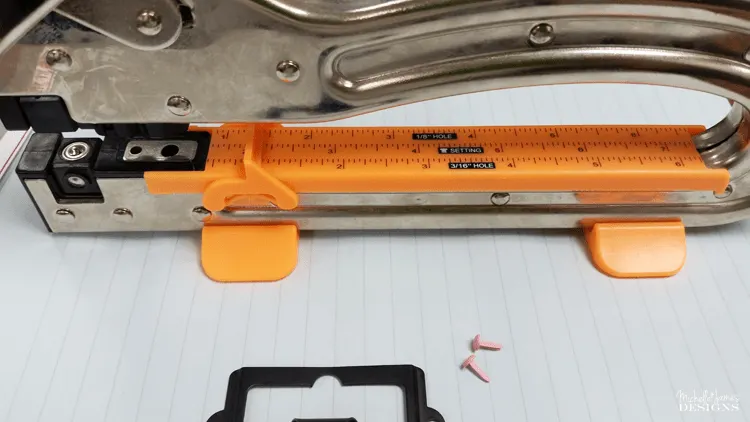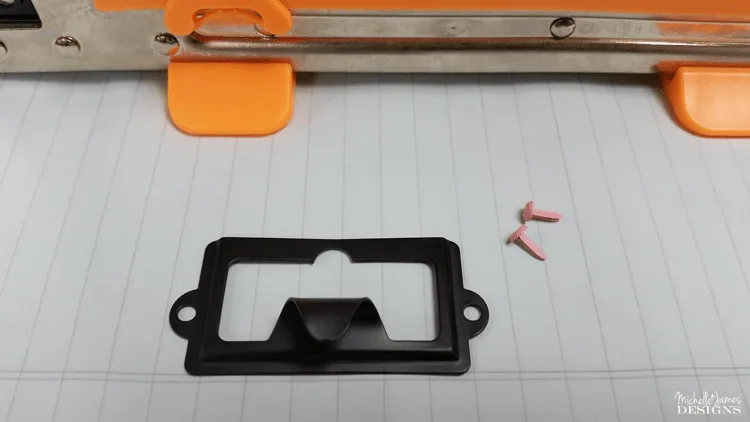 I marked the basket where I wanted the holes for the brads and used my Crop o Dile to punch right through that plastic. Then I used the brads to mount the bookplate. Then I just added a label.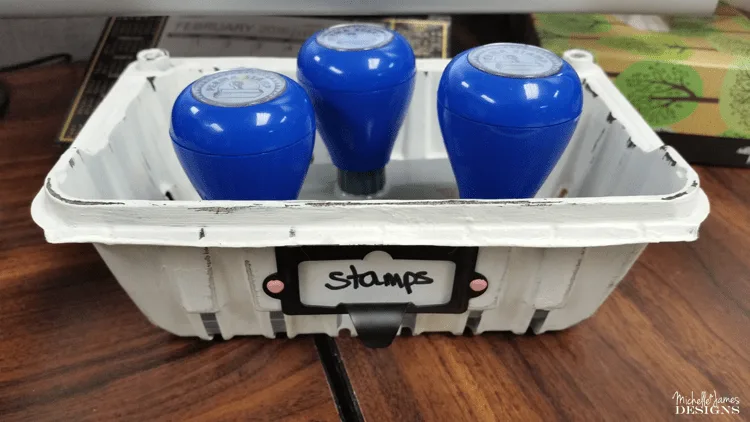 Cute, right?
Now I am all organized at work.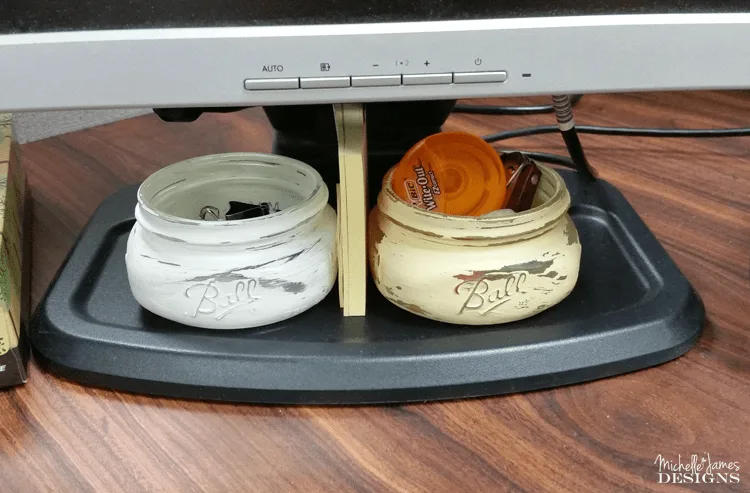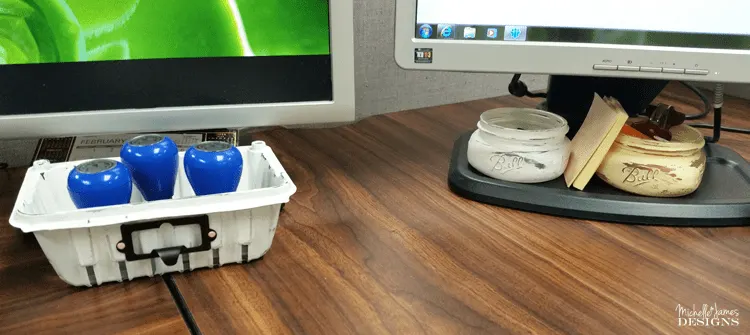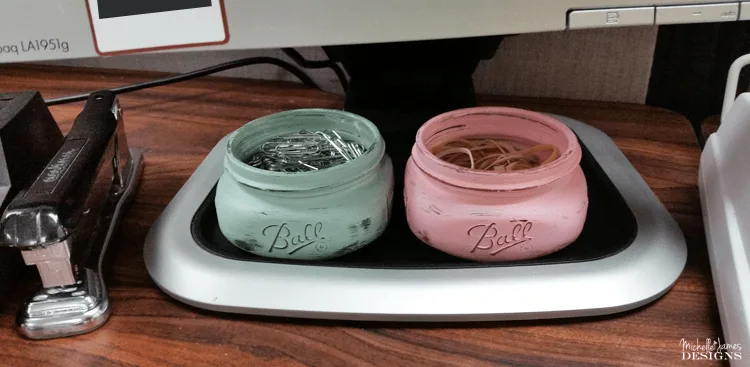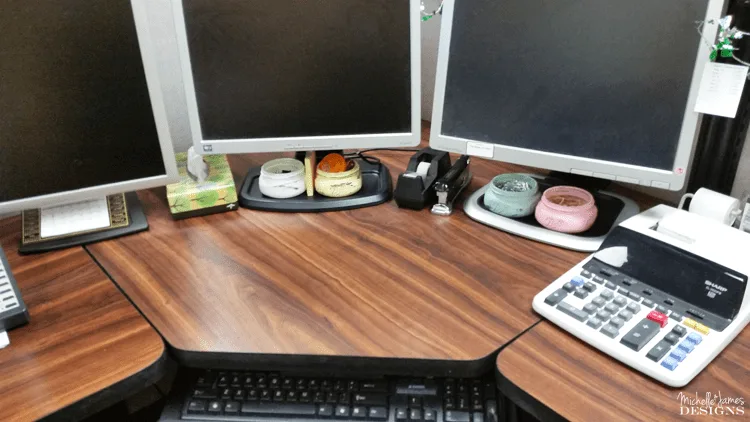 I love it! What do you think?
Thanks so much for stopping by today!
I am sharing this post at: