Wouldn't you love to have a stress free holiday season? Wouldn't you love to be more organized during the holidays? I know that when I am organized and I have things thought out and written down the holidays seem to be a breeze. Every year I have made a small planner to carry with me that includes gift lists, calendars, my list of people to send cards to, and a place to put the receipts after I purchase. We started making them when I owned my store and it was so much fun. We decorated little index card booklets with scrapbook paper and added our dividers. This was years ago and I know that some of my customers are still using them although they may be a little tattered by now. I have been making a new one each year because it is so much fun.
This year I decided to make a digital planner that I could share. I have created this calendar/planner for 2014.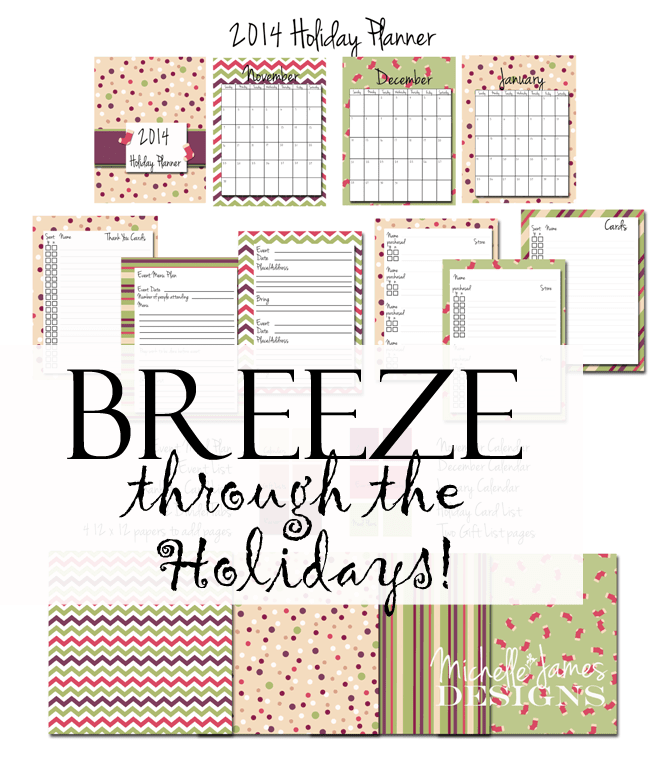 It is small enough to fit in your purse or bag so you can carry it with you. This means you always have it to write down a gift idea or to notate an event you are invited to on the spot.
This is what the digital download file includes:
A cover page
Calendars for November, December & January
Two types of pages for gift lists
Event page
Event meal planning page
Card list page
Thank you card list page
two pages of tabs (some left blank so you can create your own divider subjects)
four 12 x 12 scrapbook patterned paper
the four scrapbook patterns scaled down to smaller pages to use as dividers and pocket pages for receipts
an instruction page for printing and assembling the planner
After you purchase ($4.99) you will received the downloadable file. You print, cut and assemble as many planners as you like although the file is for personal use only. Please do not create planners to resell or resell the file.
I hope you enjoy yours as much as I always enjoy mine.