If you are planning a wedding or have ever planned a wedding then you know that the invitations are a really important part of the celebration. They are sometimes the first thing the guest sees and it sets the theme and tone for the wedding.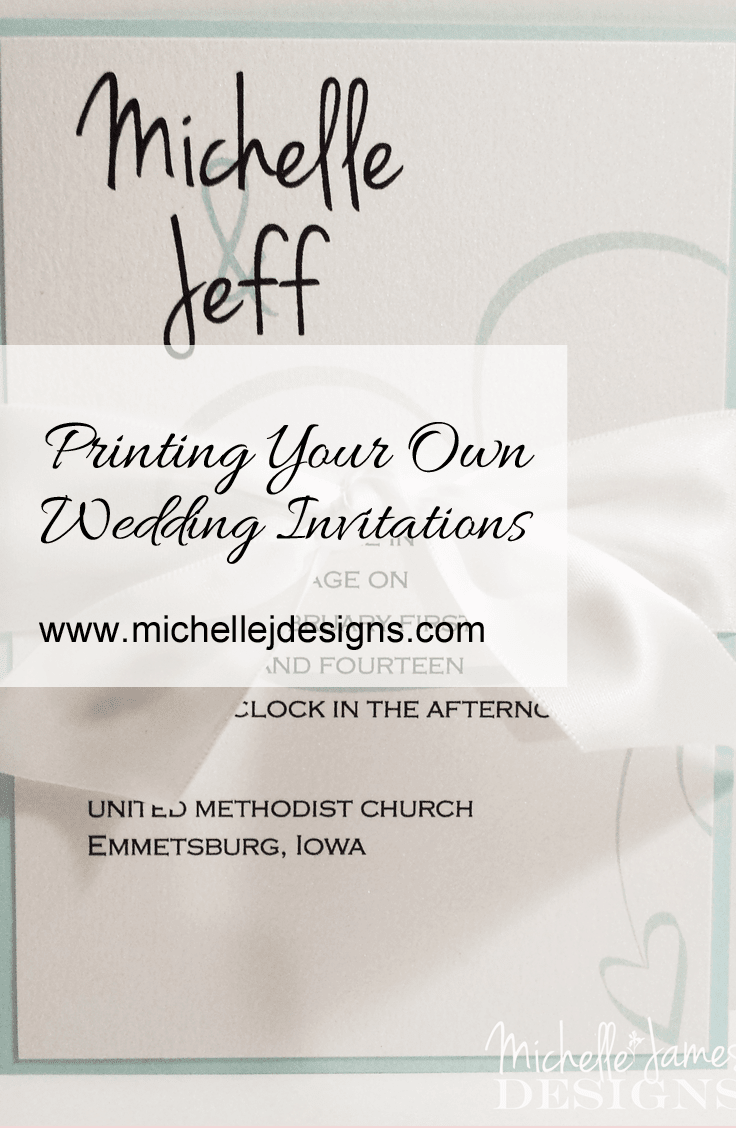 Printing Your Own Wedding Invitations
There are many reasons you would want to print your own invitations. Maybe cost is a factor or maybe you are a creative person and printing and assembling your own invitations is what you have wanted to do all of your life.
I am going to outline some great tips for printing your own wedding invitations. Sometimes the smallest details can make all of the difference.
1. Paper
You don't have to purchase the most expensive paper but a good paper will make your invitations look beautiful and professional.
First and foremost you want to use a card stock weight paper. This may sound like a given but it really needs to be said. The only exception to this rule would be if you are attaching the printed piece to a colored card stock for a layered look. Even then the top layer or printed layer can still be a nice weight card stock. It really does improve the look from homemade to professional quality.
I like to use a card stock that has a texture to it like a linen for example. But there are many other textures out there. Take you time and pick out the one you like the best. Another paper that looks amazing printed is a pearlecsent papers. They come in many colors and they print nicely.
Even though you are probably printing your own invitations to save a little bit of money you still want them to look nice and the paper is an important part of this.
2. Getting the most out of your paper
Most home printers print 8.5 x 11 sheets of paper as a standard. If you are a scrapbooker you may have a wide format printer which will print larger sheets such as 12 x 12.
If you are printing on an 8.5 x 11 sheet you can fit two 5 x 7 invitations on the paper and if you are printing squares or something that would go onto the front of a belly band they could be placed across the bottom of the paper.
If you are using a 5.5 x 4.25 invitation then four of these will fit on one 8.5 x 11 sheet.
I like to print samples onto regular printer paper until I have the placement just right. I like to have to cut as little as possible and sometimes you need to adjust the placement of the cards. I hate trimming a tiny bit off of one side. It is really easy to mess up. But, I do have to do it a lot.
My printer is terrible at printing borderless designs. Or it could be that I am not using the proper printer settings. Be sure to practice and get things perfect before you print the whole lot.
I like to use my Adobe Photoshop Elements to do this but before I learned that program I used word or publisher all of the time. It does work.
If you are using a 12 x 12 sheet of paper you can fit four 5 x 7 cards by turning some of them around and leaving a square in the middle.
3. Tools you will need
Paper Cutter or Trimmer
A good paper cutter or trimmer is a must. If you don't have one then take them to be cut at a Kinko's if you have one near you or a staples or something. If you can invest in a good paper cutter you will probably use it a lot even after the invitations have been cut. I absolutely love mine.
Scoring Tool
You may want some sort of a scoring tool if you are making a pocket invitation or one that includes a fold. Some paper trimmers offer a scoring blade that can be purchased separately or you can get a scoring tool such as the Martha Stewart scoring tool. These are nice!
Adhesive
I have two favorite adhesives and I use both of them all of the time. The first is a Tombow dot roller (permanent) Do not get the temporary. In my opinion they do not stick.
The second is Fabri-Tac by Beacon. I know it says fabric but I have been using it for years and years and years! It is my favorite liquid glue. My second is the zip-dry adhesive. It dries quick and acts the same as the Fabri-Tac. Bonus- it is a little cheaper too!
4. Layering
I mentioned layering the invitation onto colored card stock earlier. This is a great way to bring in another color and not have to use a ton of ink. If you print one color onto cream or white card stock then use a solid background you can incorporate at least two colors right there.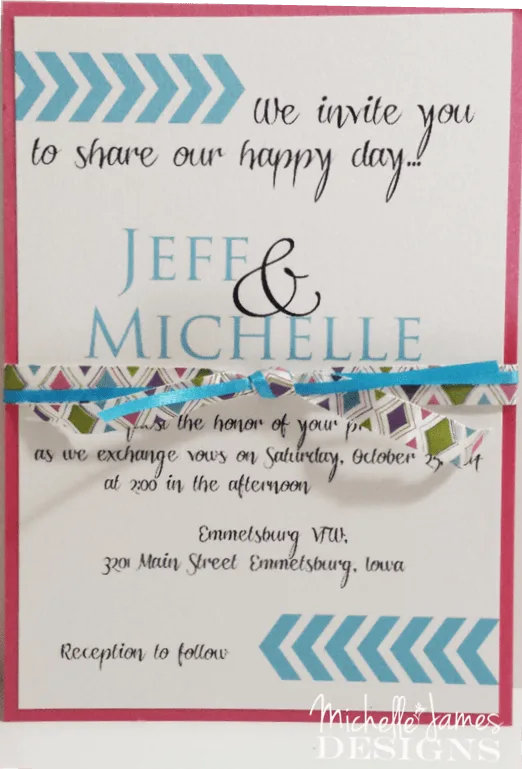 5. Adding Embellishments
Adding embellishments is always a nice touch but I do have to warn you that the tiniest bit of bump or lump will usually add extra postage. Be sure to ask at the post office before purchasing all of the ribbon, or brads, or little bit of bling. It could cost you more than you want to spend.
That said, I love a good ribbon!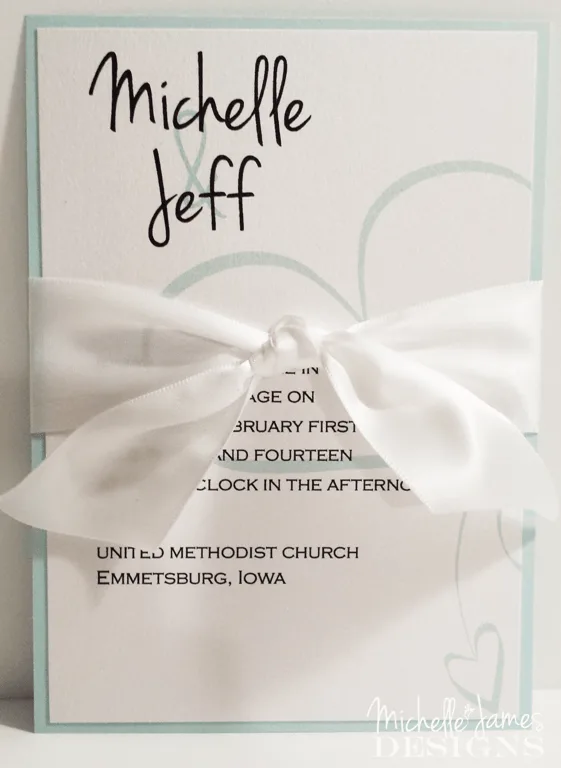 I hope this helps you if you are planning to print your own wedding invitations. It is not hard but it does take just a little bit of patience.
Thanks for stopping by today and please let me know if you have any questions. I love to receive comments, and emails.
Michelle