Hi! I have an upcycle project today and I am really excited about it. I have been focusing on digital things and it was fun to get back into the paint again. Even if it was just a small amount of paint. Welcome to my January Thrift Store Challenge project. It is an upcycled kitchen oven mitt organizer.

January Thrift Store Challenge
I am excited to start posting this challenge again. It is one of my favorites because I love the up-cycling so much. Thanks to Amanda at Domestically Creative for putting this all together.

The Rules:
Upcycle an item(s) from a thrift store, resale store, or garage sale into a new piece of decor.
There's no monthly theme.
There's no budget to stick to.
Meet the Hosts
Amanda | Domestically Creative – Pili | My Sweet Things
Angela | Simply Beautiful by Angela – Jeanie | Create and Babble
Molly | Just a Little Creativity –
Marie | The Inspiration Vault – Michelle | Michelle James Designs
Shirley | Intelligent Domestications – Dru | Polka Dot Poplars
Pam | P.S. I Love You Crafts – Gail | Purple Hues and Me
Jennifer | Cookies Coffee and Crafts – Toni | Small Home Soul
Sue | A Purdy Little House – Kathleen | Our Hopeful Home
Victoria | Dazzle While Frazzled – Marie | DIY Adulation
Michelle | Our Crafty Mom – Debra | Shoppe No. 5
Denise | My Thrifty House – Florence | Vintage Southern Picks – Ann | Duct Tape and Denim
Yamilette | The Latina Next Door – Maureen Ι Red Cottage Chronicles
Make sure you follow our board on Pinterest for more upcycled decor inspiration!
How To Make An Upcycled Kitchen Oven Mitt Organizer
This post includes some affiliate links for your convenience. You can read my full disclosure here.
Materials List
wood trim – my piece came from a garage sale
paint
sanding blocks
spackling
paint brush
screws
drill
Getting Started
This is what my piece of trim looked like when I purchased it from the garage sale. It was too long for my space on the fridge so I cut it in half.

I actually call it such an improvement from what we had before. Look at this terrible thing. It was in the house when we moved in. And we moved in almost 22 years ago. UGH!

So, I didn't want to paint my wood trim piece because I loved the color but it had holes in it that I wanted to remove. So I used the spackle and filled them in but needed to paint over the spackle.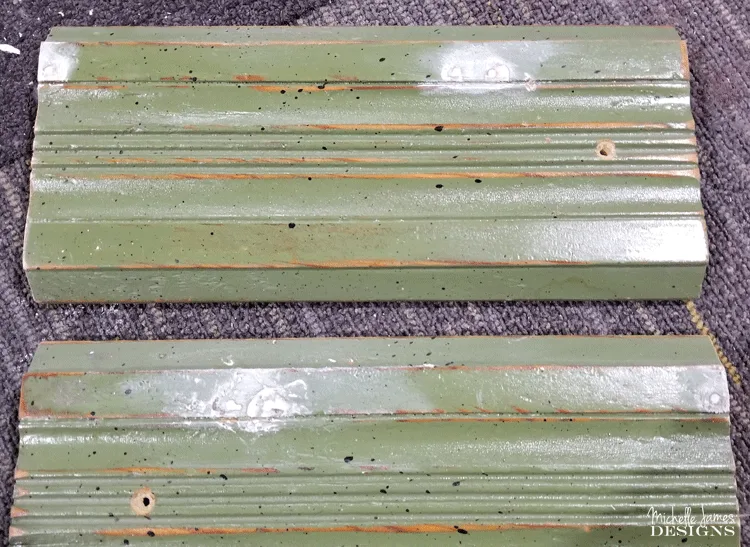 Green is still my favorite so I tried to find one in my stash that was similar to the original. It is a bit darker but I still love it.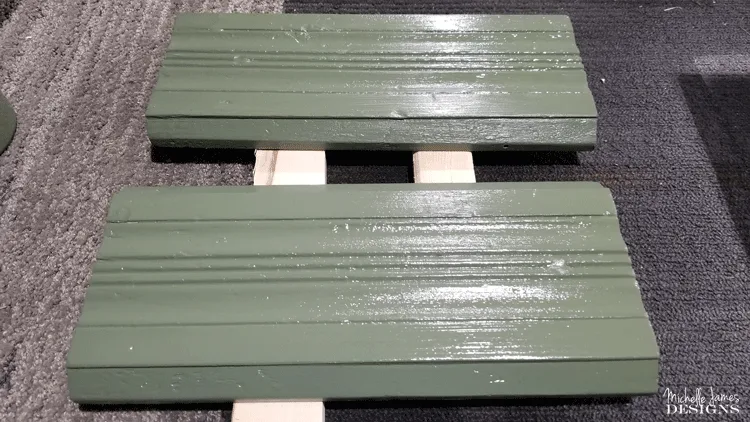 The creme wax is the last step in the painting process. I brushed it on and when it was completely dry I buffed it with a soft cloth.
Adding The Fun Stuff
Then it was time for the hooks. I decided where I wanted them and Jeff pre-drilled the holes. It is still a little rough around the edges but it is exactly as I wanted it.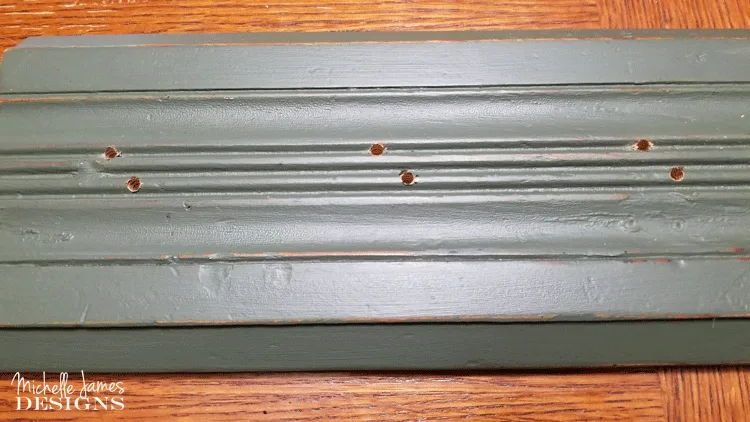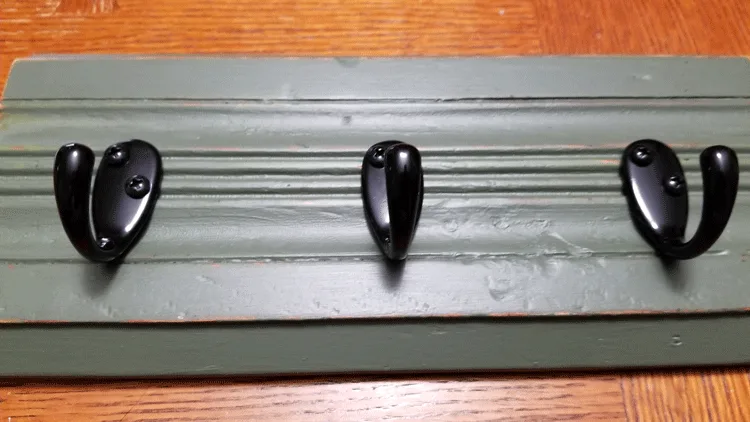 Next we added the magnets to the back. They have holes in the centers so we screwed them on. These are super strong magnets. I thought it would be hard to move on the fridge but they actually don't quite lay totally flat after being attached to the back of the trim piece. I may even add one more to make it a little stronger.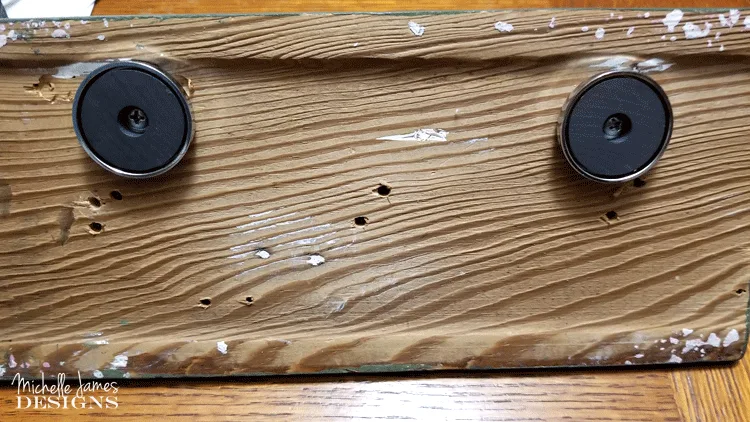 All I had to do was attach them to the refrigerator. I love they way they look compared to the old thing that was up there. I can't believe I didn't do this a long time ago.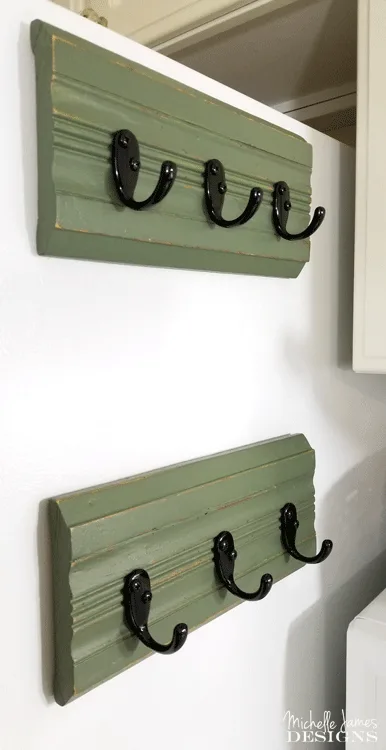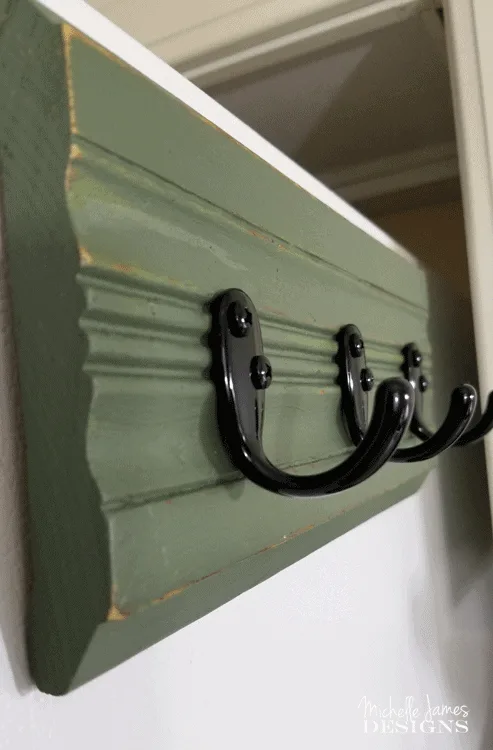 Now I just need new mitts that are worthy of the new oven mitt organizer!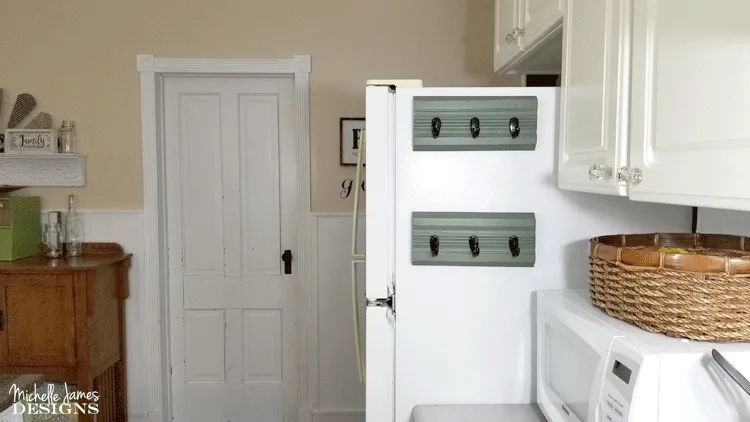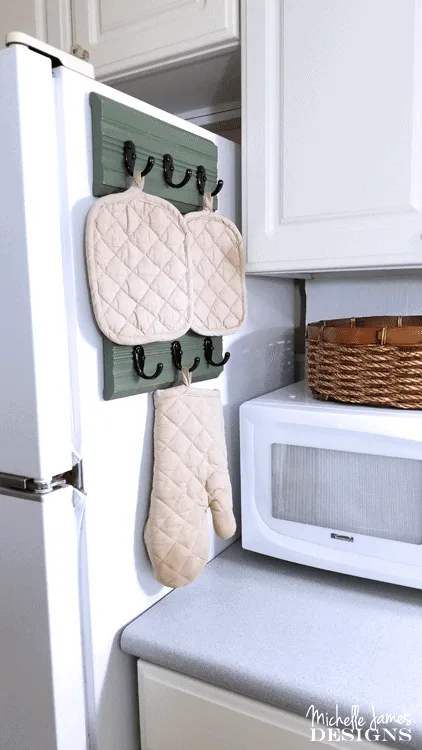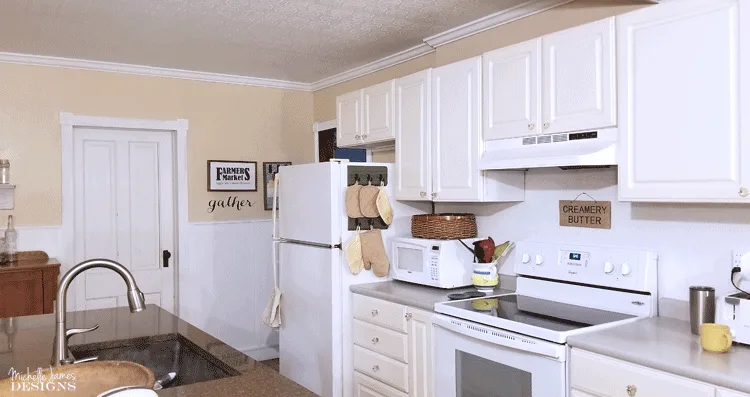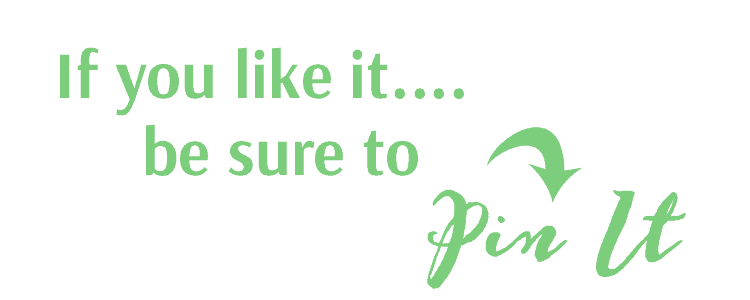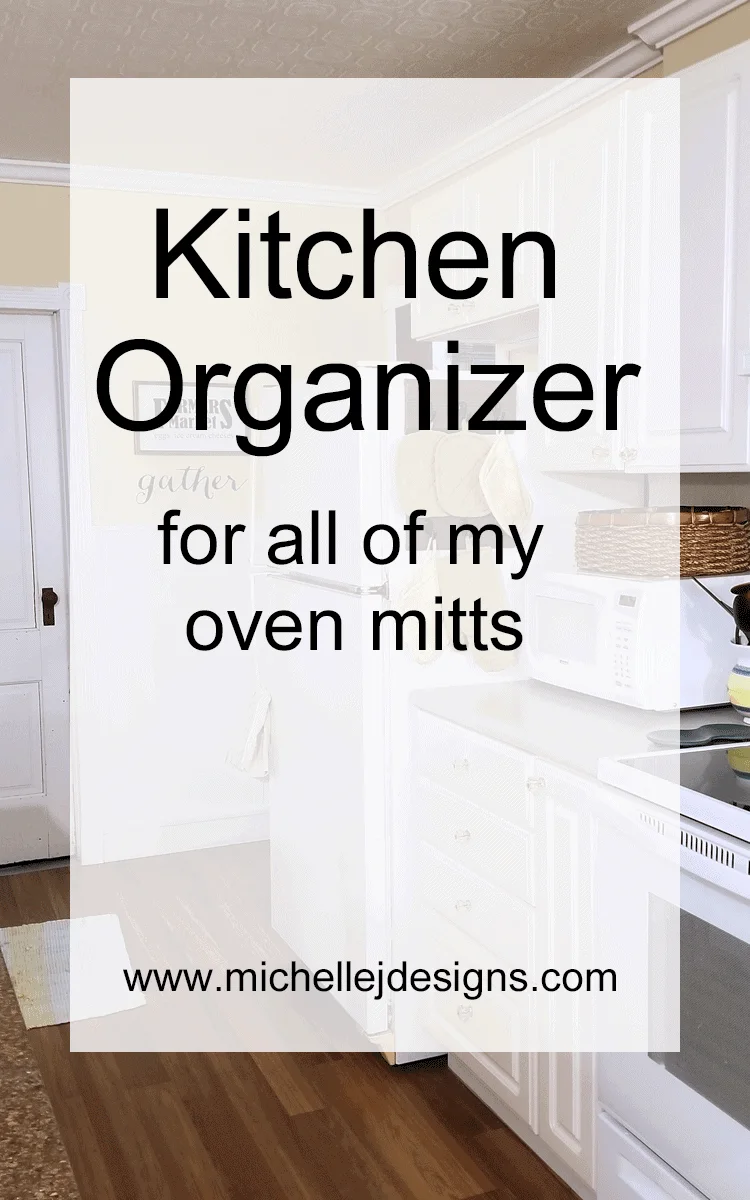 Thanks so much for stopping by!
You can see more of what I do and blog about by clicking on the following links:
Happy crafting,
Michelle
And now for more thrifty goodness!
Check out what my fellow upcyclers created below!