Giving Halloween gifts is fun. Use these You've Been Boo'd Halloween printable tags to add to gift for friends, co-workers and neighbors.
You've Been Boo'd Halloween Printable Tags
I love the whole "you've been boo'd" concept. Do you know the one I am talking about?
You leave a gift for your neighbor or a co-worker with instructions to keep the fun going.
I think it is a great idea but I don't think every co-worker or neighbor will keep it going.
BUT…the idea of leaving a gift is fun all on its own. And having a cute tag to add to the gift makes it even more special.
The Tag Sheets
So I love to give wine or other alcoholic beverages but not everyone likes to drink so I have two versions of the tags.
I have tags for everyday gifts such as candy or anything non-alcoholic (You've been Boo'd) and another one for the alcoholic drink giving (You've been Boozed).
Here is what they look like. They print on 8.5 x 11 cardstock.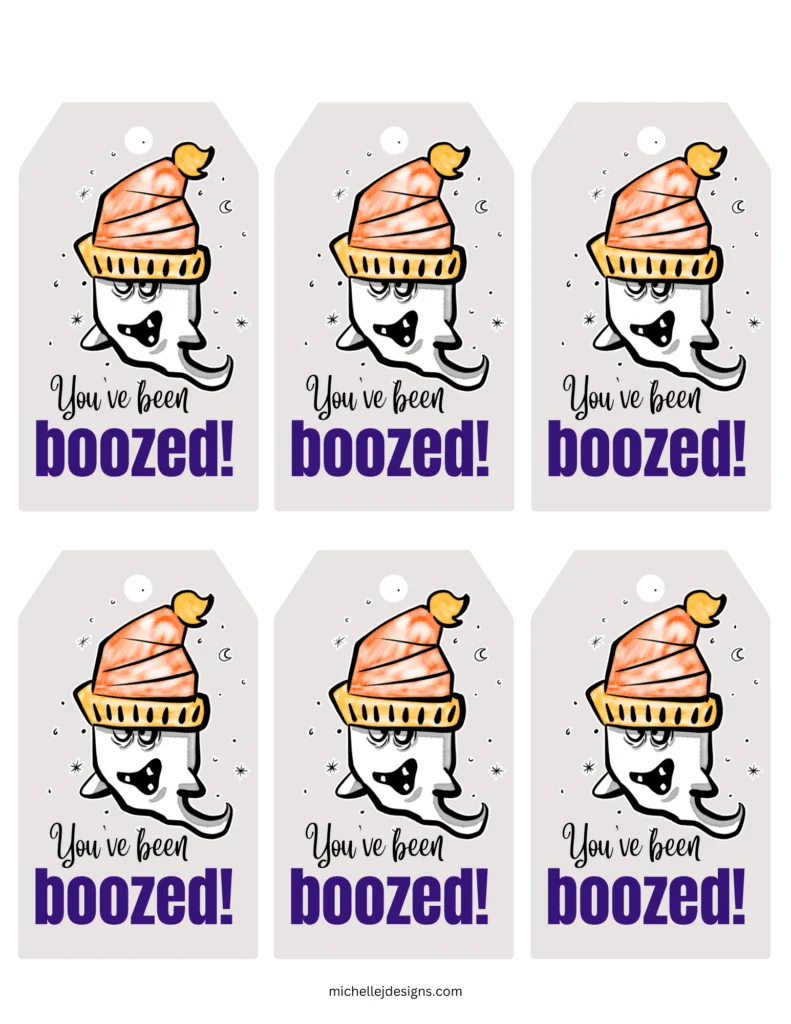 Print, Cut Out and Use
These tags are so easy to use. All you have to do is download the file, print them out then cut them. I used scissors but if you have a Cricut or other cutting machine you can use the print and cut feature on your machine.
Be sure to download these soon, they will not be free for too long. They will soon be up in my Etsy shop.
I have included some pictures below of how I am going to use them.
Baker's twine is my favorite
Mike's Hard Lemonade or any bottle of your favorite drink will do. I attached the tag to the bottle but you can add the bottle to a basket of other goodies and either place the tag into the basket or tie it onto the basket.
This one is added to a fun jar from Dollar Tree with candy in it. What kind of Halloween gifts do you like to give?
What do you think? Aren't they cute? I can't wait to put more together for my friends, family, neighbors and co-workers. They are just the perfect tag for a small gift.
Happy crafting!
Michelle