Hi! If you have been reading my blog for a while you know how much I love and use Adobe Photoshop Elements and Premiere Elements. I use Photoshop Elements the most but am getting better and better at Premiere Elements too. Each year I wonder if I should invest in the Photoshop Elements upgrade. I don't do it every year but I will this year. The new versions of both products were just announced and I am super excited about it!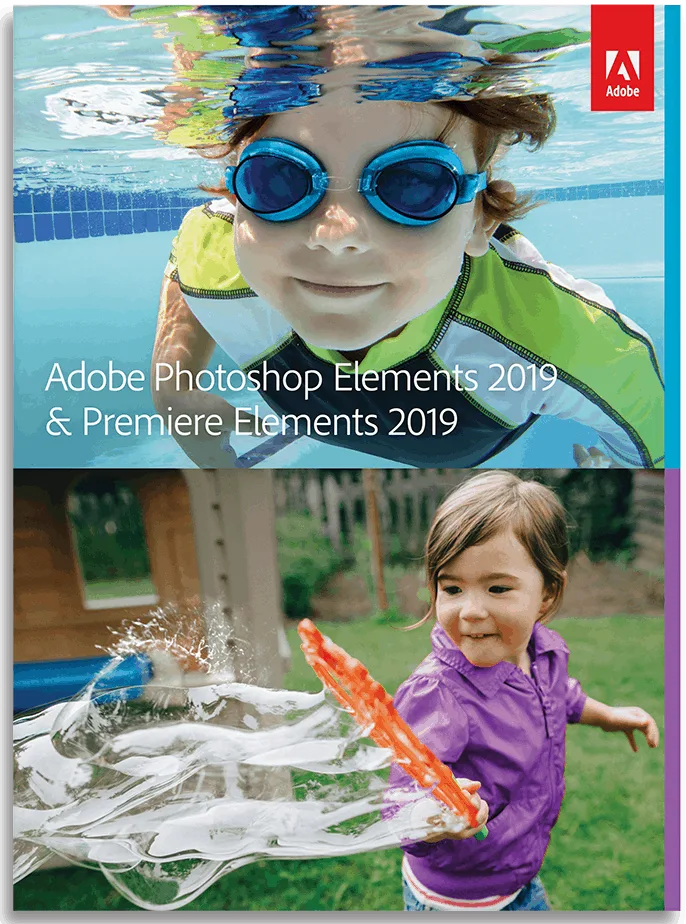 This post contains affiliate links for your convenience. You can read my full disclosure here!
Adobe Photoshop Elements Upgrade For 2019
Let's start with Photoshop Elements. There isn't a day that goes by that I don't open this program. Here are some examples of the things I do with it:
photo editing
creating Pinterest images and social media images for my blog posts
designing tshirts
creating notebook and journal covers
bringing logos and ad photos to life for local companies
designing posters and ads for community clubs and events
wedding and shower invitations
graduation announcements… and the list goes on and on!
I started using this program with version 3 almost 10 years ago when I wanted to start teaching digital scrapbooking classes at my store. I upgraded throughout the years and two years ago I jumped from version 8 to version 15. Last year instead of going to 16 Adobe surprised us all and called it 2018. I did not upgrade last year but now, I am upgrading to 2019! It is time.
What I love about the elements products are they are much easier to learn then the full blown versions and you can still get amazing results. They are perfect for any digital scrapbooker, someone who just wants to create their own Christmas cards or someone like me who uses them to design and sell products on my site and on Amazon!
Let's jump into what's been added into these new versions.
New for 2019 in Photoshop Elements
When I am in photo edit mode I am generally lightening and cropping them. These features listed below do a lot more than that. In this version there are some fun new features for editing and adding fun and funk to your photos.
Re-designed Photo Collages – Photo collages can be made easier and quicker in 2019 and they have included collage templates that I think will be perfect for Instagram and Pinterest. Collages are popular on Pinterest and this is an easy way to create one and re-use the template.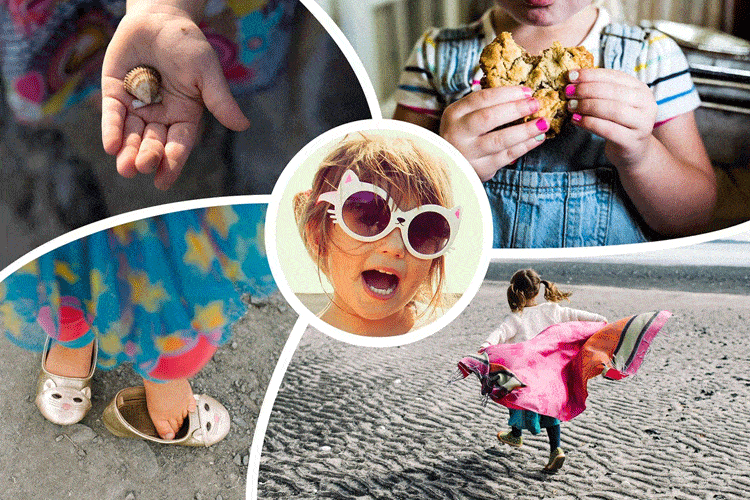 Guided Edits
I haven't played much with these mainly because I always tend to do the same type of editing over and over. I need to delve into these and learn more tricks. The guided edits are built in tutorials with step by step guides for editing and creating. This version has four new guided edits to bring the grand total up to 53! The four new tutorials include:
Multi Photo Text- How fun is this? Type in your text and add photos so they become the shape of the letters. This was be so cute for a baby book or to print and hang in a nursery.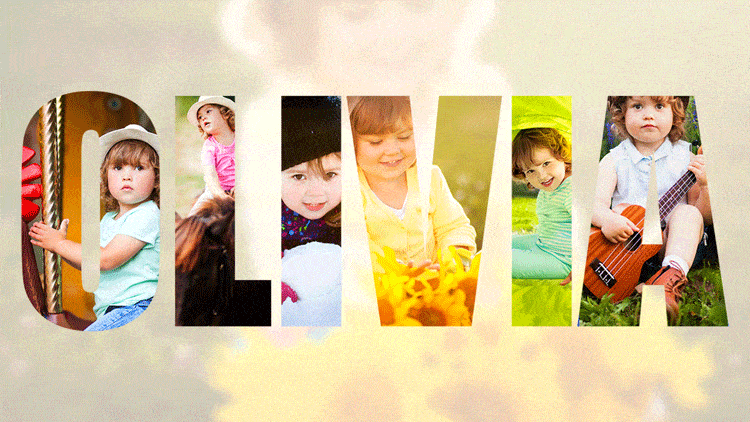 Meme Maker – Tips and a tutorial for making memes for social media. How many times have you seen a great meme on Facebook? They are fun and quite easy to make yourself.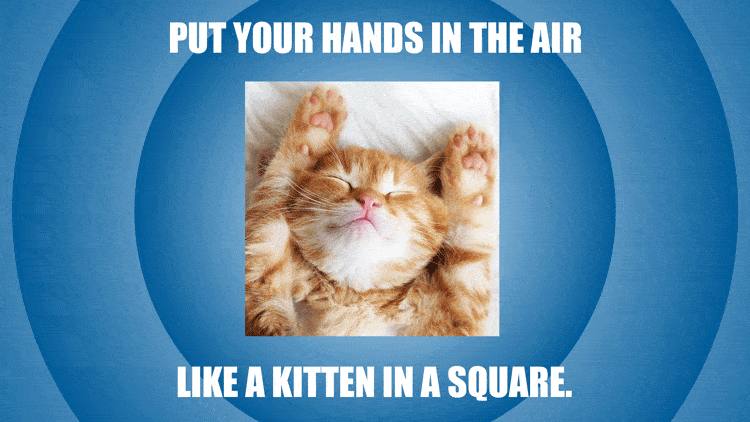 Sketch – This guided edit will take you through the steps of brushing on the look of colored pencil, old paper or an aged photo paper onto a portion of your photo.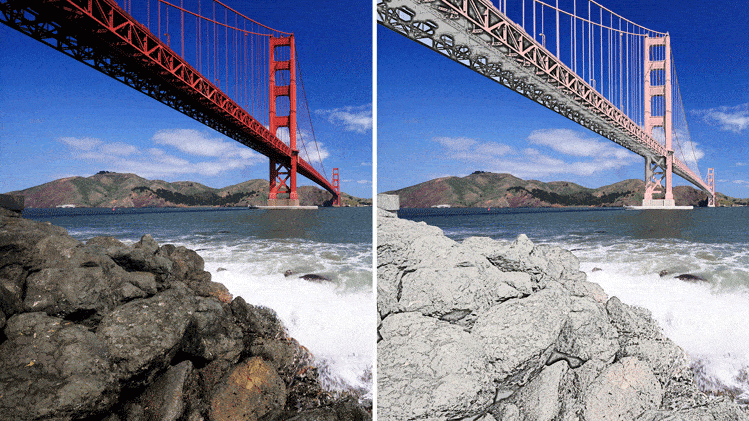 Text and Border Overlays – Add text and border overlays to your photos to add the perfect touch. I love to do this with my Christmas cards but I think it would be great for social media and Pinterest photos as well.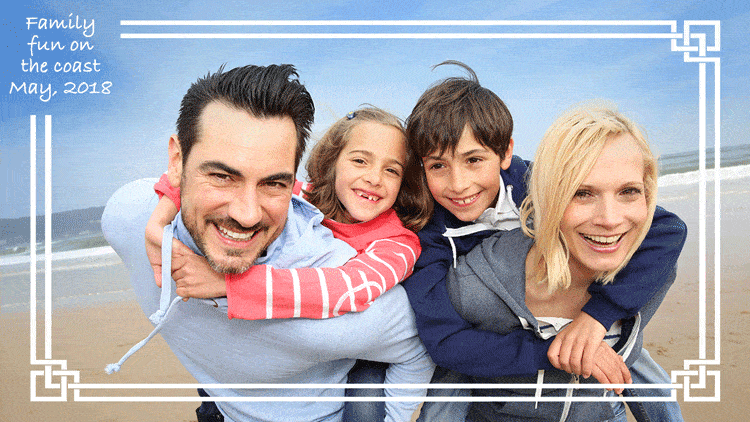 Auto Creations
Auto creations will actually pop up on the new home screen when you open the the program. When you add photos to your Organizer, the next time you open your program it will show you auto creations using those photos that may include a short video or a photo collage. It is pretty cool. Of course you can also create your own videos with Premiere Elements as well.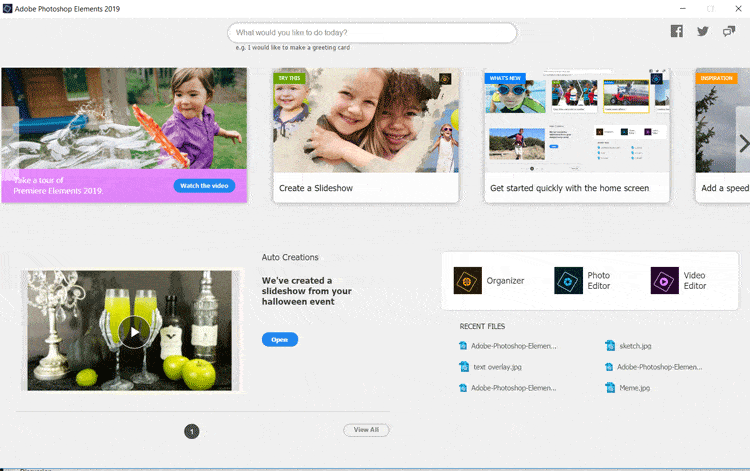 This is my home screen. You can see in the lower left corner the program created a video slideshow of my Halloween drinks. It is a fun short video but did not include all of the photos. It mainly used the after shots but I think it would be fun as a short video for Facebook.
New for 2019 in Premiere Elements
Premiere Elements is the video editing program that I use most often. It has a fairly easy learning curve and can produce some nice videos.
Quick Mode
First off Adobe has re-designed the quick mode. I don't use this as often as I should. This feature now gives you a Smart Trim option and a simplified Sceneline which allows you to combine video, photos, text and music easily to create a quick presentation that looks fantastic. I remember when I was in an Adobe class at a conference. The speaker was demonstrating the quick mode and the short video he made was amazing. We all applauded and, seriously, it took him no time at all.
With this you can add text and transitions between clips and/or photos easily. You can also change the time for the photo to be seen by changing the seconds in the timer below each pic.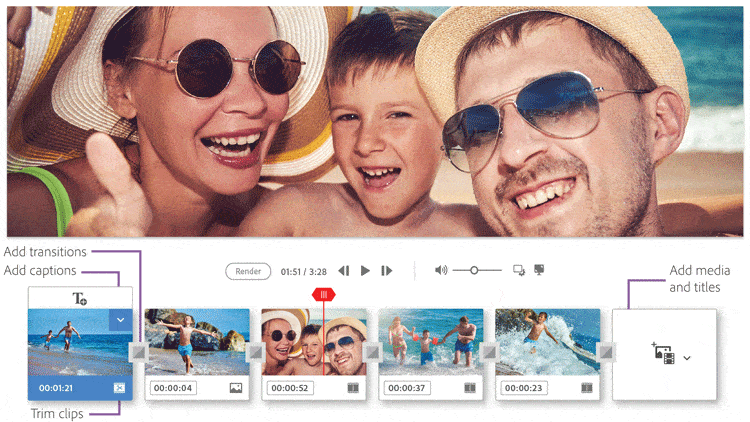 Guided Edits
Just like I mentioned above for Photoshop Elements, Premiere Elements also includes guided edits or tutorials for creating different effects in your videos. They have added two more in 2019 and now have 20 that you can use and follow. The two new guided edits include:
Glass Pane Effect – This does exactly what its name implies. It gives your video the look of seeing through a glass pane window by adding an overlay in the video. Pretty cool right?
Luma Fade Transition. – So this is quite fun as well. The best way to see how this works is to watch the demo video below but basically it fades one video or photo into the next and it starts with the dark portions of the photo first then brings in the lighter parts.
Watch this one minute demo video to see how these work.
So….Will You Get The Photoshop Elements Upgrade?
This is one of those decisions that each person has to make on his/her own but I like to upgrade my software every couple of years at least. Since this is year two for me I did it. I love these products and use them all of the time so for me it is worth it. If you use them daily then it will be worth it for you too! Click the links below to see the details on Amazon. You can purchase them separately if you don't use one or the other or you can purchase a bundle.
If you would like to see more video demonstrations about the Photoshop Elements upgrade you can click on the links below
If you would like to see some of the designs I create with these programs click on these links:
If you have any questions about the Adobe Elements products leave them in the comments and I will do my best to answer them.
Thanks so much for stopping by!
Michelle