This post contains affiliate links. If you click on one of the links and make a purchase I will receive a small commission. You can see my full disclosure Here.
Whenever I create scrapbook pages I start to reminisce. I know that everyone probably does this but it is hard not to, right? Keep reading to see my band memories of Brian.
Moxxie has come out with another new band line and I got my hands on some to try.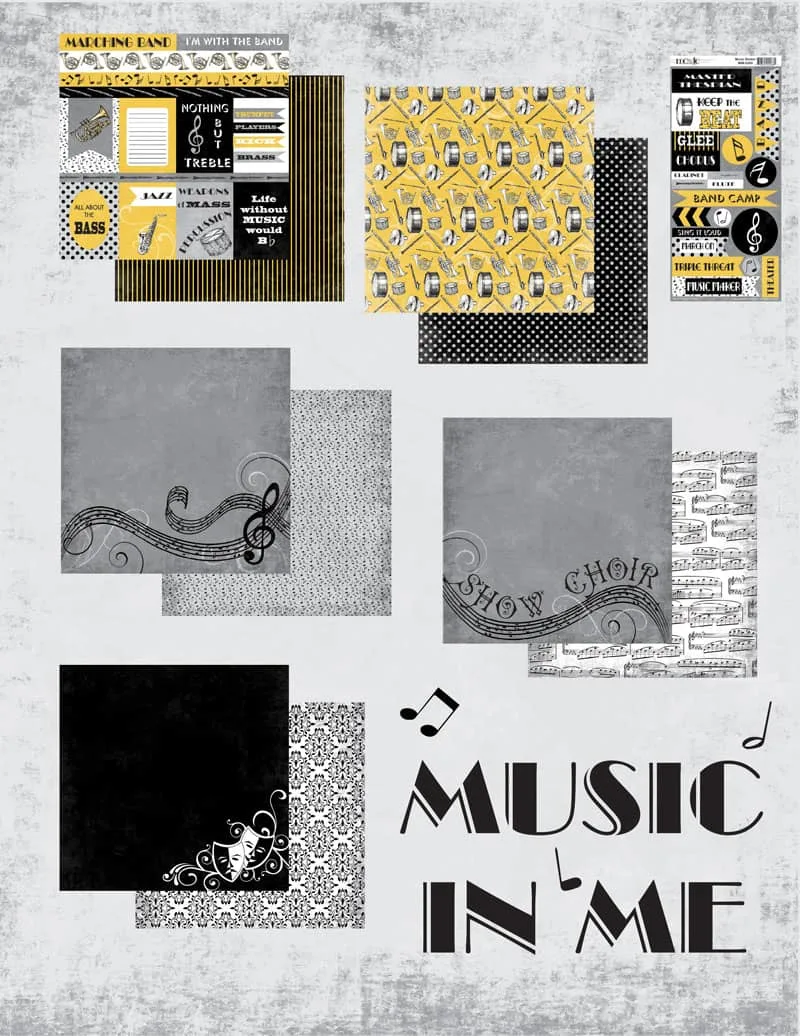 Band Memories With Moxxie
I had a fun time with this line. I love the papers and the stickers are really nice. Plus, Emmetsburg's school colors are black and gold. It couldn't have been more perfect! If you have any reason to use a band or music themed paper this should be your line. Not all of it has the gold so it goes with many colors.
Supplies used:
Moxxie's Music In Me Collection
Powder Puff Ink – Coal Miner
Tombow Dot Roller Adhesive Runner
Mounting Tape
Photos
The full page.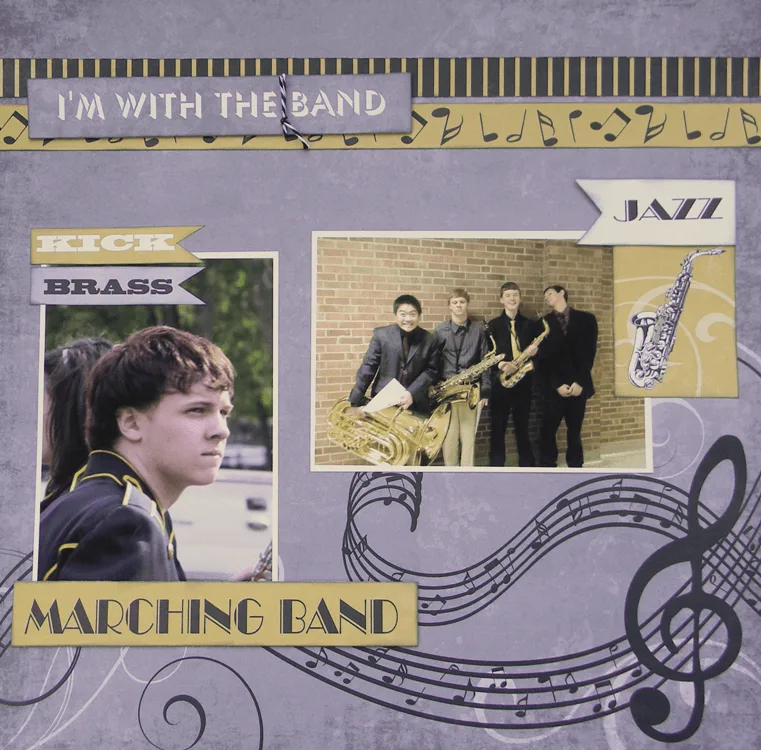 I used the full page of "Nothing But Treble" with the nice swirly musical notes and scales as the background and the "Music Cut Outs" cut apart sheet for all of the borders and embellishments. Since it is Brian's page I don't like to use a lot of ribbons but I did add a small piece of black baker's twine around the "I'm With The Band" piece at the top.
By the way…the cut apart sheet is the perfect page to use with your Project Life/Pocket pages. I love that companies are incorporating these types of papers into their lines.
I love to pop some of my stickers and embellishments up with mounting tape. To me the mounting tape is better than some of the pop dots because it is a more subtle 3D look. When you add a page protector over the really poofy pop dots they can pop just a little too far and make it difficult for the protector to lay flat.
Here are a couple of photos that I have zoomed in on a portion of the page. A closer look!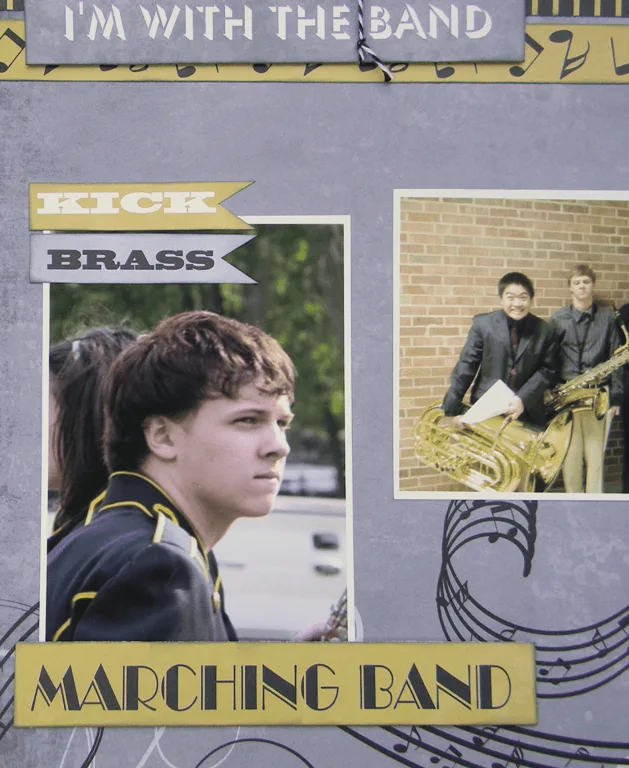 I love this picture of Brian. It always make me smile and I think the "Kick Brass" is funny.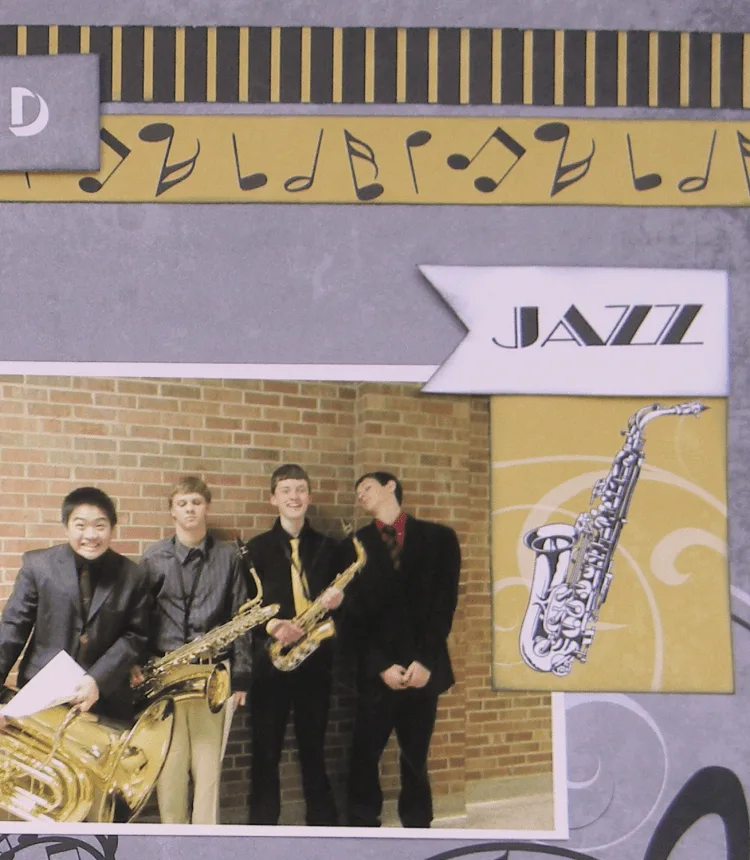 Those boys were crazy but I loved it when they got a little silly. This was at a Jazz Band concert. The word Jazz and the saxophone are from one 3×4 piece of the Music Cut Outs page and I cut it even more to get those.
I hope you like my page. I think it turned out nice!
Does your local scrapbook store carry Moxxie products? If not, don't be shy to ask. Sometimes stores are looking to add a new line and this one would be perfect!
I am sharing this post at: