Here we are with one of my favorite regular posts. This is with my Dollar Store friends. Today we are going to decorate a tiered tray with Dollar Tree Products!
There are many ways to decorate or style a tiered tray but when you use Dollar Tree products you save some money and it still looks fantastic! That is our goal right?
I will show you everything that I used. There were just a couple of items that were not from the Dollar Tree like the buffalo check fabric and the mini pumpkins, but I will explain where I got them and they were not expensive at all!
If you LOVE Dollar Tree crafts and gifts then you are definitely in the right place.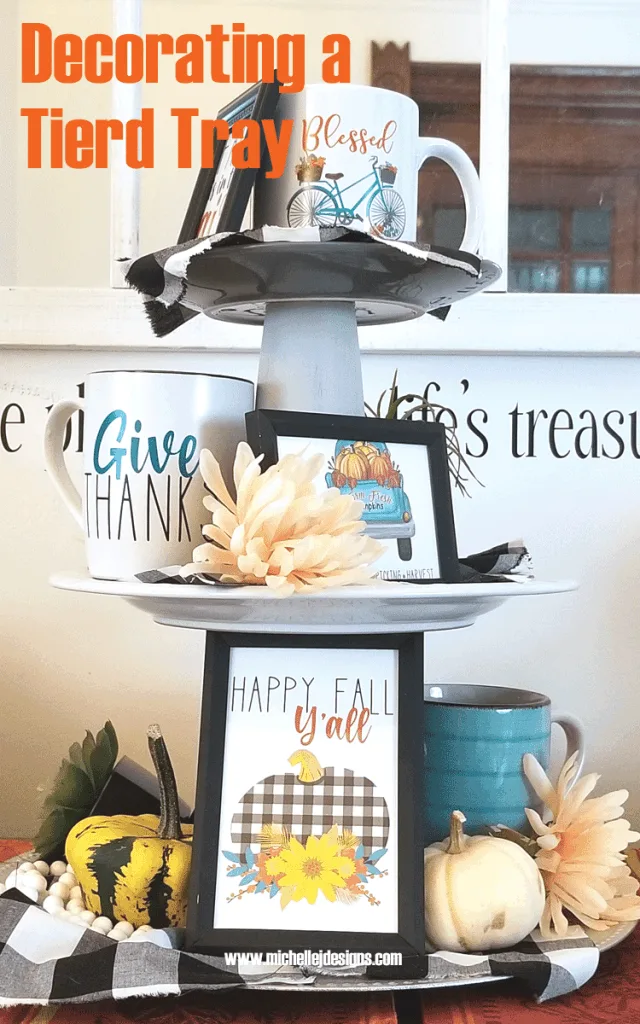 It 's a giveway!
At the end of this post is a giveaway! Be sure to scroll all way so you can enter.
You Tube Step-by-Step Video
If you like to watch a full step-by-step video tutorial click on the link below to see my You Tube video! PLEASE SUBSCRIBE TO MY CHANNEL AND HIT THE LIKE BUTTON IF YOU ENJOY THE VIDEO!
Decorate A Tiered Tray With Dollar Tree Products
Are you ready? Here we go!
Step 1: Gather your supplies
First you need your tiered tray. Mine was made from Dollar Tree items and you can find that post here.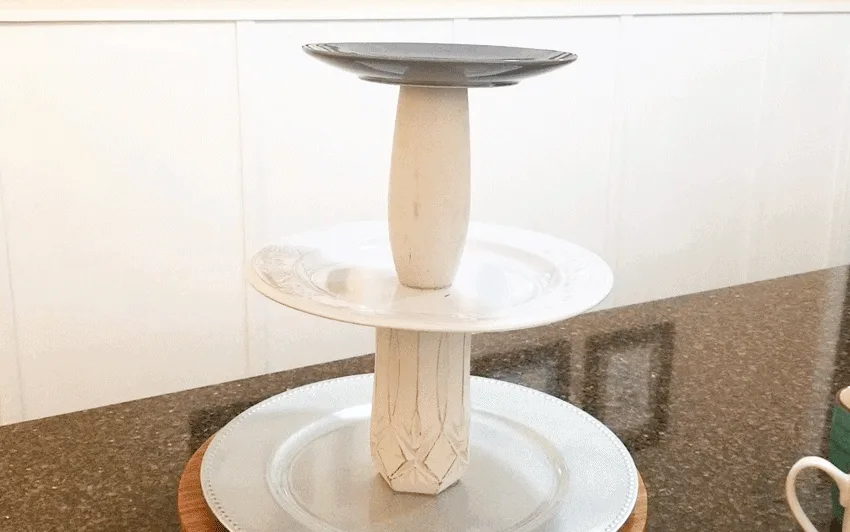 Larger items for balance
I like to use a coffee mug or some similar item on each tier to create balance. So I gathered three of them.
One was decorated with one of my SVG files!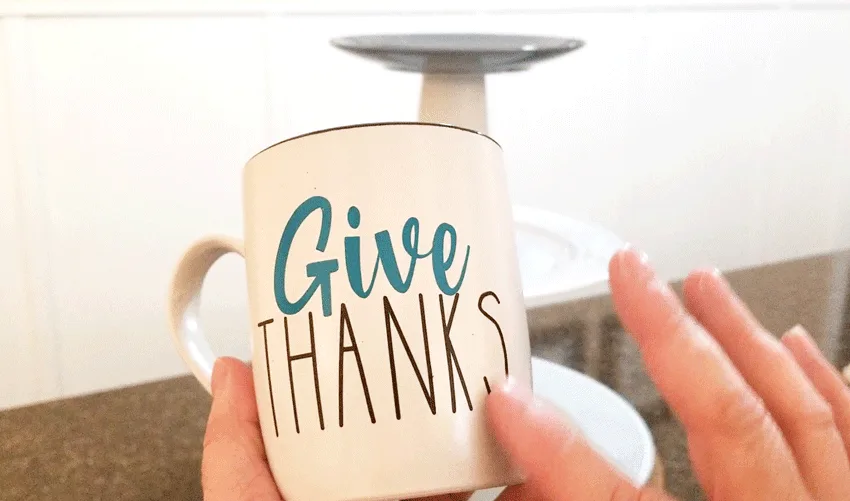 It's all about the base
Fabric of some sort on the tiers creates a good base for the rest of the decor.
Little wood scraps to go under the fabric to keep the items from tilting on the plates.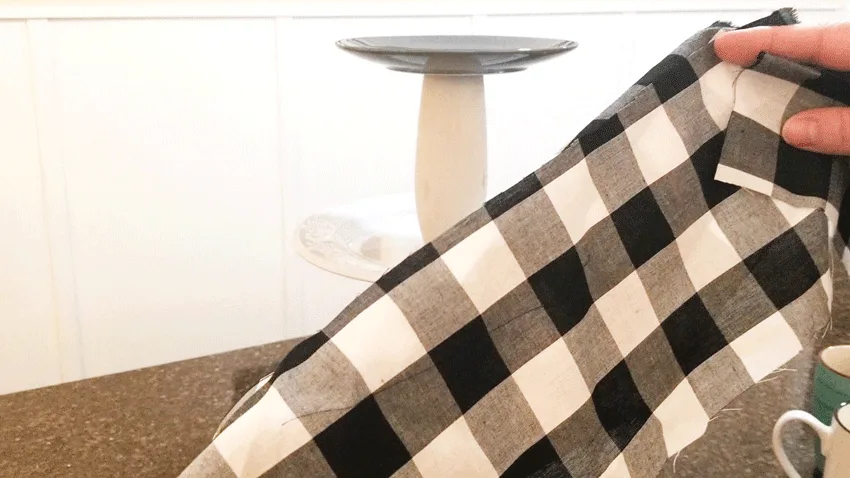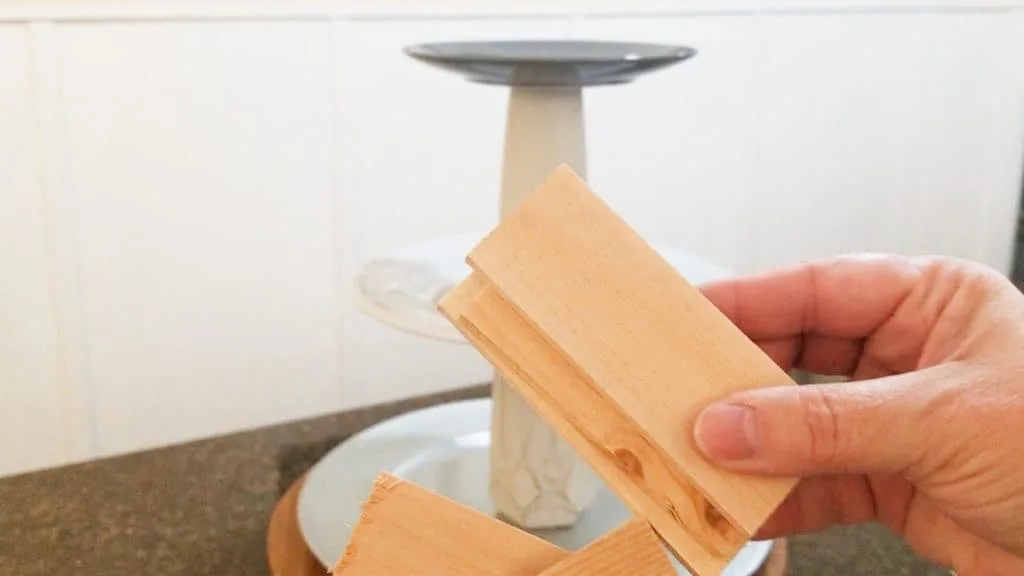 Fillers
I like to use some small Dollar Tree picture frames and add some printables.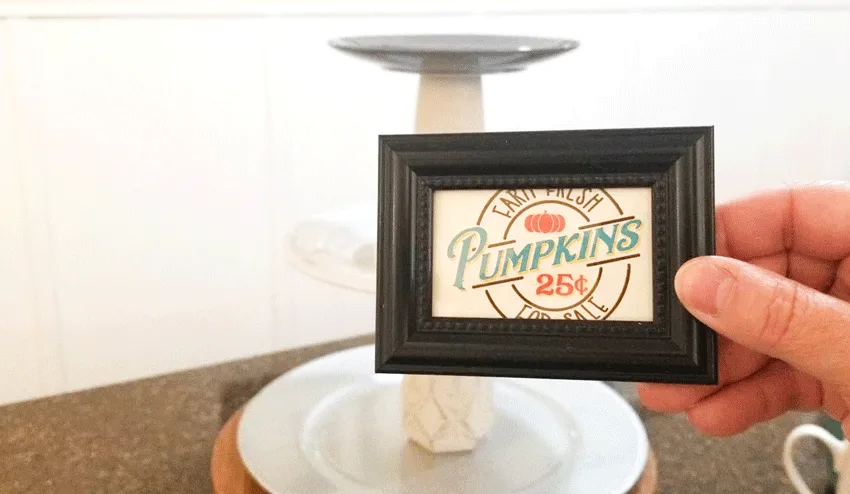 Then I like to add some greenery and /or organic things. For the fall tiered tray I am using some succulents from Dollar Tree, some fall flowers from Dollar Tree and some mini pumpkins and gourds that I got from a friend. They are so dang cute!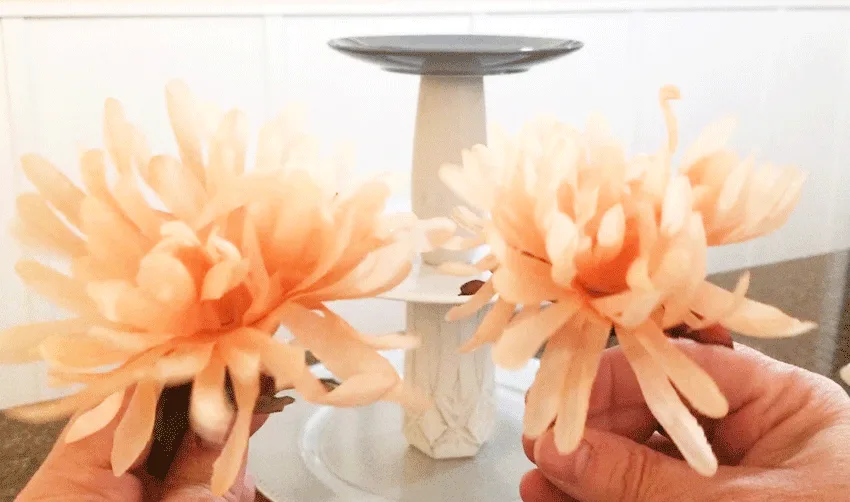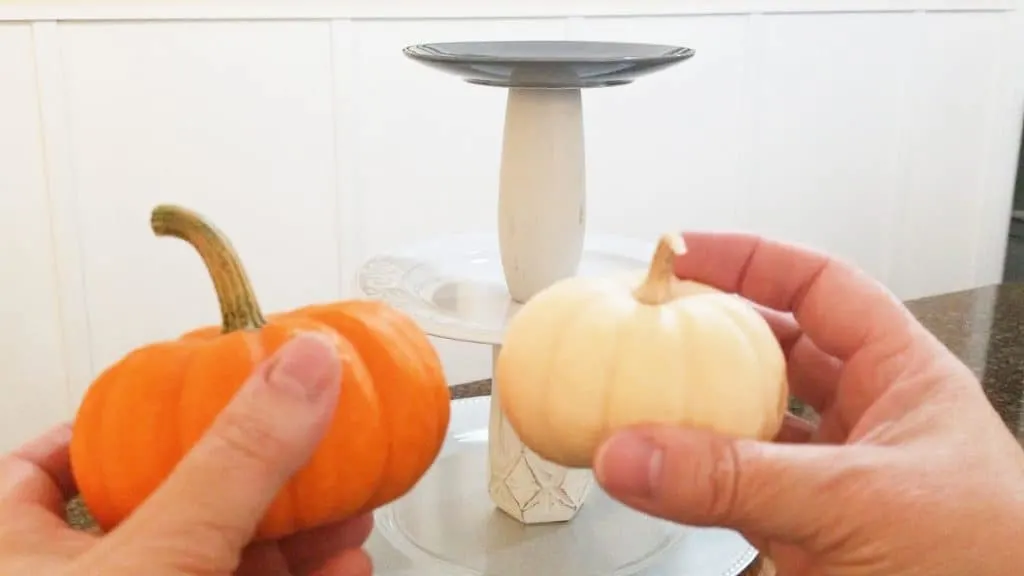 And beads!
Finally…the beads. You cannot see a tiered tray these days without the cutest wood beads. Mine are not wood but I think I will make some soon.
These are some white beads I had in my bead stash! I think they look good.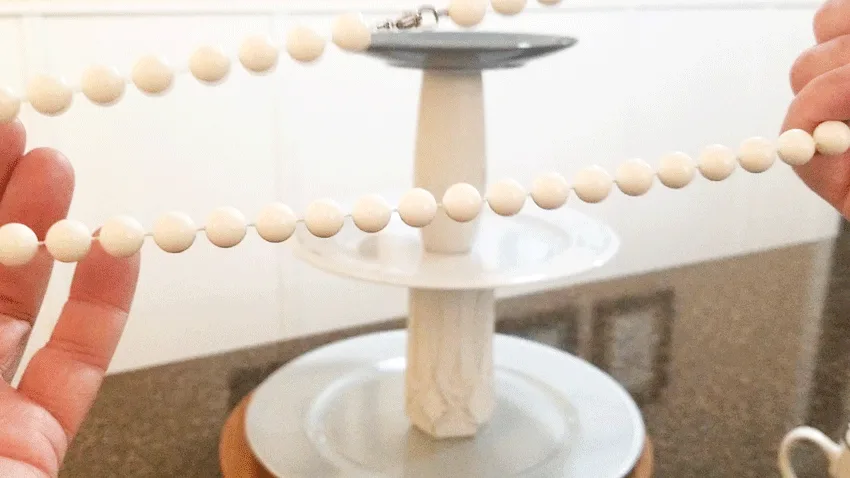 Those are all of the major players for my fall tiered tray. Let's start putting it all together!
Step 2: Start with the fabric and a focal piece
We are going to build from the ground up so we want to start by adding our buffalo check to the tiers. This fabric is from Walmart and I actually got it last year so I have had it a while.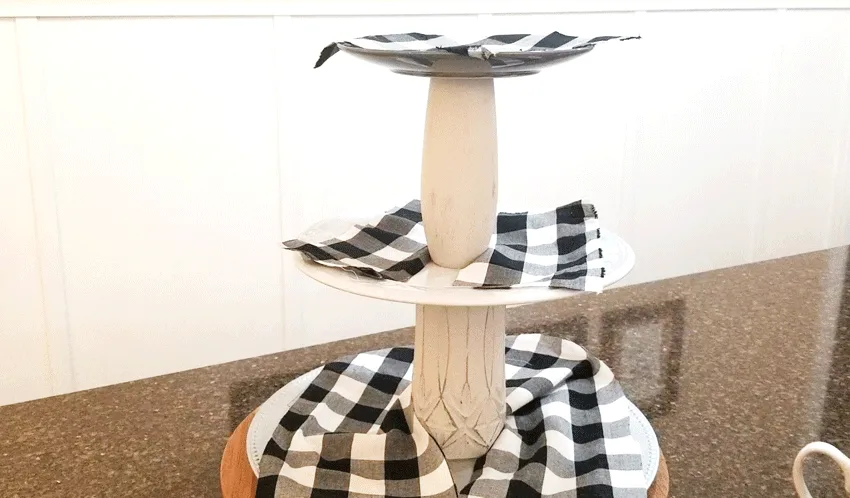 There are some decorating "rules" to follow as well. Let's go over those right now:
Add a focal piece – a larger piece to ground everything
Create balance – add some like items at opposite sides of the tiers
Sprinkle color – the colors in your items should blend but also be sprinkled throughout the tray
Try to add some decor to the back even if it is next to a wall.
The focal piece should be front and center. I don't think it matters which tier it is on but I like to add it to the bottom.
These printables are the farmhouse fall version with SVG and DXF files. They are available now in my Etsy shop!
The large printable fits a 4×6 frame and when printed and framed becomes just the cutest focal piece.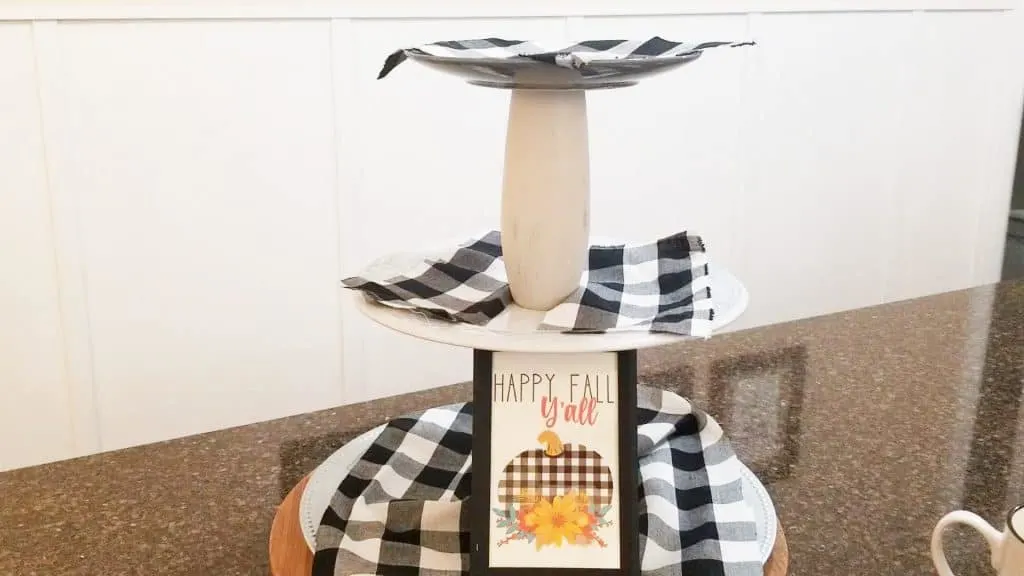 Now we have a starting point.
Continue by adding the larger items first. For me that would be the coffee mugs. I choose three of them so I could add one to each tier on alternating sides to create balance.
I also added the small pieces of wood under the fabric for the mugs and other items. Otherwise they do not sit straight.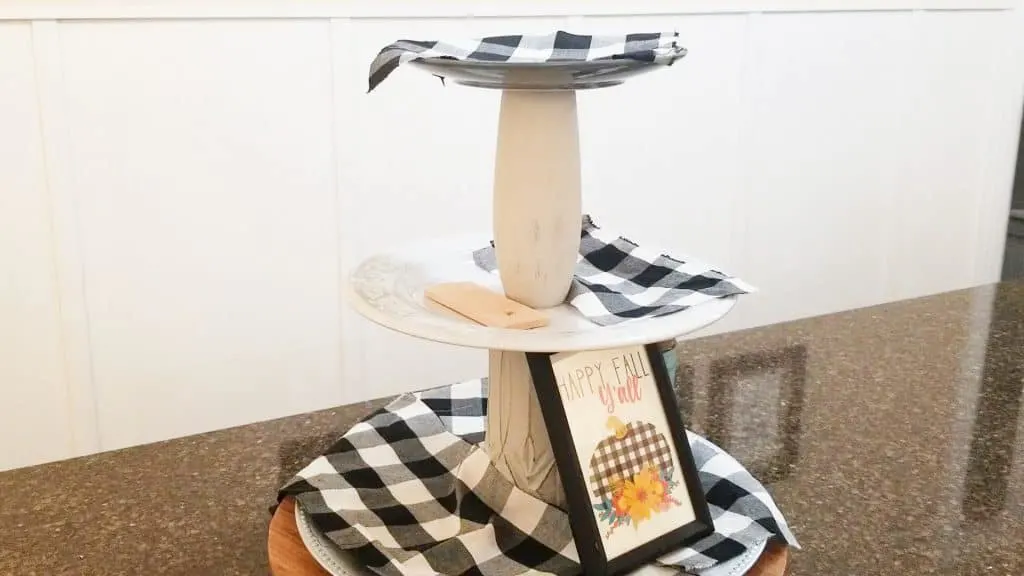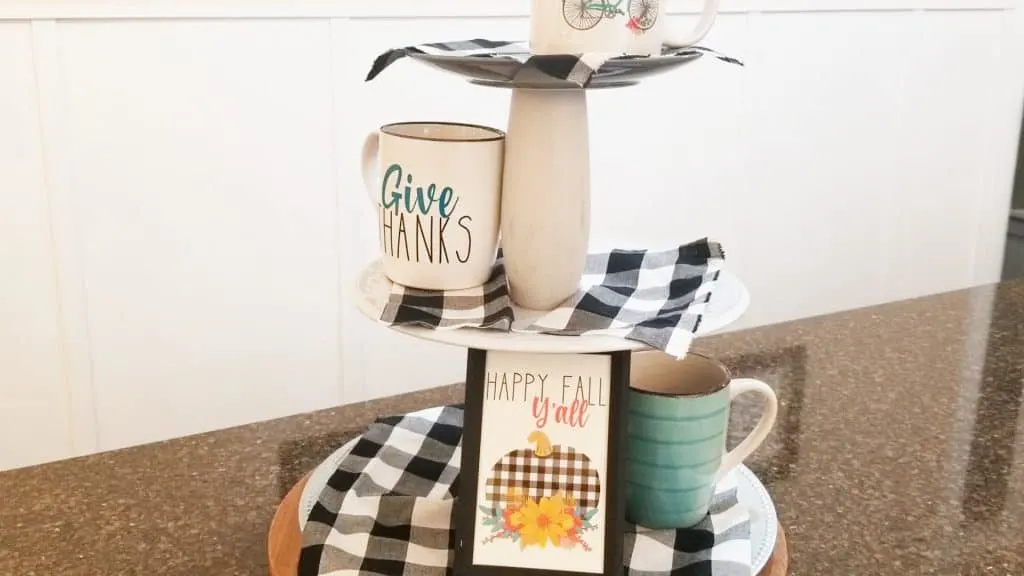 It is hard to see the top mug but it is there. The "give thanks" on the center mug is from the Farmhouse Tiered Tray digital downloads as well.
The next step is to add another printable and the succulents.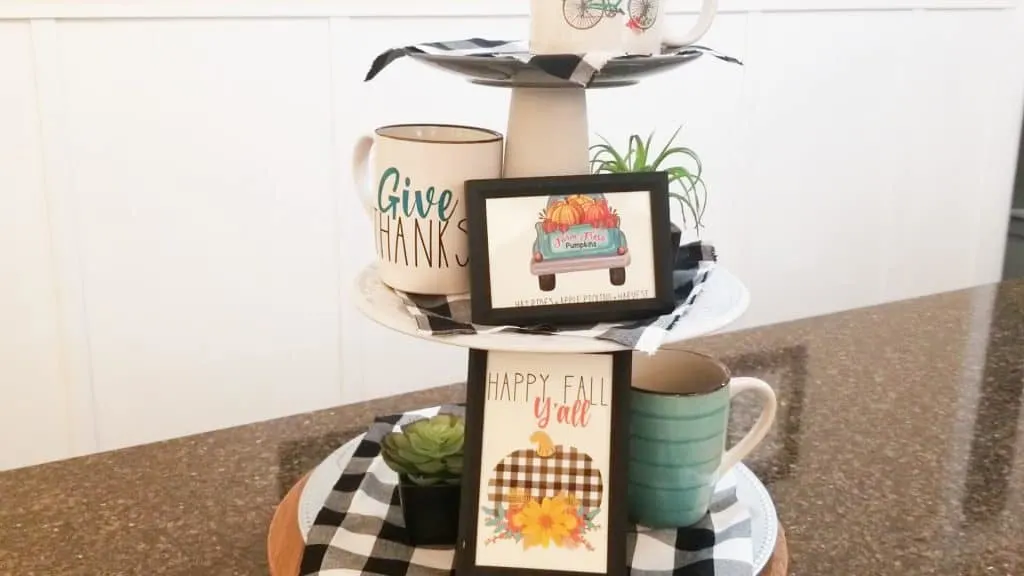 When I get this far I just start placing items until I thing it looks nice. I rearrange a lot until I have it right.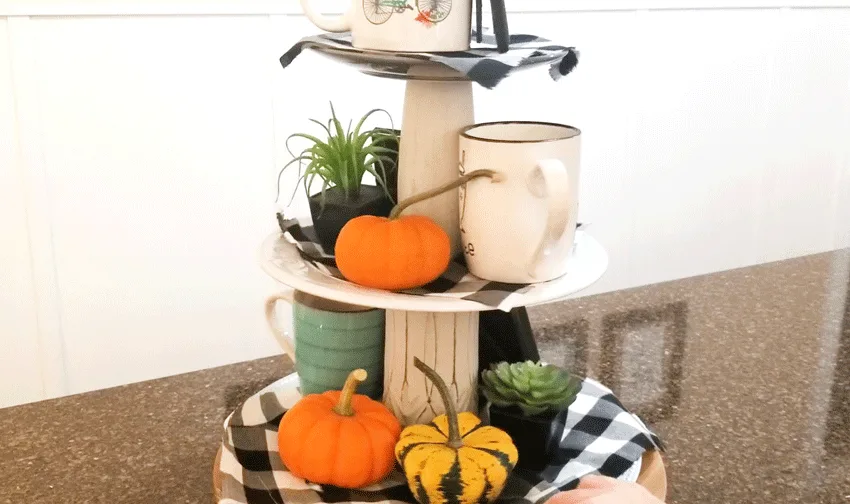 The fall flowers make great filler pieces where it needs a little something.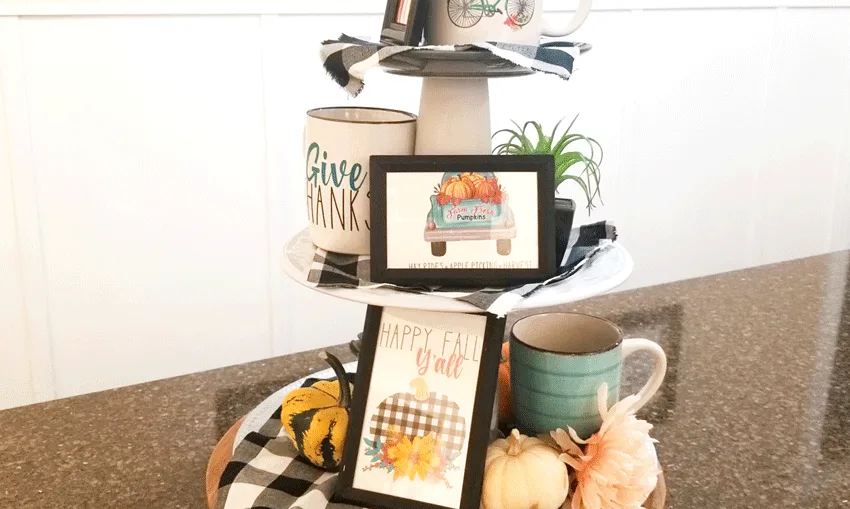 Another printable for the back to break up the group of pumpkins. I also added one earlier on the top tier with the cute bicycle mug.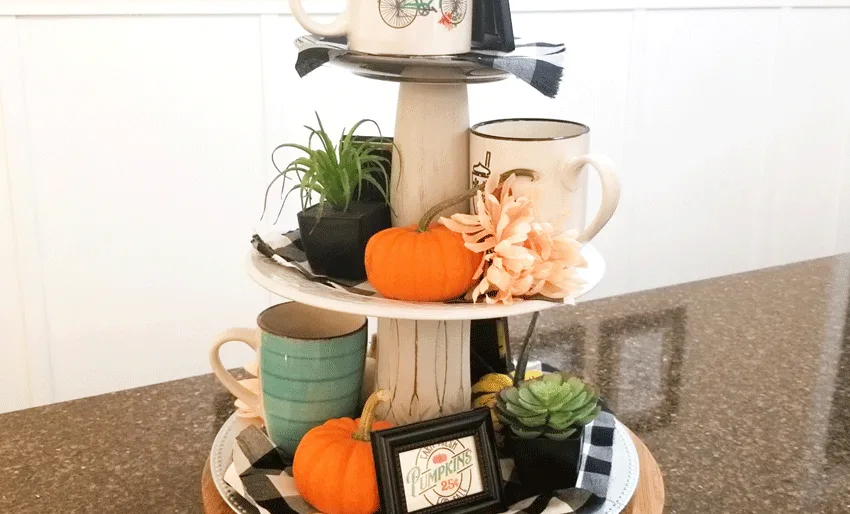 We are almost done with this fall styling. The last thing is the beads!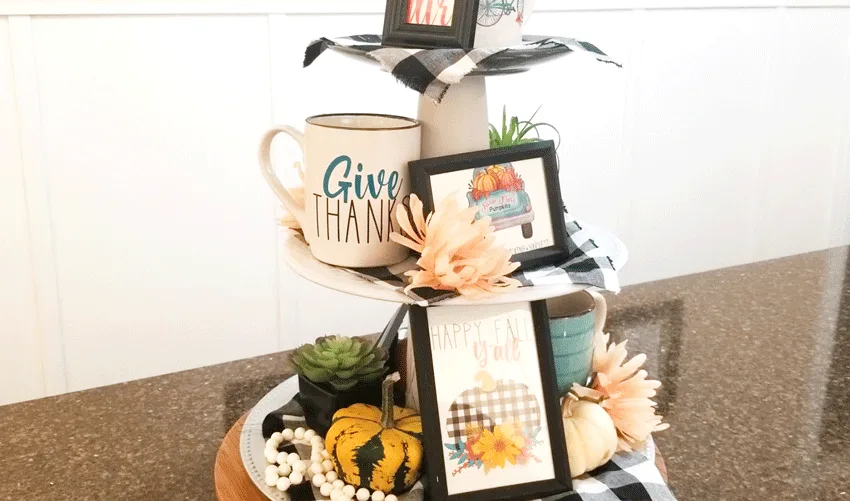 I added them sort of messy on the bottom tier. They add a bit of white on that side that was needed.
So there we have it. We have decorated our tier tray with "mostly" Dollar Tree products.
What do you think?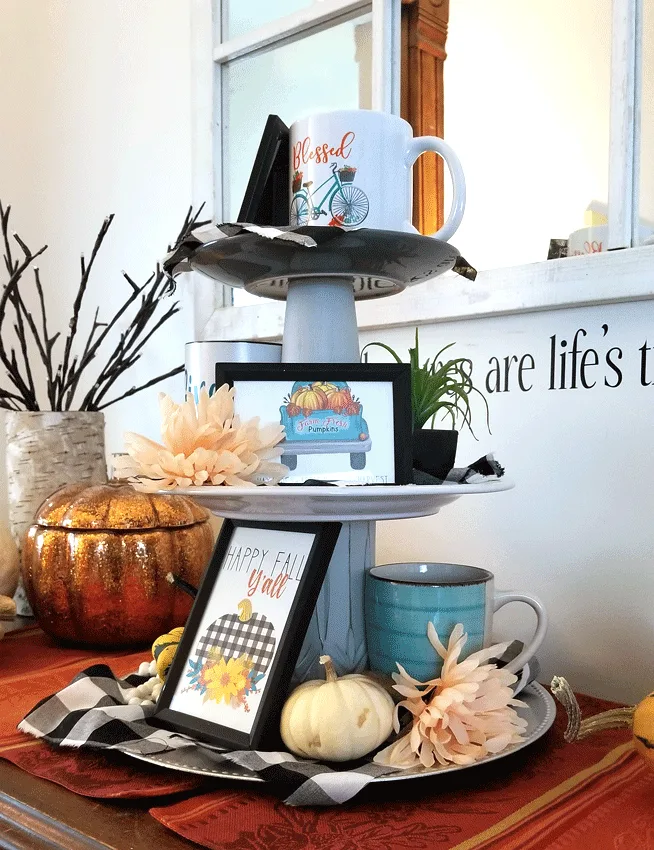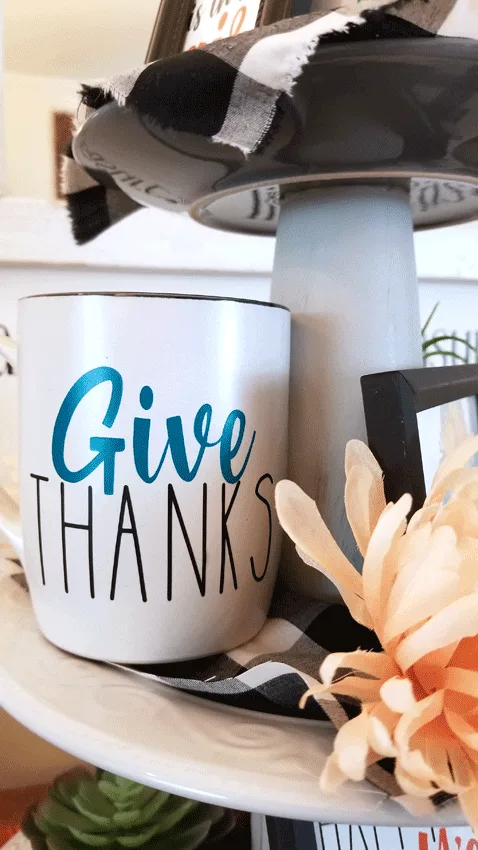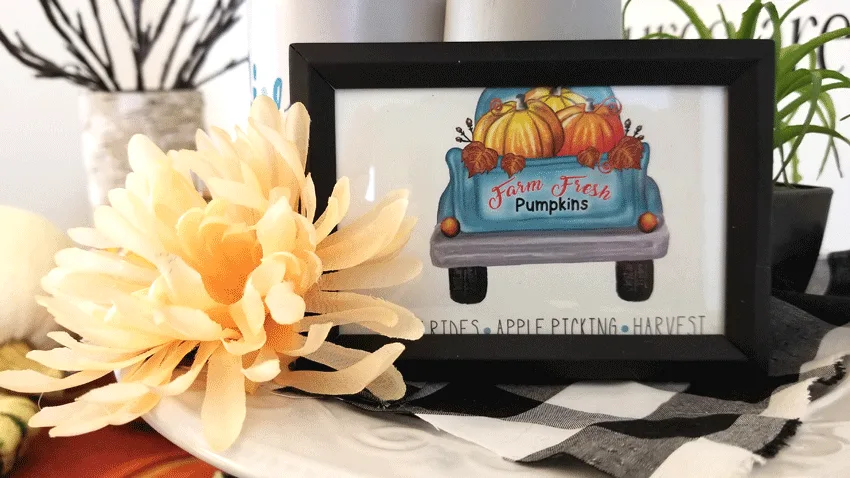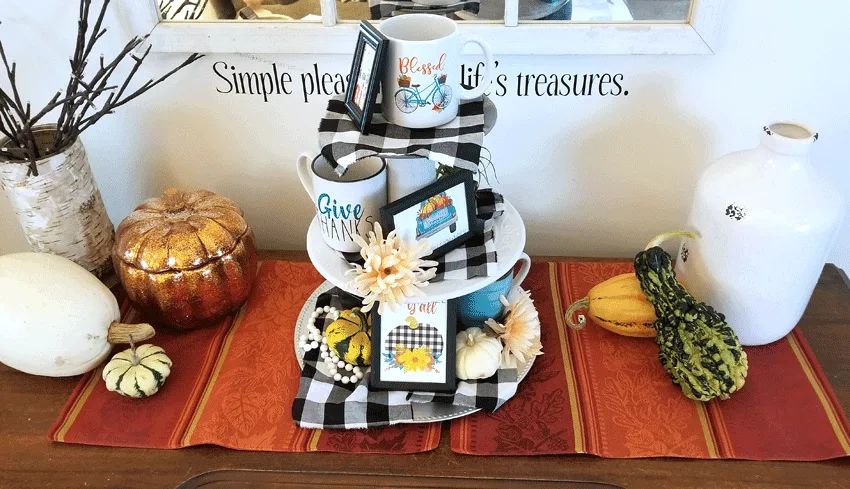 Now check out the awesome Thanksgiving/Fall Dollar Tree posts from my friends. The links are listed below.
AND…if you love the Dollar Tree crafts, gifts and decor then head over to our Facebook group.

The Giveaway
My friends from the blogs listed above and I are hosting this giveaway for a $50 Dollar Tree gift card. Here are the details:
Giveaway begins October 30 and ends November 5. Winner will be notified by November 9 via email and the winner will need to provide a mailing address once they have been contacted no later than 5:00 pm (et) November 11. Gift card will be mailed to winner directly from Dollar Tree. Drawing is by random selection using the Rafflecopter widget. Must be 18 to win. Open to U.S. residents only.
Good luck!
a Rafflecopter giveaway
Thanks so much for stopping by!
Michelle