It is day 5 of the 12 Days Of Christmas Blog Hop. I am so happy your are joining today because this one of my favorite crafts. This is my Dollar Store Christmas Craft and I love it. You can add anything to these dollar store mugs. These are decorated for the holidays but depending on what you add to them they are great gifts throughout the year.
Dollar Tree crafts and gifts are so fun and you have hit the jackpot if you love them as much as I do.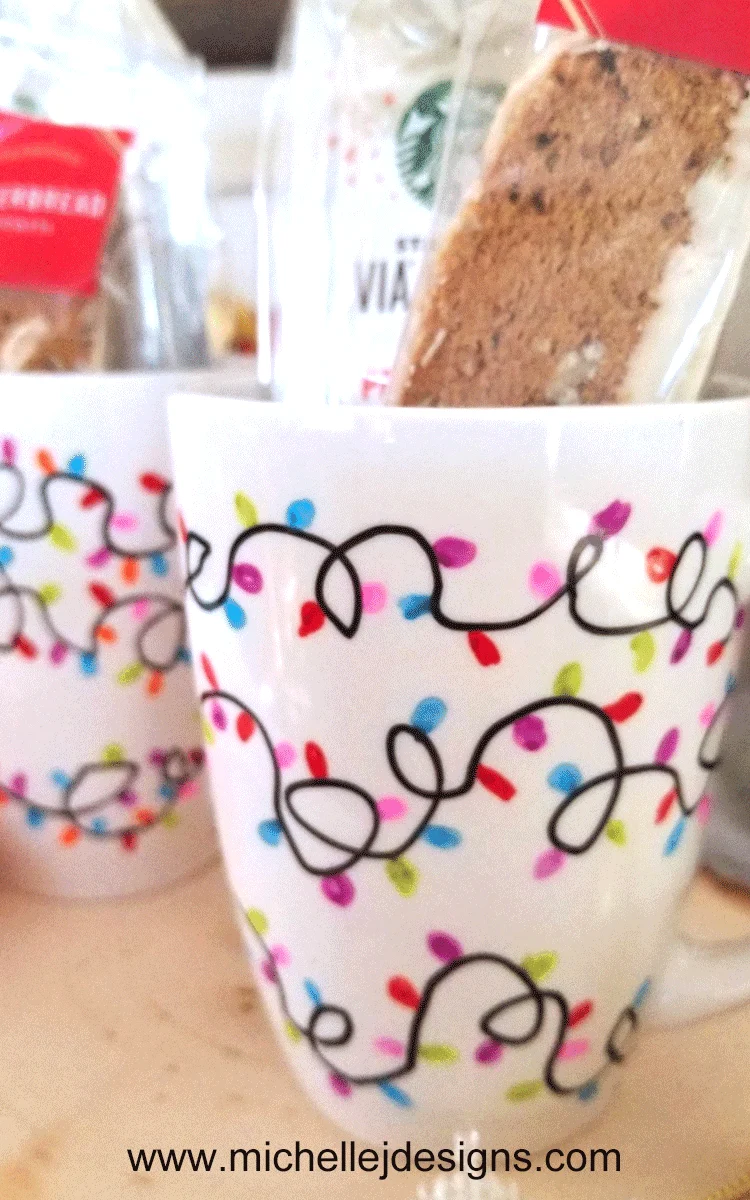 Welcome to the third annual 12 Days of Christmas Blog Hop!
Stop by every day from December first through the twelfth for new ideas you can use to make your season brighter!
Meet Your Hosts
They have all been busy as Elves creating, decorating, cooking and crafting tons of new ideas for you to try this holiday season!
Shirley~Intelligent Domestications I Alli~An Alli Event I Michelle~Our Crafty Mom I Marie~DIY Adulation
Erlene~My Pinterventures I Beverly~Across The Blvd. I Debra~Shoppe No. 5 I Victoria~Dazzle While Frazzled
Megan~C'mon Get Crafty I Michelle~Michelle James Designs I Amanda~Domestically Creative
Deborah~Salvage Sister & Mister I Jeanie~Create & Babble I Sherry~Olives & Okra
Jenny~Cookies Coffee & Crafts I Emily~Domestic Deadline I Bonbon~Farmhouse 40
Leanna~Of Faeries & Fauna I Pam Larmore~P.S. I Love You Crafts I Kelly~North Country Nest I
Marie~The Inspiration Vault I Gail~Purple Hues and Me I Lynne~My Family Thyme I
Karen~Dragonfly and Lily Pads I Trisha~Blowing Away Out West Lorrin~Embrace The Perfect Mess I
Terri~Christmas Tree Lane I Sam~Raggedy Bits I Cyn~Creative Cynchronicity Valeria~Val Event Gal
Yami~The Latina Next Door I Jeannee~Centsably Creative I Tania~Little Vintage Cottage
Lauren~Wonderfully Made I Vanessa~DIY 180 I Kimberly~A Wonderful Thought I
Kim~Everyday Parties I Dru~Polka Dot Poplars
Dollar Store Christmas Craft
Here what you need to make these fun holiday mugs. I am including some affiliate links for your convenience. You can see my full disclosure here.
Materials List for Dollar Store Christmas Crafts
Oil Base Markers
– I have a combination of Sharpie and DecoArt and both work great
Alcohol – if needed to wipe off and start again
Cotton Balls/Q-tips
Let's Get Started
First wash and dry the cups. Then get out the oil based markers, the alcohol and the cotton balls and q-tips.
Shake up the markers. Start at the bottom of the mug, using the black marker and draw the string for the lights! I like to draw and swirl all the way around and up til you get about 1/2 inch from the top. Keep the design away from the top of the mug for drinking.
Using different colored markers make little oval shapes for the bulb in random places on the string. Continue this until all the colors you want have been used.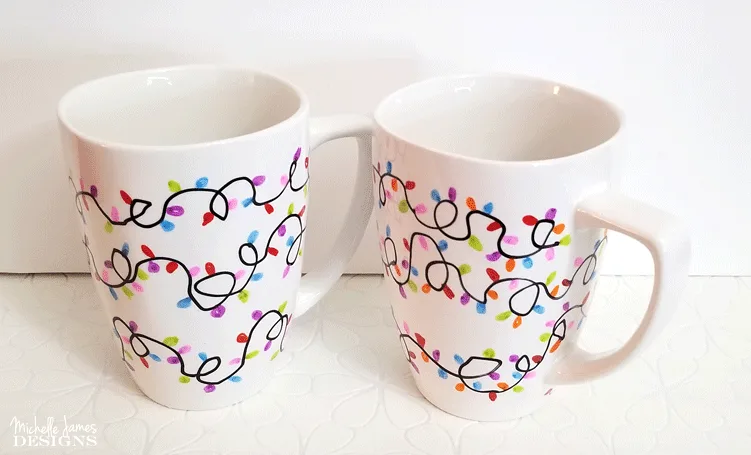 Then it is time to bake them. I have explained this in other posts such as my Patriotic Glasses but it is easy. Place them on a baking sheet in a cold oven. Turn the oven to 250 degrees and set your timer for 2 hours. When the time is up, turn off the oven and wait until it is completely cool to remove them.
Be sure to hand wash.
Fill them with with fun things. This time I used a cello bag, a Starbucks coffee packet and a gingerbread biscotti. Who wouldn't love that?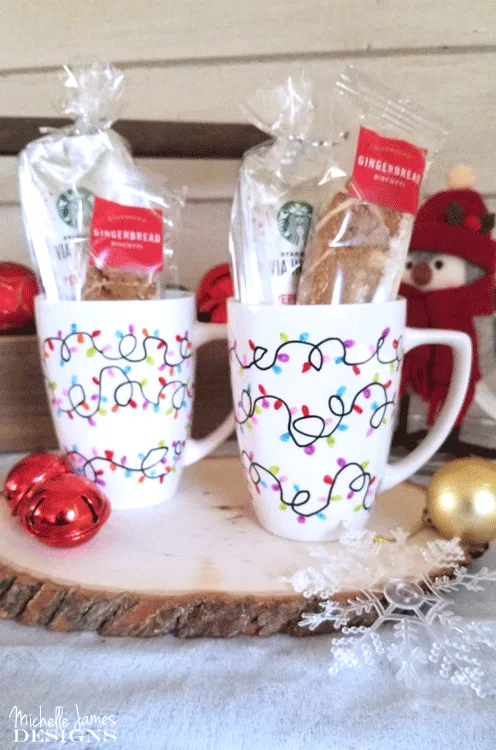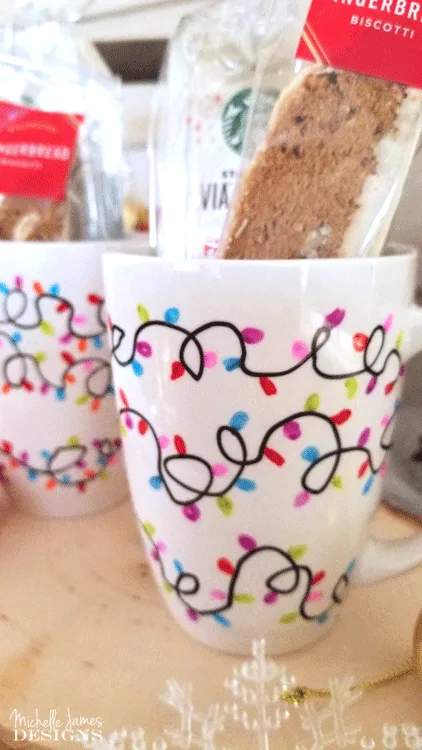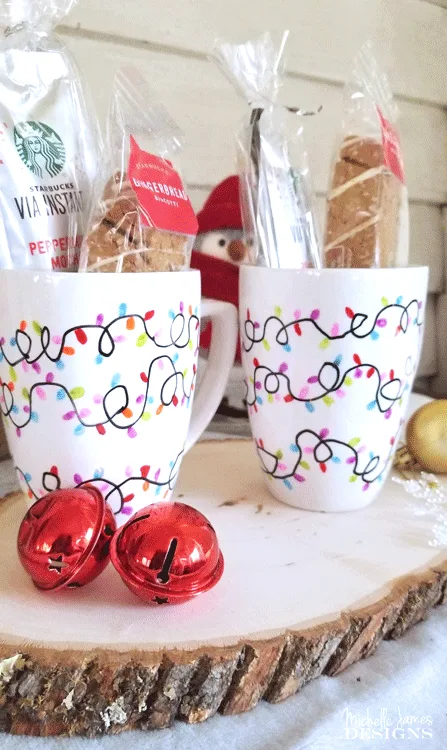 Well, that is my project for today. I hope you will be sure to visit the other blogs on the hop!
Thanks so much for stopping by.
Michelle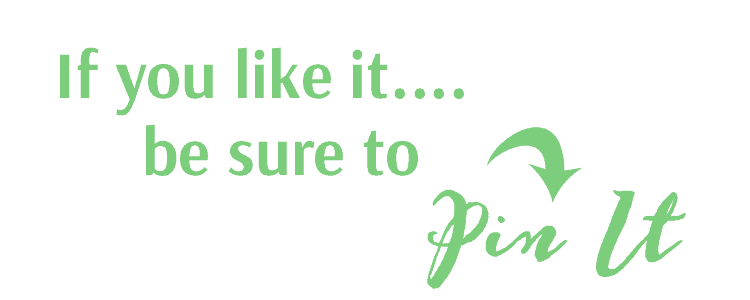 Be sure to visit our fellow 12 Days of Christmas Bloggers below for even more creative ideas this holiday season!