Welcome, welcome! Today is day 9 of the 12 Days Of Christmas Blog Hop. Our theme project for the 9th day is DIY wreaths. I made an Easter Wreath last year but haven't made a Christmas wreath yet. So, this was a fun project. I hope you like my embroidery hoop holiday wreath.

Welcome to the third annual 12 Days of Christmas Blog Hop!
Stop by every day from December first through the twelfth for new ideas you can use to make your season brighter!

Meet Your Hosts
They have all been busy as Elves creating, decorating, cooking and crafting tons of new ideas for you to try this holiday season!
Shirley~Intelligent Domestications I Alli~An Alli Event I Michelle~Our Crafty Mom I Marie~DIY Adulation
Erlene~My Pinterventures I Beverly~Across The Blvd. I Debra~Shoppe No. 5 I Victoria~Dazzle While Frazzled
Megan~C'mon Get Crafty I Michelle~Michelle James Designs I Amanda~Domestically Creative
Deborah~Salvage Sister & Mister I Jeanie~Create & Babble I Sherry~Olives & Okra
Jenny~Cookies Coffee & Crafts I Emily~Domestic Deadline I Bonbon~Farmhouse 40
Leanna~Of Faeries & Fauna I Pam Larmore~P.S. I Love You Crafts I Kelly~North Country Nest I
Marie~The Inspiration Vault I Gail~Purple Hues and Me I Lynne~My Family Thyme I
Karen~Dragonfly and Lily Pads I Trisha~Blowing Away Out West Lorrin~Embrace The Perfect Mess I
Terri~Christmas Tree Lane I Sam~Raggedy Bits I Cyn~Creative Cynchronicity Valeria~Val Event Gal
Yami~The Latina Next Door I Jeannee~Centsably Creative I Tania~Little Vintage Cottage
Lauren~Wonderfully Made I Vanessa~DIY 180 I Kimberly~A Wonderful Thought I
Kim~Everyday Parties I Dru~Polka Dot Poplars
Creating An Embroidery Hoop Holiday Wreath
I am including some affiliate links for your convenience. You can read my full disclosure here.
Materials Needed
White Card Stock
Printer
Wood Scrap Pieces- I used a 24″ piece of square basswood cut into 3″ pieces
Stain
Foam Brush
Wood Glue
Step 1:
Cut 3″ pieces of wood from your scraps or from a 2ft piece of square basswood and sand and stain them using the foam brush.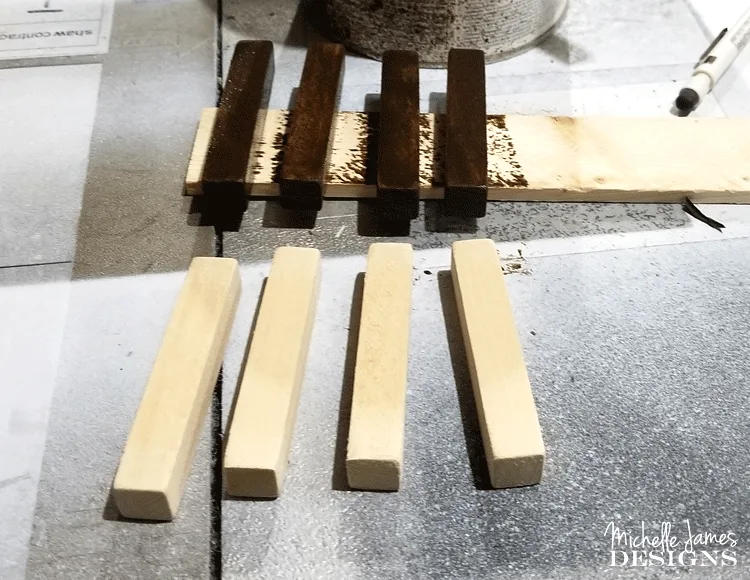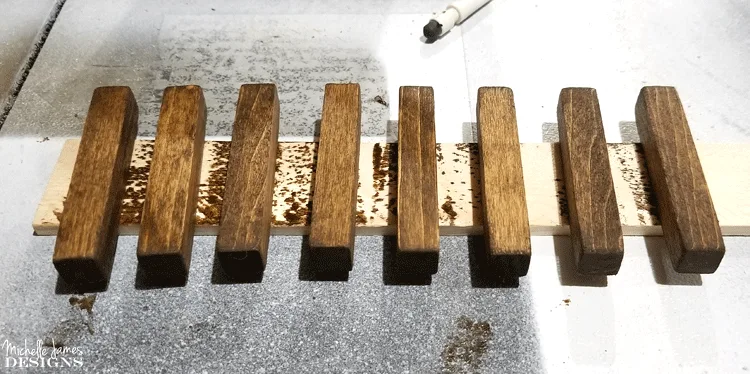 And stain your embroidery hoop. I just made sure it was tightly closed and stained the entire thing all at once.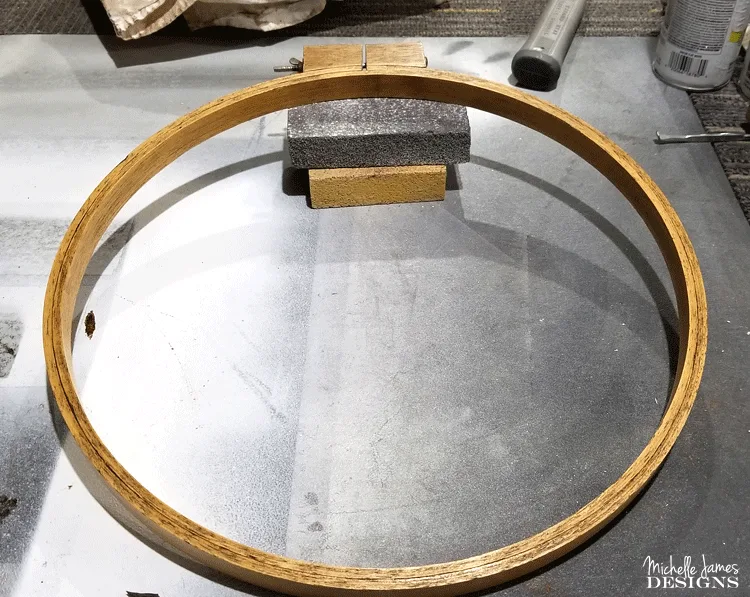 Step 2:
Add your greenery. My parents have greenery growing at their house so each year I go over and cut what I need. You could purchase some nice looking greenery too. Then you would not have to re-make your wreath each year.
I started with one side and tied it onto the hoop with twine. Wire would also work but I did not have the right size.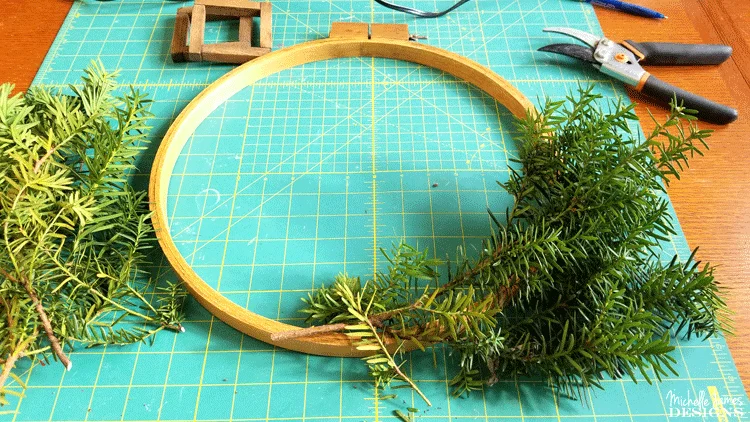 Then work on the other side.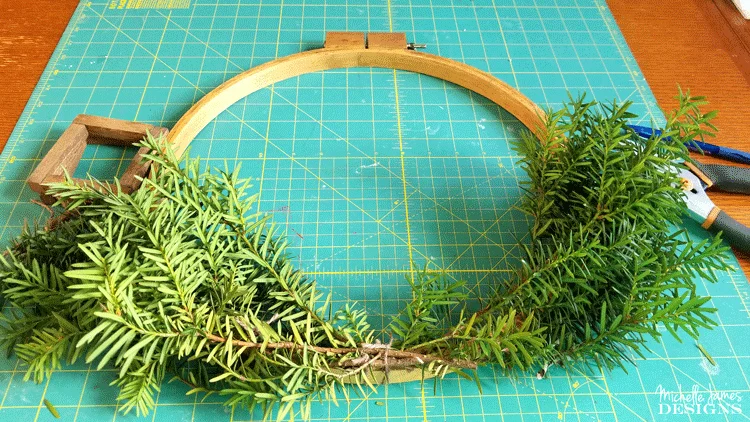 Step 3:
Add a bow. I made a bow using some wired ribbon. First shape the long loops and the tails then added the smaller loops on top with a tie and covered the tie with another piece of ribbon that I glued on the back. Leave the ends of the twine pretty long to tie the bow to the wreath. I did have to add just a little bit of glue as well to get it to stay put without drooping.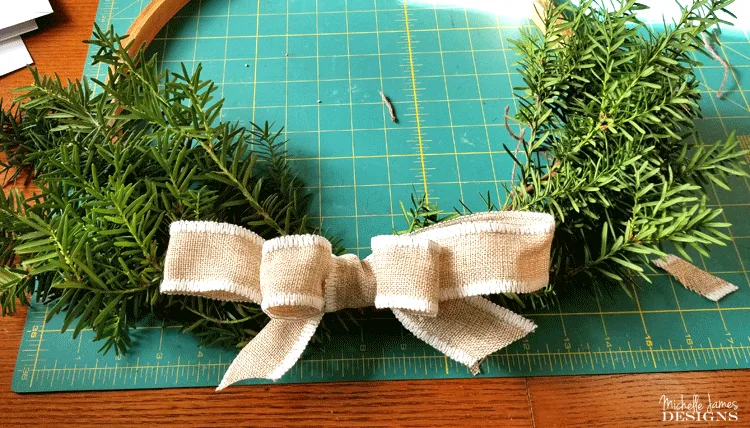 Step 4:
Finish the little frames. I actually got this grand idea from Latina Next Door. Her DIY Farmhouse Ornaments on day 1 of this blog hop were an inspiration. I used her awesome idea to finish off my wreath. And she has a good tutorial for the frames too.
I used Photoshop Elements to create my sayings but Word or Google Docs would work. Print them onto white card stock so they are a little more stable than the printer paper.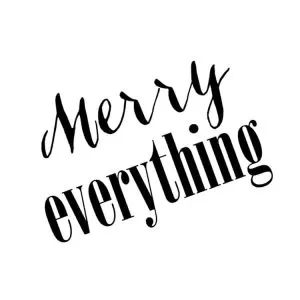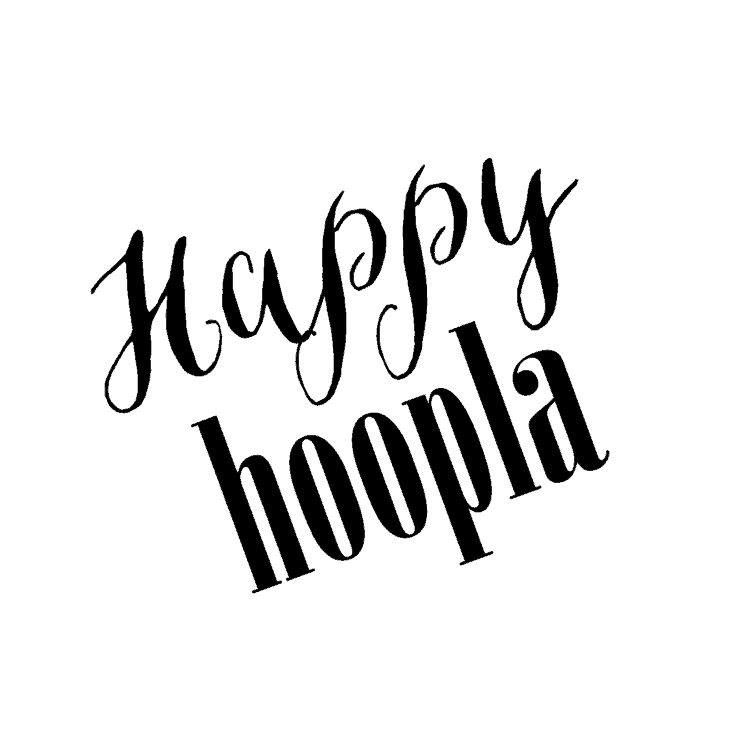 Cut a piece of twine long enough to hang the two little frames from the top of the embroidery hoop. Glue your card stock piece to the back of the frame. Then use scotch tape to adhere the tie to the back of the paper.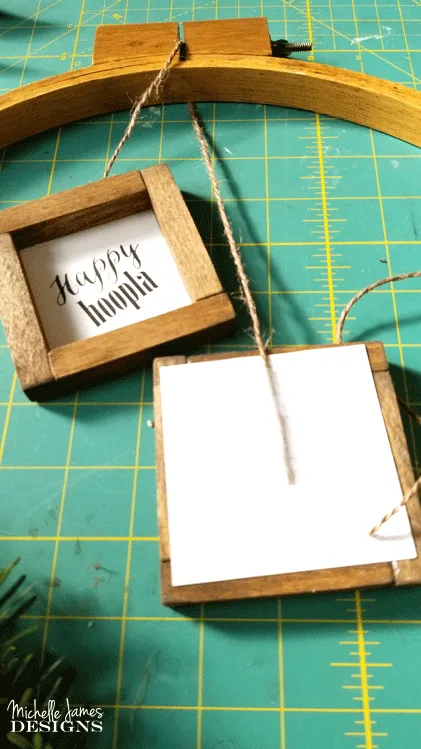 Cut another piece of card stock to place on top to hide the tape and the twine.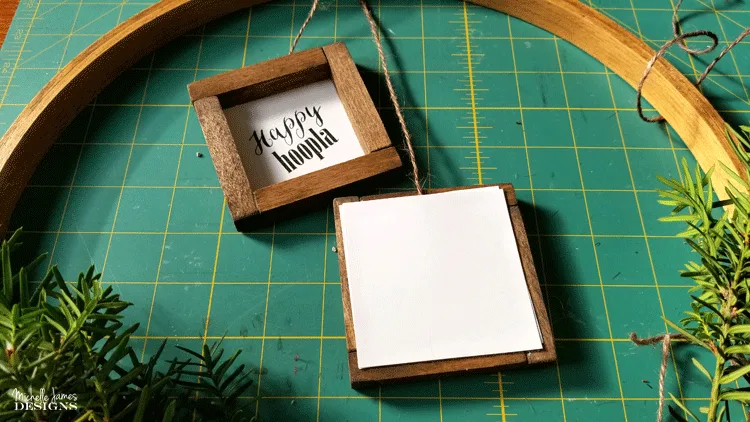 Step 5:
Hang and enjoy. I purchased a wreath hanger at Dollar General for $1 and it works beautifully! I love this embroidery hoop holiday wreath.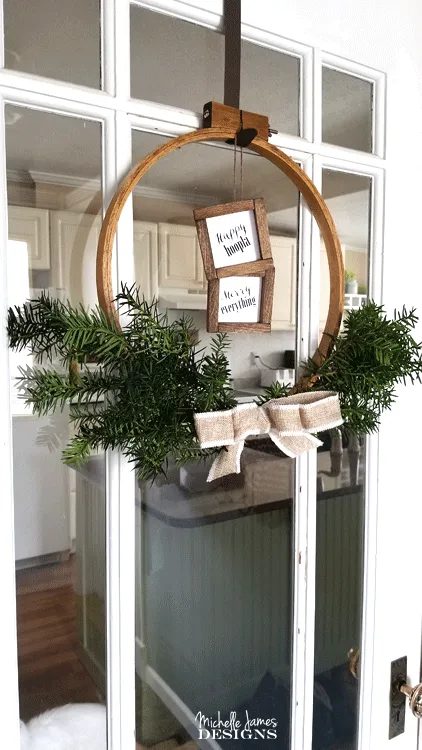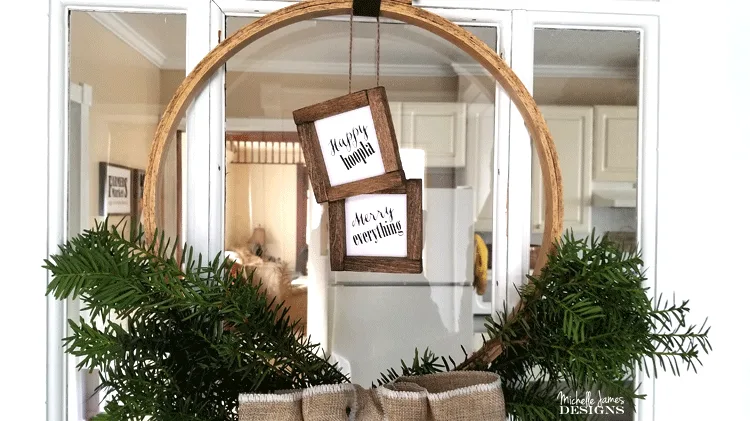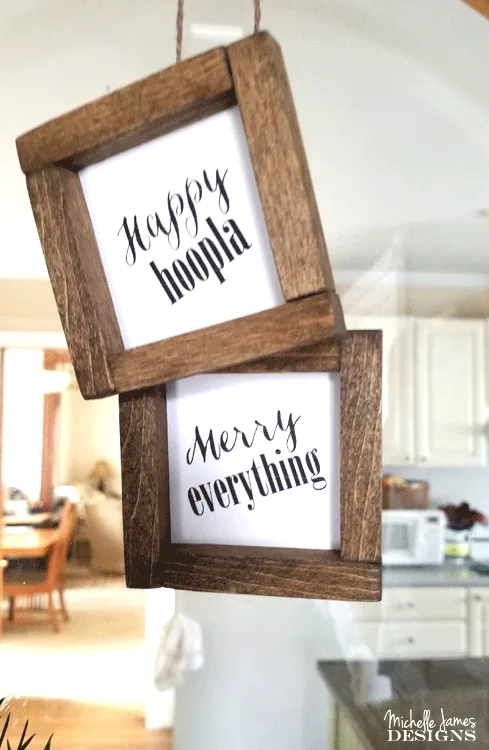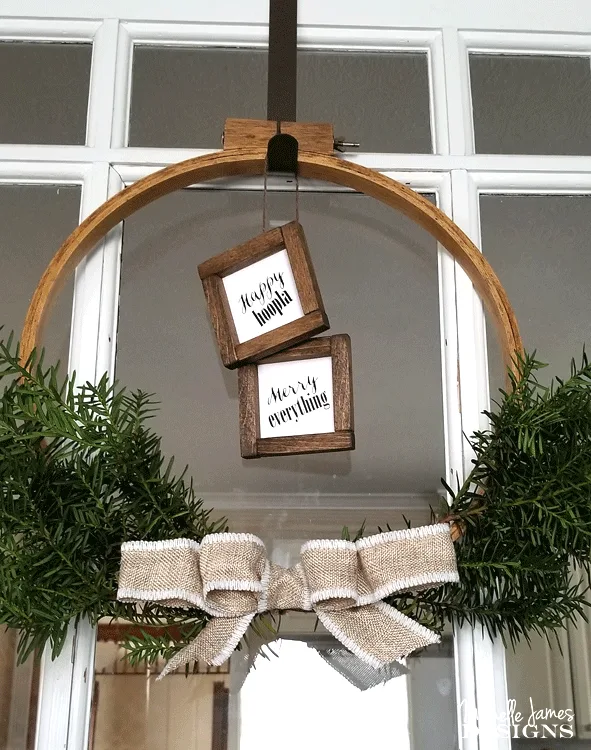 Thanks so much for stopping by!
Michelle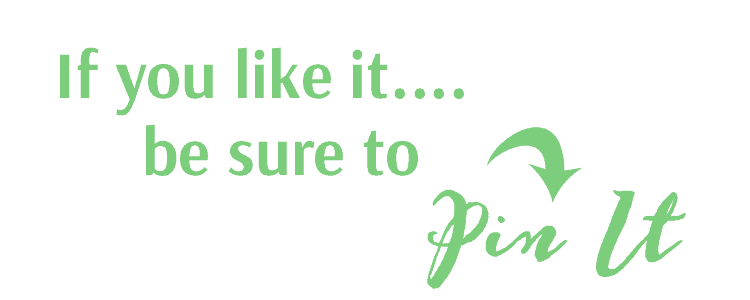 Be sure to visit our fellow 12 Days of Christmas Bloggers below for even more creative ideas this holiday season!