My Grinch inspired word search gets a lot of attention this time of year so I thought I would make some more freebies for you to download! Introducing the Grinch Activity Pack.
This is a fun pack for kids and adults. So if you like coloring pages, dot-to-dot, trivia, word games and a scavenger hunt then you will love these.
If you have not downloaded the word search yet, you will want to do that too. These are words from the original movie.
I love Grinch decor and crafts and have made it my mission to create a couple each year to add to my Grinch theme Christmas. It has been really fun.
If you like to make your own Grinch crafts and decor then you have come to the right place!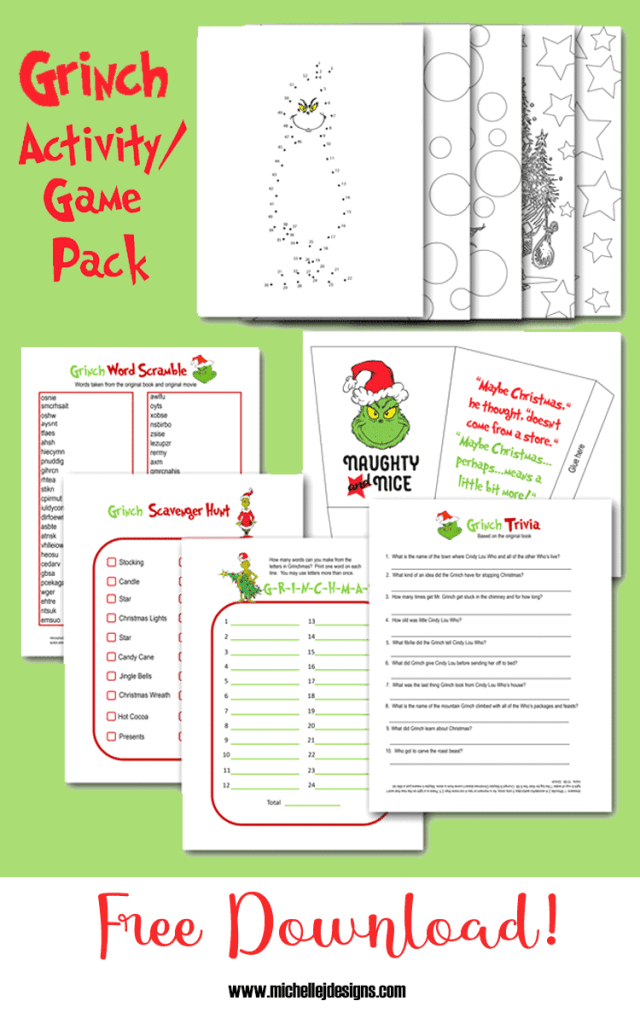 Grinch Family Activity/Game Pack
I hope you love to play games. My family loves card games during the holidays but my boys are grown. I thought I needed to create something for the entire family.
How fun will it be to watch the movies, read the book and play the games? I am really excited about this and worked hard to create these.
I hope you like them as much as I do.
The download includes:
4 pdf coloring pages
1 pdf dot-to-dot page
1 pdf – Grinch trivia – questions taken from the original book
1 pdf – Grinch word scramble
1 pdf – Grinch scavenger hunt
1 pdf – Grinchmas – word game
1 pdf – Popcorn box
So all you have to do is download the zipped file, print out the number of copies you want and play!
The popcorn box will need to be printed 2x for each box. Then cut around the outside edge and fold the other lines. Glue the box together and you are all set!
It couldn't be easier to have a fun, family, Grinch game and movie night.
The download is below!
I hope you enjoy this activity pack and enjoy hours of fun with family and friends.
Thanks so much for stopping by,
Michelle