When you open the mail and there is a handmade card it makes you feel special and loved. Handmade sympathy cards and thinking of you cards can turn a difficult time into a heartfelt moment even it it only lasts for a few minutes. That handmade touch will always brighten someone's day.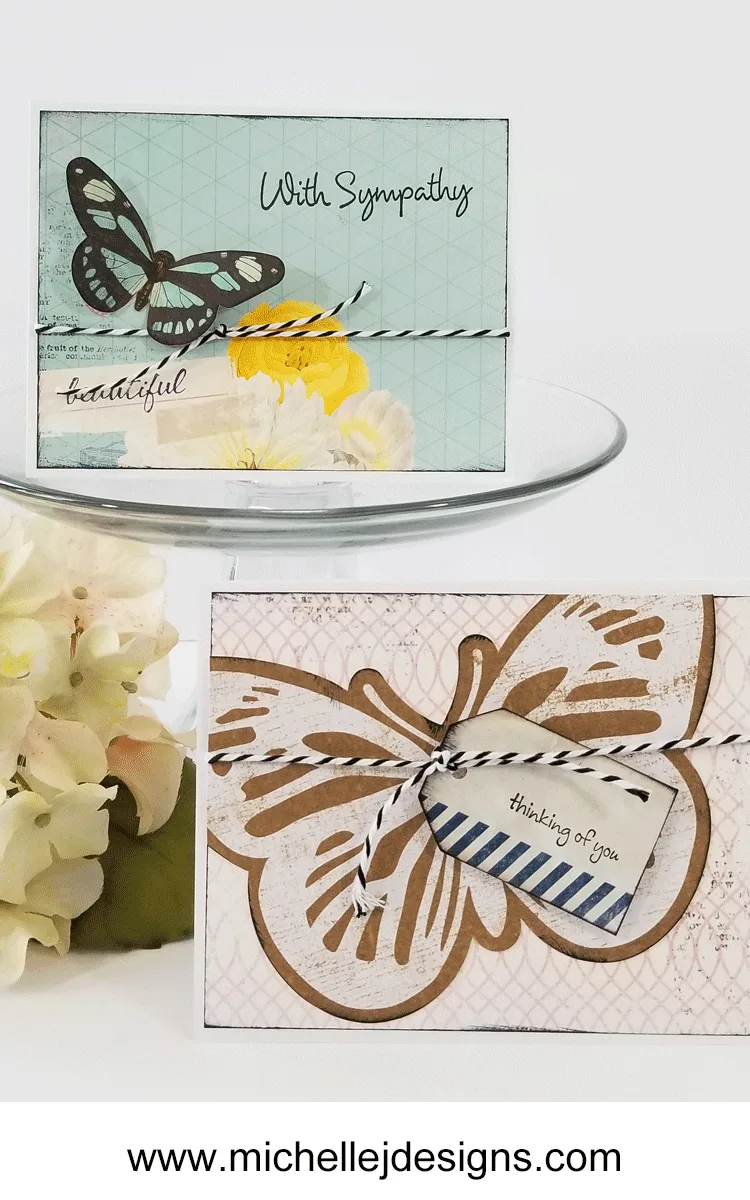 Handmade Sympathy Cards
How many of you have ever received a handmade card? It really is a nice feeling to know someone cares. I have been making cards for almost 30 years and for 11 of those years I owned and operated a rubber stamping store and held card classes each week. We usually had a theme and the sympathy cards always drew a large class.
Today I am showing you two cards with step by step how instructions and pics so you can create your own.
Getting Started
This post includes affiliate links for your convenience. You can read my full disclosure here.
Supplies Needed:
Scrapbook Paper– This links to a cute, similar kit
Die Cut Pieces- usually these are included in the kit or sold separately but match
Scissors
Paper Trimmer or Cutter
Mounting Tape
I am using a scrapbooking paper kit for these cards so if you can purchase a kit of paper, die cuts, stickers, etc. it helps to make the cards because all of the pieces are meant to match and blend with each other. Plus you receive a mix of patterned papers plus embellishments such as stickers, die cuts, ribbons, etc. This is my favorite way to purchase card making supplies now.
If you would like to view some of my favorite kits you can see them in my Amazon Store!
Step 1
Cut your background piece. The background piece is a patterned piece of card stock 5″ x 4.25″.
I cut from this 12 x 12 sheet of patterned paper. I wanted the area that had the butterfly, the flower and the word beautiful.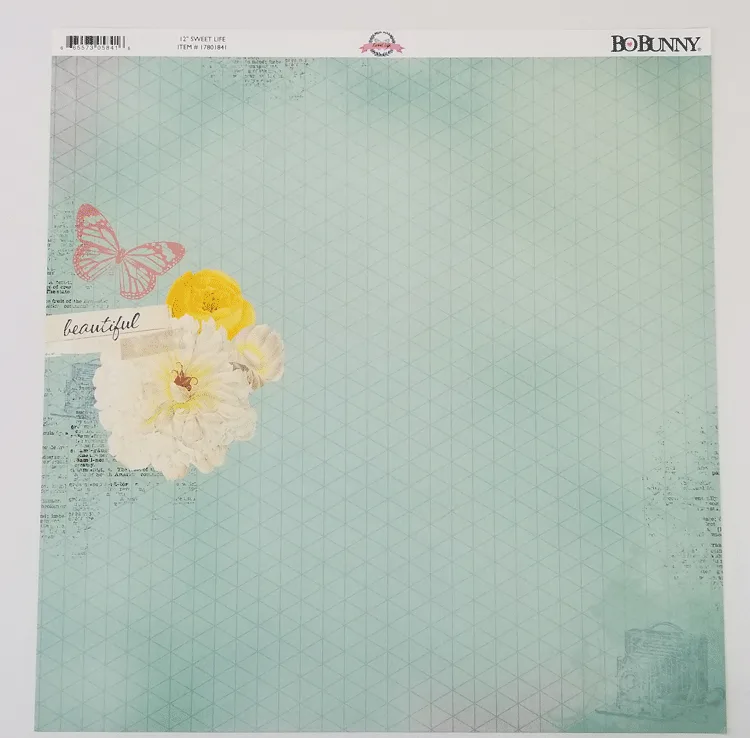 Here is my smaller, cut background piece and I have already inked the edges with the black ink pad. I love the look of the inked edges.
Step 2
Choose a butterfly from the die cut pack. I am going to create a 3D effect by adding a butterfly on top of the butterfly that is printed on the background sheet. I had used this kit before so I only had one more smaller butterfly. In the video below, I cut the butterfly out from a sheet of paper.
Using a ruler and a scoring tool, score on either side of this body so you can "fold" the wings up.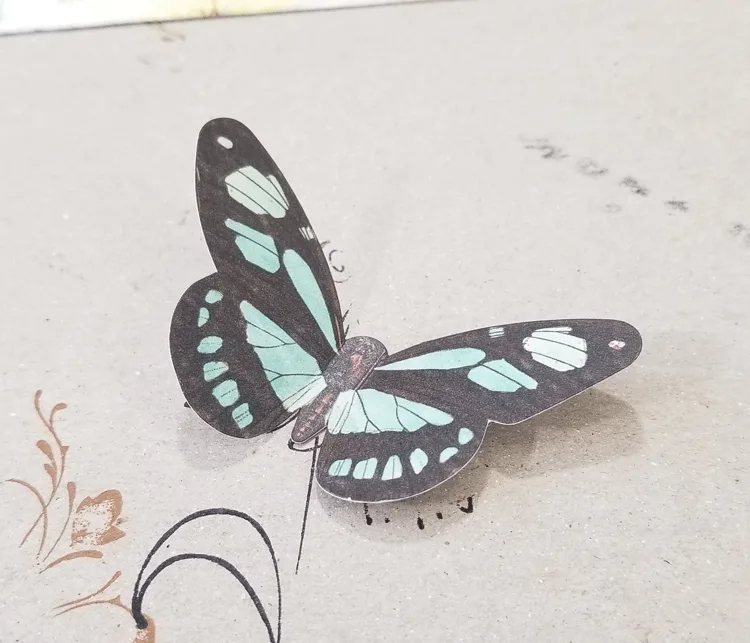 Before you add the butterfly to the background piece, use the black ink and the stamp of your choice and stamp your saying.
I like to do this first just in case I mess it up. Then I can either get a new sheet of background paper or decide to add something over the messed up image. This time I did ok.
Apply some adhesive to the back of his body and glue him to the background piece directly over the other butterfly. It looks like he is taking off from the page.
Step 3
Add the bakers twine. Cut a piece of twine a little wider than the background piece. Wrap the ends of the twine to the back of the card and tape them on the back.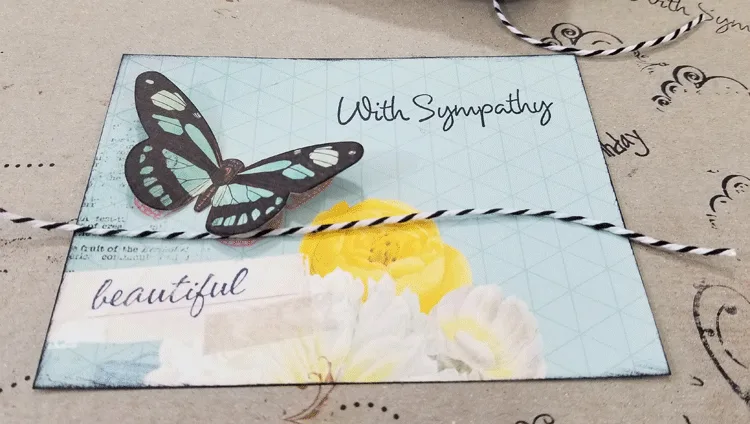 Cut a smaller piece of twine to tie to the existing piece. This is what I call a faux bow. The top of the card is now finished. Yay! And it looks great!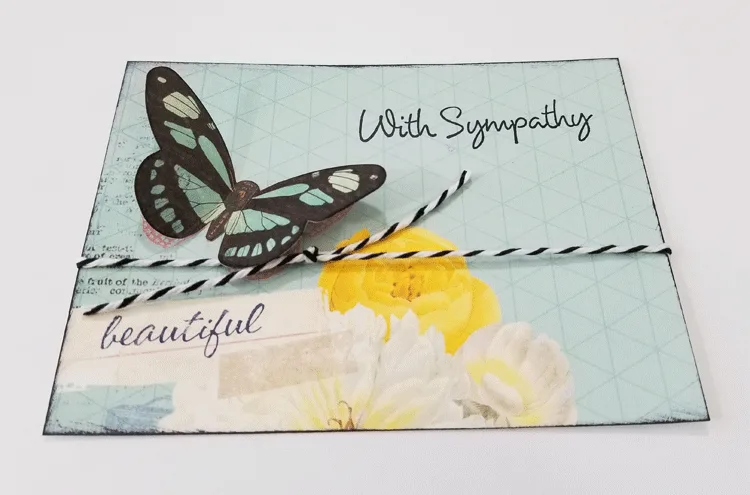 Step 4
Glue the background piece to the card base. I used a white piece of card stock 8.5 x 5.5 inches folded in half.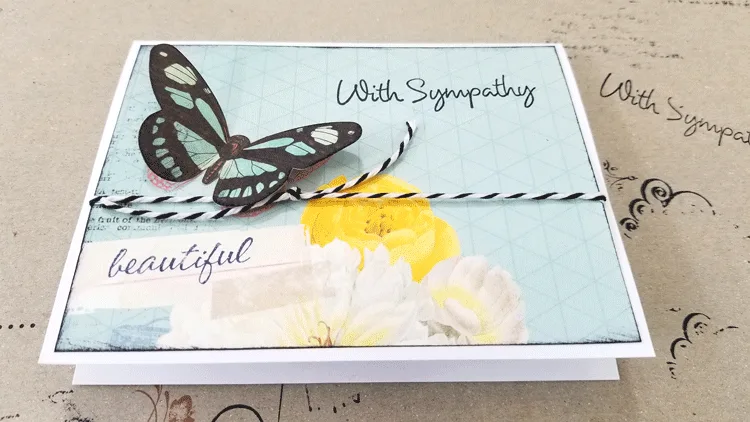 Here is a short video with narration showing you how I created a very similar card. I did not have another die cut butterfly so I cut one out. This is how you can improvise and still make a great card.
Thinking Of You Card
I am still using the same kit for this card but as I mentioned above I was totally out of the smaller "card size" butterflies. So I decided I would use a larger butterfly instead. This one was actually bigger than my background piece but you can see how it still works! Let's get started.
Step 1
Cut your background piece. This time I am using this sheet of paper. I am not using the large design in the corner though. I have decided to use the upper right corner with the little bits of wording.
Here is my 5 x 4.5 inch piece with the inked edges.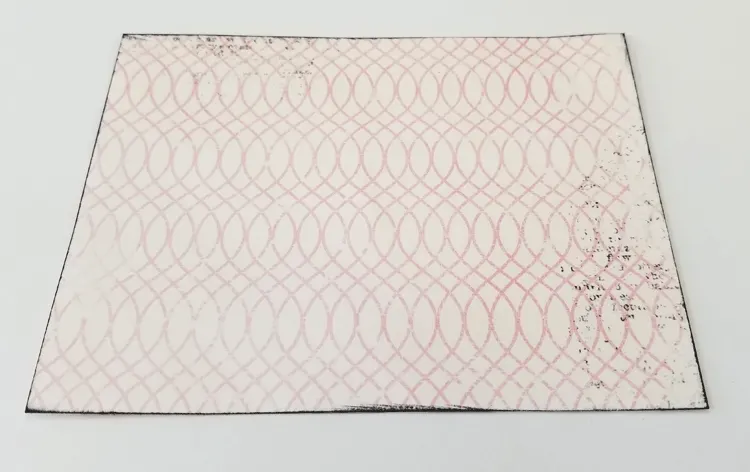 Step 2
Adding the embellishments. I want to add the large butterfly and a small tag with the hand stamped sentiment. So this is what I did.
I still had a large butterfly left in the die cut package and a tag.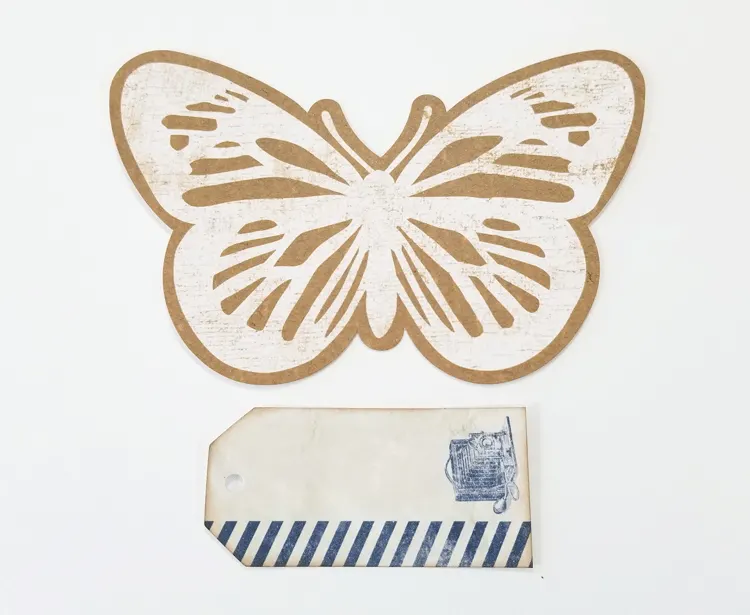 The butterfly looked fun placed over the background piece. But was obviously too big.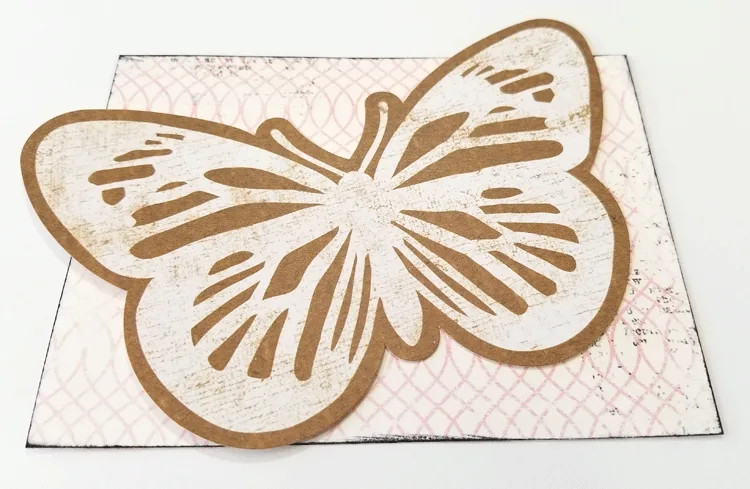 I inked his edges with the black ink then glued him down. Using my scissors, I trimmed off the parts that were hanging off the edges of the background piece. Be sure to re-ink the edges of the paper where those pieces were cut.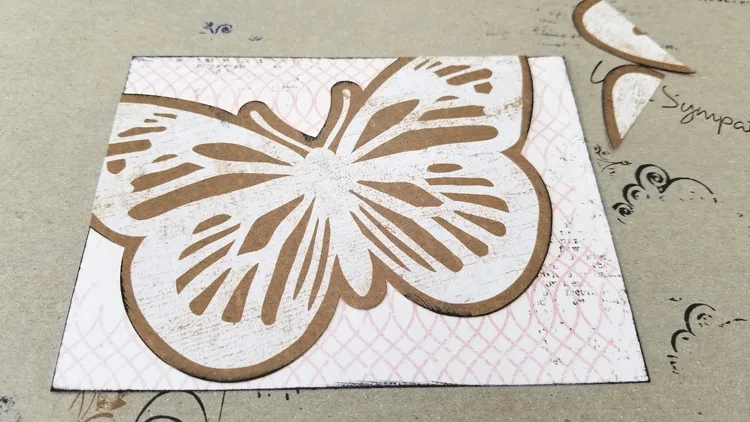 The tag was too long and I did not want the camera on it so I cut it down to a better size and inked the edges.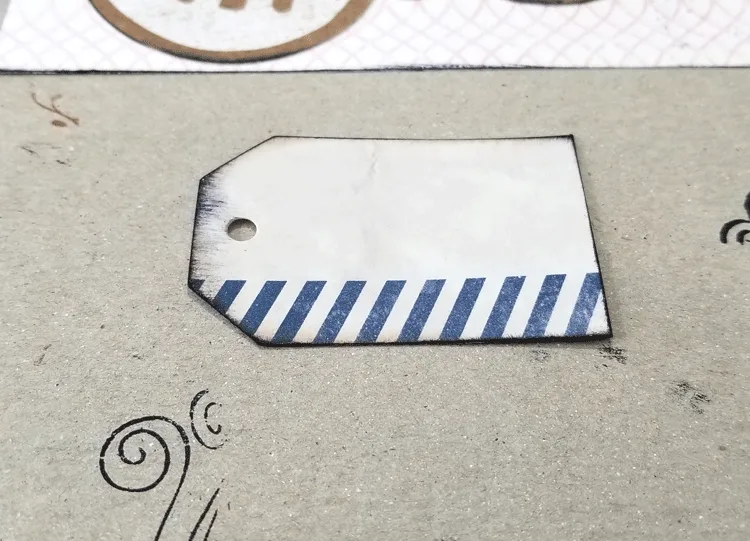 This time I used "thinking of you" as my stamped sentiment.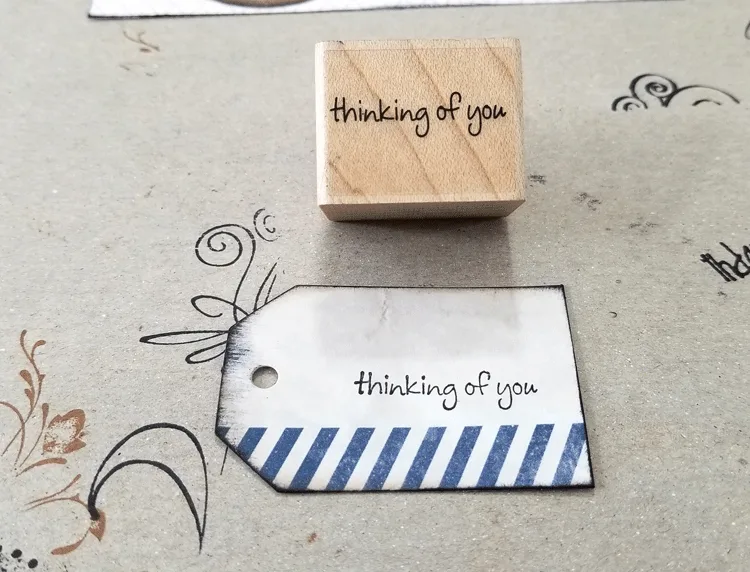 Using mounting tape on the back of the tag will still give it a bit of a 3D look. I also threaded the baker's twine through the hole at the top of the tag before placing it onto the card.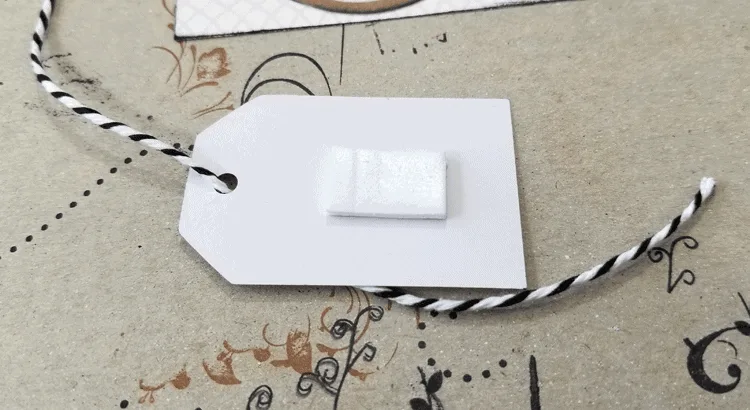 Place it where it looks best on the card/butterfly then wrap the ends of the bakers twine to the back of the piece and tape them down.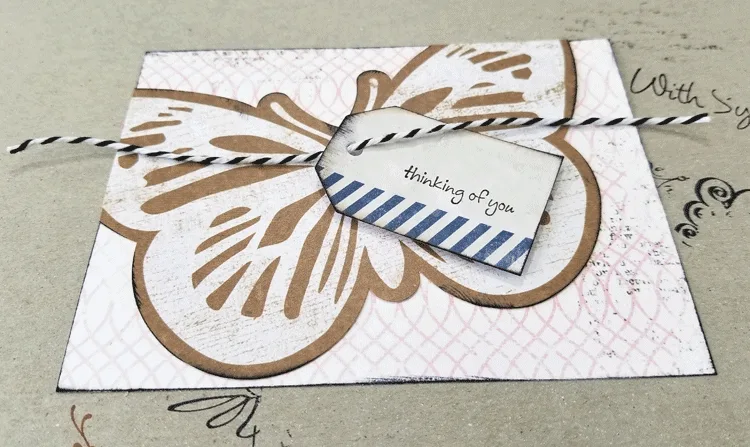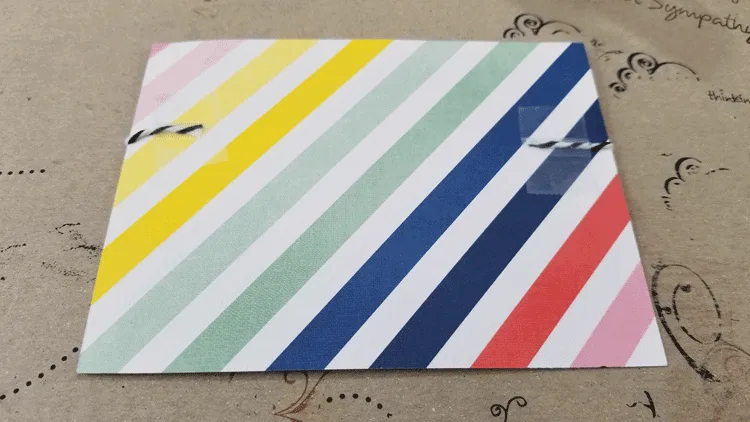 Finishing Up!
Now the only thing left to do is to add this piece to the card base.
Both cards turned out really nice. See how easy it is to make your own handmade sympathy cards?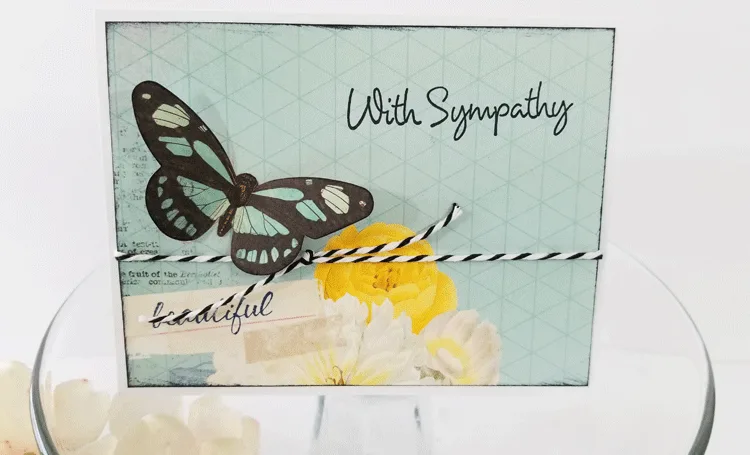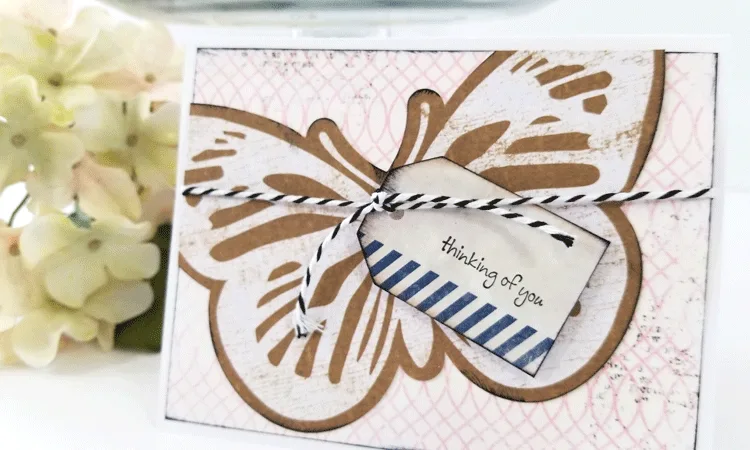 I hope you enjoyed this post and will make some handmade sympathy cards of your own.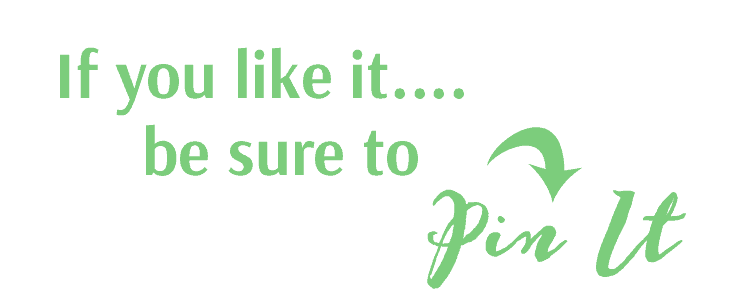 Thanks so much for stopping by! Don't forget to subscribe to my You Tube Channel and if you would like to see some more of my projects or my favorite product recommendations you can click on the topics below.
See you next time,
Michelle