Here we are again for the second Thrift Store Upcyle challenge of 2018. I love these posts. They are so fun. This time I have some farmhouse upcycling ideas for the home. One glass bottle and a cookie jar that I have painted and re-created into useful and fun decor items.

Thrift Store Challenge
Each month we get together to show off our up-cycled, thrift store projects. Thank you to Amanda from Domestically Creative for putting this together. She makes it so easy for the rest of us!

The Rules:
Upcycle an item(s) from a thrift store, resale store, or garage sale into a new piece of decor.
There's no monthly theme.
There's no budget to stick to.
Meet the Hosts
Amanda | Domestically Creative
Angela | Simply Beautiful by Angela – Jeanie | Create and Babble
Molly | Just a Little Creativity – Victoria | Dazzle While Frazzled
Marie | The Inspiration Vault – Michelle | Michelle James Designs
Shirley | Intelligent Domestications – Gail | Purple Hues and Me
Jennifer | Cookies Coffee and Crafts – Ann | Duct Tape and Denim
Michelle | Our Crafty Mom – Debra | Shoppe No. 5
Denise | My Thrifty House – Chelsea | Making Manzanita
Deborah | Salvage Sister & Mister – Habiba | Craftify My Love
Kathleen | Our Hopeful Home
Make sure you follow our board on Pinterest for more upcycled decor inspiration!
Farmhouse Upcycling Ideas For The Home
I have added in some affiliate links for your convenience. You can read my full disclosure here.
This month I went out to my garage and found two items I had purchased. One was a cookie jar and the other is a cute Hormel glass bottle. Here is the before photos. They were full of garage dust.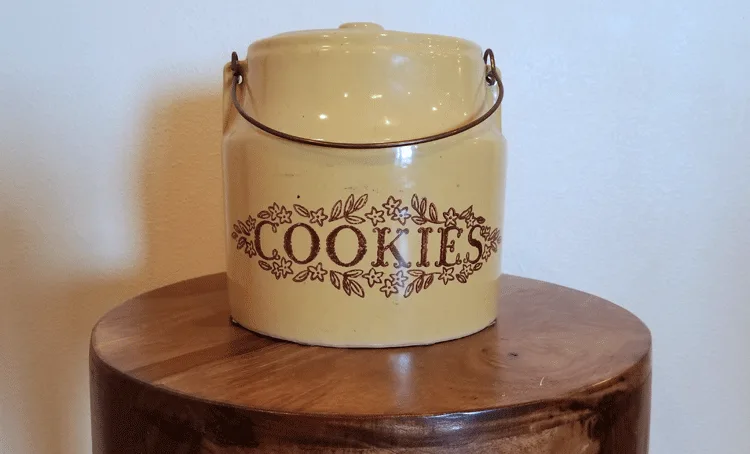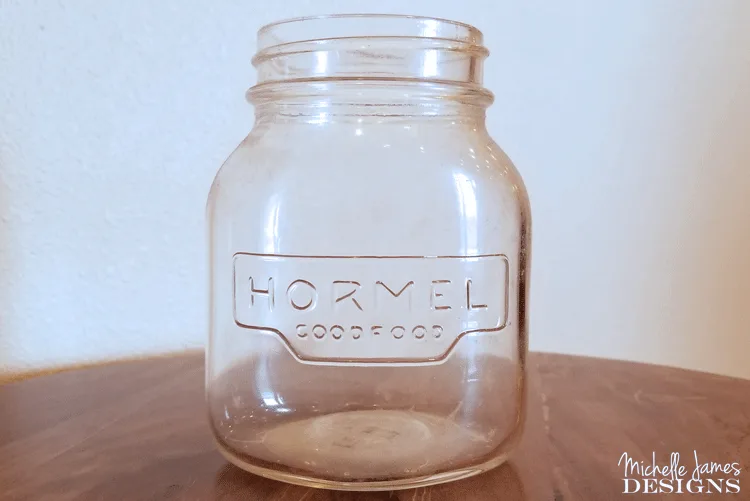 This is a really easy project to make on a snowy weekend when there isn't much else to do.
I used DecorArt products. First was the chalkboard paint and for the small bottle I used the chalky finish for glass and the white color is called Everlasting. I love these products!
The Cookie Jar
I knew I wanted to hide the "cookies" part of this and chalkboard paint is always great for hiding the bad things. You can see by this post that I have used this technique before.
I taped off the area that I wanted to paint and used three coats of the chalkboard paint letting it dry for about an hour in between each coat.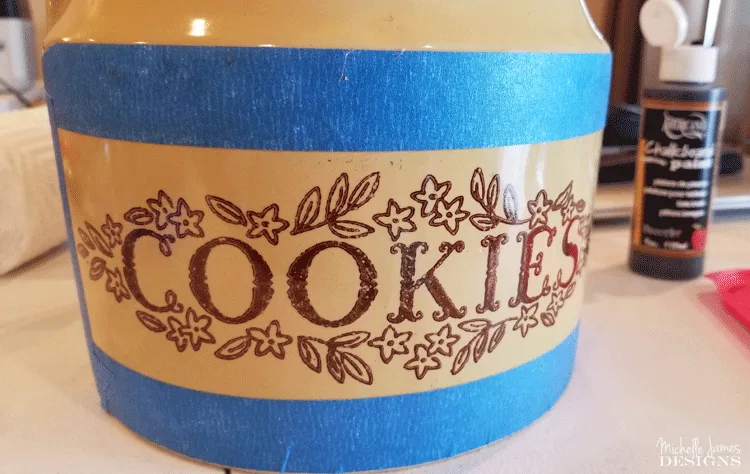 This was after one coat of the chalkboard paint.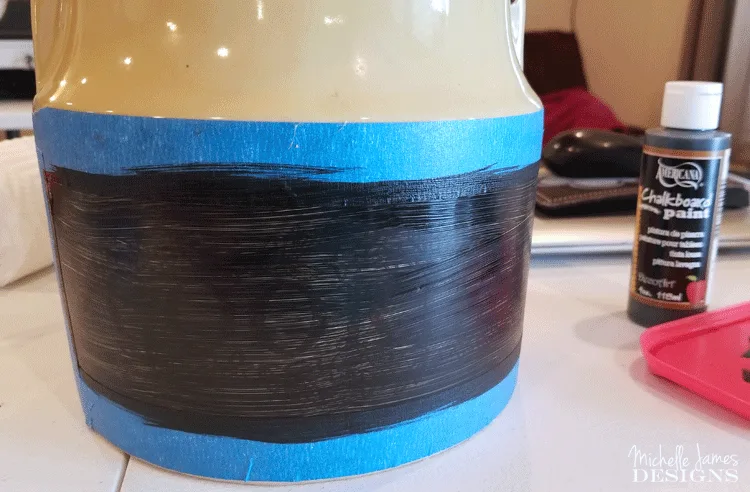 Then I used a chalkboard pencil to create my wording.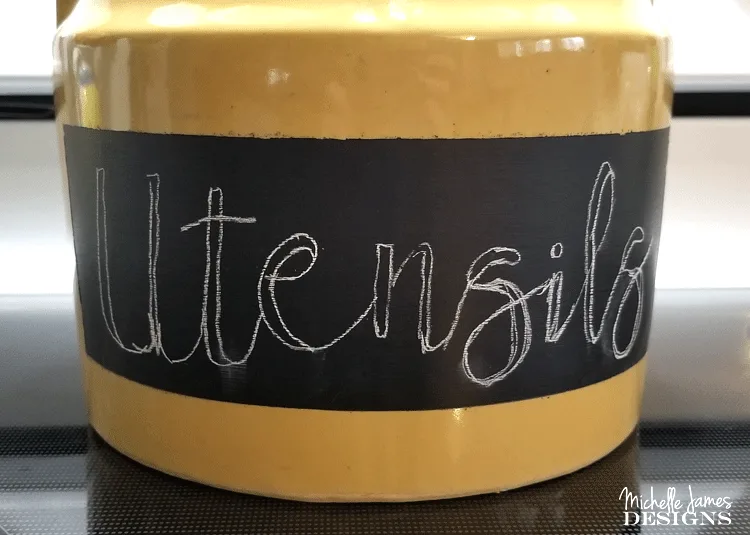 With a chalkboard marker, I fill it in. Here is the final result!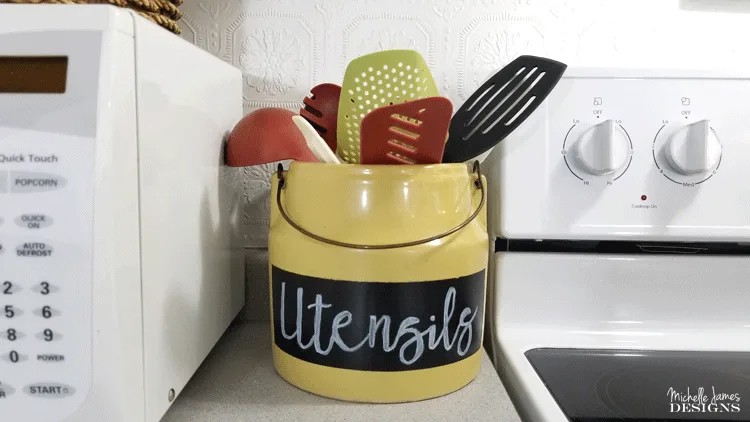 I think it turned out splendidly! And it fits nicely into my kitchen decor. Plus it is much bigger than our old utensil holder and we like having the extra room.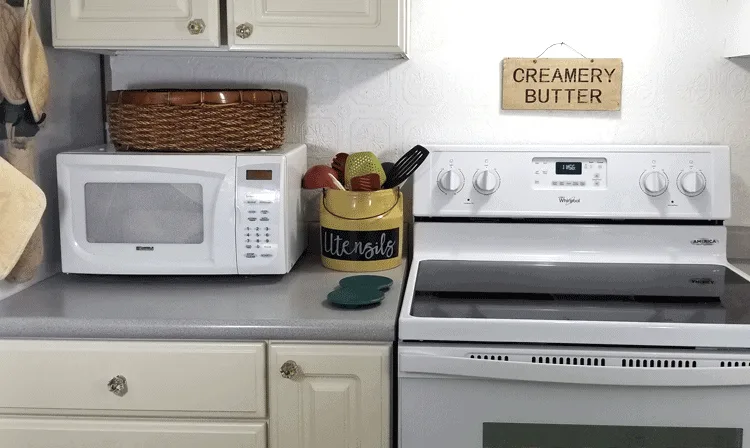 The Glass Bottle
I loved this little bottle and I cannot remember where I got it. I think it may have been given to me. The chalky finish for glass was perfect for this because I wanted it to be white. It is perfect with a little distressing too. I followed the instructions for baking just so it would last a little longer and just in case I needed to wash it but it will be used mainly as a vase.
I painted three coats of the white (Everlasting) chalky finish paint. This was after the first coat.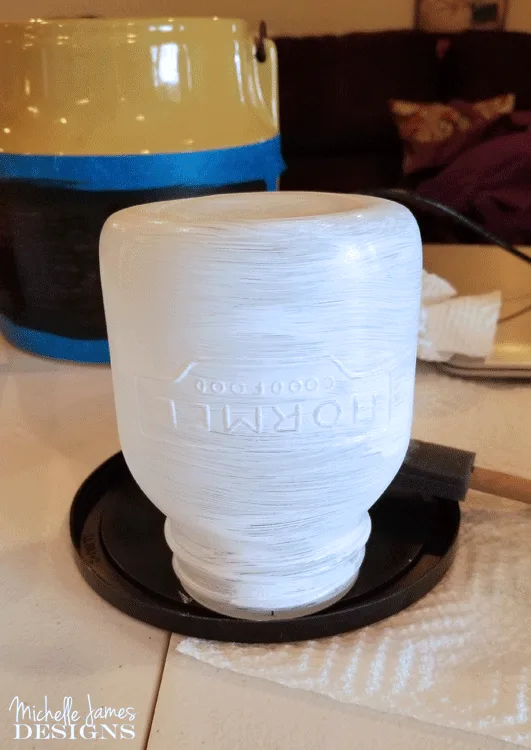 But after two more coats and a bit of sanding it came out really cute.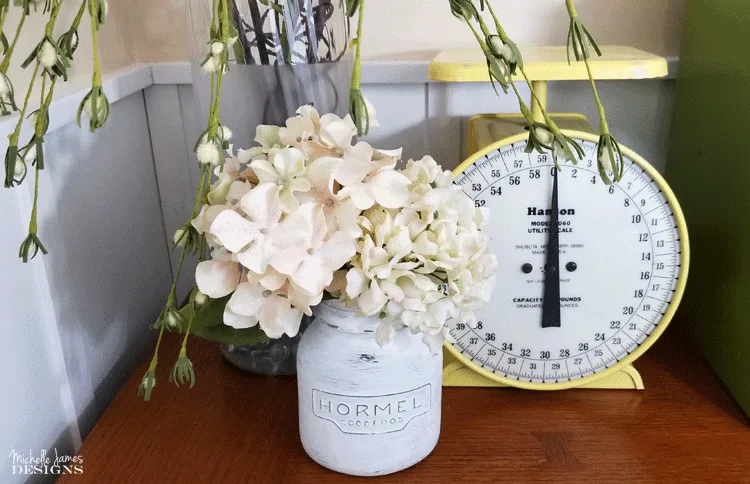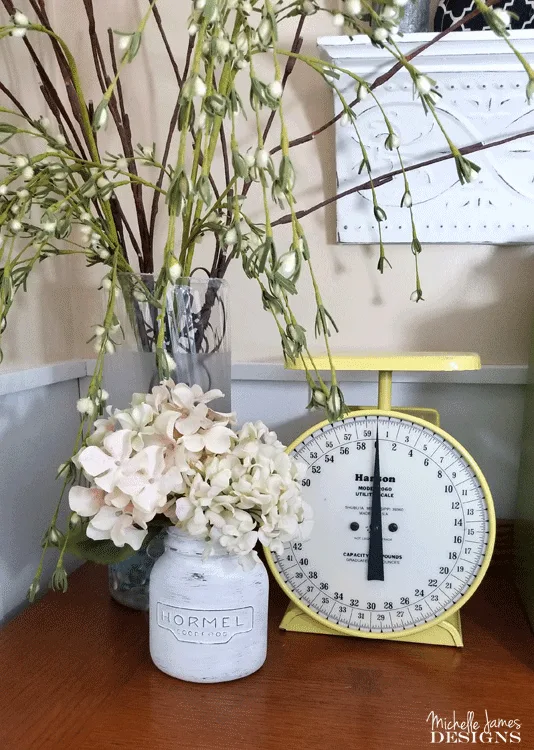 I love both of my new home decor pieces. I have had a lot of comments about the fun farmhouse scale next to the bottle. It was so fun. I would love you to head over and read about it too!
I have other farmhouse upcycling ideas for the home too. Check out my recipe book/table holder, these cute ceramic milk bottles, and this awesome farmer's market sign. All were upcycled from thrift store or garage sale items.
This was another fun post for me. I hope you liked it too.
Thanks for stopping by!
Michelle


And now for more thrifty goodness!
Check out what my fellow upcyclers created below!