Hi! It's day 11 of the 12 Days Of Christmas Blog Hop. Have you followed along for all 11 days so far? Yay! Today we are focusing on our outdoor holiday porch decor. I don't do a lot of indoor or outdoor decor but I do place a little bit of fun by my back door. I think it is festive and fun.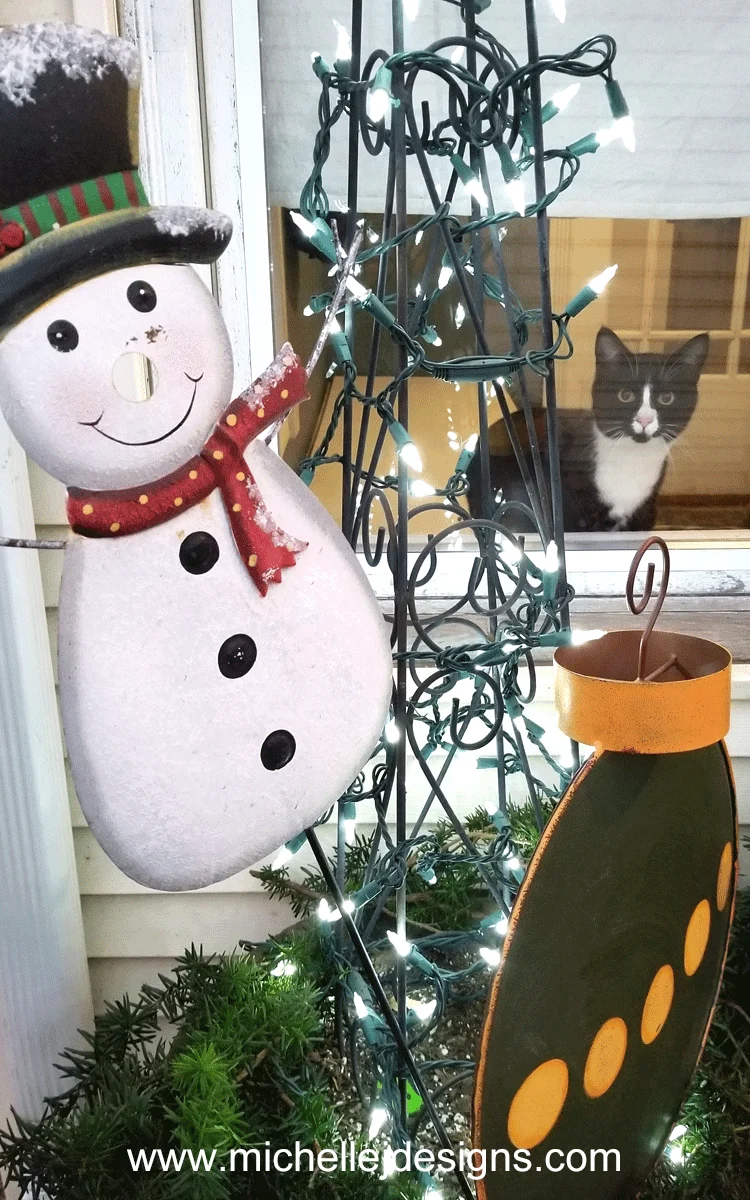 Welcome to the third annual 12 Days of Christmas Blog Hop!
Stop by every day from December first through the twelfth for new ideas you can use to make your season brighter!

Meet Your Hosts
They have all been busy as Elves creating, decorating, cooking and crafting tons of new ideas for you to try this holiday season!
Shirley~Intelligent Domestications I Alli~An Alli Event I Michelle~Our Crafty Mom I Marie~DIY Adulation
Erlene~My Pinterventures I Beverly~Across The Blvd. I Debra~Shoppe No. 5 I Victoria~Dazzle While Frazzled
Megan~C'mon Get Crafty I Michelle~Michelle James Designs I Amanda~Domestically Creative
Deborah~Salvage Sister & Mister I Jeanie~Create & Babble I Sherry~Olives & Okra
Jenny~Cookies Coffee & Crafts I Emily~Domestic Deadline I Bonbon~Farmhouse 40
Leanna~Of Faeries & Fauna I Pam Larmore~P.S. I Love You Crafts I Kelly~North Country Nest I
Marie~The Inspiration Vault I Gail~Purple Hues and Me I Lynne~My Family Thyme I
Karen~Dragonfly and Lily Pads I Trisha~Blowing Away Out West Lorrin~Embrace The Perfect Mess I
Terri~Christmas Tree Lane I Sam~Raggedy Bits I Cyn~Creative Cynchronicity Valeria~Val Event Gal
Yami~The Latina Next Door I Tania~Little Vintage Cottage
Lauren~Wonderfully Made I Vanessa~DIY 180 I Kimberly~A Wonderful Thought I
Kim~Everyday Parties I Dru~Polka Dot Poplars
Creating Holiday Porch Decor
I like to have something festive to greet guests and myself at the back door. We only use the back door at our house. I am not really sure why we even have a front door. Maybe it is a small town thing but mostly I think it is because our driveway is in the back and the walk leads right to the back door.
A couple of years after we moved in we created a patio area with pavers and two steps up to the door. It was much better than the makeshift wood step that was there when we moved in. But over the years it has become a little worn. So dressing it up with some holiday porch decor helps make it look a little better.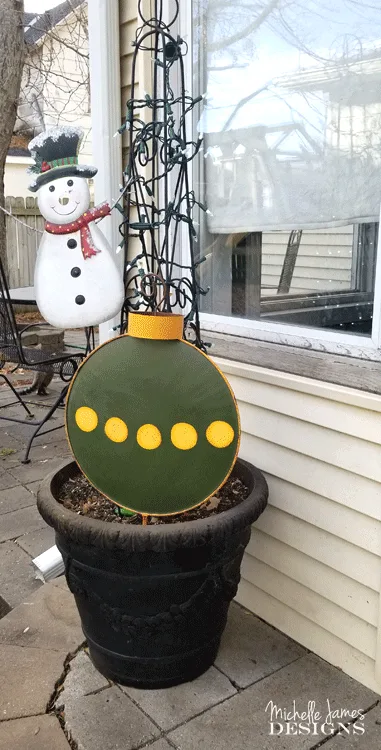 I started with a simple pot and my large metal ornament from Oriental Trading and my metal snowman. The light tree is made with a metal climbing plant support with lights wrapped around it. You could use a tomato cage as well.
It needed more.
My parents always let me cut as much greenery as I want so I headed over to their house. I cut enough to place some in a smaller pot and to add to the larger pot around the base.
Then I spotted this small chair/footstool in my garage that I had purchased at our local thrift store.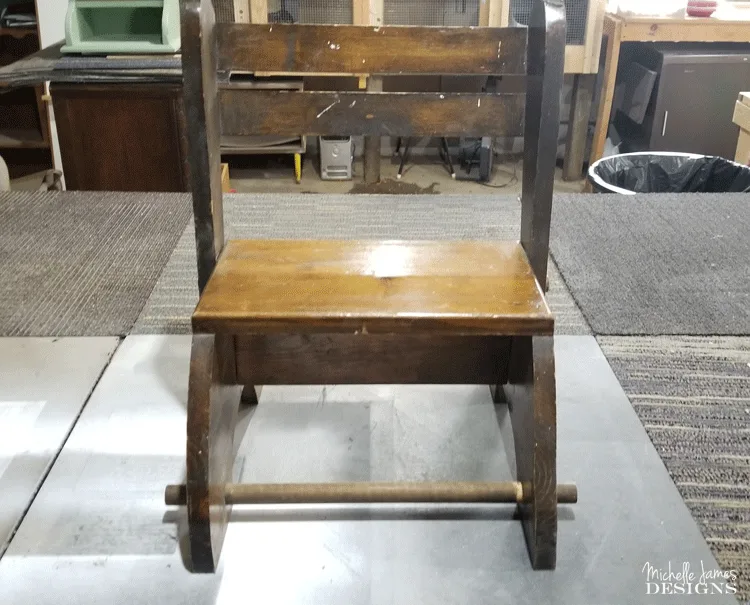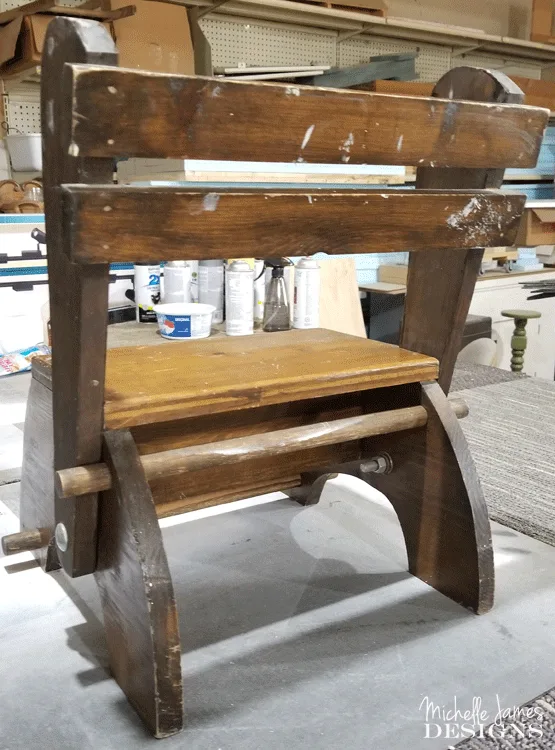 It needed a little work but I was up for the task. All I needed was my trusty spray paint. I used Rustoleum's Colonial Red after a light sanding. One coat was all it took.
The Final Look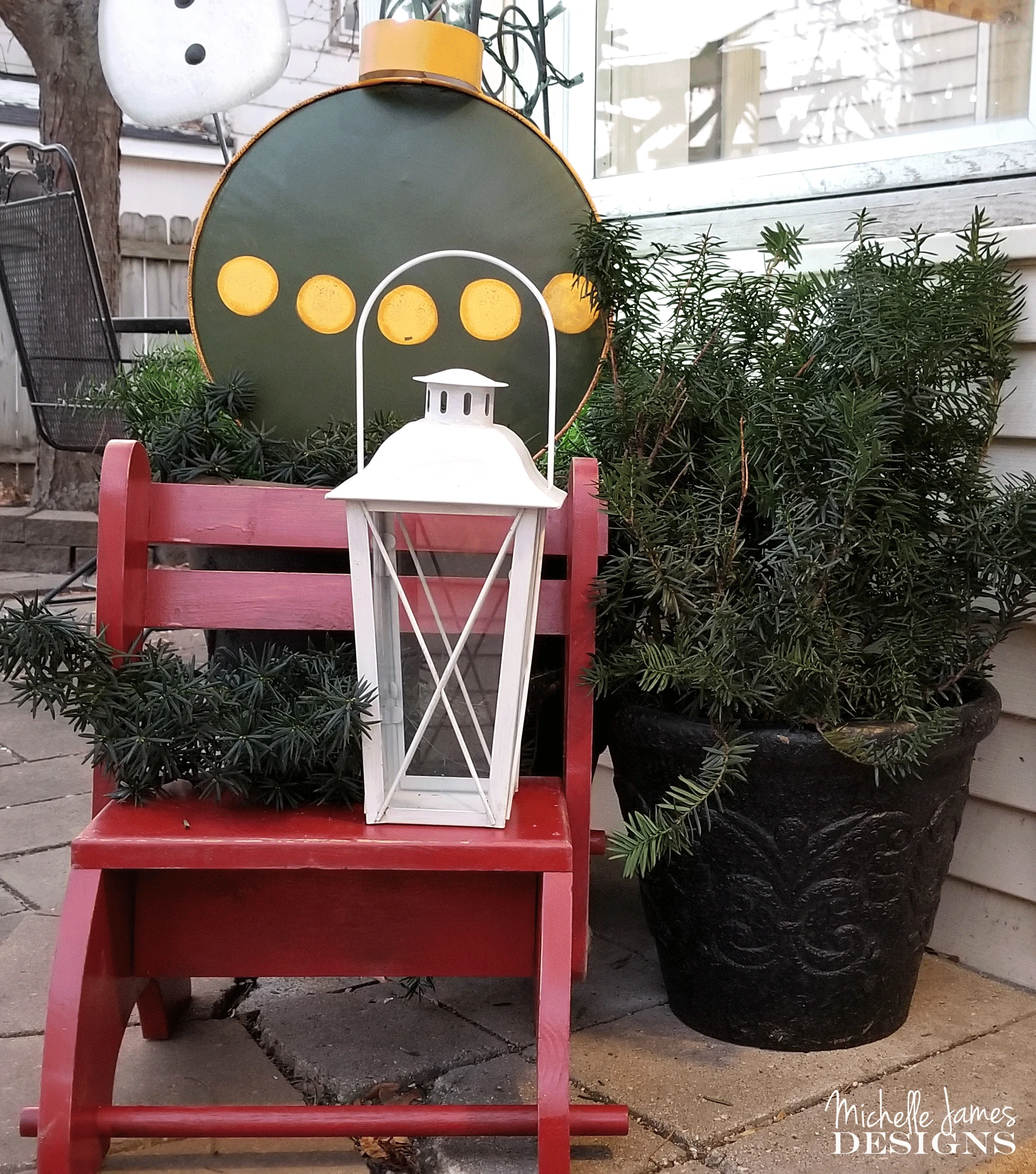 The red is the perfect color and I loved it way it turned out. The greenery is still a bit un-fluffed but will settle in after a few days. All in all I am happy with the way the holiday porch decor looks. I may decide to add to it later but for now…it is good.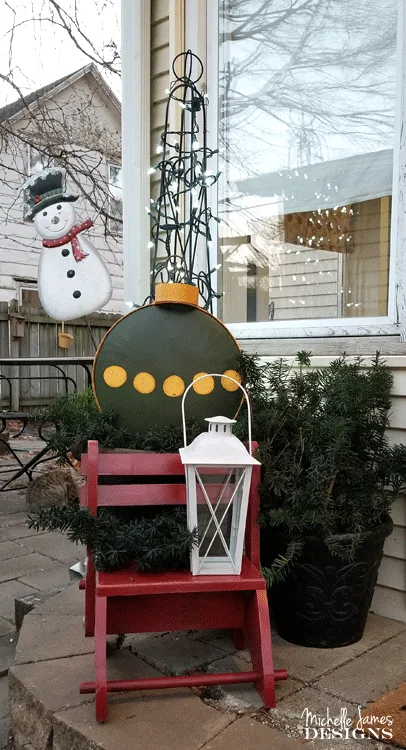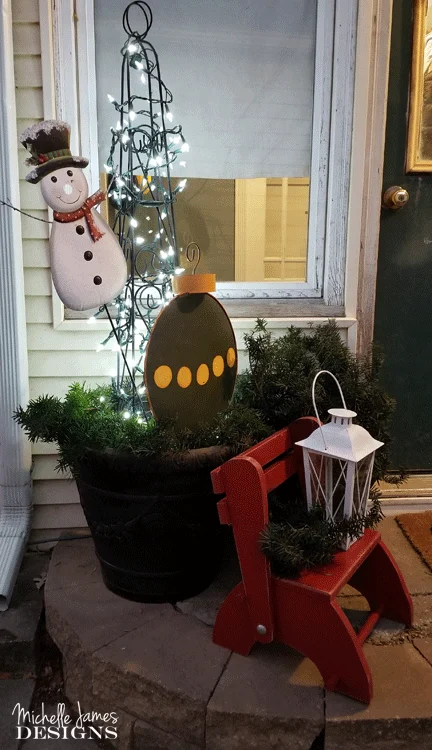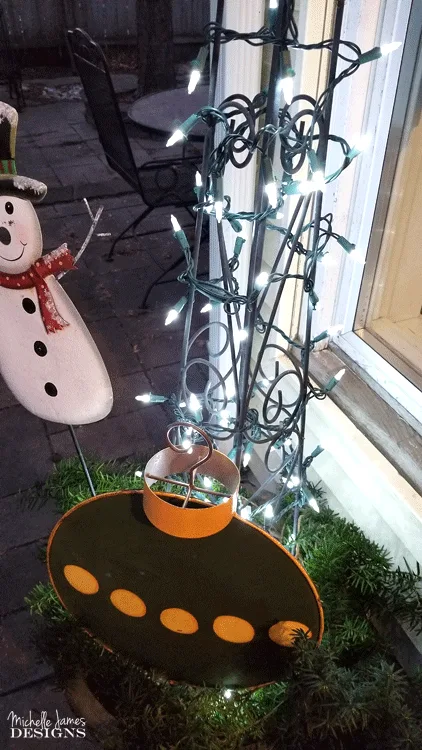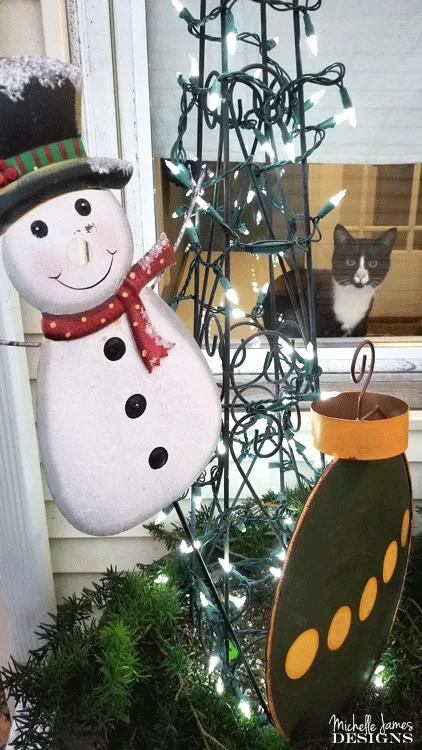 I would love to know what your porch decor looks like. It is fun to hear what others do.
Be sure to visit our fellow 12 Days of Christmas Bloggers below for even more creative ideas this holiday season!