Hello and welcome back to the blog. Today, I have a Cricut Maker tutorial for how to use muliple colors of vinyl on one design.
Have you ever seen these cute SVG files with many colors and wondered how does that work? Or, maybe you just thought it seems too had to try. Well, I am going to break down how this works. It is not hard and you will finally know how the Cricut cuts the colors and how to put them together to create a colorful, wonderful design.
Dollar Store crafts and gifts are one of my favorite things to make!
This is a sponsored post from StyleTechCraft. They are a vinyl company and have provided the opal and glossy vinyl and I am using today. I applied for a second year on their design team..that is how much I love their products. You need to try them. They cut so nicely and weeding is easy easy!
I wanted to make some water/yard toys for one of my grand daughter's birthday present so I picked up some Dollar Tree items. I got a bucket with a shovel, some digging tools and a little watering can but I wanted to personalize them.
Adding some multiple color vinyl designs was the answer to the personalize them as I wanted.
I did not do any layering. These designs have separate places for each color so they don't overlap.
Let's Get Started
If you like to see the tutorial and follow along with a video you can do that by clicking the video below and if you like it be sure to subscribe to my channel for more DIY tutorials and hit the notification bell so you can be notified when I upload a new video.
If you would rather read the tutorial then keep going and all of the steps and the materials are listed below!
How To Use Multiple Colors of Vinyl
I love these designs. They take just a little more time especially if you do a bunch at once like I did but it was sure worth it. These little Dollar Tree toys are now cuter than ever with some special personalization and multiple colors of vinyl.
Materials List
I have included some affiliate links for your convenience. You can read my full disclosure here.
How To Use Multiple Colors of Vinyl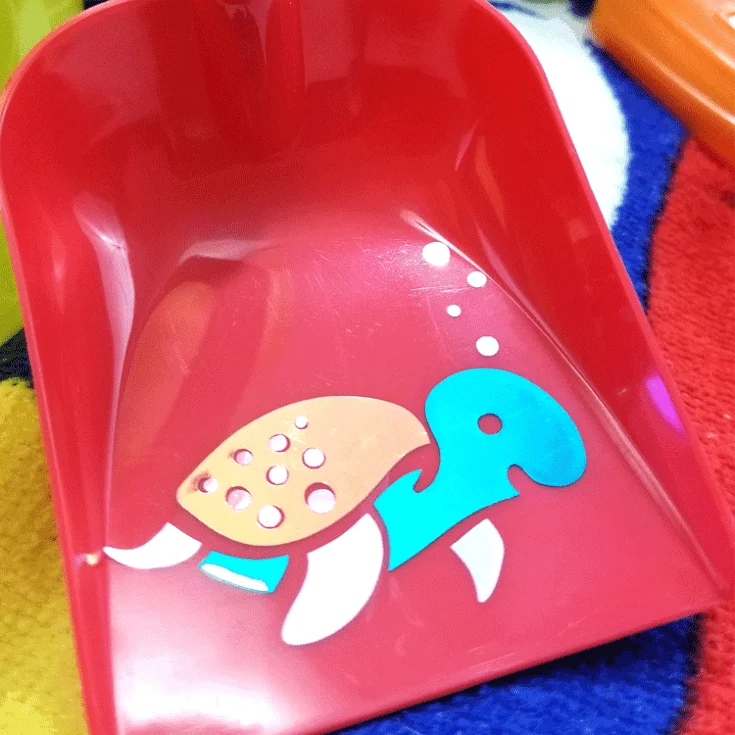 Using multiple colors of vinyl makes your SVG files come to life. It is easy to do too. This post will show you how to choose, cut and apply the designs for the perfect look.
Total Time
1 day
30 minutes
Materials
Tools
Computer - I use a Dell Laptop.
Instructions
Open Cricut Design Studio on your computer and click on Image on the left side of the screen.
This brings up a lot of categories for free and paid designs. I wanted sea animals so I clicked on Animals and Wildlife.
I chose one free design and 4 paid designs. They were .99 each.
Add them to your project. You can check them out before you purchase.
Once they are in your Design Space you can change the sizes and make them perfect for what you need. Most of my designs needed to be pretty small to fit on the little shovels and toys. This does make it harder to cut and weed so be patient. But if your designs are larger you will have no problems.
When they are perfectly sized you can hook up the Cricut Maker and click on "Make It". If you have used any designs that need to be purchased this is when you will be directed to pay.
After that is taken care of the machine will create a different color mat for each of the colors in your design.
Choose vinyl as your material used.
Keep the "default" setting for pressure
Add the color vinyl you want to the mat for the first set of cuts.
Load the mat and click the "cut" button
Once it is done, click the unload button and remove the vinyl piece.
Add another color vinyl to the mat for the second set of cuts.
Repeat these steps until all of the colors have been cut.
Weed the designs
Add transfer tape to the top of the designs
Start with one color, remove the backing from the design and place it onto the project.
Then move on to the next color and place it where it needs to be in relation to the first color. Repeat these steps until all of the colors are done.
TIP: Open the design on your computer as you are placing the colors so you know where they go. This was a life saver for me.
Sit back and enjoy your handy work!
Step 1: Search for designs you like
Cut designs can be found many places. I have SVG files in my Resource Library you can access, they can be found on many other blogs and on Etsy. But if you are a Cricut user you may want to try the library of Cricut designs.
To access this, fire up your computer and open Cricut Design Studio. Click "Image" on the left side of the screen.
This screen below will pop up and you can search for an image or click on a category. I decided to click on Animals and Wildlife.
A bunch of animals including the sea creatures I was looking for popped up.
Add the designs to your Cricut Design Space
I loved this whale with the hearts and it was free so I clicked on "Insert Images" at the bottom right of the screen.
TIP: If you want all free designs, click the plus sign next to "Ownership" on the left side of the screen then check the "free" box. You can see this in the photo above.
When I did this it added it to the Cricut canvas for editing.
But I wanted more designs. So I clicked on "Images" again and went back in.
I found four great designs that I wanted. This time they were each .99 cents. I chose them by holding down the Control Key (on a PC) and clicking each design.
You can also see that these designs do not have layered vinyl. The colors are cut to fit another color inside.
Step 2: Resize your designs and purchase if needed
Once you have the designs you like in your design studio you can resize them to the specific sized you need by clicking on the design and using the double arrow in the lower right corner of the box around the design. (now shown above)
The measurements of height and widths show along side the designs so you know exactly how big they are. You can also get a sense by the squares on the screen. Each one is an inch, just like the mats.
When I first started with the Cricut Maker and went into the design space I was thrown off by the measurements on the screen. My mat is a 12″x 12″ but the inches on the screen show a lot more than 12. Just be careful that you have your design within your mat size.
The little shovels were pretty small so these designs needed to be sized quite a bit to fit.
Step 3: Get ready to cut
Once your designs are sized properly you are ready to cut. Get your vinyl colors ready.
When you click "Make It" at the top right of the screen the Cricut will separate each color onto different mats on the screen. These are the pieces you will be cutting. And each cut is separate.
In the photo below on the left side of the screen you can see three of the nine different color mats.
Note: If you have used any paid designs like I did, this is when you will need to purchase them.
You can see at the bottom right corner of the photo below the amount and a green "purchase" button is showing. Click that button.
A screen will pop up to enter your information including name and debit/credit card info.
Once you make your payment the "Make It" button will show in the upper right corner and you are free to continue.
Choose your material – Vinyl
Then choose the default setting for the pressure.
Step 4: Start your cutting
I like to cut a piece of vinyl that larger than design I am cutting out. That way if, for some reason, the screen is off a little it won't go off the vinyl.
Place your vinyl in the upper left corner of the mat. The load button will be blinking on the machine. Load the mat.
Once it is loaded properly the cut light on the machine will be blinking. Press it to start the cut.
You can see the cut below.
Repeat this process for every color.
Step 5: Weed the designs and add transfer paper
This step is the most tedious, IMO. But it has to be done. LOL! So you want to weed the extra vinyl away from the designs then place the transfer tape over the top.
Keep them all together too. What I mean by this is don't cut the designs apart. For example, in the photo above the fish is at the top and the rest of the design is at the bottom. Keep them together because they fit perfectly into the rest of the colors. This is how the multiple colors of vinyl works.
You can trim close to the design if you want to.
Here are all of my little pieces that have been cut, weeded and now have transfer paper on top. I am ready to apply them to my projects.
Step 6: Adding the designs to the project
When all the pieces have been weeded we are ready to place them on our projects. I am not going to lie, I pulled up the design on my computer so I had it to look at when I was placing everything. It was easier to see where the multiple colors of vinyl were supposed to go.
I started with Harper's little sand bucket.
First I sort of laid out the design to get it centered on the side.
The whale was first along with the blue hearts.
Peel the backing from the design and place it where you want it on the project.
Then do the same with the blue hearts.
Continue with all of the different colors of vinyl hearts until they are all placed.
Aren't they cute?
Next I added Harper's name. I used the same color pink glossy vinyl as the pink hearts.
I just love it and the multiple colors of vinyl really make it stand out.
Keep Going1
I repeated this process for all of the other toys I wanted to make.
I had one more design for the little watering can.
This little bit has nothing to do with adding vinyl to projects but to remove a sticky label that WILL NOT come off. The UnDo did the trick.
After it is saturated, scrape it off with the little scraper thingy that is provided with the bottle.
It worked like a charm! And I was able to add my design on a clean surface.
They all turned out so cute.
Harper loved them and used them right away in her new pool.
I hope you liked this post and learned a little bit, or a lot about adding multiple colors of vinyl on projects.
If you have questions, be sure to leave them in the comments and I will answer as soon as possible.
Be sure to follow StyleTechCraft on their social media channels too. Just click on the links below to do that.
Facebook, Instagram, Pinterest and You Tube
Thanks so much for stopping by!
Michelle
From My Etsy Shop