Hi there! We are smack into fall already. It seems so hard to believe. Anyway fall projects are definitely on my list these days and this one does not disappoint. Check out my glitter orange glass pumpkin! It is sooooo fun and I cannot wait to show you how I made it.
If you are a glitter lover you will enjoy this project. It is a little bit messy but that is part of the crafting fun…am I right? The result is a glamorous glass pumpkin that is sparkly and fall decor ready.
And, if you love working with glass in your crafting then you will want to see all of my painted glass projects!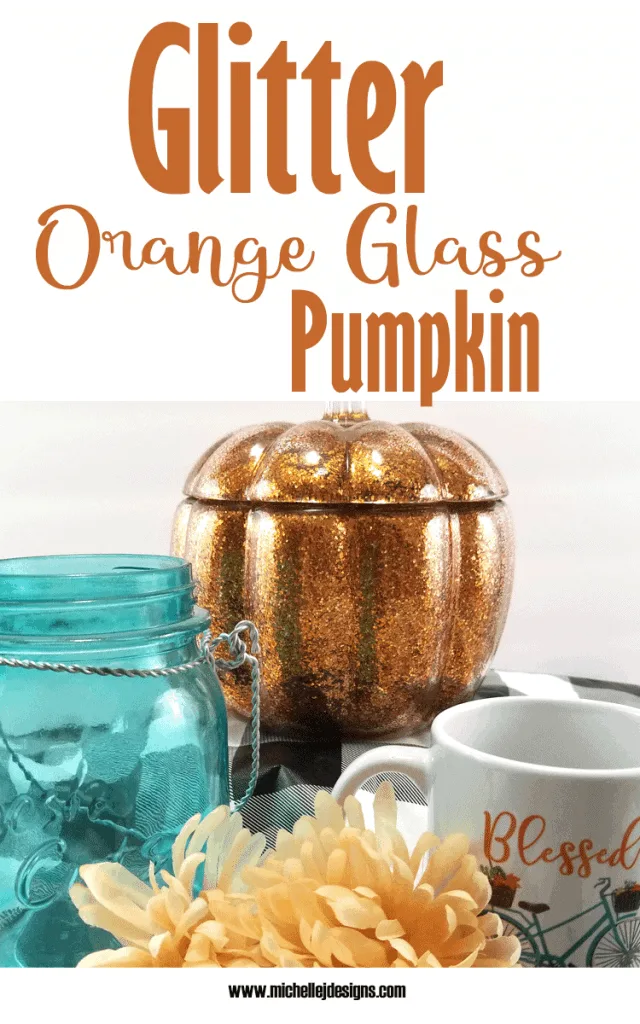 Materials Needed
I have added some affiliate links for your convenience. You can see my full disclosure here.
Orange Glass Pumpkin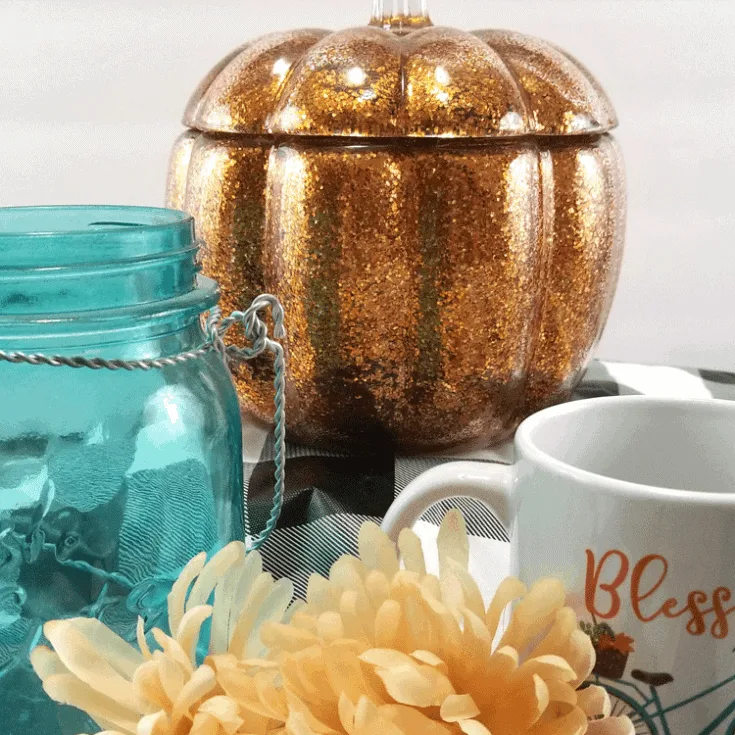 Use polycrylic and glitter to create this amazing glitter orange glass pumpkin for your fall decor! It turned out so pretty.
Total Time
8 hours
20 minutes
Tools
Paper Plates
Paper Towels
Instructions
Be sure the glass pumpkin and lid have been washed are are clean and ready to go.
Gently stir the polycrylic and add a small amount to the inside of the pumpkin.
Pick up the pumpkin and roll it around until the poly had covered the entire inside. If you need more, just add a bit more.
If there is an excess amount left in the pumpkin when you are done, pour it back into the can or pour it into the lid to cover it.
Use the paper towels to wipe off any excess poly from the top edge and/or outside. (it is a little messy)
Repeat this process for the glass lid.
Place upside down on a paper plate and let it drain for about 5 minutes.
While the poly is draining, mix some of the orange and gold glitter together in a small container
Add some of the glitter mixture to the pumpkin and roll it around until it has covered the entire inside. Use paper towel to wipe off any excess glitter.
Repeat this process for the lid.
Let both the pumpkin and lid dry for about 8 hours or overnight.
Recommended Products
As an Amazon Associate and member of other affiliate programs, I earn from qualifying purchases.
Glittered Orange Glass Pumpkin
Are you ready to get this orange glass pumpkin done? Let's get to it.
If you love a step-by-step video then click on the link below for my You Tube video. BE SURE TO SUBSCRIBE TO MY CHANNEL WHILE YOU ARE THERE.
Step 1: Gather your supplies
You will need a clean glass pumpkin, the polycrylic and your glitter.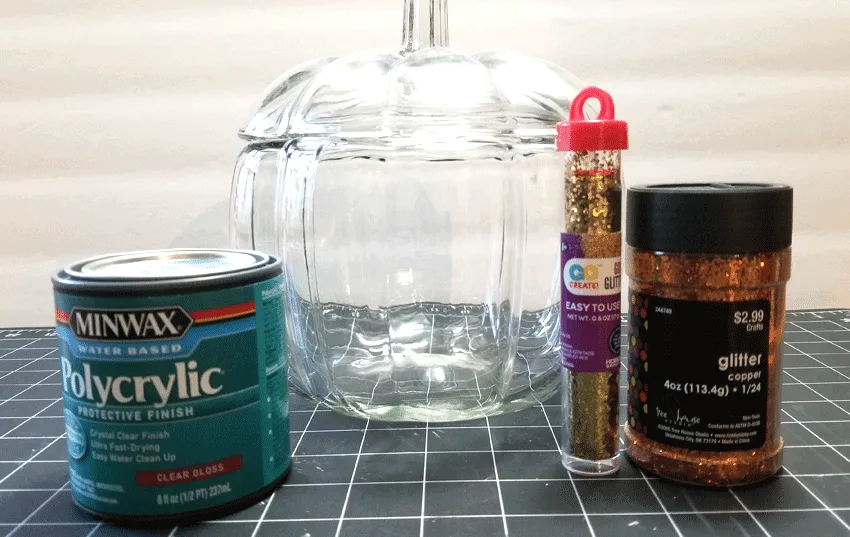 I shared links to Amazon for the supplies just in case you don't want to go out or you don't have a Hobby Lobby or Walmart close by.
My glass pumpkin came from a thrift store. I have actually found a couple of them at thrift stores so check there for an inexpensive option.
The orange glitter was from Hobby Lobby and my gold glitter I purchased at Walmart. So you have some options.
All of the tutorials I have seen (after I purchased my glitter) were to use fine or extra fine. I didn't know that. My glitter is not fine but it is not really chunky either. It worked just fine and I love it.
Avoid the large chunky kind though. It may not move around as easily in the polycrylic.
You will also need two paper plates to drain the polycrylic and some paper towels to wipe off excess stuff.
Now we are ready to start.
Step 2: Add the polycrylic
Open up the polycrylic and give it a gentle stir. Just slowly stir it to avoid making air bubbles.
Pour a little bit of the polycrylic into the pumpkin.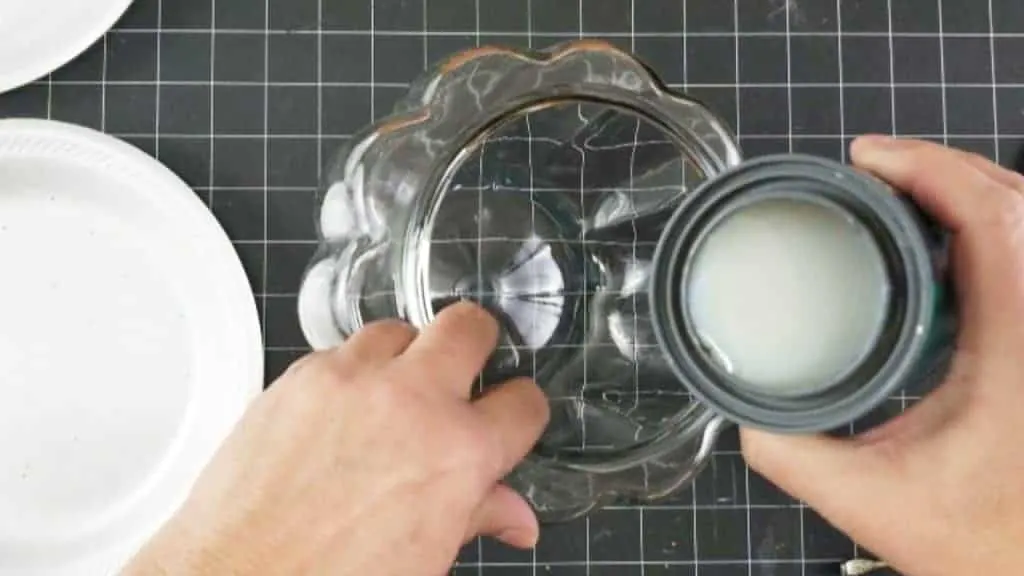 Spin the glass pumpkin in your hands so the poly moves around and coats the inside of the glass.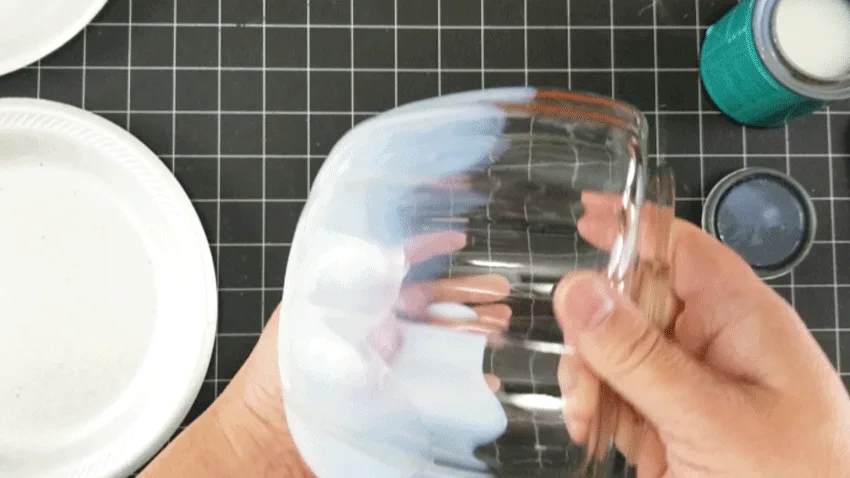 As you spin the pumpkin tilt it a little bit. This allows the poly to move toward the top of the pumpkin. Do this until it is covered fully.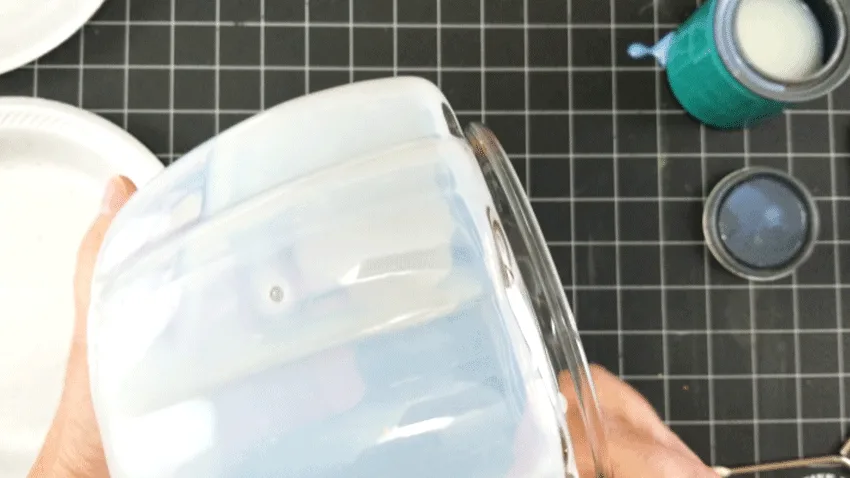 Once it is fully covered, you can use a paper towel to wipe off any poly that is on the outside of the pumpkin or in any places you don't want it. (I managed to get it on my fingers which then transferred to the rim and the outer edge.)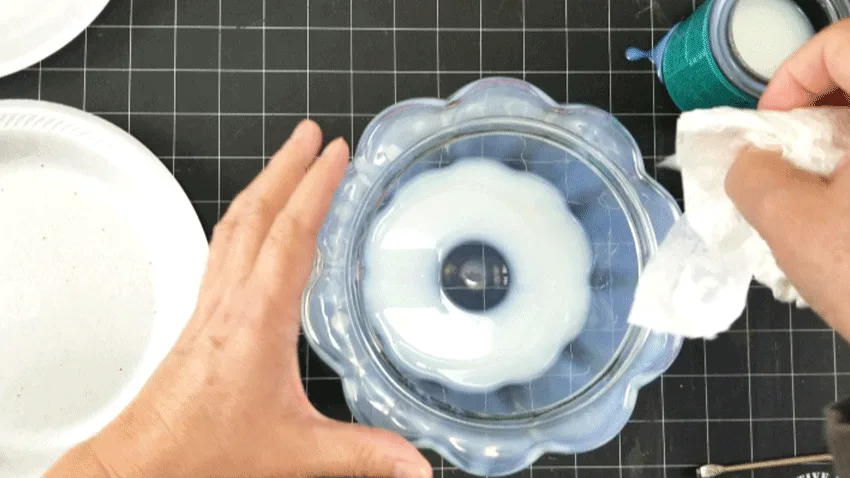 Pour out the extra poly back into the container or into the lid of the pumpkin to use there.
Repeat these steps for the lid.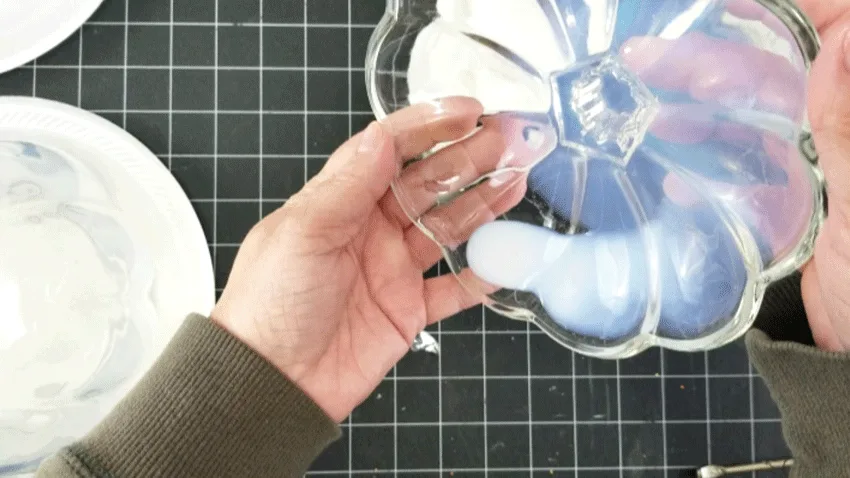 Once you are done set them each on a paper plate and let them drain for about 5 minutes or so.
Step 3: Glitter time
While the polycrylic is drying take the orange and gold glitters and mix some together in a small container.
I wanted a nice mixture of the two. I added more orange than gold then stirred and mixed them together.
When the pumpkin is ready, add some glitter to the bottom and and basically use the same swirly, spinny action you used for the poly.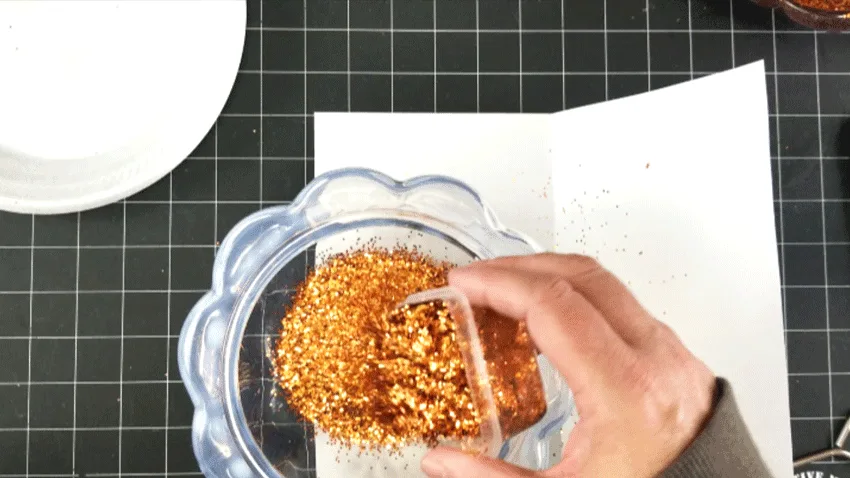 Keep spinning the pumpkin until the glitter has been added the the entire inside. You may need to add more glitter as you go.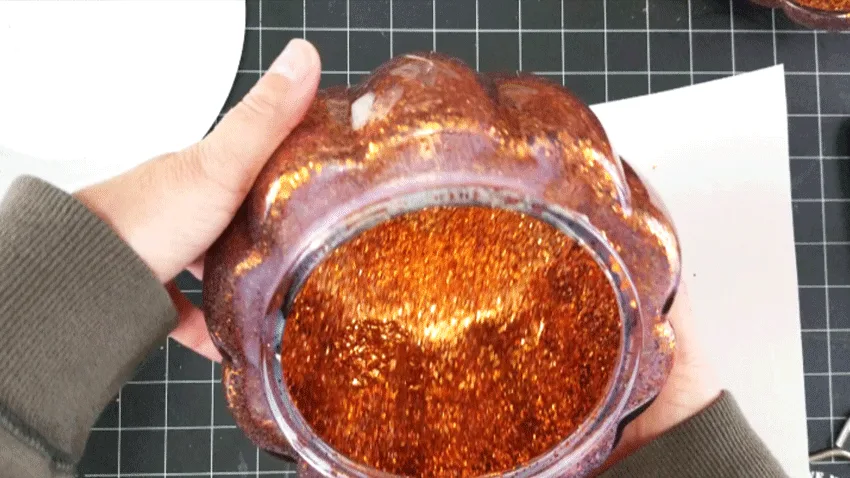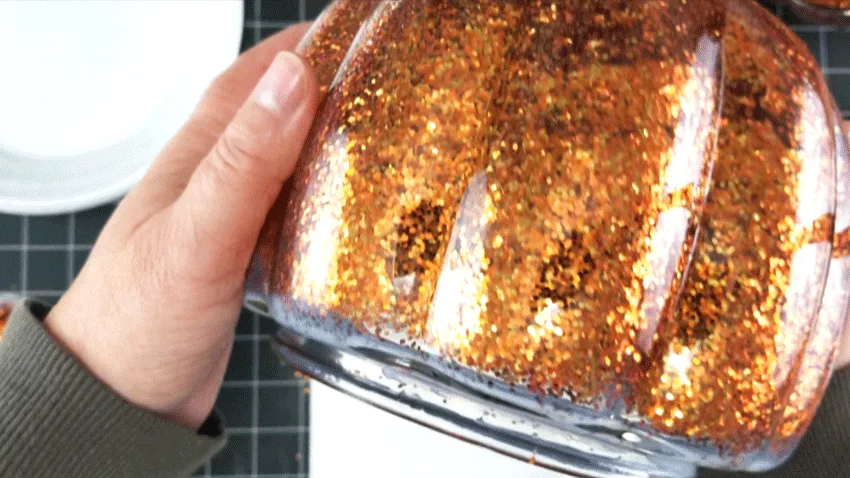 Shake out any extra glitter onto a piece of scratch paper so it can be added back into the glitter container.
Wipe off any excess glitter outside of the pumpkin with a paper towel.
Repeat this process with the lid.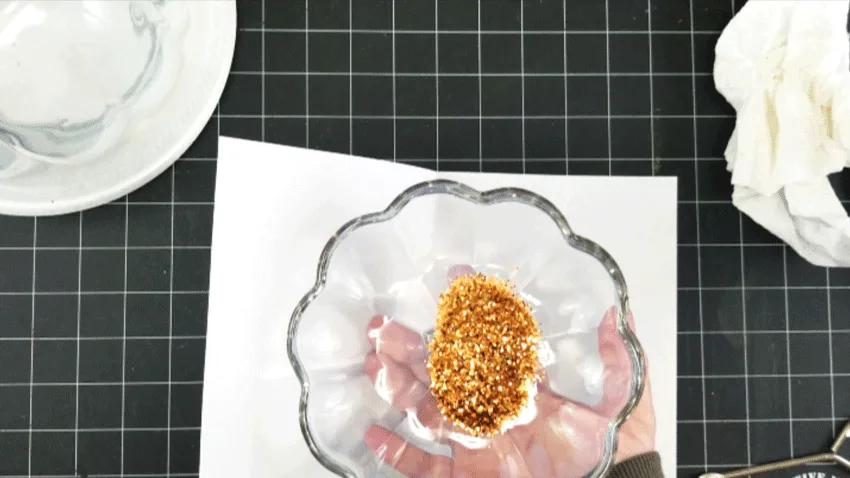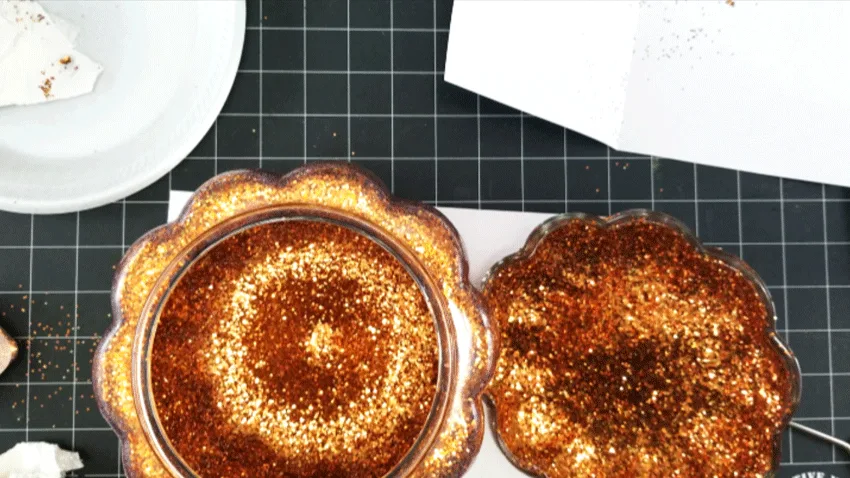 Once everything is fully covered in glitter set them aside and let them dry for at least 8 hours. I let mine sit overnight.
In the morning I still had some loose glitter. I just tapped the extra out and they were ready to do!
And I love the way they turned out.
What do you think?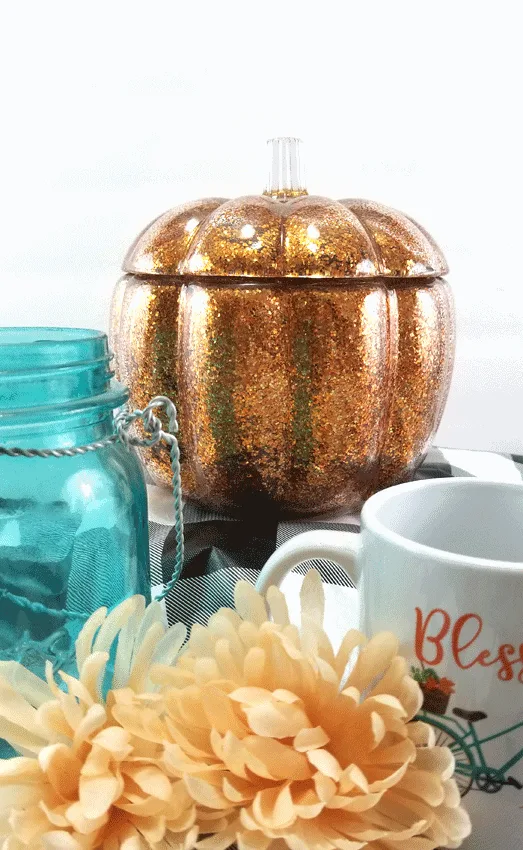 Right now I have it with my Halloween decor but I can't wait to decorate my tiered tray for fall and place it next to it.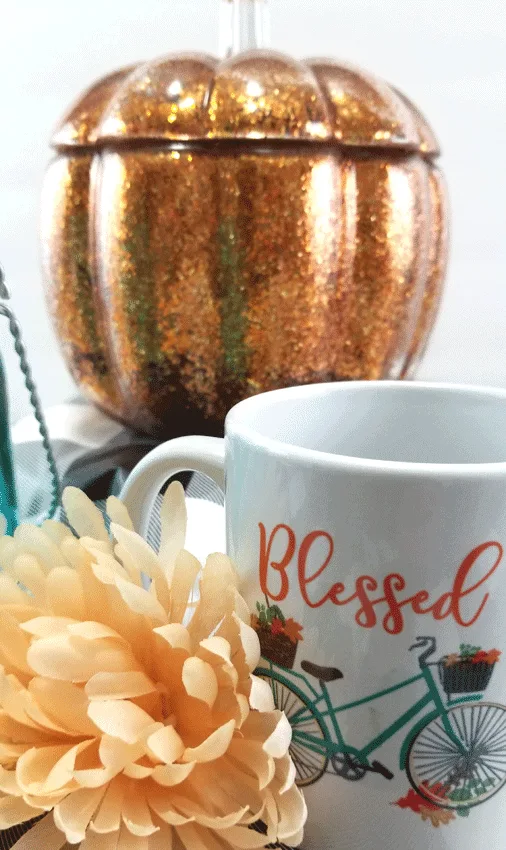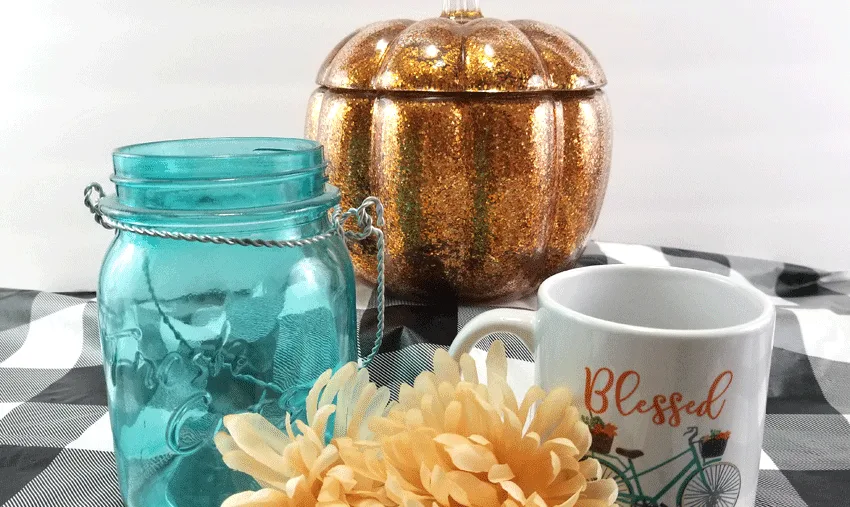 I hope you are inspired to try this glitter project. You don't have to start out so large. Try some glass ornaments or even the plastic ornaments from the Dollar Tree.
You will love the way they turn out.
Thanks so much for stopping by!
Michelle