I am back today with a small update to my pantry organization project. I have created some organizational boxes from diaper boxes.
I am not coming along very quickly but that is okay. I just want it to be right and done exactly the way I want it so that I will keep it that way for good.
I have used diaper boxes in the past for organization projects like the ones I now have in my kitchen drop zone area. For those I used fabric to cover the boxes.
This time since I wanted to be able to wipe them off and such I used contact paper from the dollar store. I covered the boxes then added some labels I designed in Photoshop Elements.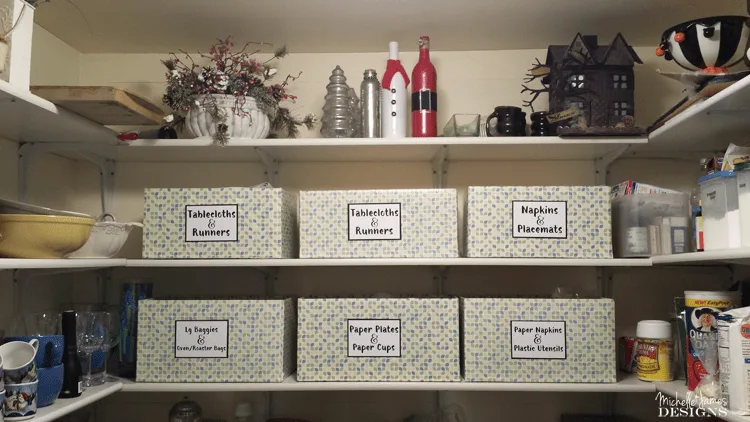 Organizational Boxes from Diaper Boxes
I need to cover a lot more boxes for all of the "stuff" that I have but have run out. I am calling out to my local mommies or grand mommies for more Luvs brand diaper boxes. The boxes on the top are size 2 I believe. They are slightly shorter than the ones on the second shelf. I am a little OCD and really want to have the same height boxes on the same shelves. It just looks better that way…don't you agree?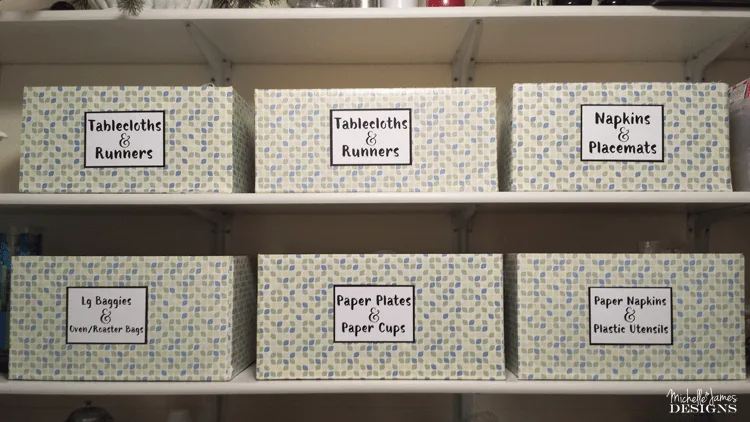 On the smaller sides (ends) of the box I measured the width and the length and added 2 inches to each measurement so that all of the ends would wrap around the corners of the box and the top flap. I did not cut off the flaps. They are covered then pushed down into the box. I thought they would be stronger this way. We will be pulling them down off the shelves and they just seemed sturdier.
I measured the wider sides (front and back) just slightly smaller than the actual width but added an inch to the top and bottom so it would overlap those areas. After I had the measurements I cut the pieces from the contact paper.
When applying the paper to boxes I started with the smaller ends then went on to the wider sides. I had some left over pieces that I used for the bottoms of the boxes.
I made some labels using Photoshop Elements and printed them onto sticker paper. I cut them out and stuck them to the front of the box.
I think they look pretty good and I can't wait to continue.
This pantry re-vamp may take me a while but it will be pretty when it is done.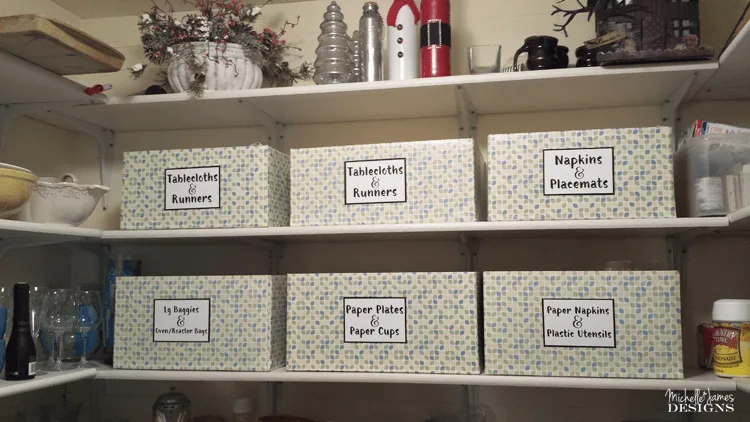 Have a great day!