This is an issue for most people… organizing Project Life supplies. If you are using the digital version (which we will go over on Thursday) this isn't such an issue unless your external hard drive is filling up like mine. But with traditional products there are 3×4 cards, 4×6 cards, page protectors, photos and all of the embellishments you use. So how do we store all of these things?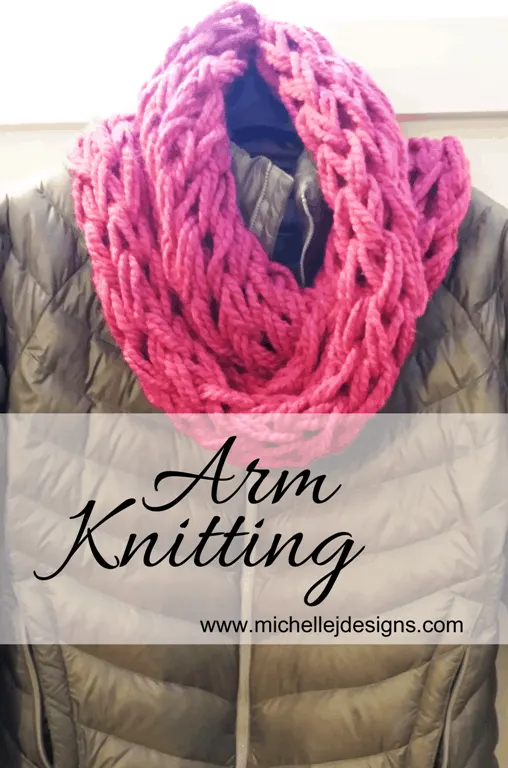 Organizing Project Life Supplies – Traditional
When you use the traditional version of Project Life you have the physical product to store and organize. I have seen so many great ways to organize all of the fun cards and embellishments on Pinterest so I thought I would start there. Since I currently use the digital version I cannot show you my space until I show you my computer screens. LOL!
1. Rolling Cart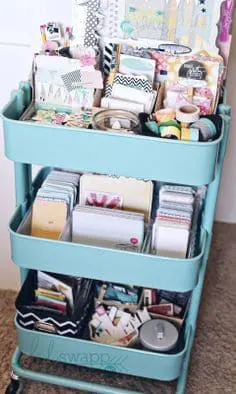 Pinterest via Life of a Scrapaholic
I am so in love with this IKEA – RASKOG Kitchen cart and I love the turquoise color but it does come in white, beige, & grey too. I have a friend who just loves hers and uses it just for organizing Project Life supplies. This is nice so you can roll the cart out of the way if you need to.
2. Desk or Table Options
This gal found a cassette tape holder at a flea market for super cheap and used it. If you can get lucky enough to find one (maybe ebay) I really like this idea.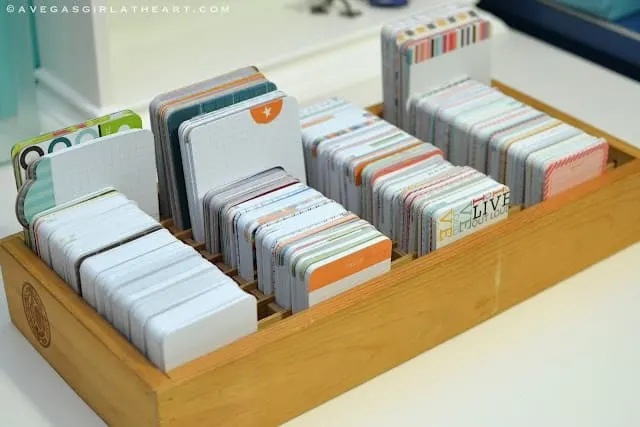 Pinterest via A Vegas Girl At Heart
Then I found this one. I don't see it on Amazon so you may have to actually go to an Ikea store for this one. But it says it is the tray that fits into the Ikea Roskog cart. So this would be a great option for the desk.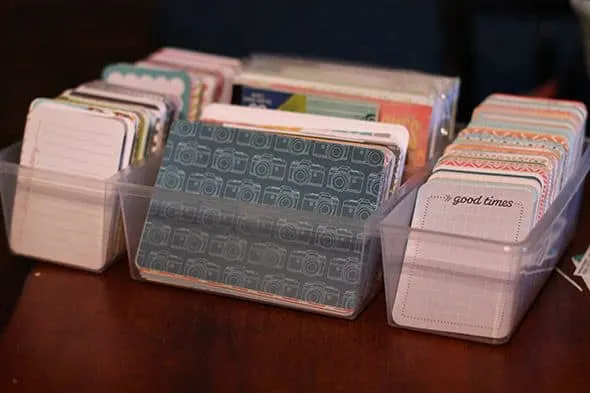 Pinterest via The Mom Creative
3. Shelving Storage
This gal uses plastic shoe boxes and it looks so easy. I would enjoy just having these on my shelves to look at. LOL!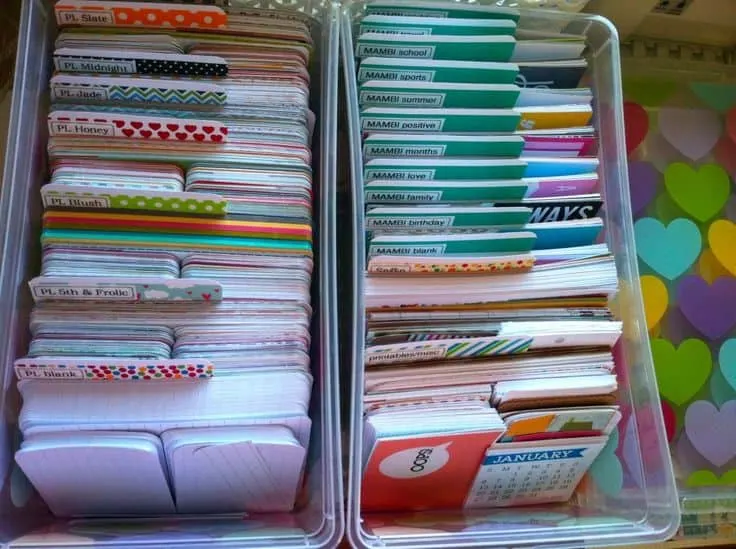 Pinterest via Scrapbook Obsession Blog
She also mentions how easy these are to pack for a scrapping retreat. I love when I don't have to repack everything. Just pick up the container and put it in your rolling tote, etc. I really liked these as well. I love a drawer and they are a great price at $38 for a set of ten.
So these are the wonderful ideas for organizing Project Life supplies on Pinterest. I love all of them. How do you organize your Project Life cards?
Be sure to join me on Thursday for storing digital Project Life supplies. I will show you my system.
This post may contain affiliate links. If you click on the link and make a purchase I will receive a small commission.
Thanks so much for stopping by.
I am linking up today at: