Hello and welcome back to another Thrift Store Challenge! I love a good upcycle and this month I did something really easy but fun for my crafty space. If you love Rae Dunn then you will love my Rae Dunn inspired craft storage containers. I chose some words that are quite horrible if you really want great organization but I am going to put some sewing supplies in these containers and I sew quite often so I will remember what is in them. If you wanted something more specific you could definitely make different labels using the same font and get the same look. It is all about personal preference. Let's get started with this fun recycle-upcyle project.
Thrift Store Challenge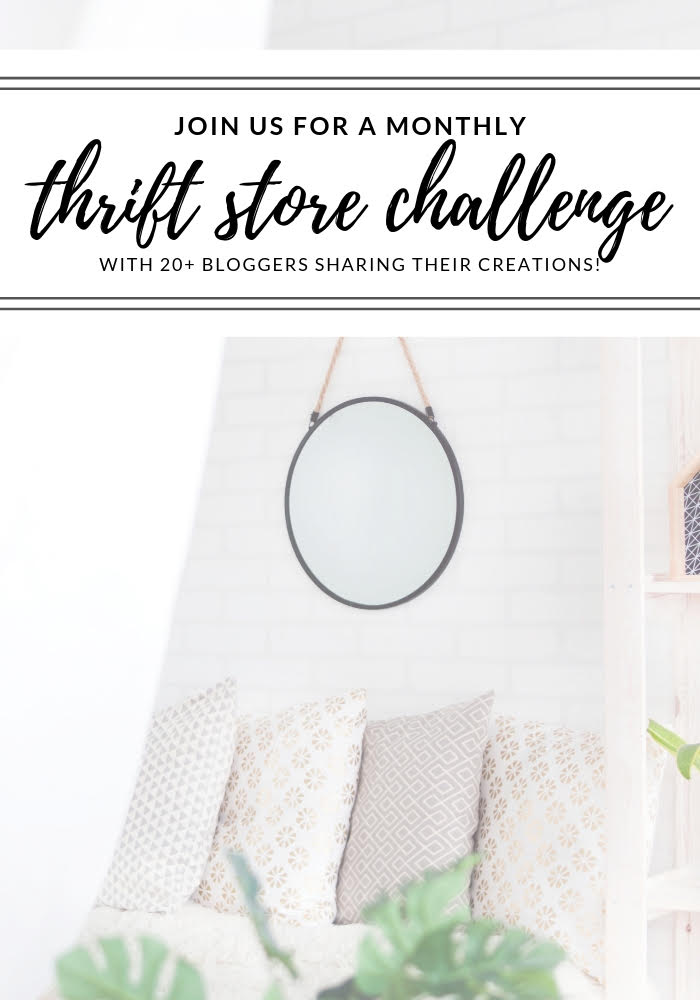 The Rules:
Upcycle an item(s) from a thrift store, resale store, or garage sale into a new piece of decor.
There's no monthly theme.
There's no budget to stick to.
Meet the Hosts
Angela | Simply Beautiful By Angela – Gail | Purple Hues and Me – Carmen | Living Letter Home – Chas | Chas' Crazy Creations – Jenny | Cookies Coffee and Crafts – Pili | My Sweet Things – Kathleen | Our Hopeful Home – Marie | DIY Adulation – Beverly | Across the Blvd – Michelle | Michelle James Designs – Molly | Just a Little Creativity
Make sure you follow our board on Pinterest for more upcycled decor inspiration!
Materials Needed:
I have included affiliate links for your convenience. You can ready my full disclosure here.
Rae Dunn Inspired Craft Storage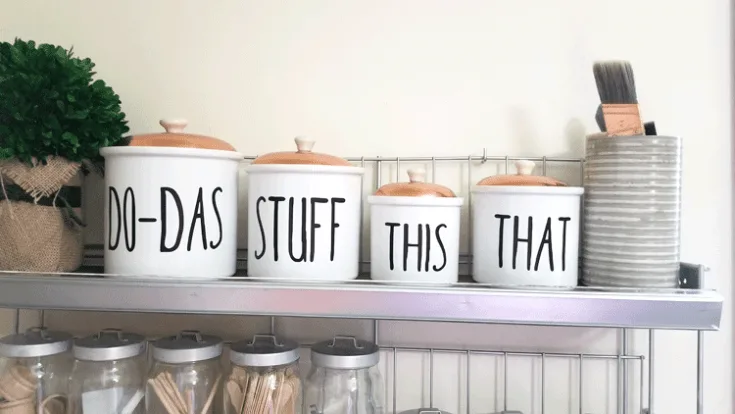 Stylish craft storage is fun to display in a craft space. I love Rae Dunn design so I created some Rae Dunn inspired craft storage with quirky words.
Total Time
1 hour
10 minutes
Estimated Cost
$0 - $15 depending on what you have on hand
Tools
Instructions
Clean the canisters with soap and water.
Using Silhouette software design the words you want on the canisters
Cut the text from the black vinyl
Apply the transfer tape to the text designs
Adhere the designs to the canisters and remove the transfer tape
Rae Dunn Inspired Craft Storage
Every time I see Rae Dunn products in a store I look and look. I just love it. I have one Rae Dunn Piece that was given to me by my friend Peggy. It is a small tray with the word "Junk". How fun is that?
When another friend asked me if I wanted some white canisters I immediately took them because I knew they would be perfect for some Rae Dunn inspired projects.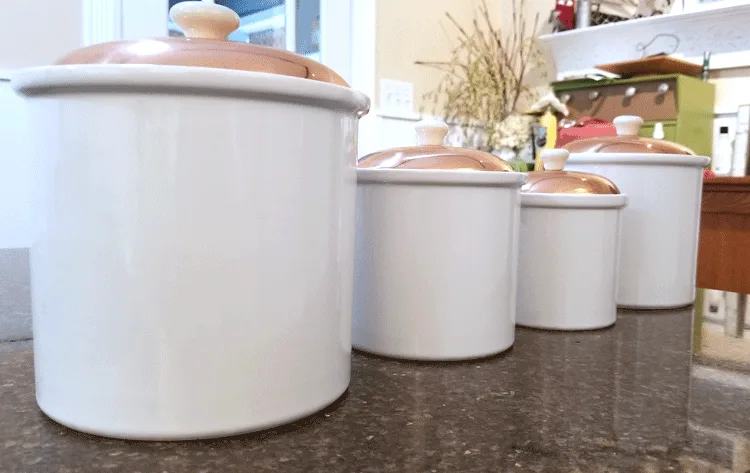 They don't have the white/cream top like the Rae Dunn canisters but I love the copper.
The hardest part of this project was to figure out where I wanted these and what words I wanted to add to them. I finally decided I would use them in my craft room for storing smaller sewing items and accessories.
My Text Designs
As I mentioned before I wanted my designs to be quirky and fun and less "organizational". I will be using the sewing supplies that I keep in them a lot so I didn't really need specific labels.
I measured the space on the canisters then designed the words accordingly.
The mistake I made was widening the text to make it wrap around the canister a little more. When I did this I made the text too wide or thick. It doesn't look like the skinny font from the Rae Dunn designs but I still love the designs and the look.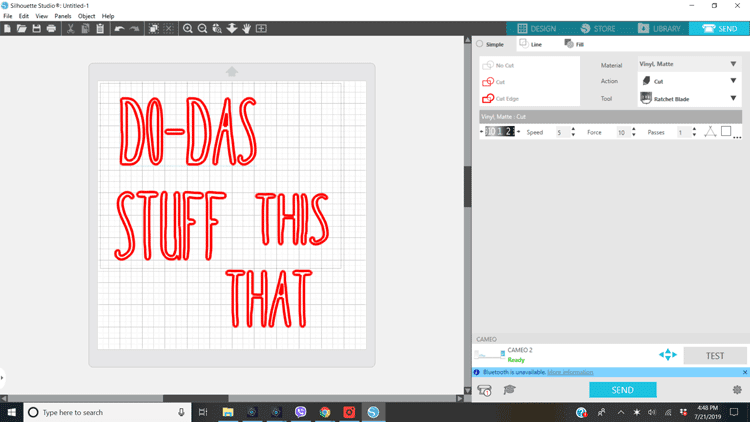 Adding The Text To The Canisters
Once the text has been cut from the Silhouette Cameo weed the extra vinyl away.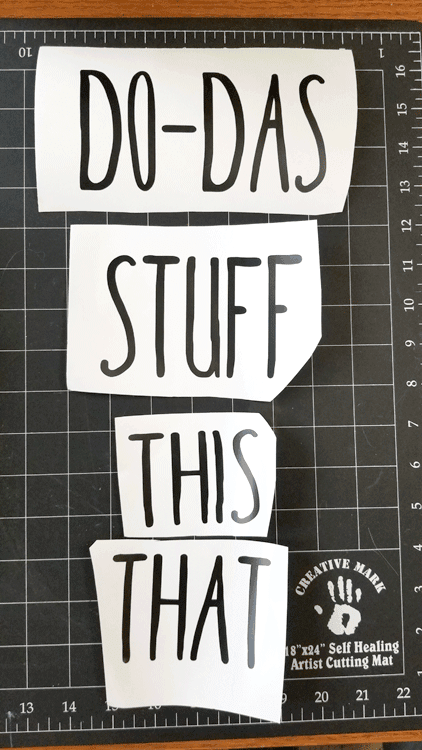 Apply a piece of transfer tape to each word. This allows you to apply them straight and pretty.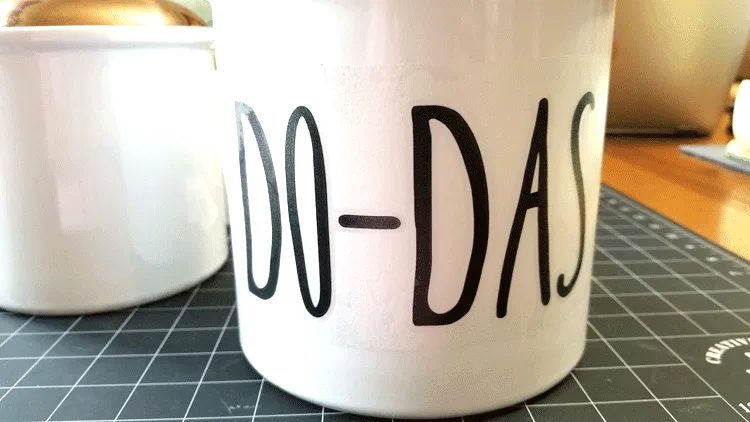 It is hard to see in this picture but the transfer tape is still on the design.
Once it is applied in just the spot you like, remove the transfer tape.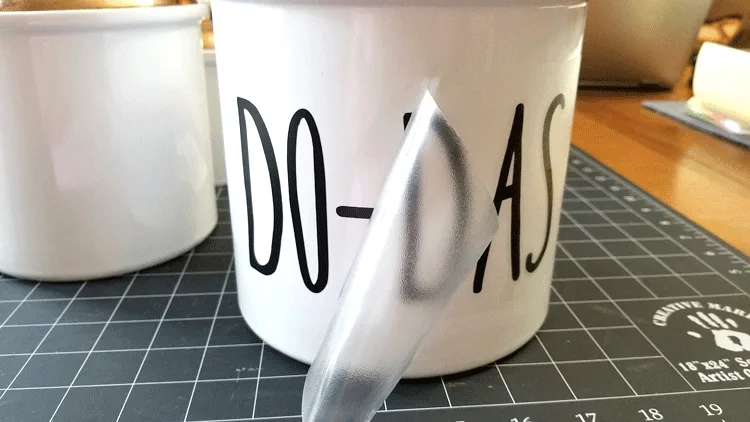 Do this to all of the canisters with the corresponding words.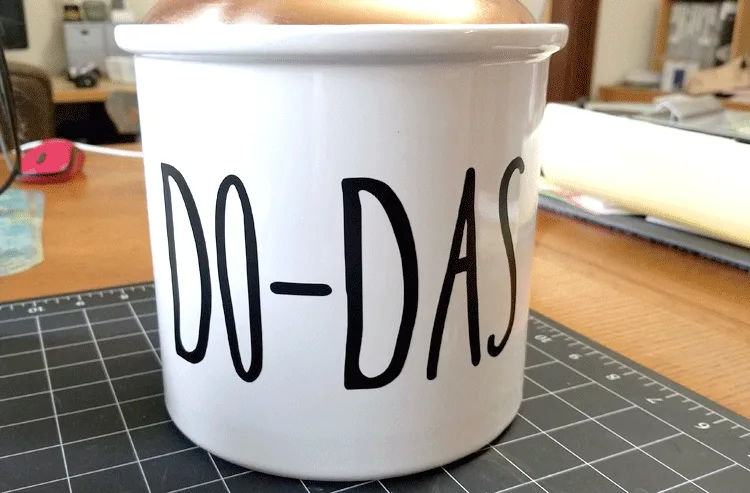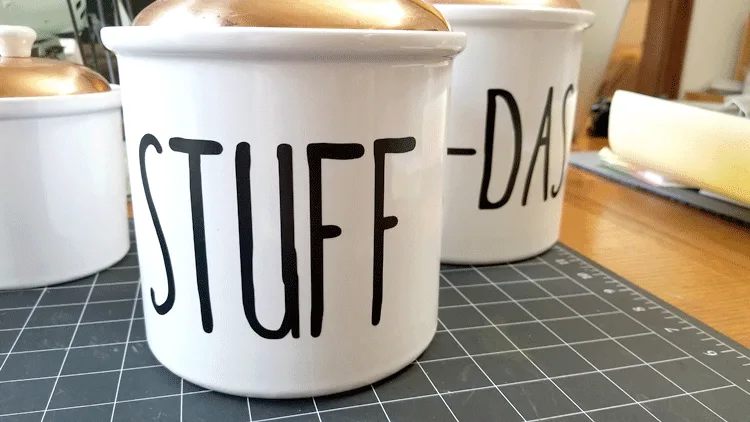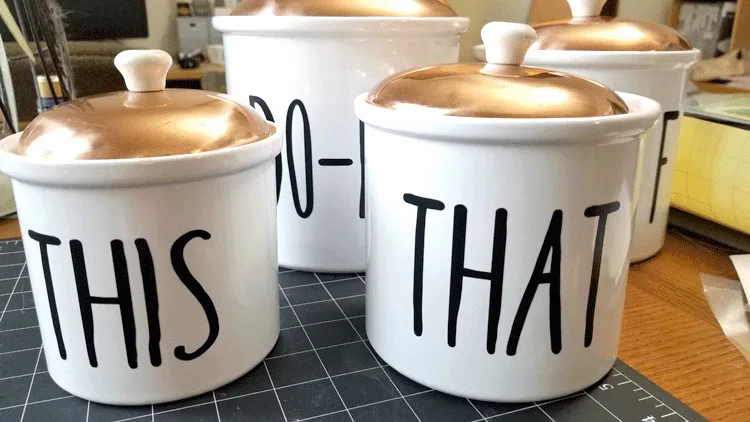 Aren't they fun?
They were so easy and they turned out nice. Look how great they look on my shelf.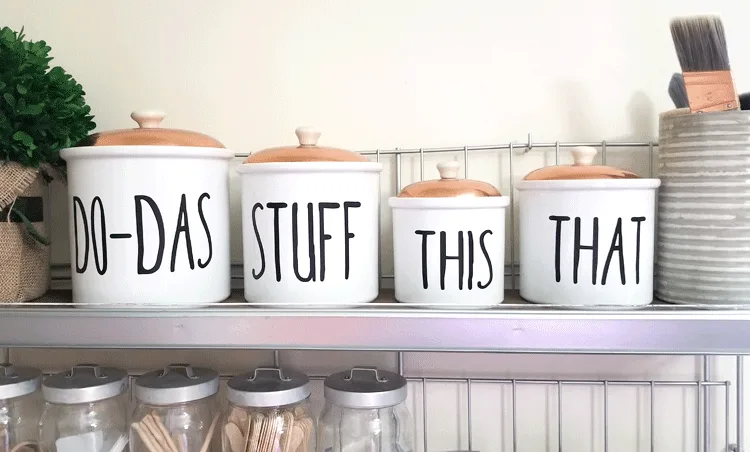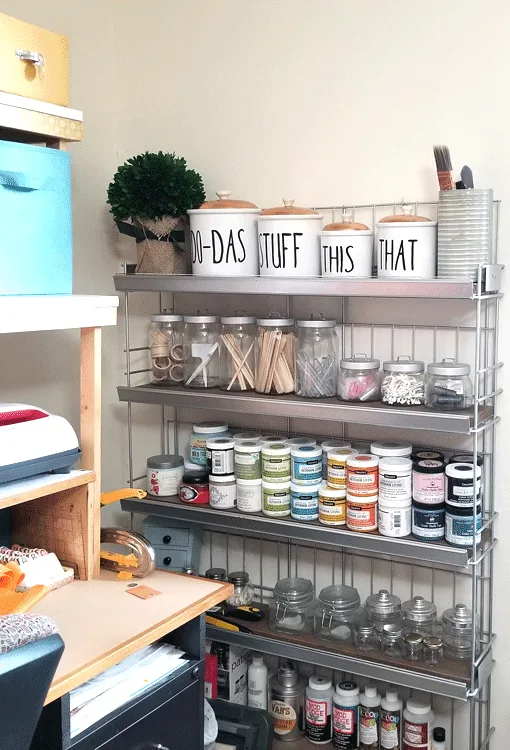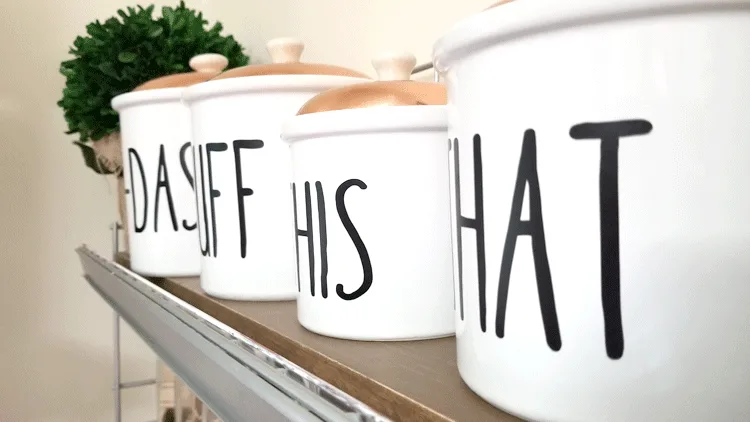 I hope you love my Rae Dunn inspired craft storage containers as much as I do.
Thanks so much for stopping by.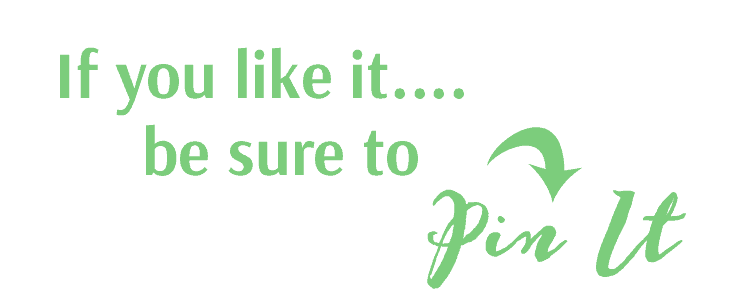 Check out what my fellow upcyclers created below!