Hi! I am participating in the September Fab Furniture Flippin' Contest again this month. I am telling you, this contest really challenges me and this one was a tough one. But keep on reading because this modern bench turned out pretty good!
The sponsor for this month was Spoonflower. They have all sorts of awesome products but we were choosing from the fabric section. Our piece needed to include some upholstery. I have to say that mine may be a stretch. I made some tailored cushions for my bench and let me tell you this was much harder than my first upholstery project I did a while back.
Some or all of the hosts of The Fab Furniture Flippin' Contest receive monetary and/or product compensation from the sponsoring brand, Spoonflower, in order to complete their themed projects. Spoonflower will also provide the prize package for the contest winner. All opinions are 100% my own.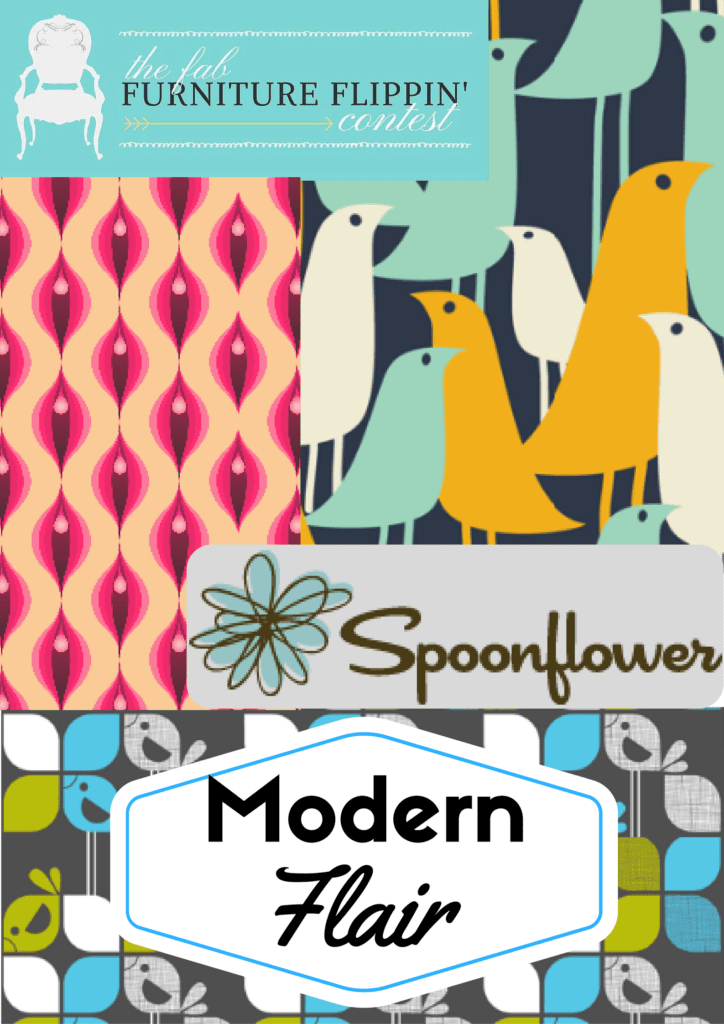 Modern Bench With Modern Flair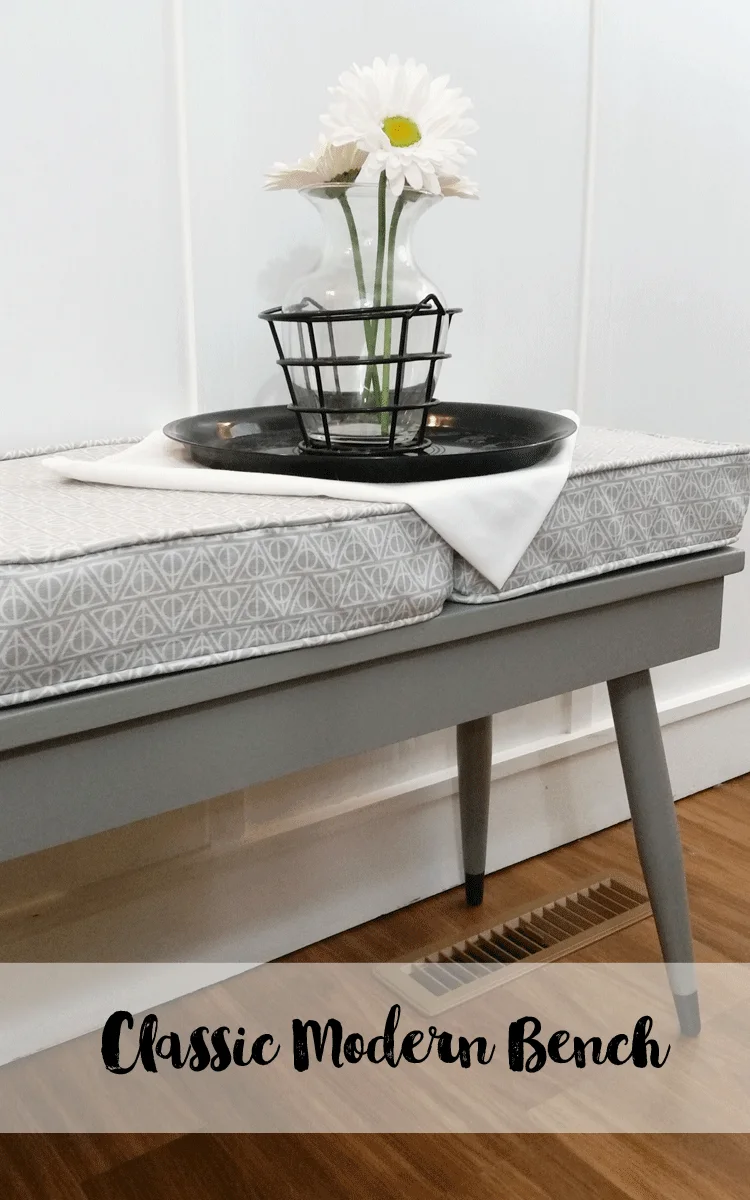 Modern Bench Building and Sewing Fun
I seriously thought this project would be a breeze. I knew Jeff would take care of the modern bench building and all would have to do is paint it and make the cushions. Wow! was I wrong. I know I have mentioned several times before that I am a lazy sewer. Well, that is not helpful at all when trying to create very boxy and modern, square cushions. It was really, really hard.
It didn't even start with the cushions. We first had a really hard time finding the legs we needed for this bench. I wanted the legs to be tapered and round. I didn't want anything scrolly or traditional. After all the theme of this month's contest was "Modern Flair". To me this meant clean lines and a piece that looks modern.
Menard's carries these legs but they did not have the right size. The bench would have been really tall or really short. So, our next best thing was to find some piece of furniture at a thrift store that did have the right type of legs. Low and behold we found this table at a thrift store about 1/2 hour away.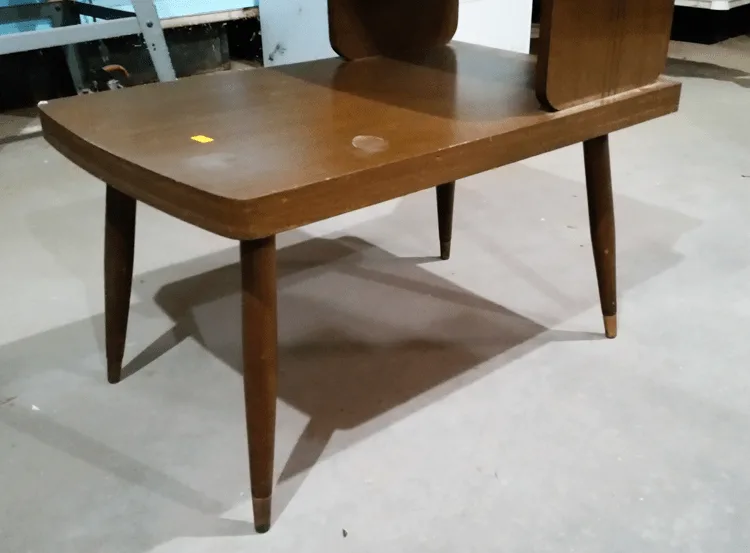 It had the perfect legs except they were just a little bit too short. Jeff came up with a great solution for that so we purchased the table for $5! SCORE!
We removed the legs and the brackets from the bottom of the table.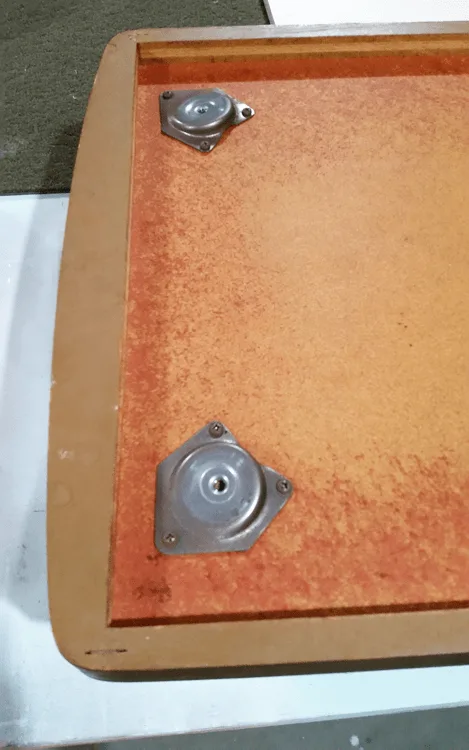 This is a picture of the parts that were used to assemble the bench.

There are the legs and the brackets, three 1 x 3's, a 2 x 4 and a 12″ x 36″ wood plank for the top. These are wrapped in plastic and are really nice right out of the gate.
Jeff assembled the top as shown in the photo below. The 2 x 4 pieces in the corners were to add a little height to the legs to make them the length needed. It was perfect.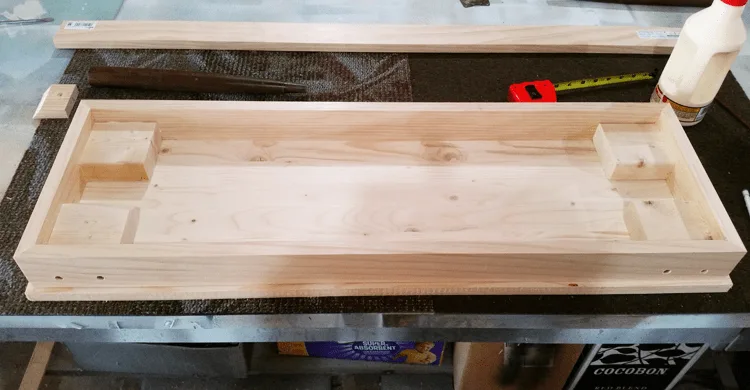 He added wood putty to the plug the holes in the sides then sanded it smooth when it was dry. Then it was my turn to prime and paint.
I used my usual white paint/primer for the entire thing including the legs. Then it was on to fun color. I choose a nice satin gray from Valspar. Since the bench was small I purchased on of the sample cans. It was perfect. I still have some leftover too. I took this photo while the paint was still wet. It looks a little blotchy.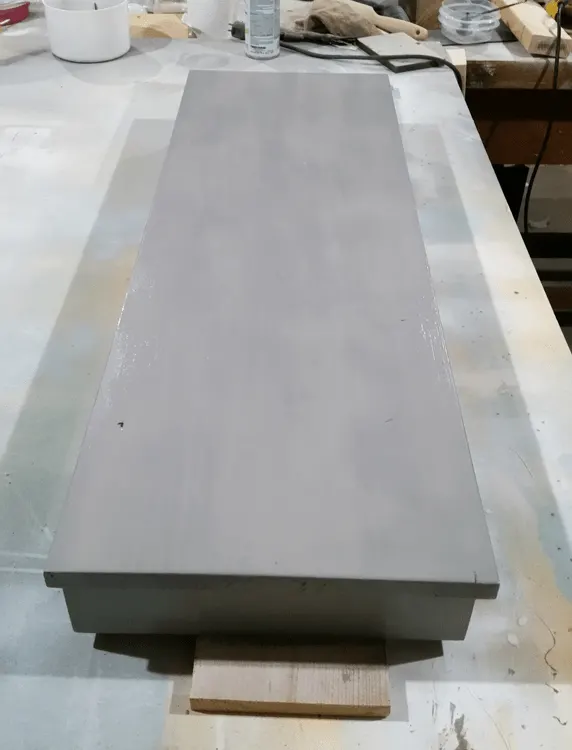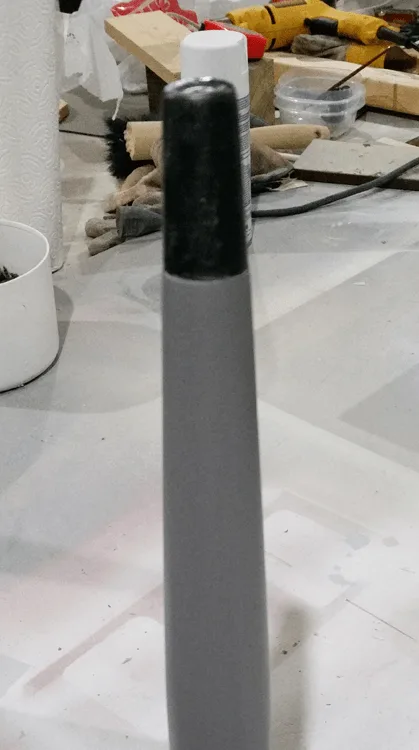 One of the legs was missing its metal end part so I painted them all with a dark gray metallic paint. You cannot tell that the metal is missing at all. Plus I think it really added to the bench.
Then we attached the brackets and screwed the legs on. Yay! Bench done.
The Hard Part – The Cushions
Here we go. Let me start with the best part of all of this entire project. The fabric! Spoonflower has fantastic fabric and there are so many choices. My house is not the best place for a modern flair piece of furniture so I decided I would make this for my son and his wife.
While I was shopping the Spoonflower website I noticed some Harry Potter fabric. They LOVE Harry Potter so I sent Hailey the link and she chose Pastel Potter – Gray Deathly Hallows.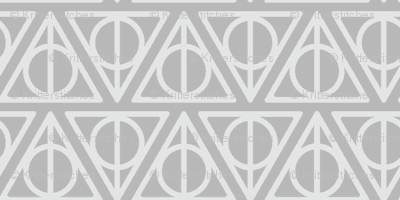 I love the pattern and it fit really well into the Modern Flair theme.
It arrived with a cute, little thank you card.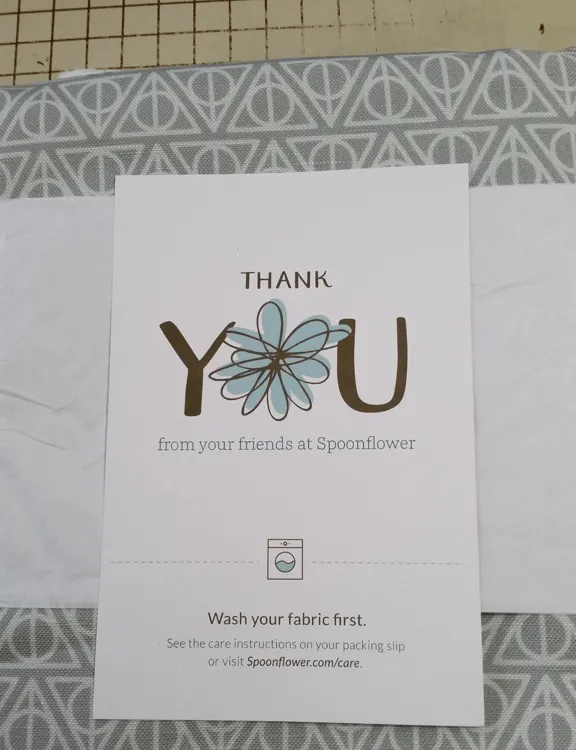 The bench top for my modern bench is 12″ x 3 ft. so I made three cushions each 12 x 12 and there is three inches of foam in each one. They absolutely had to have the piping on the top and the bottom so I started with that.
If you have never made piping before you cut strips of fabric on the bias. I cut 2 inch strips and sewed them together until I had 9 yards to match the 9 yards of piping I purchased. This really is too much math. I checked it and checked it because I did not want to be short. I actually needed 8 yards of piping but I made 9 just in case.
Place the piping on the strips of fabric and using a zipper foot for your machine stitch the piping inside the fabic.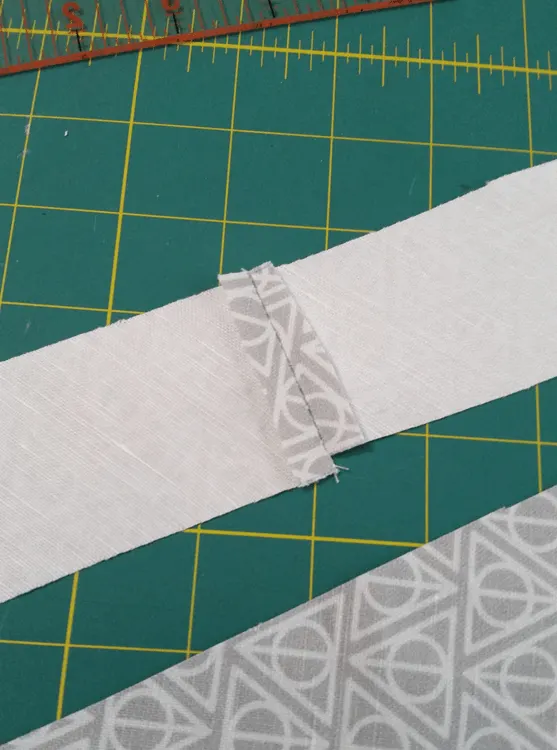 After the piping was all done I cut out the top and the bottom pieces. The top piece was 13 x 13. This gave me a 1/2 inch seam allowance. This part was easy. The back piece was not hard but not quite as easy.
I wanted them to be able to take the fabric off and wash it when needed so I needed and "envelope" type back on it. I used two pieces of fabric and turned under and stitched one side of each one. Then I overlapped them until they equaled the 13 x 13 that I needed.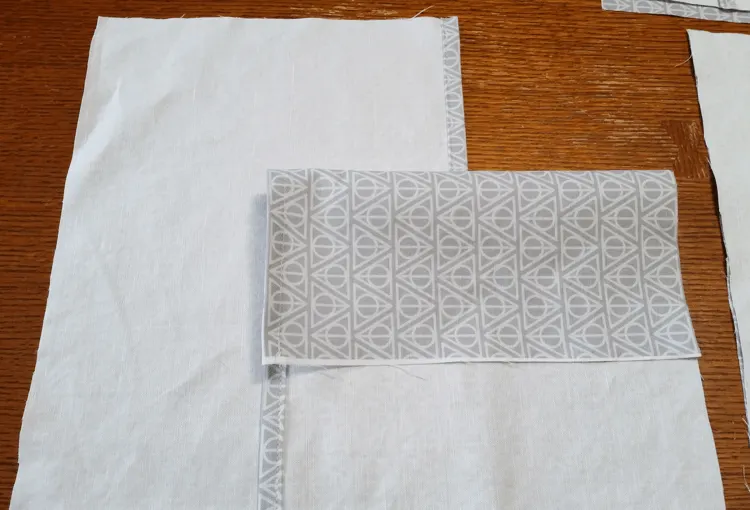 The strips for the sides of the cushions measured 13 x 4 inches and I had four of them for each cushion. I stitched them into a big "loop" and set them aside for a while.
Now started the awful, truly "hard-for-me" part. Adding the piping to the cushions and piecing them together.
I probably went about this whole thing all wrong and maybe that was why it was so difficult. If there are seamstress/amazing sewers out there that can tell me what I did wrong please let me know. I love these types of cushions and i would love to make more.
I stared by pinning the piping to the top piece.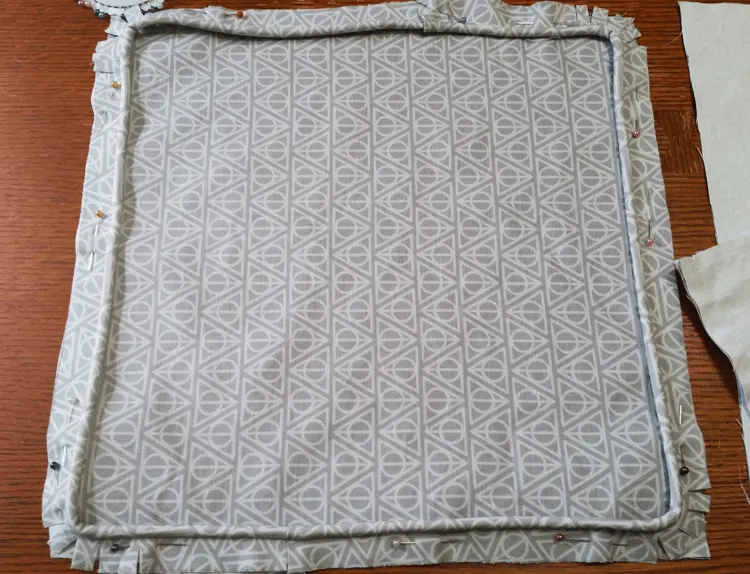 Before I stitched this I pinned the sides on with the right sides together. Then it all got stitched in one swoop. The most trouble came around the corners. I had a hard time keeping the presser foot next to the piping and I got some puckers. Wait…who am I kidding there were many puckers. It was very frustrating and I took out the seams several times to make it better.
It ended up looking like this before I added the bottom to it.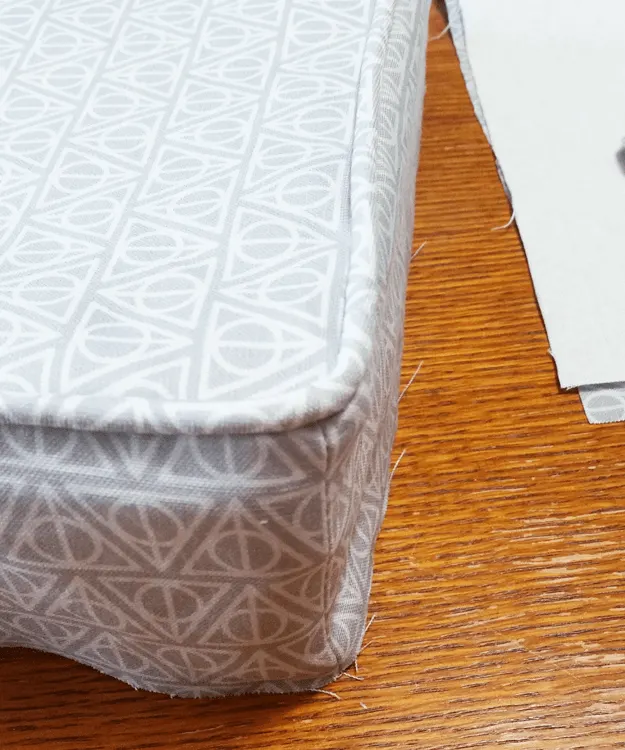 When I added the bottom it was even worse. By the third cushion I was learning by my previous mistakes and it definitely looked better but it was still not quite right.
Here is the final finished modern bench.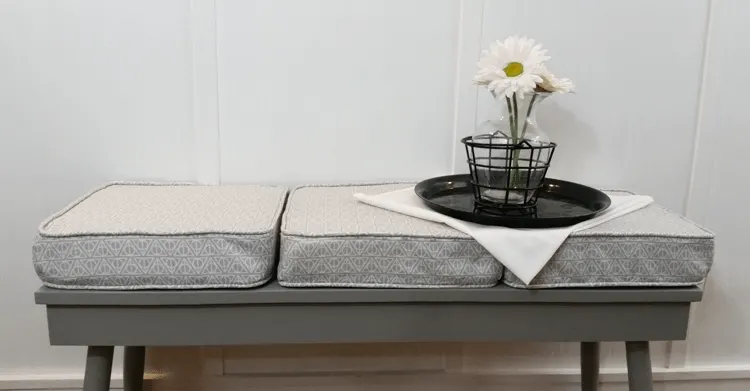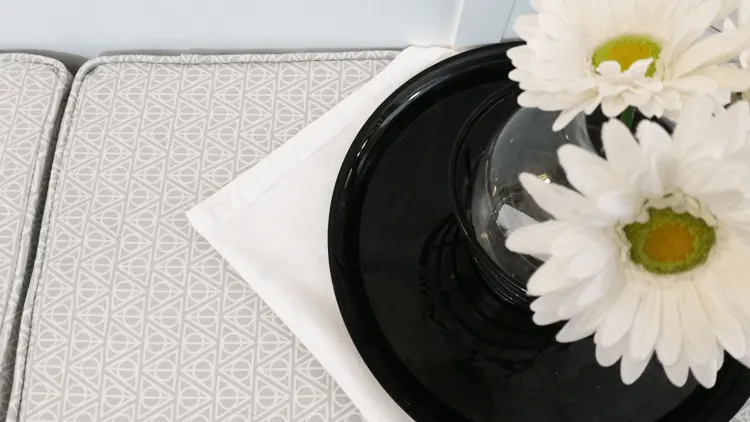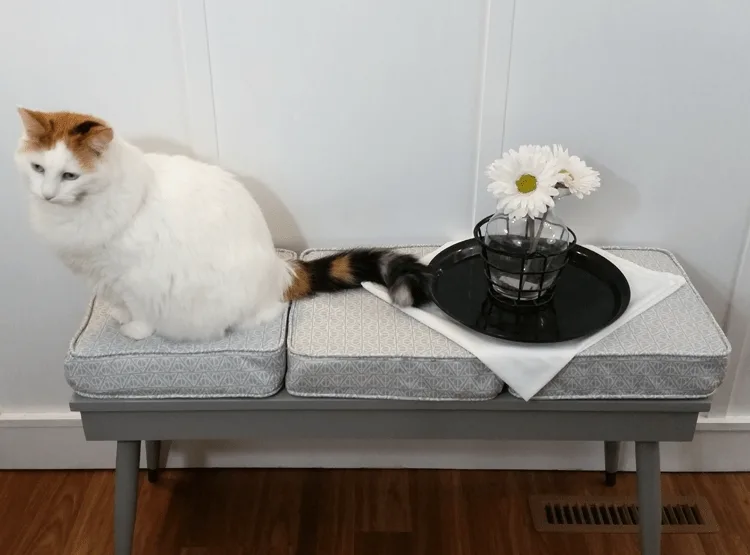 The cats loved it! I think it turned out really nice even with some puckered cushions.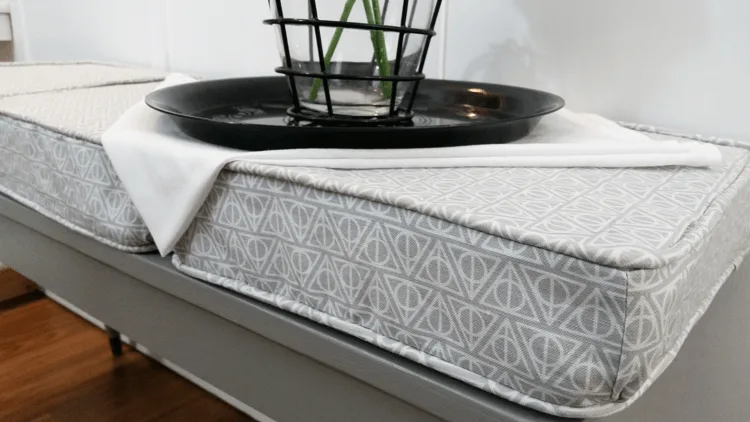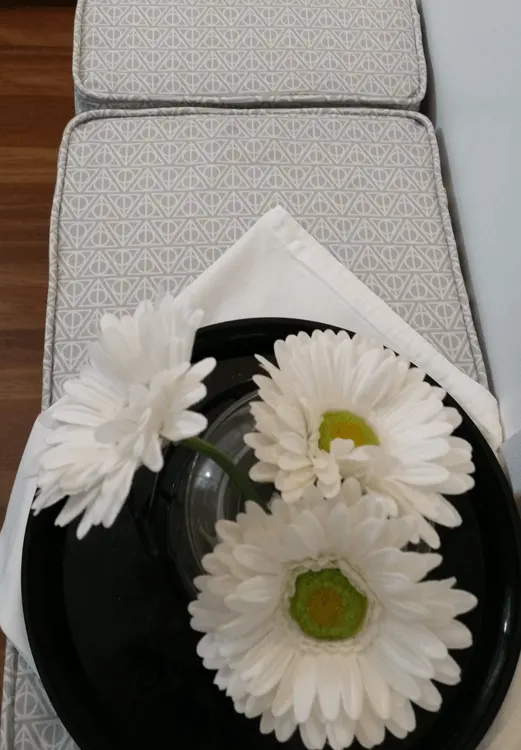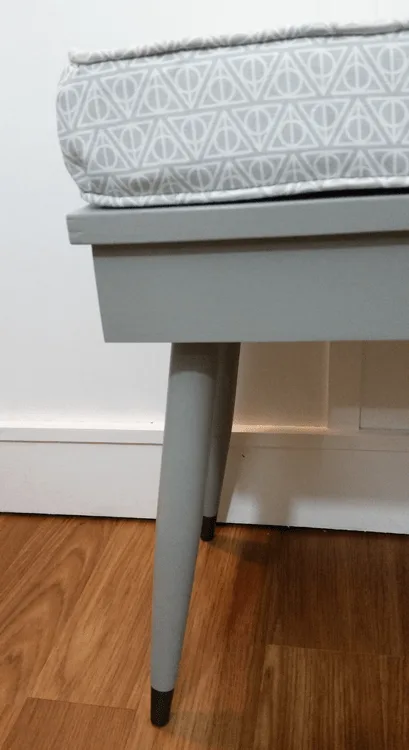 What do you think?
Like I mentioned above this Fab Furniture Flippin' Contest is such a challenge and I love every minute of it.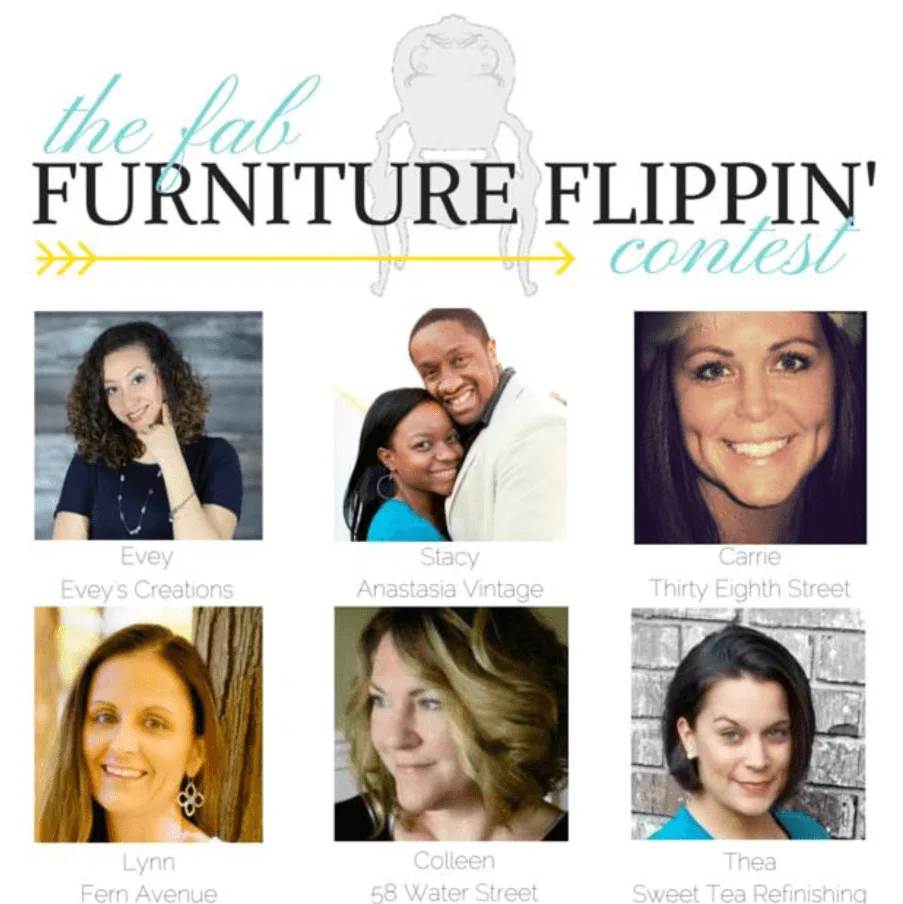 If you would like to see the other projects from all of the talented bloggers who participate you can visit either of these two sites:
We are all linked up at the bottom but be sure to read and check out their projects too.
If you are a blogger and would like more information about the Fab Furniture Flippin' Contest please email [email protected].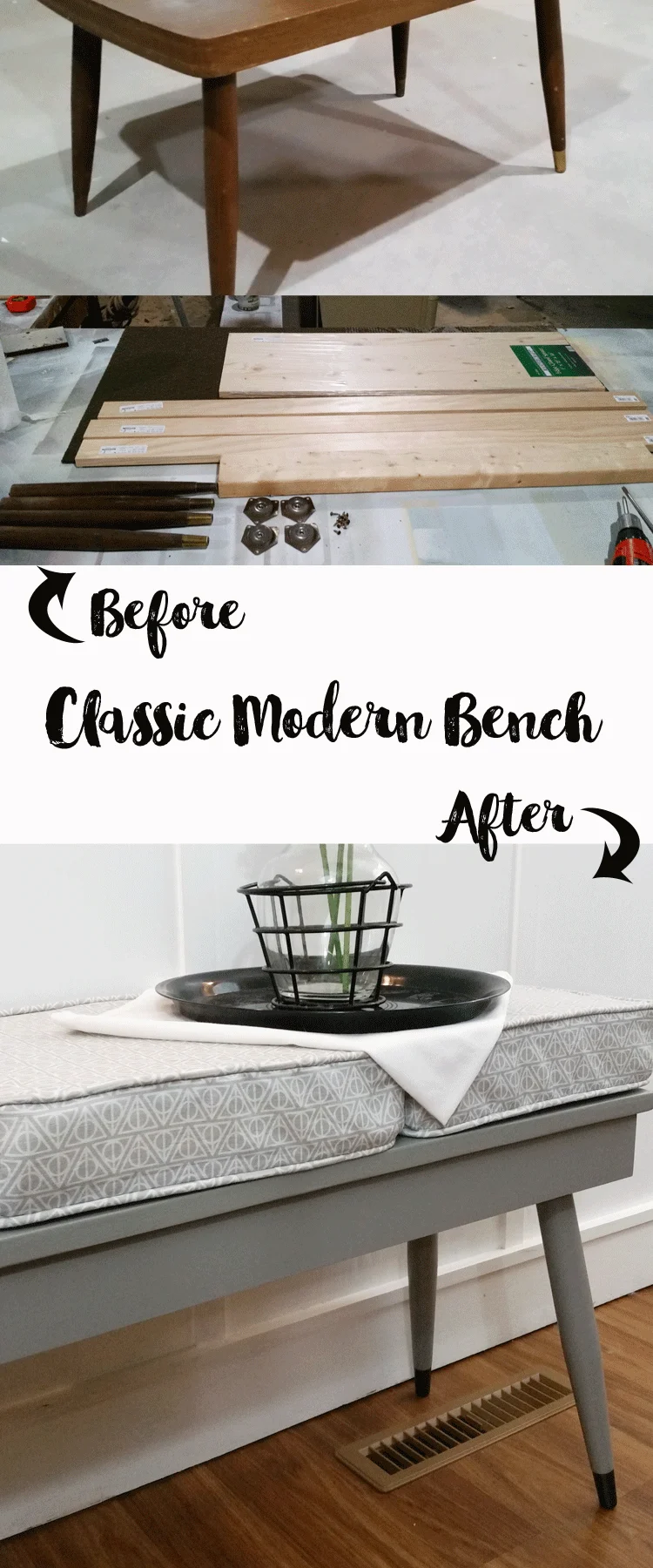 Thank you so much for stopping by!
Michelle