This is a fun post. Not only do I get to create a nice, crafty Halloween Card but I get to introduce you to one of my bestest bloggy friends. Her name is Michelle James. That's right…the same as mine. So welcome to our new twice per month series called Michelle James (squared) Craft Corner.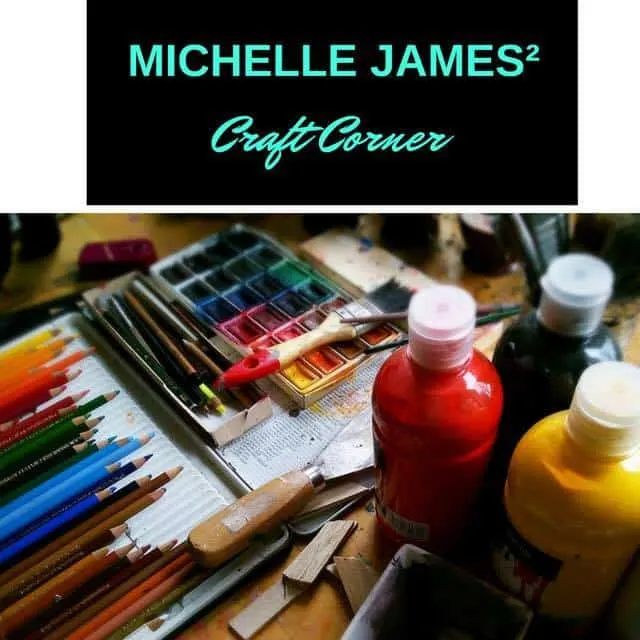 A Little Background On Us
We hope to bring you some sort of a craft project every two weeks and have a blast doing it. This week we decided on a Halloween Card. I believe her card involves the Cricut Machine so if you have been looking for fun ideas with that please check it out. You can find her at Our Crafty Mom.
Here is a little about how we met. I belong to a bunch of groups on Facebook and I have been entering the Fab Furniture Flippin' Contest (FFFC) for well over a year now and was a regular contributor on Life With Lorelai.
I kept seeing another Michelle James in these groups then there she was as a co-host for the Home Matters Link Party on Life With Lorelai and finally decided to reach out to her and we have become fast friends. We have a lot in common too. We both sold Stampin' Up, we are both active in FFFC, we are both Brand Bloggers for The Old Fashioned Milk Paint Co, we both have a full time job as well as our blogs and we both have two kids ages 25 and 20.
It is so fun to meet new people and blogging has definitely opened up a whole new world of friendships for me. I love that.
Now onto the card!
A Special Halloween Card
I wanted to create a card that was more like a gift than a card and I think I succeeded.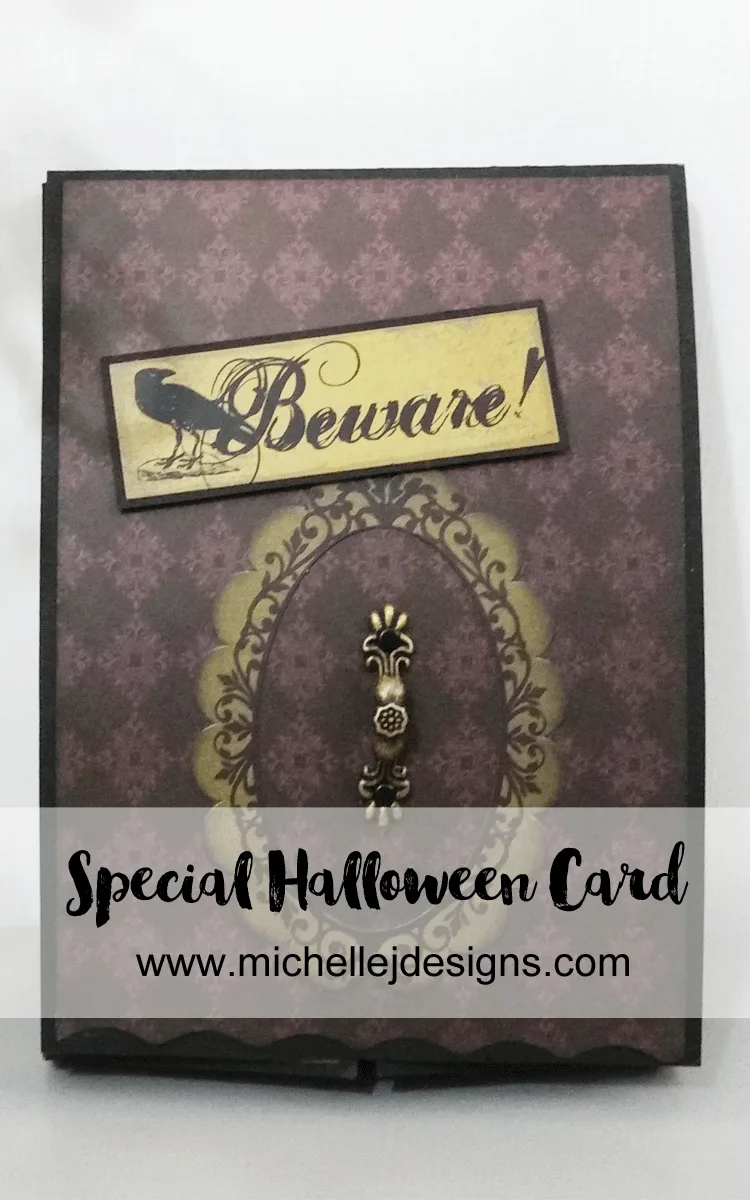 This is the front of the card. It is the "front door" . Here is a list of supplies just in case you love this stuff and want some of your own. I am going to include some affiliate links for your convenience and you can read my full disclosure here.
Moxxie All Hallow's Eve Collection – This collection is one that I already had and is a couple of years old. You may have trouble finding it. If you are a reader from Northwest Iowa I believe that it is available at The Outlet in Estherville, IA. But ANY halloween paper that you love would work for this card.
Paper Trimmer
Scissors
Adhesive
Hole Punch
Small Magnets (optional) I got mine from Ebay
Candy Bars
Black Ink for the edges
This project would be a great card/gift for any time of the year. Think about how cut it would look with Christmas paper, birthday paper, or even sports or school papers for kids on a team or cheerleaders or your favorite graduate.
Let's see the rest of the card.
So you saw the front but here it is again. I used brads to attach the metal handles.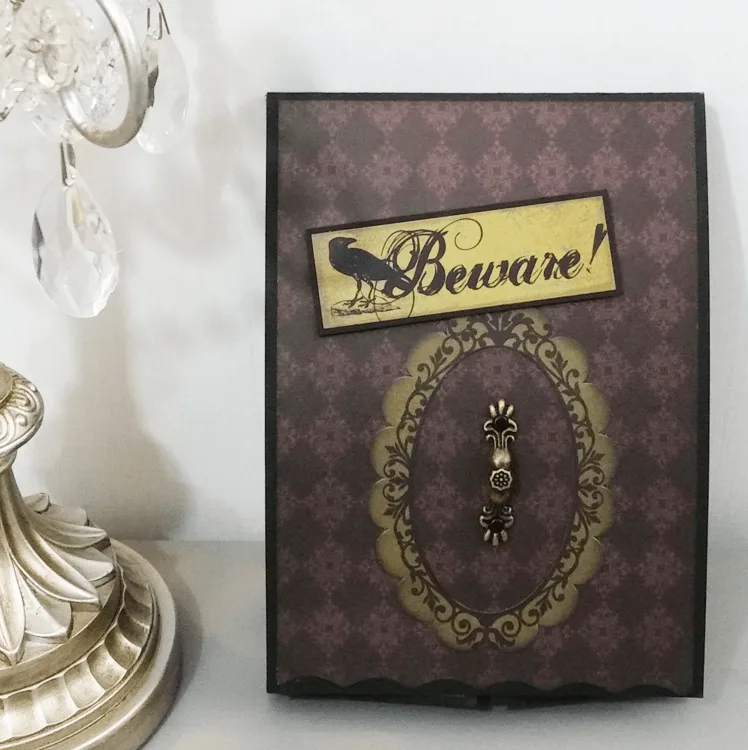 The front opens up to reveal the inside set of "doors". I have attached a "Things that go bump in the night" die cut and the hanging bat die cut on the inside of the front flap just for some fun!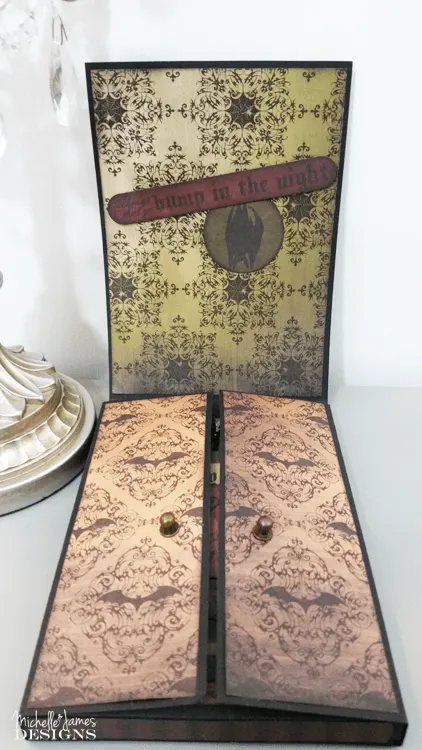 The two doors open up to reveal the gift inside.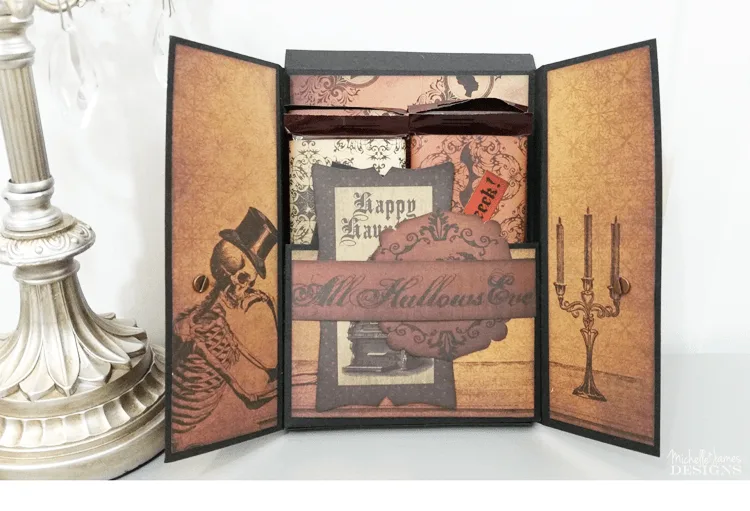 It contains a pocket that holds four full size Hershey Bars all wrapped in the paper. The front of the pocket includes the belly band that says "All Hallows Eve" with two die cut tags stuck underneath the band.
And the chocolate bars are all covered in different papers with a fun, yet scary sticker.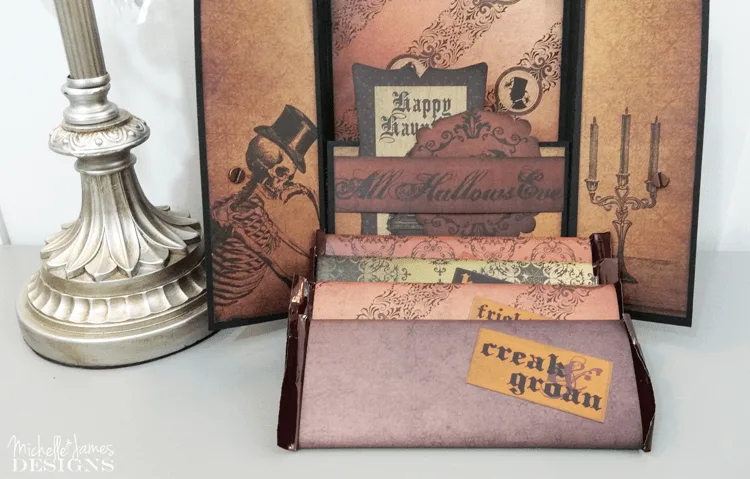 What do you think? I just love the entire thing and can't wait to give it to someone special.
Be sure to check back often but especially every two weeks to see anther crafty project from the Michelle James'. And don't forget to pop over to Our Crafty Mom to see her gorgeous Cricut Halloween Card and meet the other Michelle James. Take some time and look around her blog. She has great projects. You can also follow her on her Facbook page.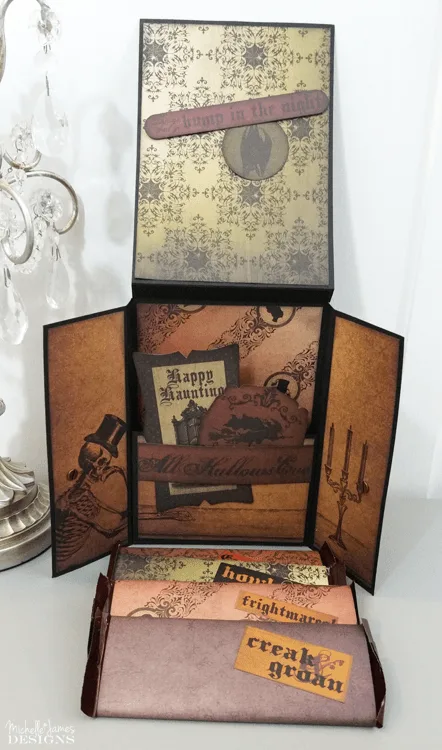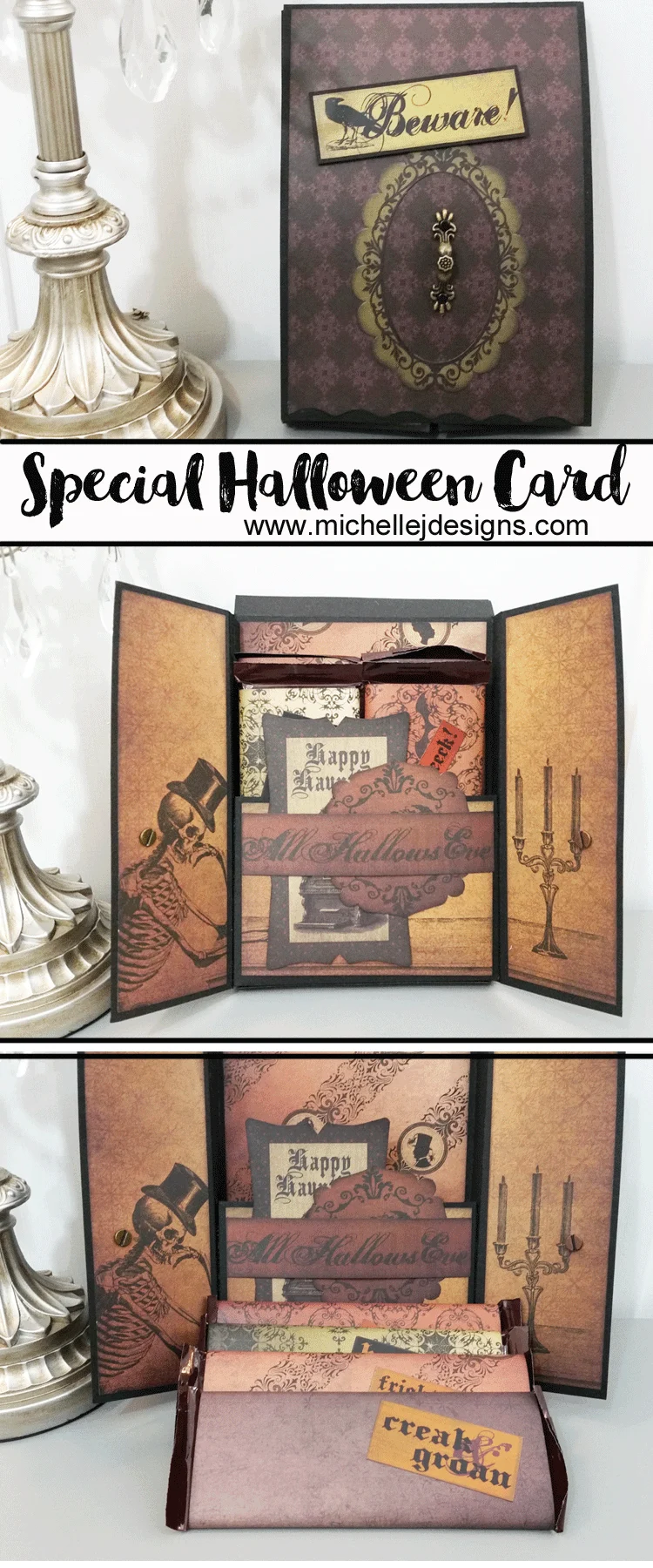 Thanks for stopping by!
Michelle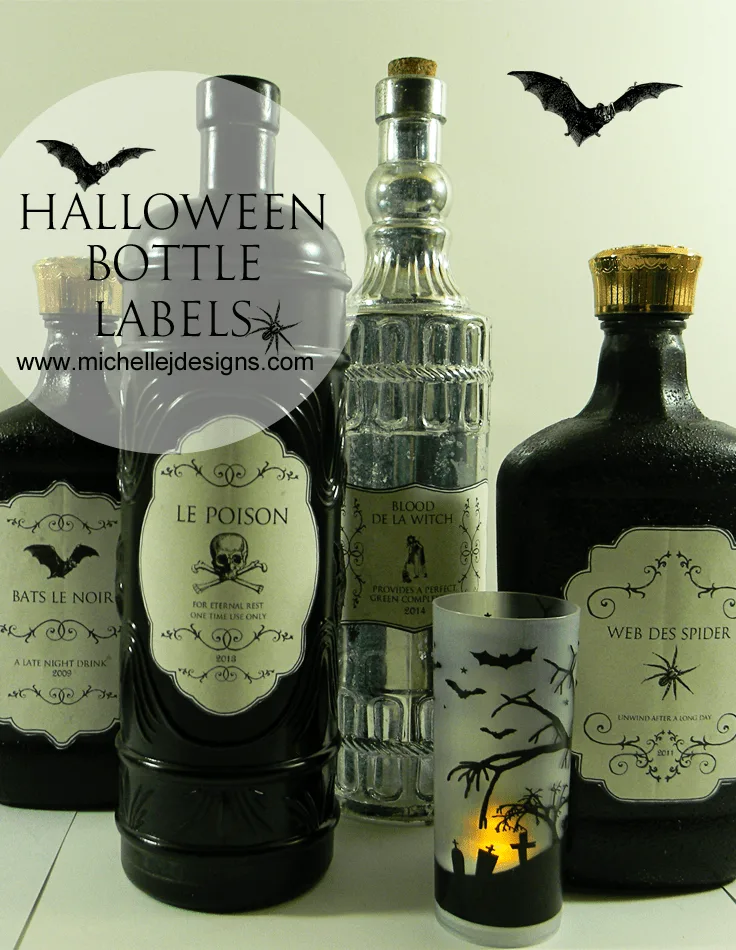 Halloween Labels – Free Printable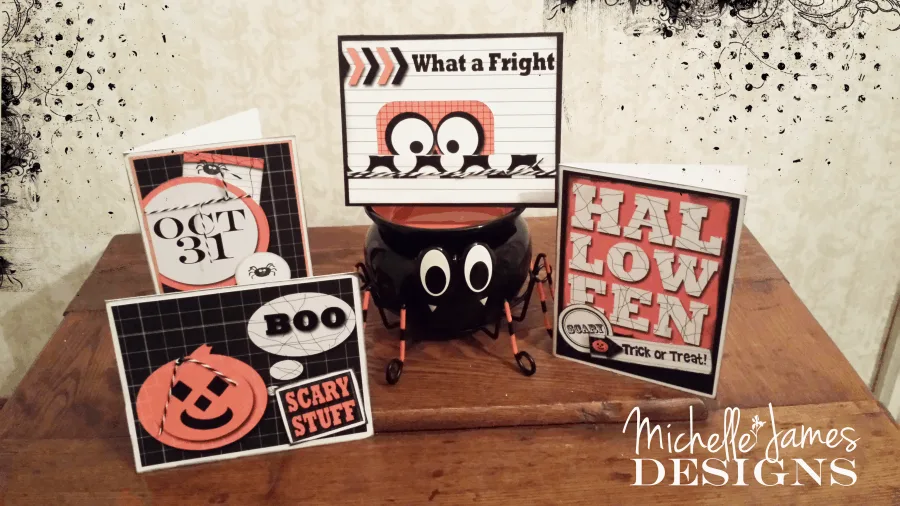 Halloween Card/Scrapbooking Kit