Well January has set in and I need cozy things in my life right now. These DIY cozy sweater pillows are perfect.
I bet everyone has sweaters around the house that are too small or have a hole. Why not create something fun with them.
I actually picked these up at the thrift store so that is an option as well. Pillows can be really expensive so if you can make them for about $10 each or less then all is well with the world.
Let me show you how I made these guys.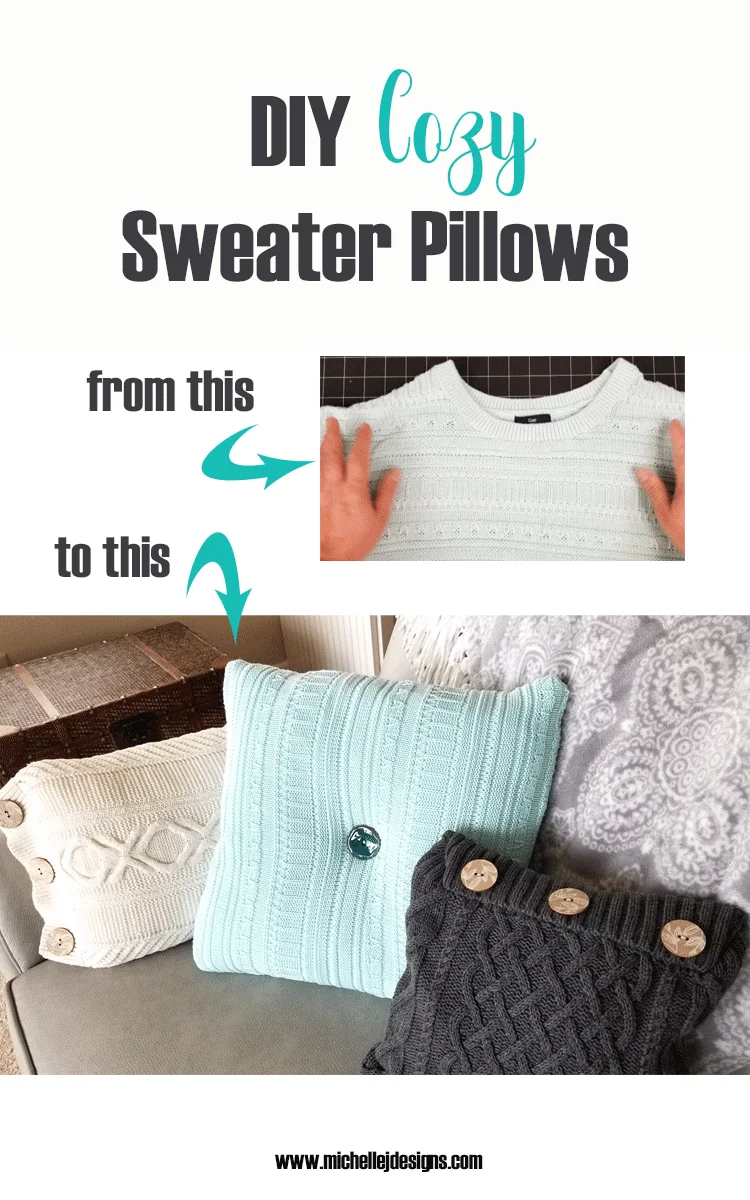 DIY Cozy Sweater Pillows
The first thing you need to find is some sweaters. I knew that I was making these for my friend as a housewarming gift so I wanted specific colors to match her decor.
I headed to our thrift store and found three great sweaters at $4 each. When you are looking for sweaters it is fun to try to find some with a great design.
The gray sweater had a pretty design but it was pretty small. I knew this would have to be a smaller pillow. The white sweater was sort of long and skinny. It made a great "lumbar" type pillow and the teal sweater didn't have an outstanding design but it was large enough to be able to make a 16″ square. So I purchased my pillows forms to fit my sweaters.
Once my supplies were gathered I was ready to start making cozy sweater pillows.
If you like to watch a step-by-step video tutorial check that out below!
Step 1: Measuring and cutting
In these photos I show mostly one sweater pillow but the basic measuring and cutting is the same for all of them.
Measure about 1 inch larger than the pillow form to allow for seam allowances.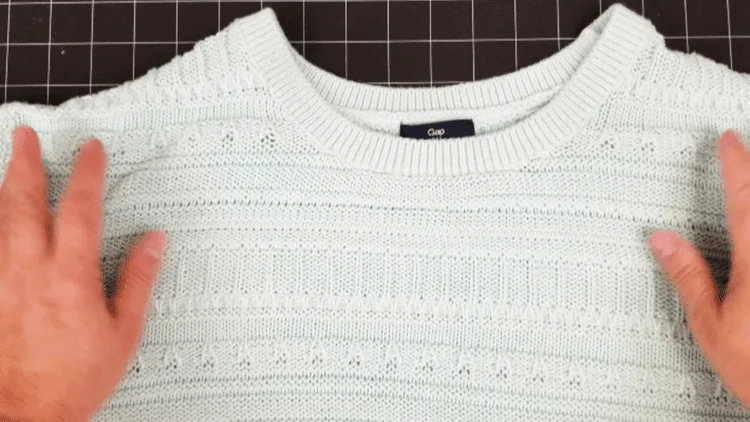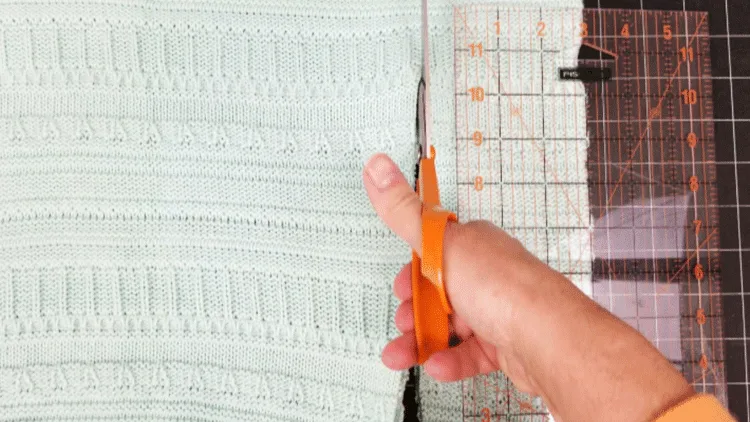 For this teal sweater I just needed a 17×17 inch square since the pillow form was 16×16 inches.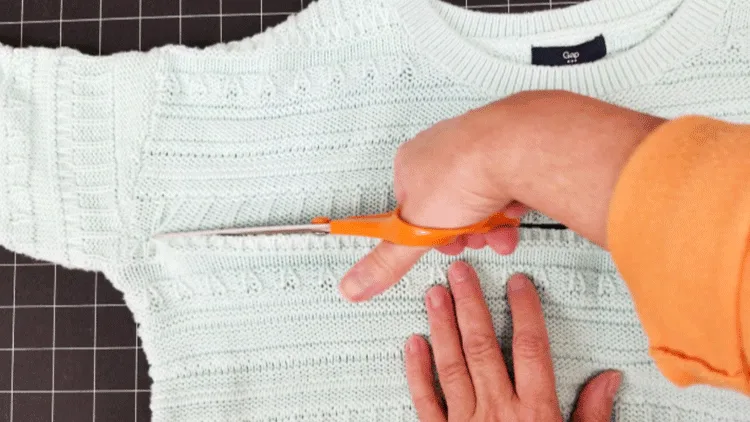 Since there was not a distinct design on this one I used the side seam as one of my pillow sides. Then I only had to stitch 3 sides.
Be sure to leave an opening on one of the sides to turn the sweater and add the pillow form.
Step 2: Stitch the sides of the pillow
Turn the sweater inside out and determine where you will leave an opening.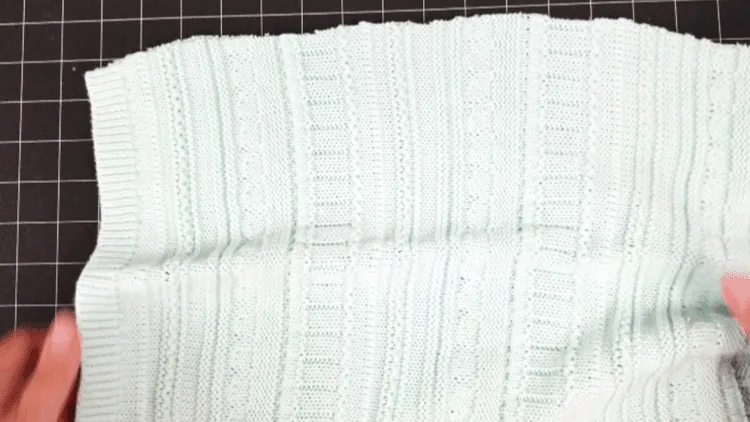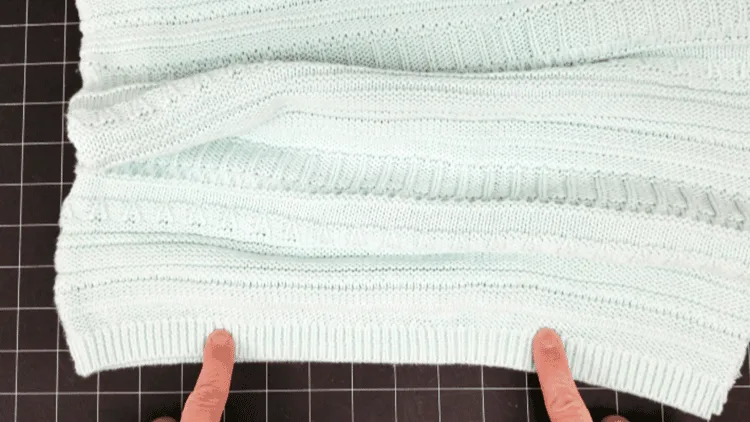 Stitch.
Turn the sweater right side out and insert the pillow form.
Step 3: Adding fancy buttons
I really wanted to add some fun buttons to the sweaters so I did something a little differently on each one.
On the teal pillow I added a large teal button on each side and I wanted to pull them in so there would be "dip" to the center.
I started by just stitching one button to the center of one side. When I added the button on the second side I used a long needle and pulled from the first button through to the second pulling the thread tight in order to sinch the sides in. I kept going until I felt it was strong enough to tie a knot.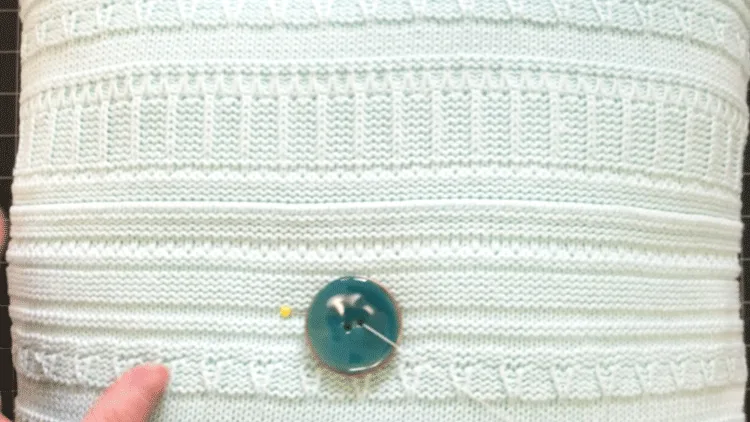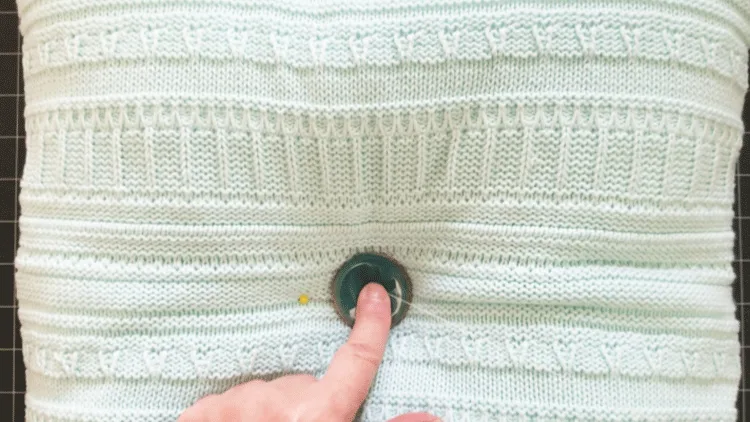 It turned out pretty cute.
Painting Buttons
I purchased some really fun wood buttons for the other two pillows but they were so "bright". Dixie Bell Grunge paint was the perfect solution.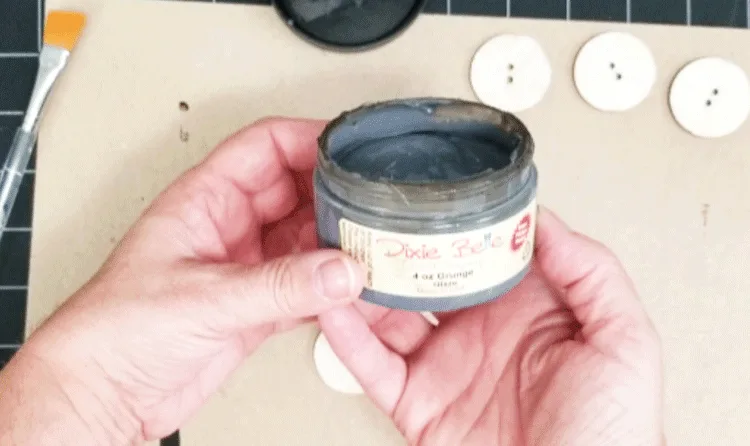 I brushed on a couple of coats then wiped off the excess with a paper towel.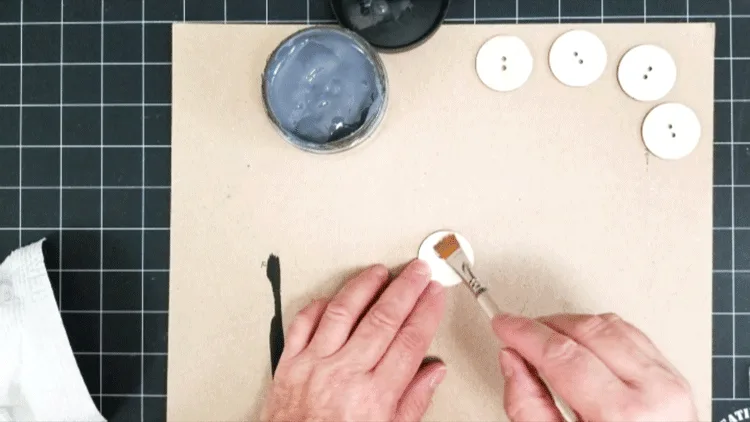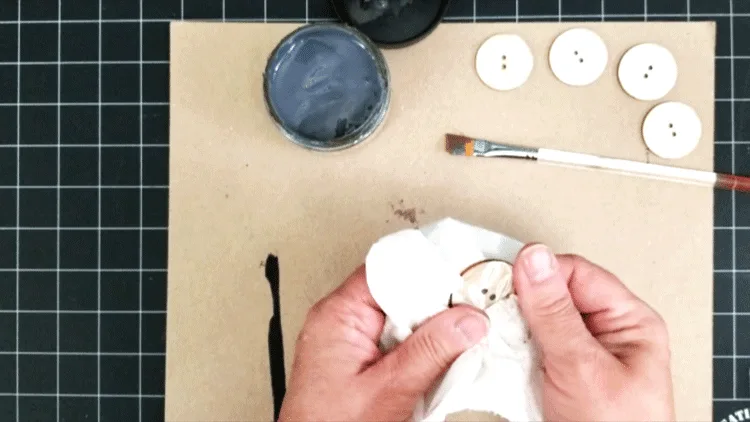 It is hard to see in the pic but the wood buttons have a fun leaf design on them.
Adding Buttons To The Gray Sweater Pillow
For the gray and the white pillows I left one entire side open.
I wanted to fold over the opening and add the buttons. So I folded the corners in.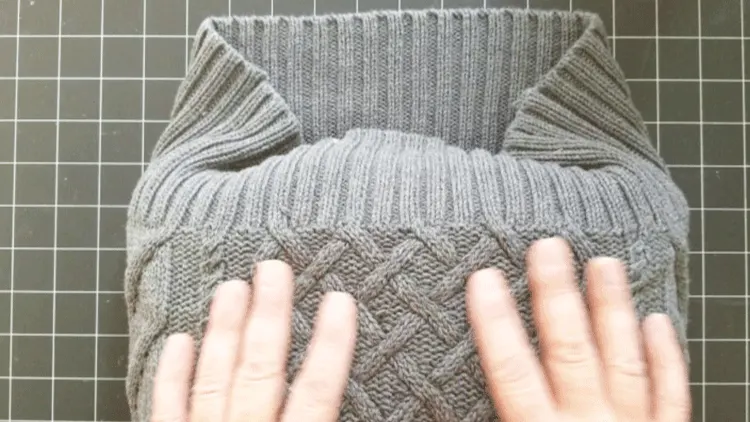 And folded the top down. I ended up stitching this down.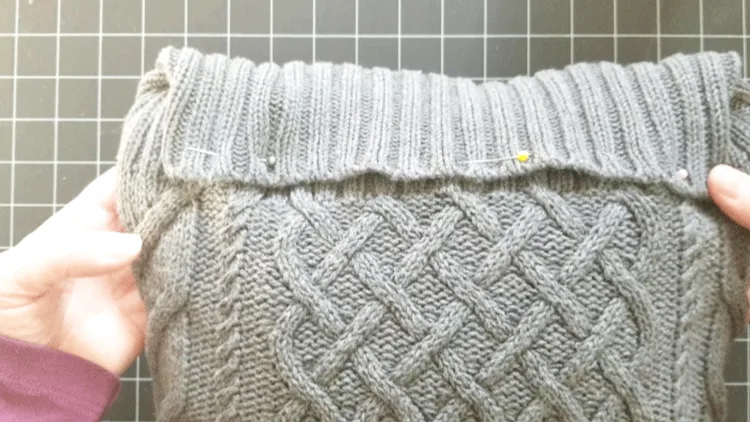 The buttons were added along the folded top.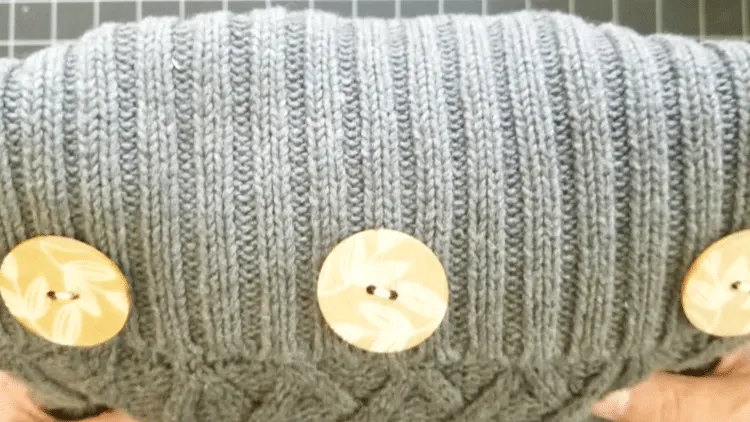 Adding Buttons To The White Sweater
This one was the easiest of the three. The side was left open. I pinned it closed in order to add the buttons.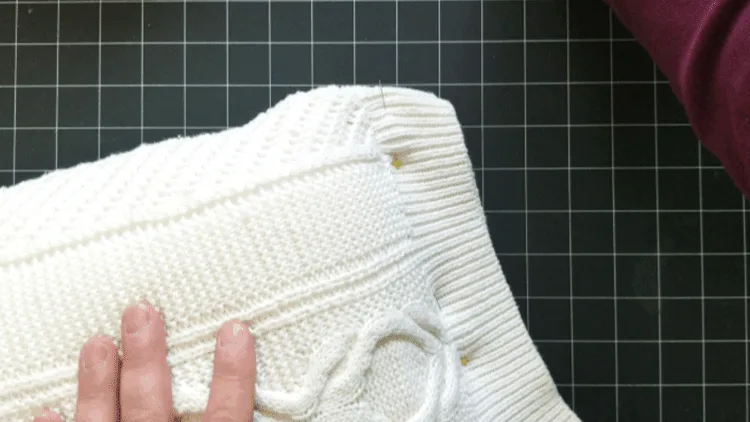 All that I needed to do was to sew the buttons onto the side and I was done.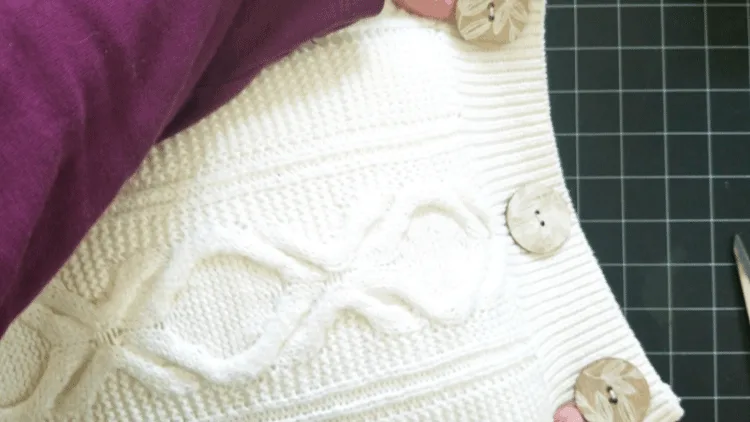 They all turned out so cute. What do you think?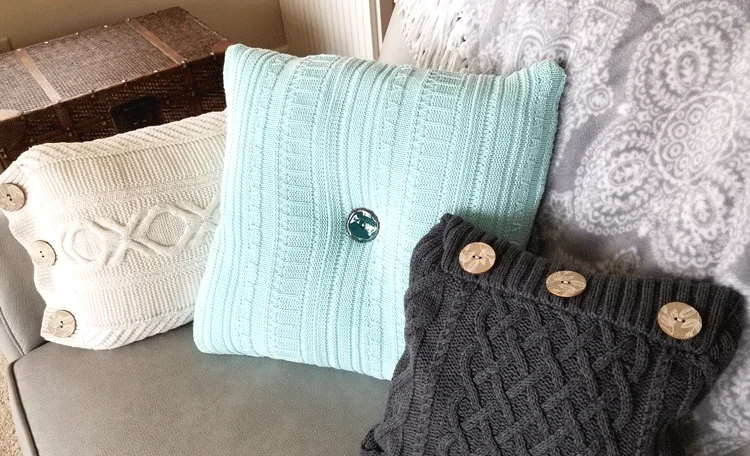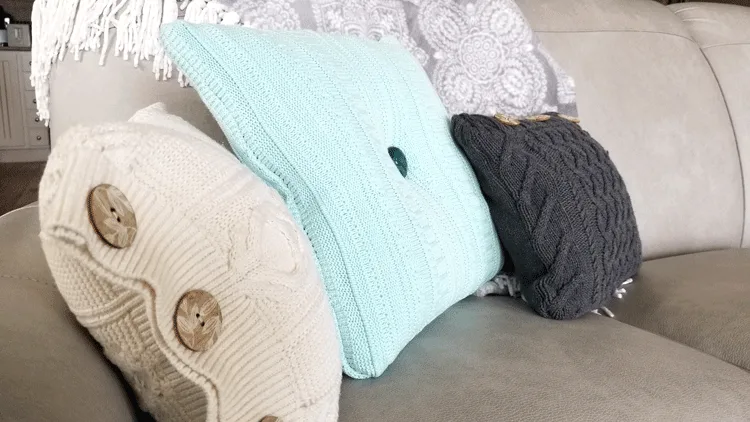 I just love them. This is my friends house and they looked great with her things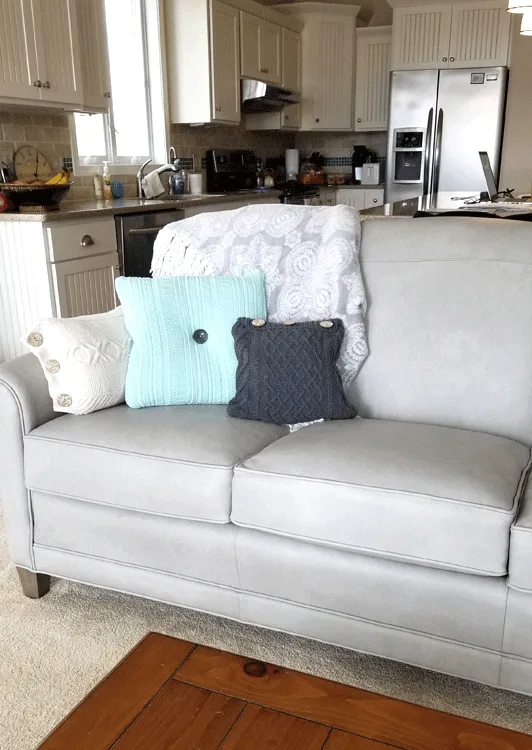 I hope you like them.
Materials List
I have added some affiliate links for your convenience. You can read my full disclosure here.
Thrift Store Sweaters
Teal Buttons
Scissors
Ruler
Sewing Machine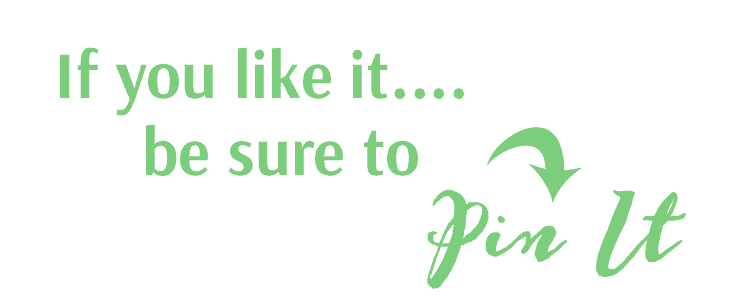 Thanks so much for stopping by!
Michelle