Today I am introducing my newest scrapbooking design to you. Say hello to Travel Kit. Since this is the beginning of the travel/vacation season I thought I would get this out there so you can be thinking about it when you travel and are taking those wonderful pictures.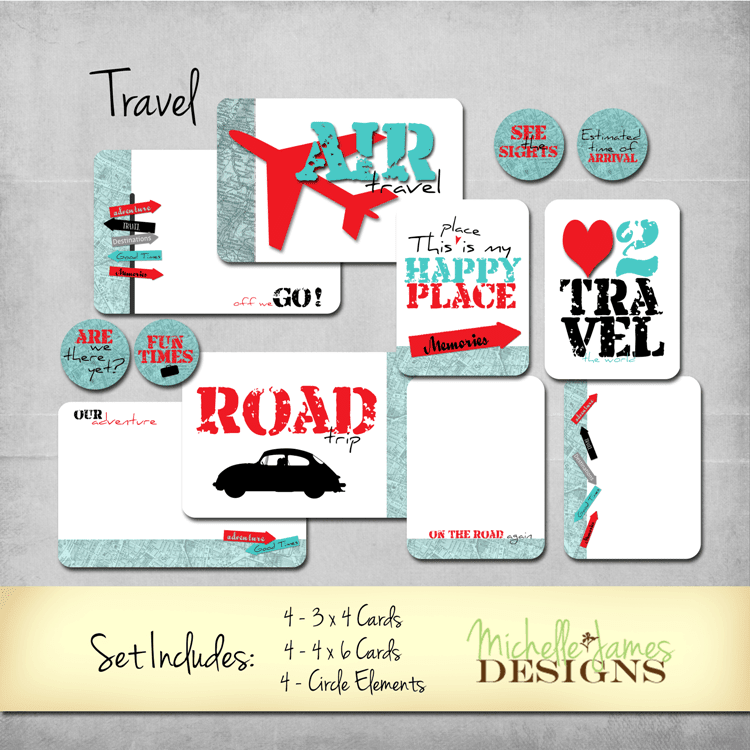 Travel Kit
This set includes the usual four 3×4 cards, four 4×6 cards, four circle elements and the two 8.5×11 sheets for printing them out. When you print them you can do all sorts of things. I have made small notebooks, or photo books, used them on cards, and used the cards on traditional scrapbook pages. It is all perfectly great!
It is fun to document your road and air travel trips and this set will work well with your photos. The maps, planes and cars bring it together so your pages have a cohesive look.
To download this kit you may click on the "add to cart" button below.
If you liked this kit I hope you will visit my shop and see all of the other kits I have available as well. I enjoy making them and hope that you enjoy them as well.
If you have a friend that you think would like my designs please share this post! It makes a big difference when things are shared on Facebook and pinned to Pinterest. This is where most of my blog traffic comes from. It is nice to see the numbers rising.
You can follow my by clicking on the icons at the top of my website or by subscribing to my email list. This goes out every Saturday morning and the more the merrier! Or you can just click on these links to follow. Facebook, Twitter, Pinterest. Either way is great and makes me very happy.
Thanks so much for stopping by today!
I am sharing this post at: